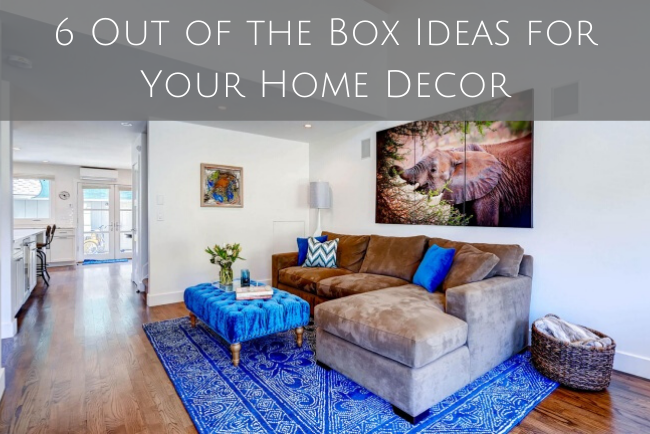 6 Out of the Box Ideas for Your Home Decor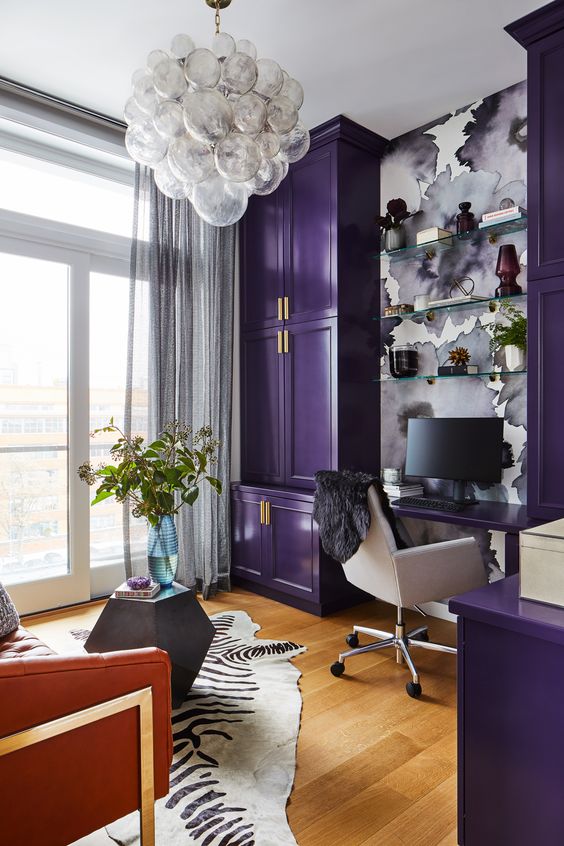 via Rachel Reider Interiors
You may have seen my recent Instagram post in honor of leap year. I posted this gorgeous purple cabinetry as inspiration to think out of the box and be wild on that bonus February 29th day. That got me thinking out of the box in general and I've collected six ways to think out of the box in your home décor.
Little Tables Everywhere
One of my favorite ways to get out of a decorating rut is to replace the solo large coffee table with multiple smaller tables. This is just a great fresh look, but there are also functional benefits to this living room design. Below are two examples that we used in Denver homes.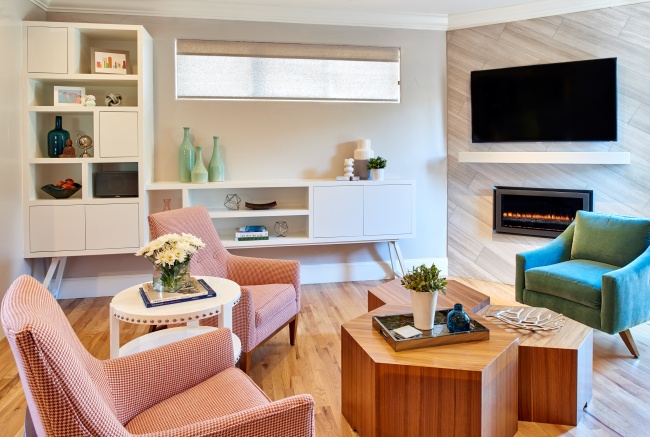 Via Beautiful Habitat
The clients requested a living room design that could accommodate their many gatherings, from cocktail hour with friends, to neighborhood BBQs to family game night. These three custom designed hexagon tables, crafted by a local furniture maker, can be arranged to accommodate many styles of entertaining, from vignettes at large parties, to game nights.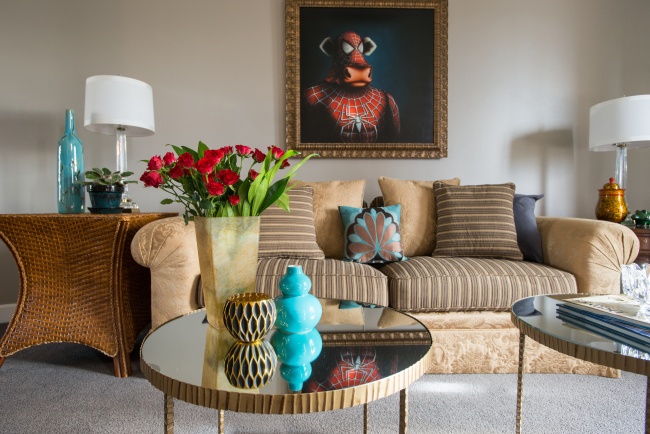 Via Beautiful Habitat
In this room, the motivation was all about breaking up the overly formal look of a formal living room. On the functional side, this is a rarely used formal living room. It is adjacent to a dining room that is used often. These small tables are easily moved out of the way to extend the dining table.
Floating Nightstands
Wall mounted nightstands that are floating furniture create a clean and modern look and an unexpected way to design. Floating nightstands are perfect for small spaces, where furniture or furniture legs might be crowded. They are also a great solution when heating vents are in the way of furniture. And of course, floating furniture is easy to clean around and under.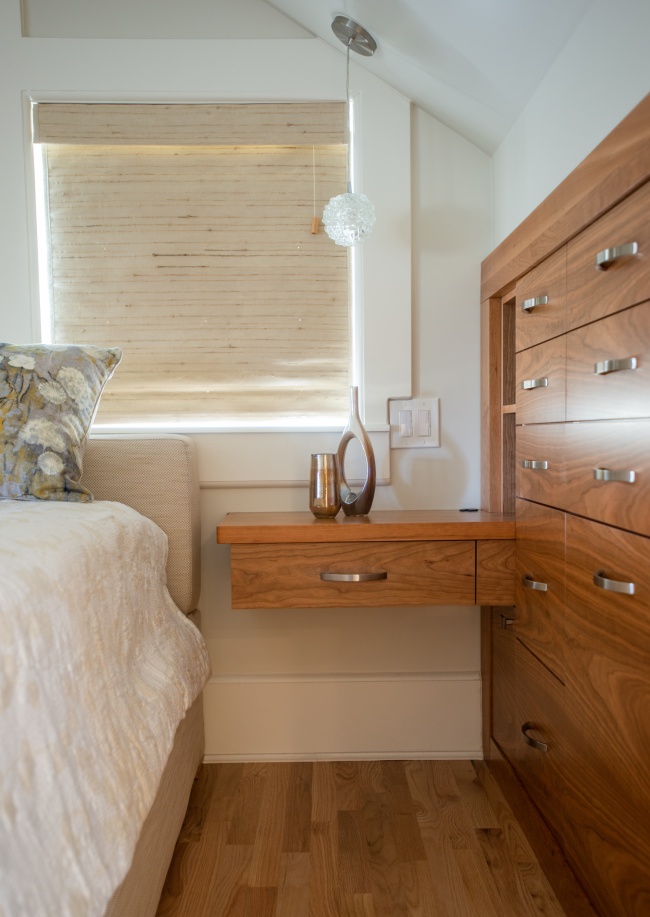 Via Beautiful Habitat
In this Denver pop-top addition, the roof pitch makes the bed area a little tight for furniture. We solved that problem by "pushing" into the wall below 5ft high to capture more space. In those cavities we created his and hers dressers recessed into the walls. To keep easy access to the dressers as well as a modern and clean interior design, we floated the nightstands out from the dressers. Out-of-the-box interior decorating, right?
Ceilings Need Love Too
I'm an advocate for adding any interest to a ceiling: moldings, paint, wallpaper, wood treatments. In fact, I have been building a Pinterest Board dedicated to this topic for 10 years! In many suburban homes, builders are including a tray ceiling in the master bedroom. But that's where the interest ends because the tray ceiling is left as boring white drywall. When a home has an extra architectural feature, I say add more, highlight it, show it off. Here are two ways that we've done just that.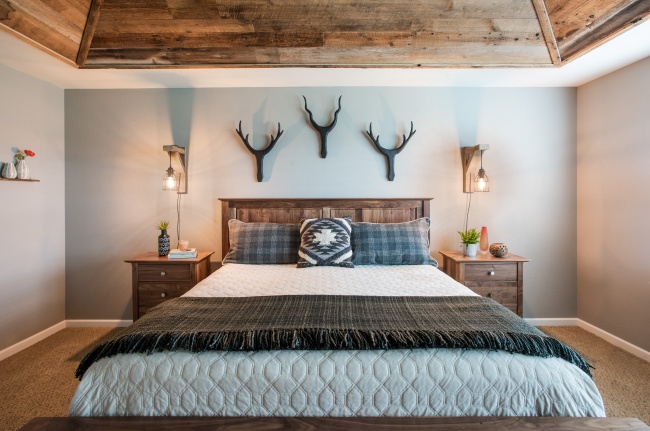 Via Beautiful Habitat
In this mountain modern bedroom design, I added reclaimed wood to the ceiling.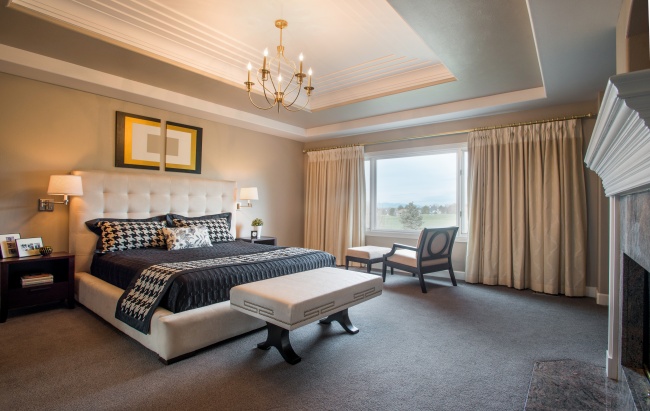 This master bedroom has beautiful layers of molding to really play up the tray ceiling design. It is further accentuated by adding paint to the mid- level of the tray ceiling.
I have not yet wallpapered a ceiling, but I'd love to. Anyone want to work with me to bring wallpaper to a ceiling in your home? Contact me here.
More Than A Painting
Art is more than a painting or framed piece of art. There are many options out there from gallery walls to sculptural art pieces. And items not traditionally thought of as wall art can become an interesting and unique statement.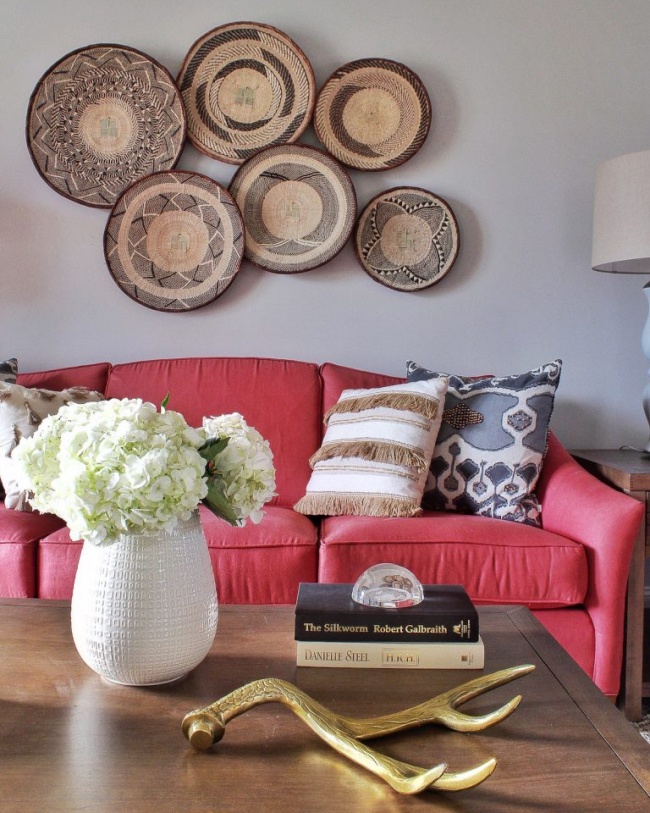 Via Erika Ward
The example above, by Erika Ward is perfect – a collection of baskets arranged into a wall hanging is a perfect out-of-the box idea for unique home decorating.
Personalize Your Artwork
Technology has made custom printing an opportunity to create your own personalized and unique artwork. You can get really creative with your own art, photos, your kids art. You can make unusual sizes, go extra large or small. You can make your own custom collection. The best part is that you can make the piece into the right scale for the place that you intend to put it in your interior design plan.
Read more tips on Right-sizing Your Artwork here.
In this home, we working with a very large wall that also has two speakers and the edge of the loft was hanging over a portion of the sofa. A standard piece of art was not going to work.
My client had recently seen a very large photo of an elephant at a local hotel. She absolutely loved the piece. Having recently been to Tanzania, I had a whole collection of elephant photos AND a custom size of art needed. I was able to use my own vacation photo on 3 canvases to create the perfect size piece for this wall.
Wallpaper Goes Everywhere
I love wallpaper and I wish that more Coloradans were open to it. The beautiful thing is that wallpaper doesn't have to go just on walls. Some great places to use wallpaper: on furniture, inside of cabinets, on a simple coffee table tray, framed as pieces of art (I've done that one multiple times), as a backsplash, with a piece of acrylic to protect it. The options are endless.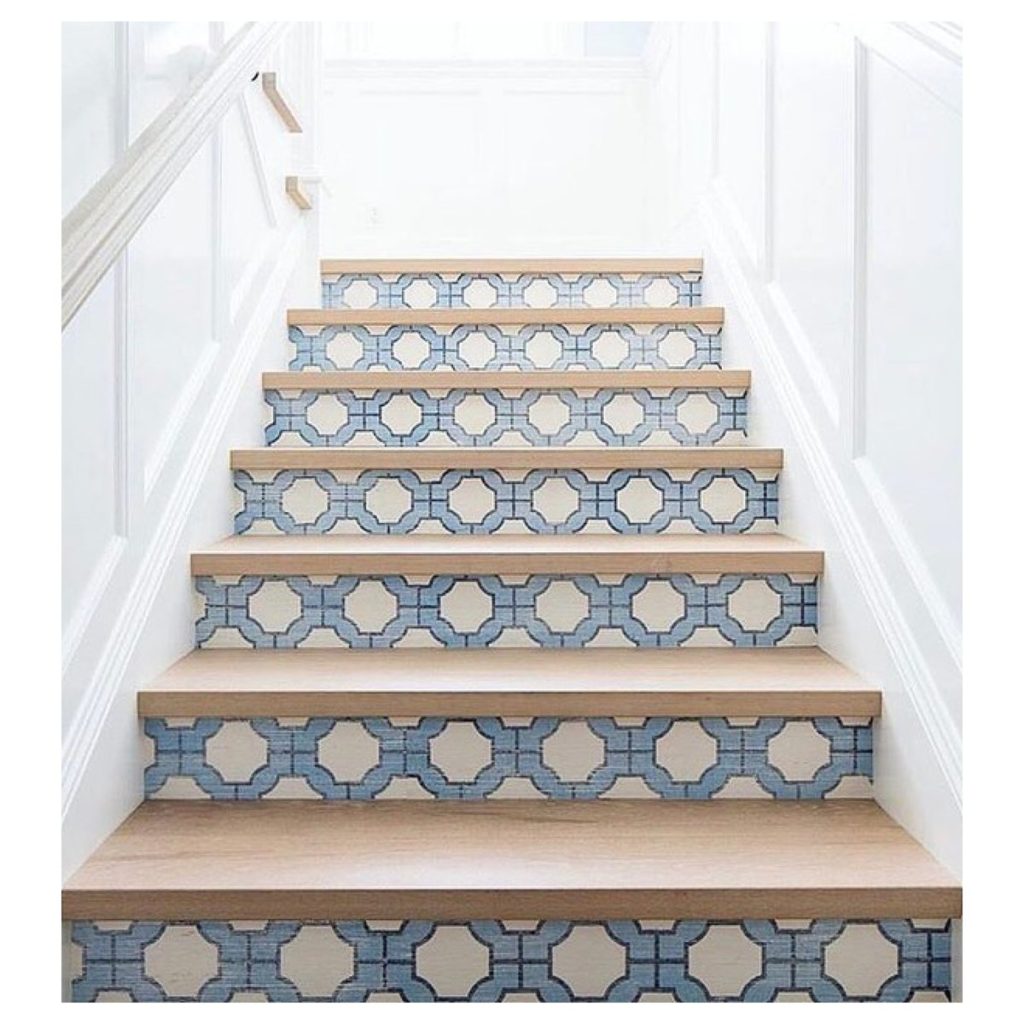 This is an idea I had not though of until I saw it on Instagram via @barclaybutera . Wallpaper on the risers of stairs. I love it – totally out-of-the-box interior design thinking.
For more design inspiration and areas that you can get out of the box, try these articles:
ABC's Of Interior Decorating
8 Interior Decorating Ideas
Bold Color for Interior Decorating