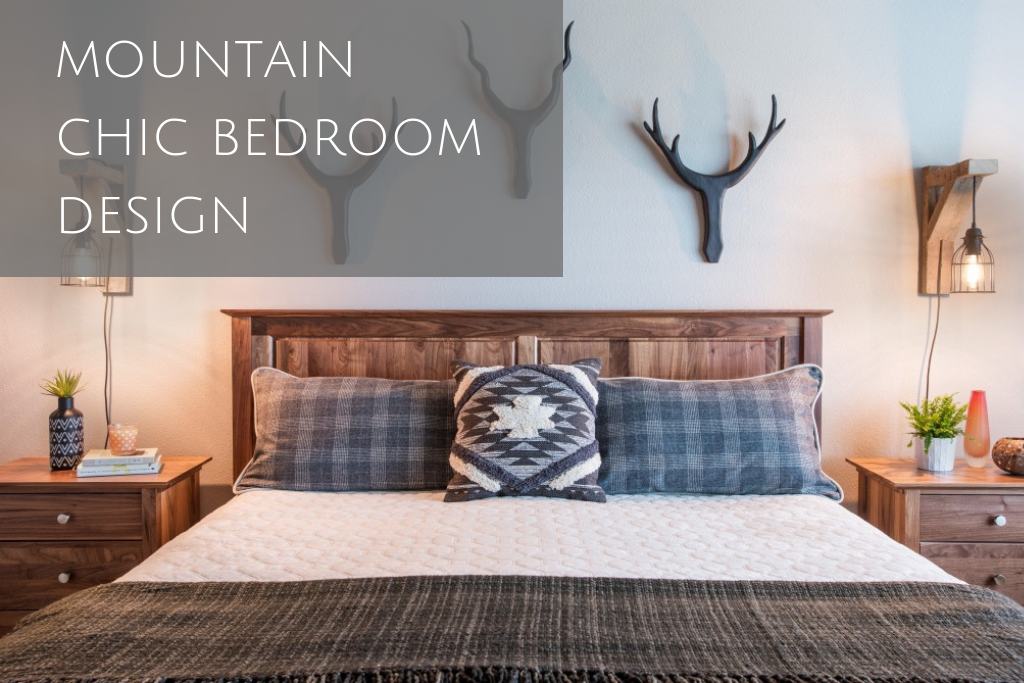 Mountain Modern Bedroom Decor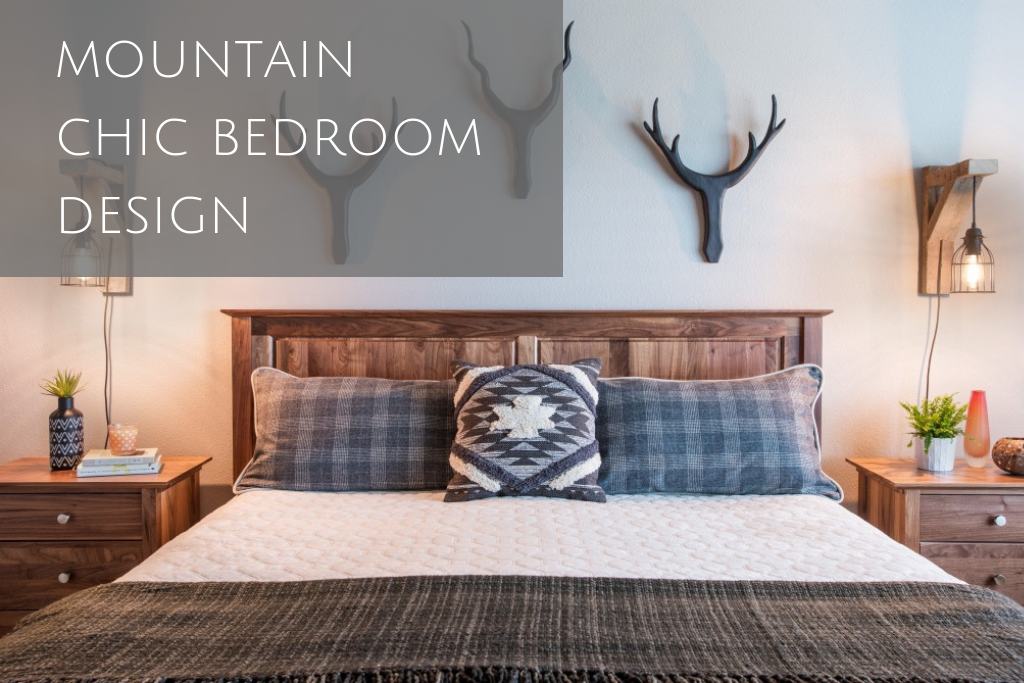 The master bedroom can frequently be the last room to get any interior decorating love when clients move into a home. It's logical to start with the public spaces, those spaces shared with family and guests. I had originally helped these clients with their dining room interior design four years ago. I was honored and thrilled to come back to help them finally create a master suite that is a retreat to indulge themselves. With 3 active children – they deserve it!
Before
Our clients still had a queen size bed from the beginning of their marriage. Their current master bedroom has more than enough space for a king size bed. The master suite also had the hand-me-down furniture of the nursery rocking chair. It was time for an upgrade!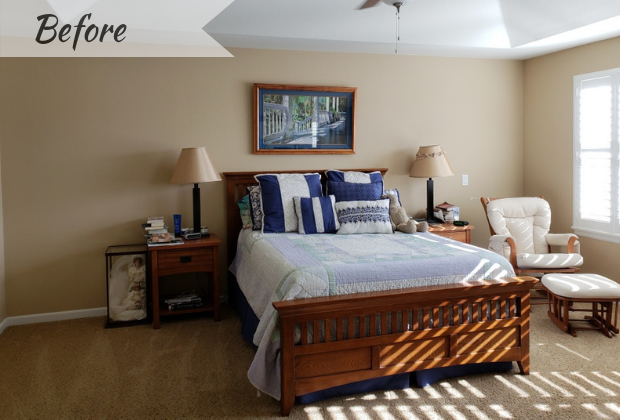 The walls were painted the same tan color as the rest of the home. While there is nothing wrong with the color, there was also no life or interest to it. The ceiling has the added feature of a tray design, but the plain white paint didn't do anything to highlight this architectural feature.
The Wishlist
Our clients had clear preferences for the look and feel they wanted in the master bedroom. Their specific requests included to incorporate gray, new bedding with texture and a feel of luxury and a feature wall or other unique design element. They also identified mountain lodges as designed spaces they like, along with the design styles of rustic, mountain, and shabby chic.
When asked how they wanted to room to feel  the words they used to describe their dream room included casual, not overly feminine, livable, clean and uncluttered, warm and soothing.
The Beautiful Habitat team named this design the Modern Lodge Bedroom and our concept was to create a modern interpretation of mountain lodges; a comfortable room of layered textures and warmth, but updated with a gray, black and white color palette.
Mountain Modern Perfection
We answered their wish list first and foremost with an updated bed!  The clients deserve – and the room needs a king size bed. The clients selected a new bed frame and matching nightstands in a beautiful natural walnut. Walnut is such a versatile wood. It has both light and dark graining. It's brown, but doesn't pull the strong red or yellow undertones of other woods like cherry. This makes it a gorgeous wood to pair with gray and black tones. And walnut furniture is just stunning. Period.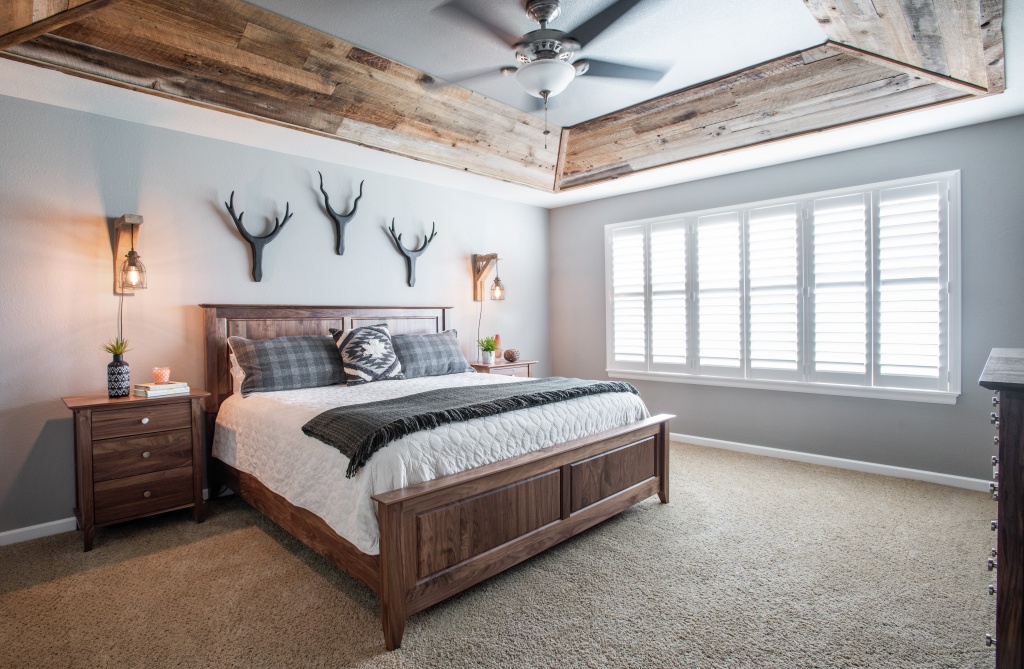 Next, I wanted to address the ceiling. Anytime a home features an architectural element or upgrade, I like to draw attention to it. In this case, we added a reclaimed barn wood on the slope of the existing tray ceiling. We further accented the ceiling with a darker gray on the inset of the tray ceiling. Our clients had requested a feature wall, but they were very open to making the ceiling, the 5th and often forgotten wall, that focal point. I'm so happy they trusted us in highlighting the tray ceiling.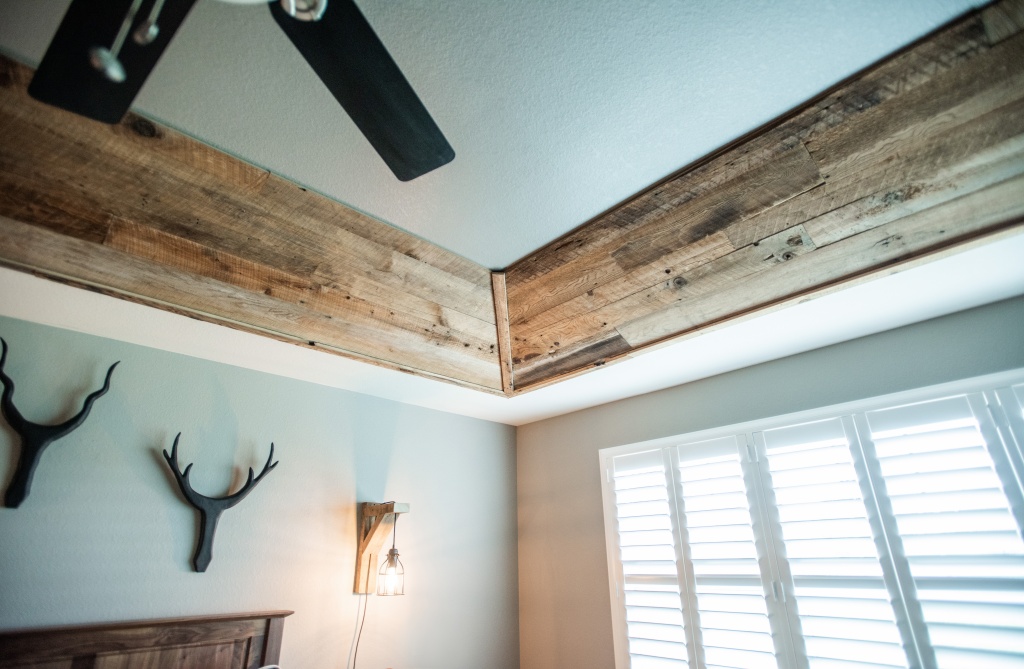 We incorporated gray to modernize the color scheme of the whole home. I really prefer to mix the neutral colors from both the brown and gray families. The blend gives a room and home a longer life because it's not steeped in either trend. Read more about this tip on mixing brown and gray décor.
In this bedroom design, we kept the tan color carpet that is installed throughout the home. We combined this with grays, ivory and black as well as brown tones in the form of wood.  White walls are very popular right now. However, white walls would not have achieved the cozy, cocooning feel we wanted in this bedroom makeover. Therefore, we selected a medium gray paint for the walls. We balanced that with an ivory coverlet for the bed. For the texture and masculine feel requested, we designed custom pillows in a gray, ivory and black plaid.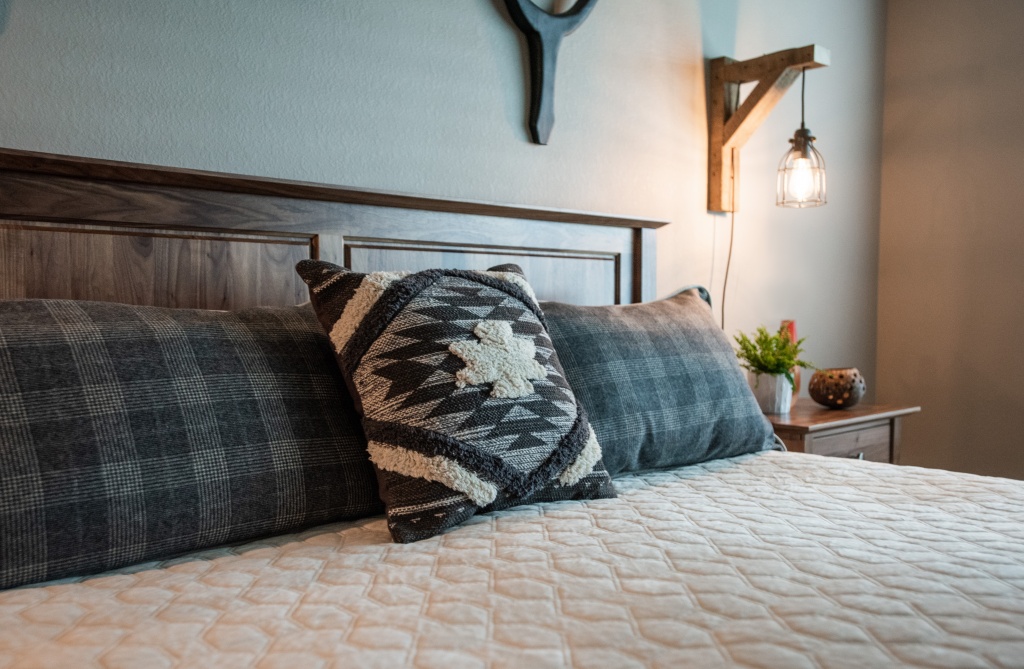 For an extra touch of interest, we added custom sconce lights with a rustic feel and combination of wood and black metal. The clients requested that we update the lamp shades, but we took it further to really compliment the design. I also try to avoid bedside lamps whenever possible. I prefer wall sconces or ceiling pendants to keep the night stand open for books and a glass of water or cup of tea. Not only is it a practical design, but it helps keep nightstands clear and uncluttered.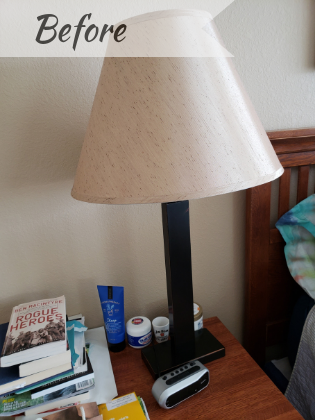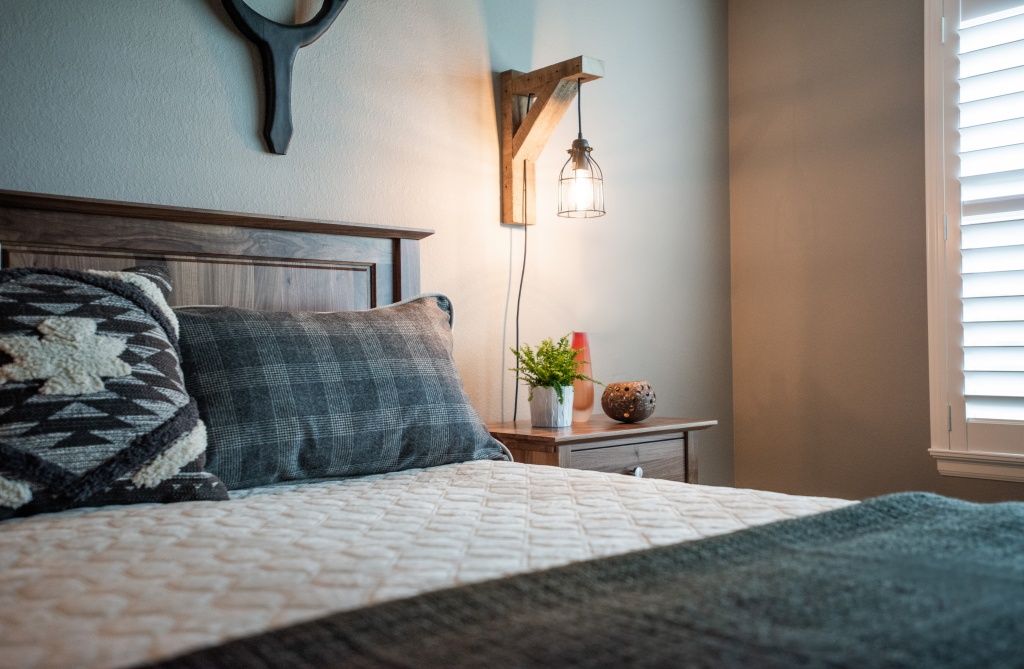 With the design coming together, it was time for decorating with accessories and finishing touches to complete our chic mountain design. To further create the mountain lodge feel, without getting too literal, we added a modern take on taxidermy, using sculptural black deer and ibex heads over the bed. Next we found a wood shelf in the shape of mountains. We added black and white vases, with a few touches of orange in florals, candles and a small vase. The orange accessories are minimal and can be changed seasonally with different accent colors.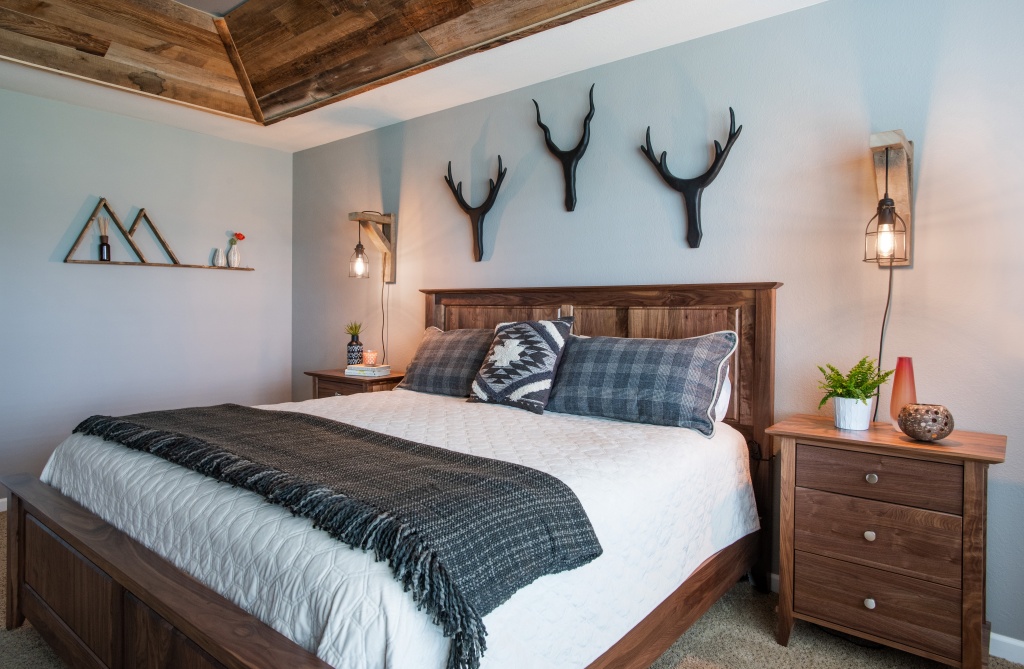 For more Master Bedroom design inspiration, check out our post on Decorating Ideas to add Life to Your Master Bedroom.
Or check out the master suites included in these design portfolios
https://beautifulhabitat.com/portfolio-item/wash-park-fresh-youthful/
https://beautifulhabitat.com/portfolio-item/denver-luxury-whole-home-remodel/
https://beautifulhabitat.com/portfolio-item/anthem-ranch-modern-home/
Are you ready to create the retreat space you deserve? Schedule a discovery chat with me now!