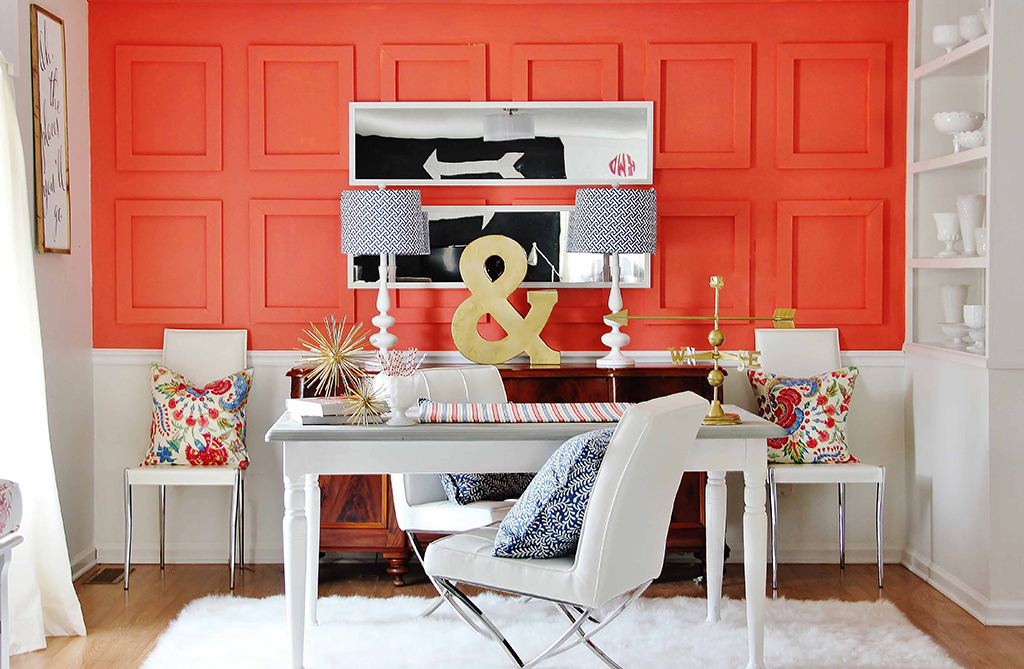 6 Ways to Use Bold Color for Interior Decorating Drama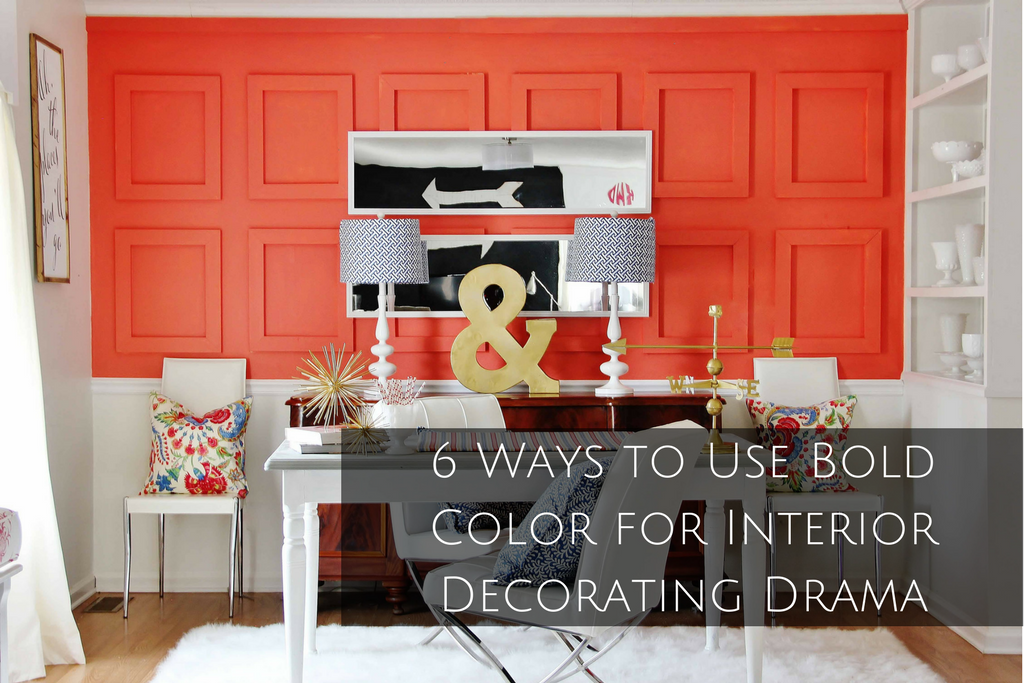 Some people favor neutral rooms peppered with colorful accessories. Others want a more monochromatic vibe. And then there are some that refuse to hold back and go absolutely wild from floor to ceiling. Bold color for interior decorating can be both function and fun, and it doesn't have any limitations. Douse your walls with a plush jewel tone, or drape your windows in a deep velvety hue. You can even add rich textures to monochromatic rooms with lightly patterned fabrics.
So what's your color flavor? Do you lean in and embrace it or keep it toned down? Either way, here are some great examples of the best uses of color — with a pinch or a pour — and how to do it right, no matter what your style is.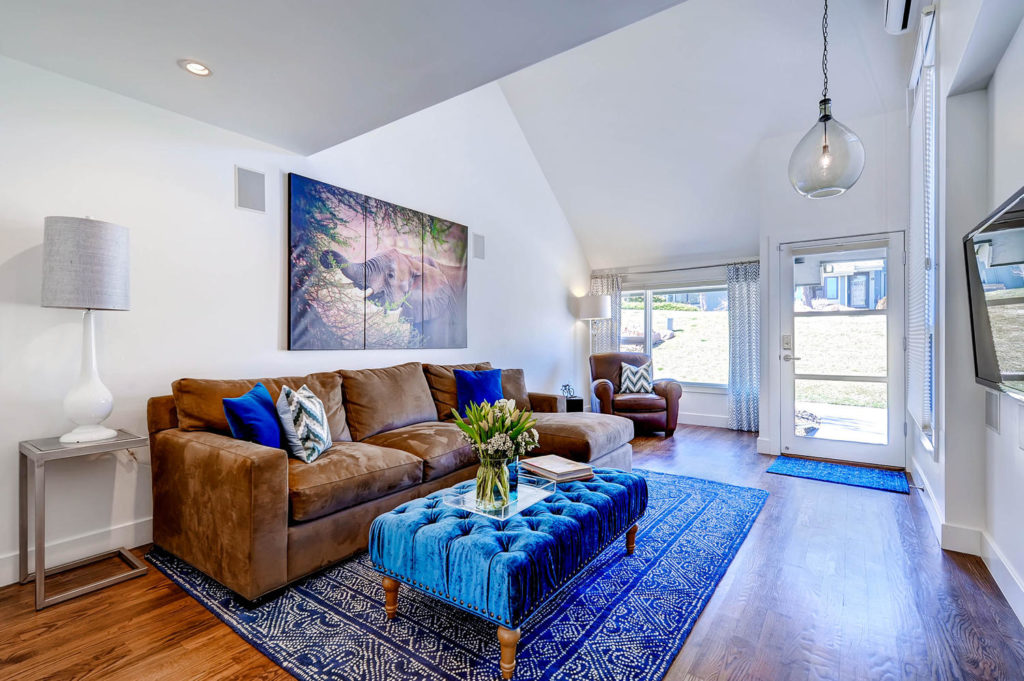 See this entire Beautiful Habitat project.
Crisp & Clean
Draw a bold color from artwork. Use a powerful art piece, drapery fabric or area rug to serve as a jumping off point for a lively room that packs a punch. Deep blue hues make this space sizzle. A neutral sofa in a rich texture, like micro-suede or velvet, softens the vibe, as does the added delicate white and gray light fixtures and draperies. White walls and a vaulted ceiling keep the space feeling fresh, open, airy and clean. A custom upholstered coffee table — in a luscious indigo velvet — invites guests to kick up their feet and relax for a while.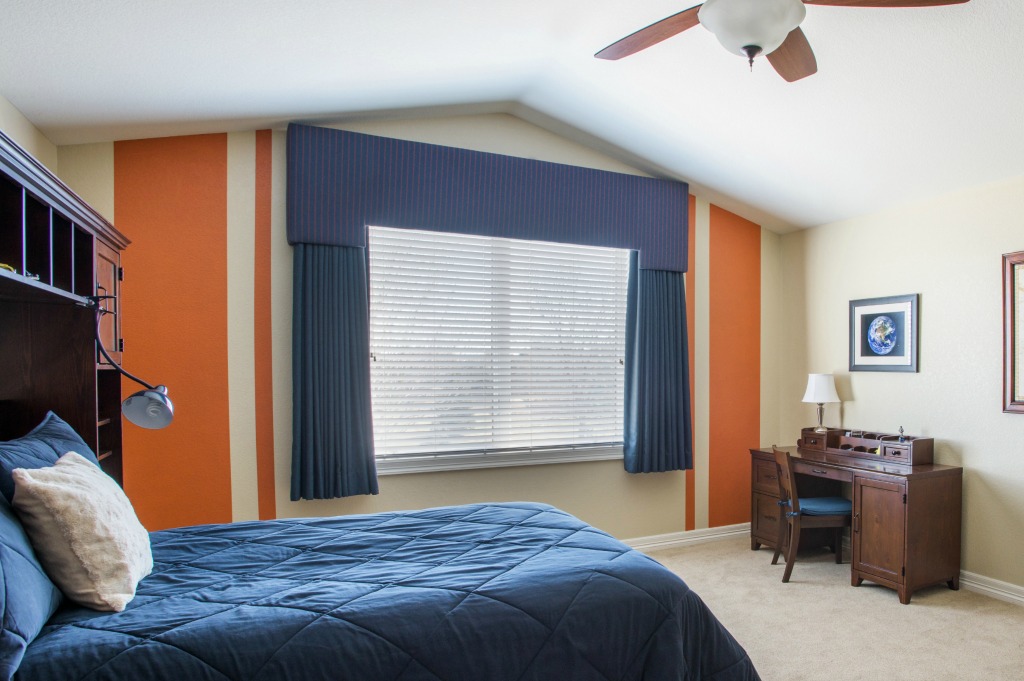 See this entire Beautiful Habitat project.
A Stripe of Style
Adding bold color in a kid's room — maybe from a favorite sports team — can make a world of difference in energizing the space without breaking the budget. Thick wall stripes do double duty as both a work of art and in making a big statement without interfering on the usable square footage. Bedding and draperies in similar shades, along with dark-stained furniture, add warmth and a masculine feel.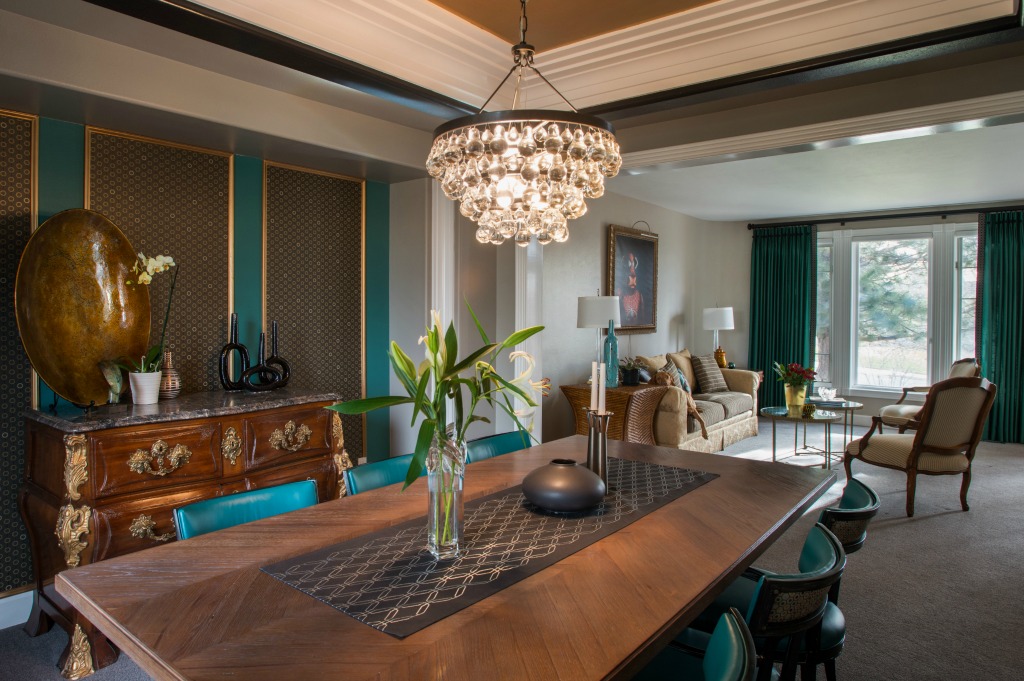 See this entire Beautiful Habitat project.
Add Jewel Tones
Rich, regal jewel tones are making a big splash this year. Drawing inspiration from precious stones, these bold colors are never short on opulence. Try choosing a color and then layering it in different shades throughout the space. For example, in this living room/dining room combination, wall color, chairs and draperies all share the same color thread.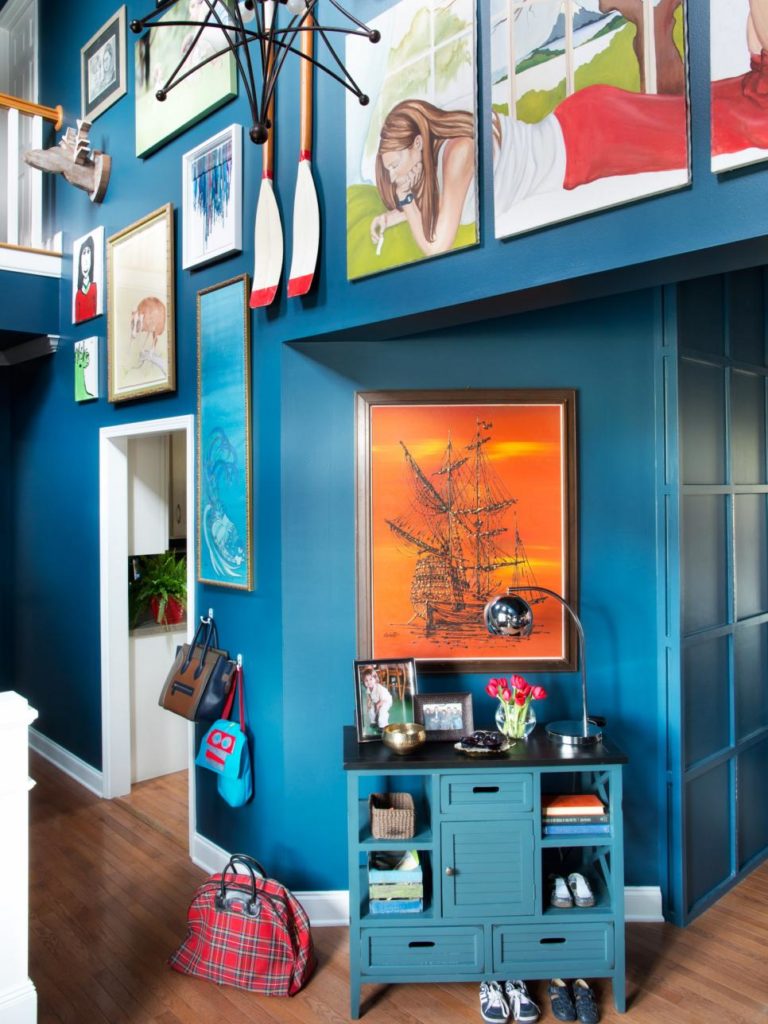 Hgtv.com
Go Bold Or Go Home
Use a bold color floor-to-ceiling. This bright sea blue is perfect; it's amazing how much it transforms a space and highlights the artwork. Hardwood floors warm up the home while the white trim and baseboard help crisp up the space. Furniture painted in a similar hue stops the area from feeling like there's too much in one spot. Cluster artistic pieces and knickknacks for a bohemian vibe. They add layers of interest that continue to draw the eye up to the high ceiling. Hang a cool light fixture for an added splash of style.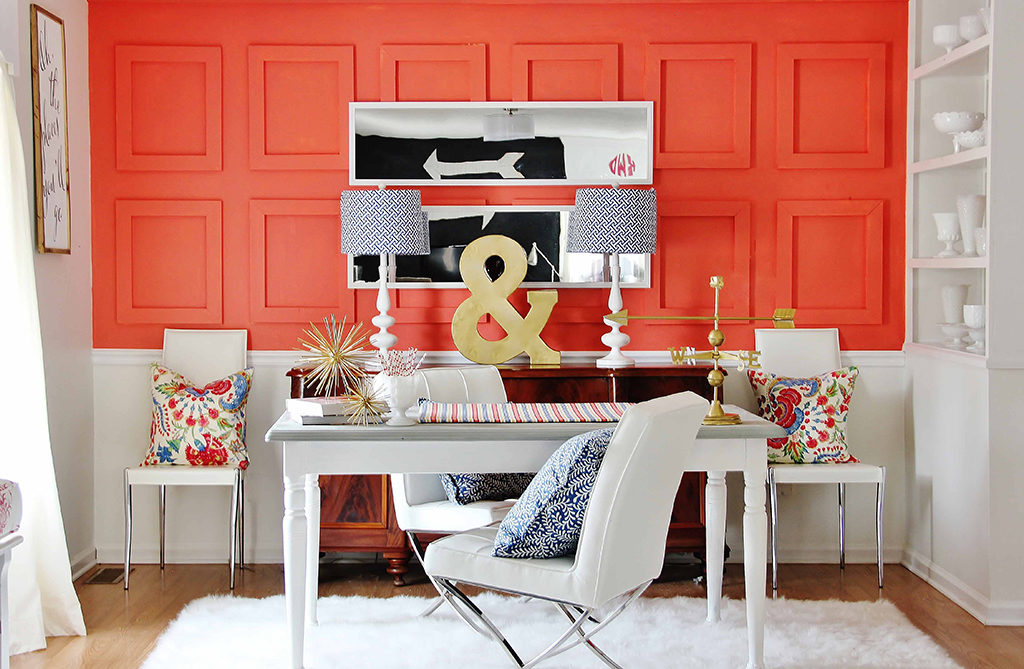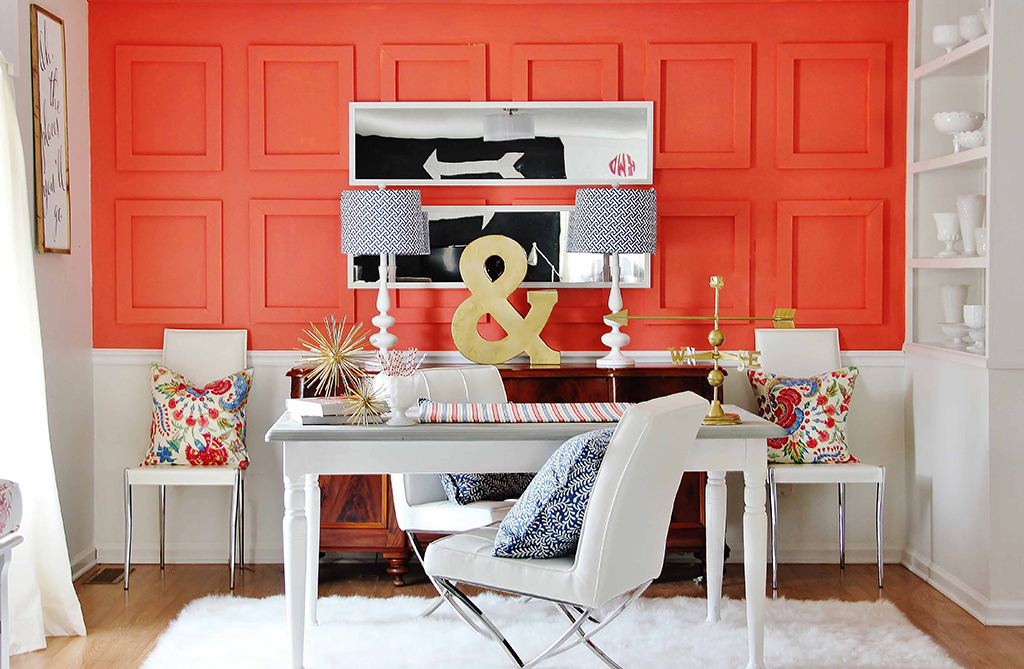 idolza.com
Get The Creative Juices Flowing
Add liveliness to your home office to stimulate creativity. This interesting paneled wall with a bold color choice perks up the eyes, while the soft white, fluffy rug and oversized pillows soften the vibe. The extended use of white, with the leather chairs, bookshelf and all-white accessories, keeps the room balanced and upbeat but not over the top. Bringing in additional colors is fine when they are kept neutral, shown here in gold, blue and gray. Notice how the pairing balances the space — two lamps, two horizontal photographs, two sets of chairs, etc.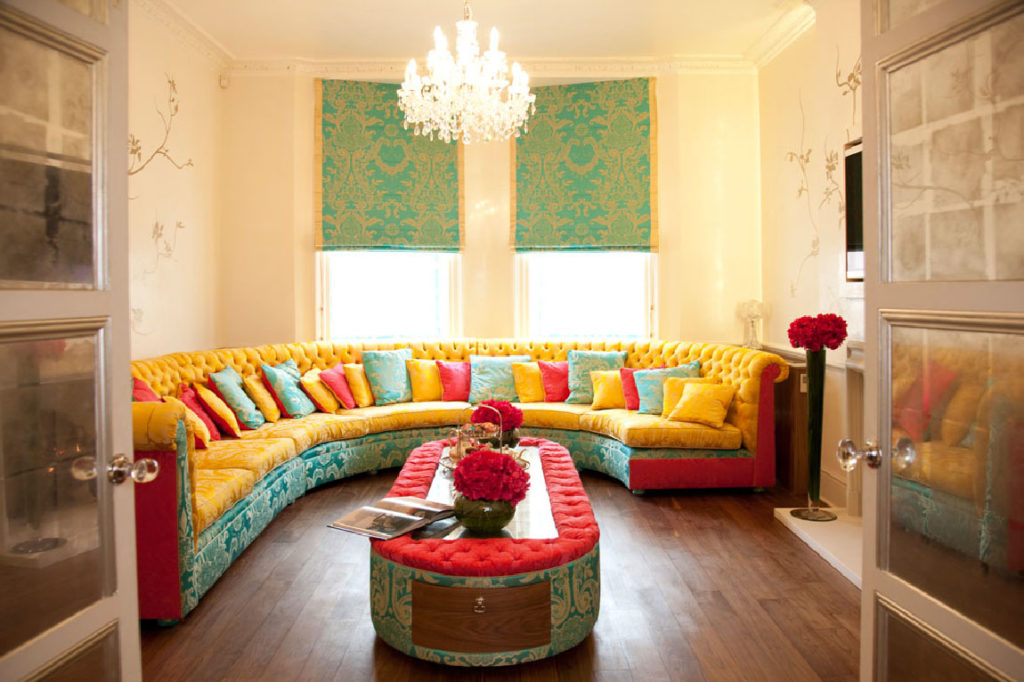 livinator.com
Live It Up
Don't worry about going overboard with color, split complementary colors make a fabulous palette. Keeping certain pillow sizes tied to particular colors helps create an underlying sense of order. Similarly, patterned fabrics complement each other as well as the elegant bohemian style, while the ornate crystal chandelier adds another layer of richness and texture. Decorative wallpaper is an exciting way to add texture and style. This one, in particular, draws your eye up while adding a touch of gold to complement the custom window coverings.
There are as many bold color styles as there are color combinations, and as you can see, color isn't limited just to walls! Curtains, artwork, rugs, furniture, light fixtures — the list is endless. Color is meant to incorporate homeowner's personality to a space and show off the character of the house. It sets the tone and atmosphere for each room. If you are getting ready to take your interior to a bold new level, or simply looking to create a soft, relaxed oasis, let Beautiful Habitat help you. Contact us today!