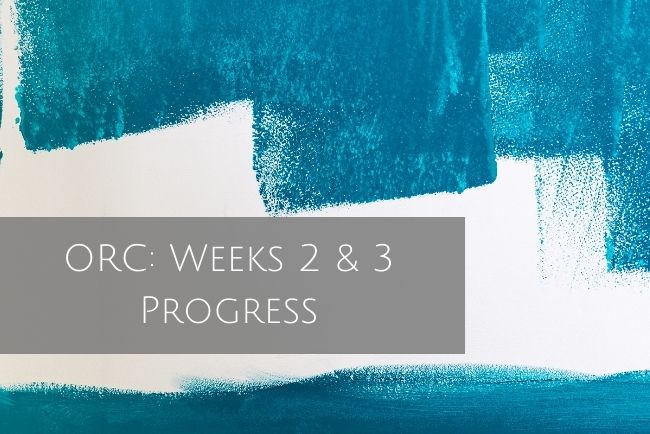 Interior Design Plan: Foundation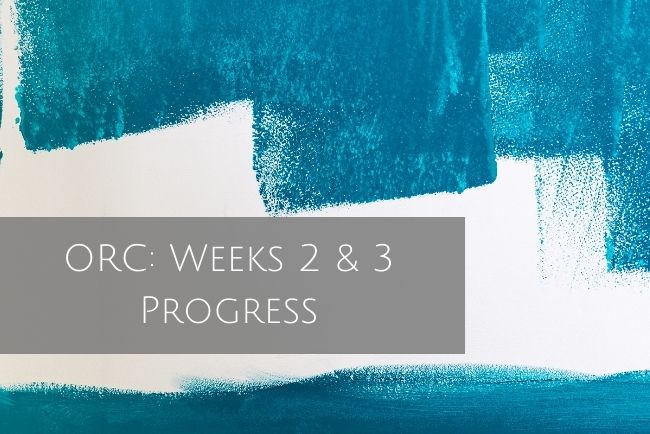 We're moving forward on the One Room Challenge and redesign of my guest bedroom. Did you miss week 1? Find it here. Once the room was cleared out, I was able to take measurements and create the interior design plan. Like most design plans, I stated with the function and foundation of the room.
Workspace
One of the primary goals of the bedroom redesign is to create a workspace. I want something that can be used for art, painting and creative projects. In addition, this space can function as an alternative workspace or place to take non-work-related zoom meetings.
When you have a home office, sometimes you need to be in a new space to spark creativity.
This solution came to me very easily. The room has bumped-out wall or niche space where the bed was previously residing. This space stretches wall to wall, and this makes it the perfect spot for a floating desktop.

Lighting
One of the things I most disliked about the room before was the lighting. The existing light fixture had an orange cast and was too dim to light the room properly. It was also one of those lights that is installed in the "center" of the room, but that placement doesn't align with any actual functions or furniture in the room. See below, that it is hanging somewhere over the edge of the bed, not centered on the bed. It makes me crazy.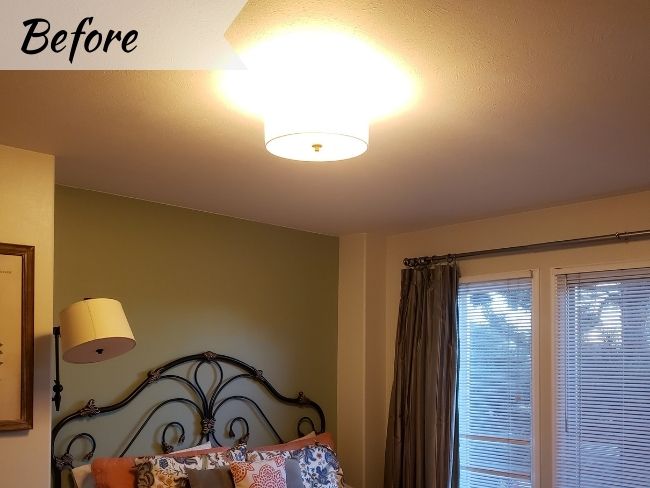 Unlike, the floating desktop, which came to me instantly, the light fixture was a harder find. I'll share with you that many interior designers can actually struggle to decorate their own home. We see SO MANY options for every single product out there. Occasionally, we fall in love and add a piece to our home. But other times, we like too many options.
I can so clearly see an answer for my clients, but struggle with that same clarity for my own home from time to time.
Selecting a light for this room was one such struggle. I definitely needed a fixture that could better light the room through a larger size and more lumen output. But what style? Did I want more of a chandelier or a flushmount? What metal finish will work best in this room? And finally, what was in stock with the crazy supply chain issues?
After much searching, I finally came across this fixture at the CAI showroom at the Denver Design District. The LED fixture is both larger and brighter. The white finish keeps it neutral enough to coordinate with all my design ideas.  Of course, I also had the new fixture installed as centered off of the desk (and future bed) space in one direction and the windows in the other. Meaning, I "centered" in a way that aligns with the room design and functions.
While my electrician was here, I also added a new outlet and USB ports above the new desktop.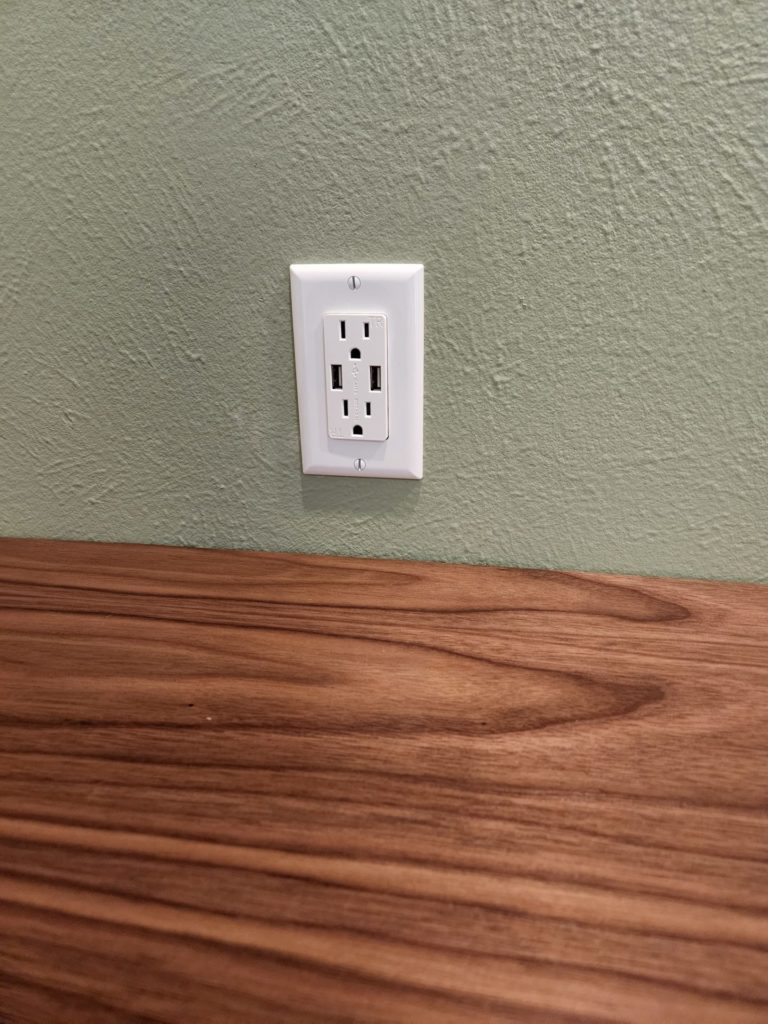 In addition to moving the main light fixture, I added downlights to light the new workspace. It's now the workspace that I've always wanted. Perfection!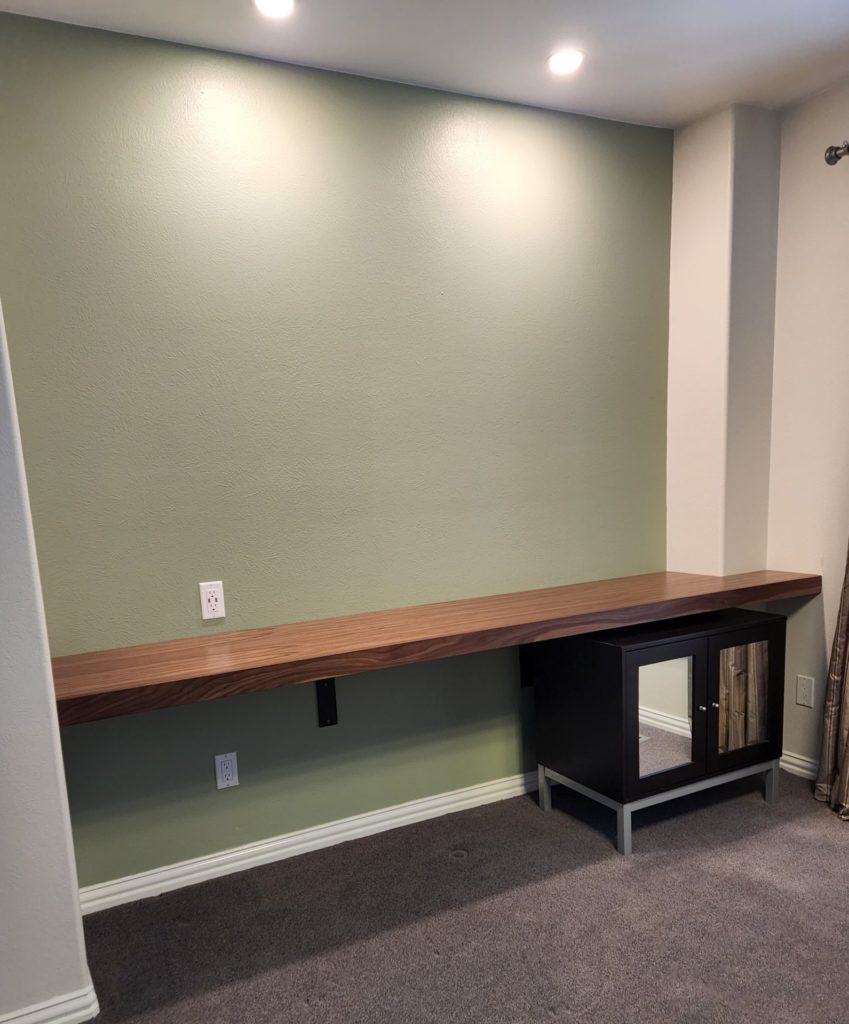 Next week is all about  the highlight of the room – wallpaper!
Need inspiration for your home office design? Check out these past articles.
7 Best Home Office Interior Decorating Ideas