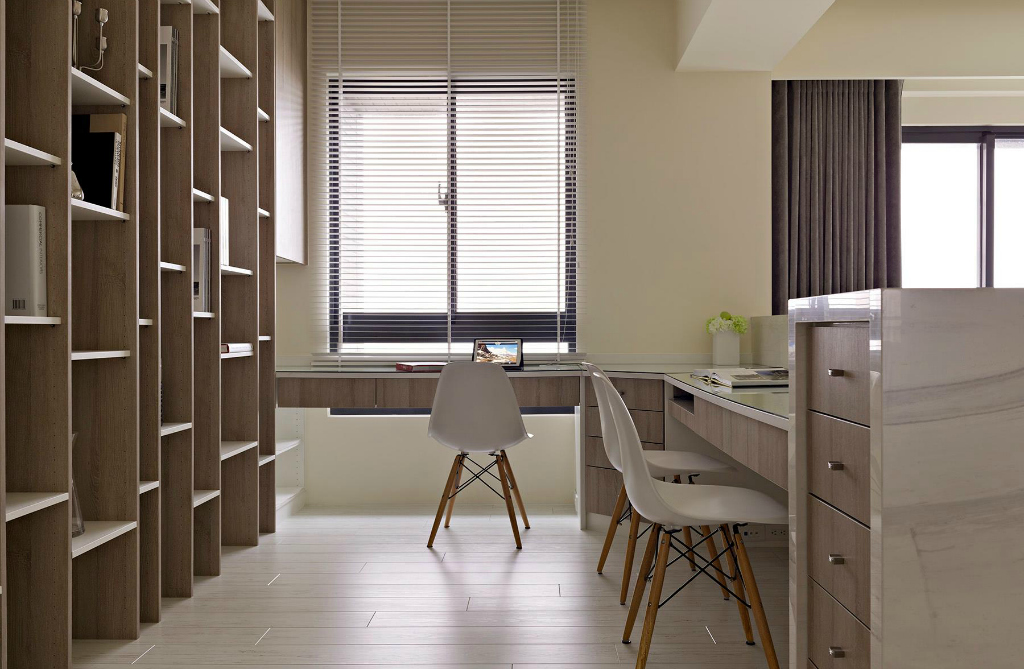 6 Home Office Design Ideas
With such a high number of start-ups and self-employed individuals in Colorado, home office design ideas are important to ensure you have just the right space to be creative. An interior designer can be invaluable in helping you design the perfect workspace. Whether you perform best in controlled chaos or can't function with a pen out of place, one of these design ideas is sure to get your creative juices flowing.
Create a Double-Duty Home Office Design
This simple tabletop desk is perfect for the minimalist. Everything is tucked away in closed-door storage in the wall unit. The proximity of the window paired with the crisp white furnishings keeps this workspace bright and airy. But the real beauty of this design is that the desk tucks away beneath a Murphy bed — the perfect place for guests. See this entire Boulder remodeling project.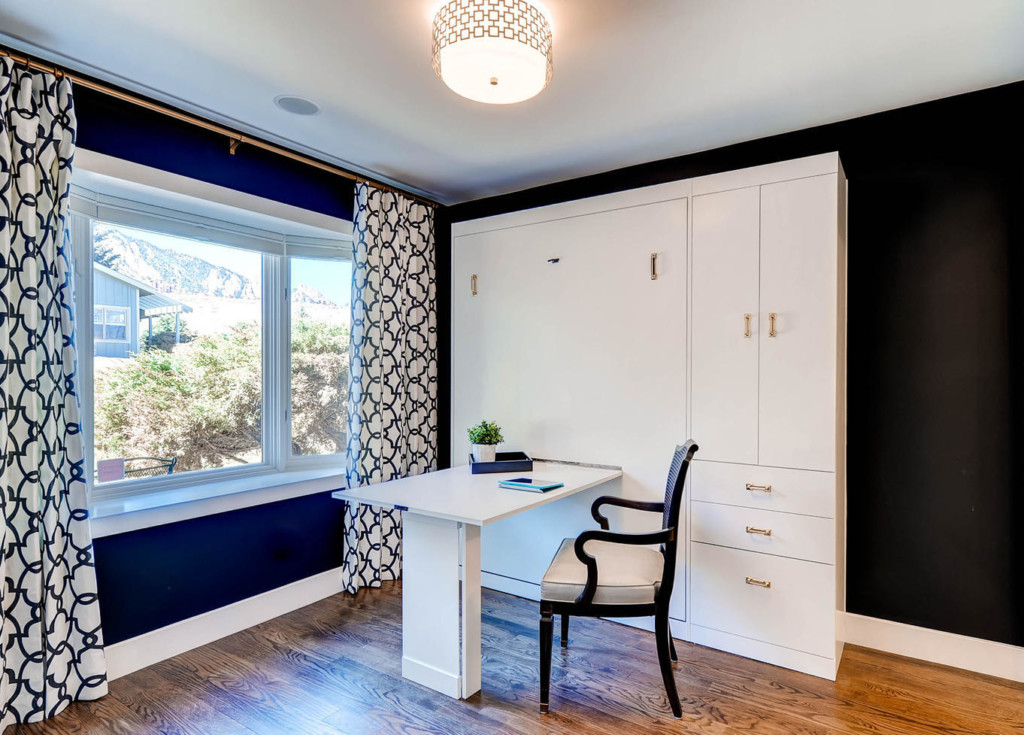 Make Room for Two
This home office allows for super communication with your work partner. Closed storage below the desk keeps office necessities tucked away while open shelving above allows for fun, inspiring items to be on display. This setup is ideal for a small bedroom conversion.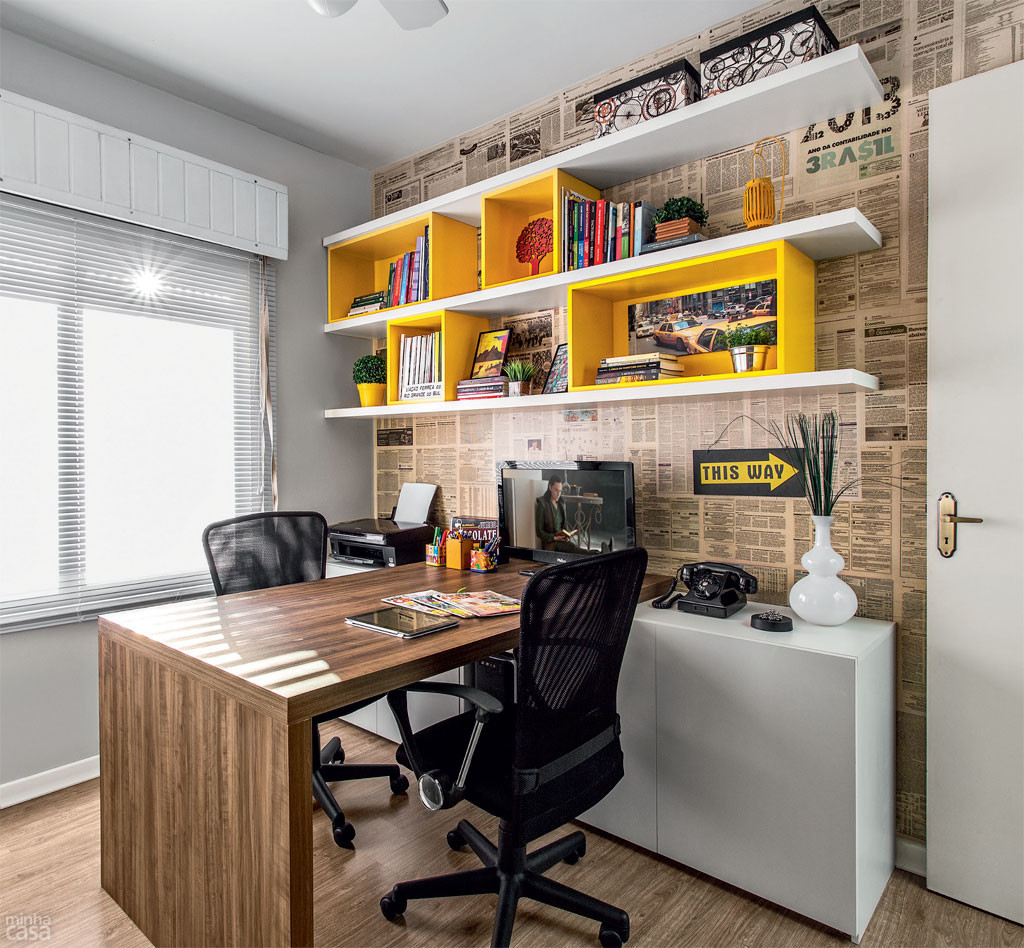 via casadesobra.com
Convert an Otherwise Unusable Space
This long, narrow room would be awkward as a bedroom but works great for a long desk with two workstations. Pull-out keyboard trays are ergonomic and keep the desktop neat and clutter free. Multiple clocks and an oversized world map are handy references for a home-based business that deals with international clients.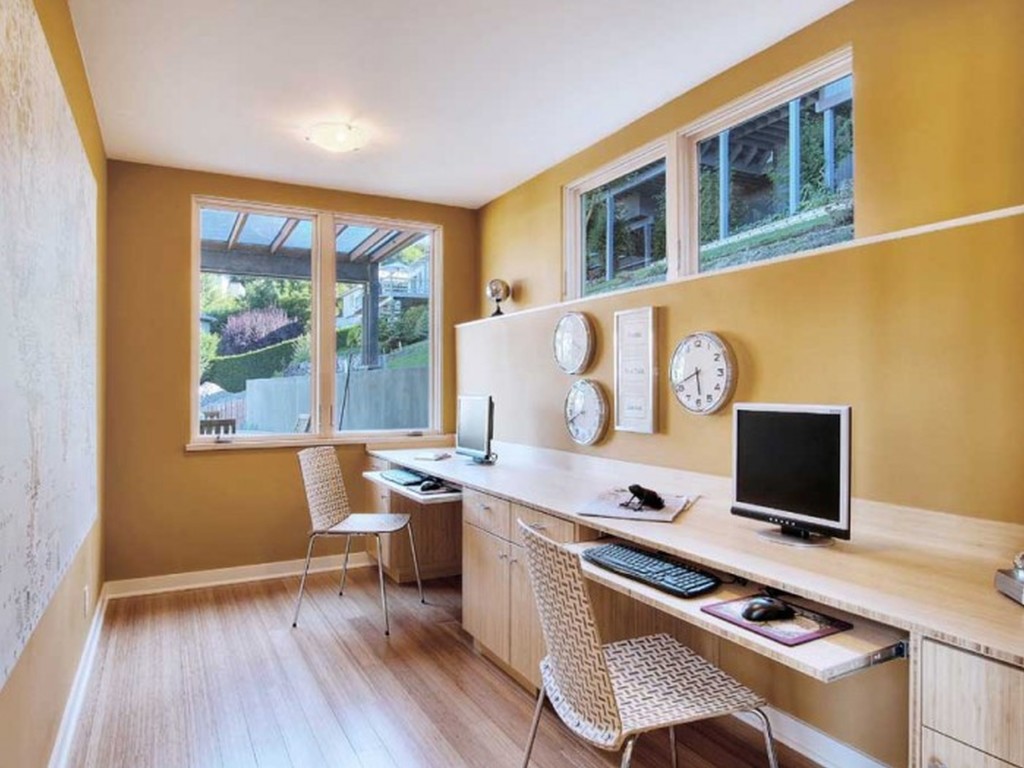 via fresh-design.info
Mix and Match Modern Eras
This custom wall shelving calls to a Mondrian-like style without the bright colors. The replica Eames side chairs are a classic. The mix of midcentury with contemporary cabinetry in a mix of wood and high-gloss white comes together beautifully in this peaceful, understated home office.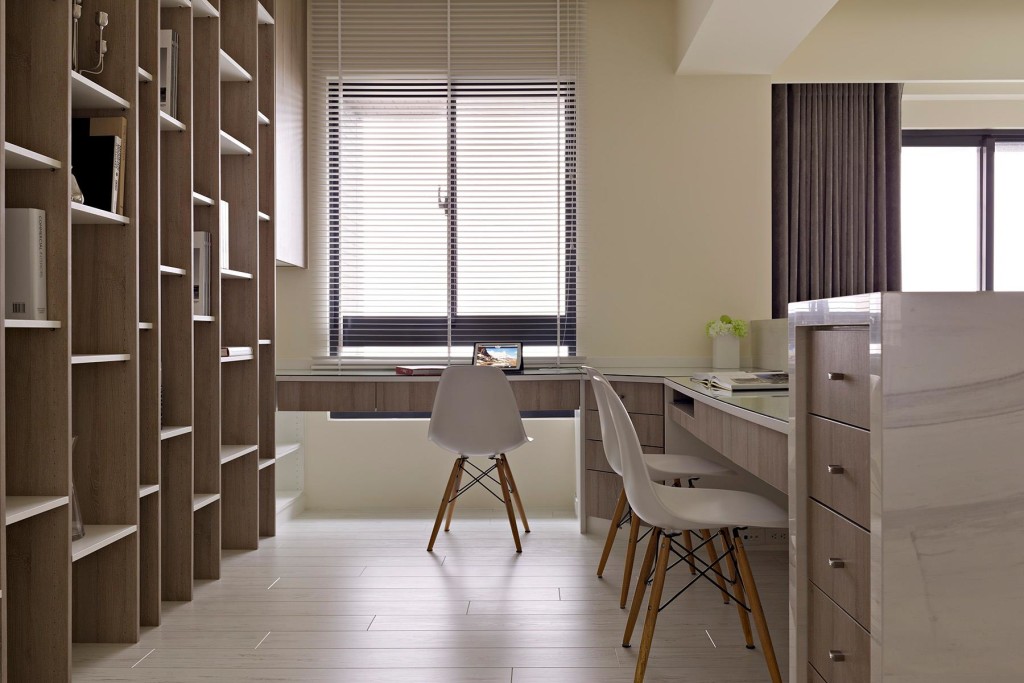 via billymagz.com
Capture a Nook for Your Home Office Space
No space to dedicate solely to an office? Just capture an out-of-the way nook like this one near the staircase. The table and file cabinet are a classic style in keeping with the rest of the home.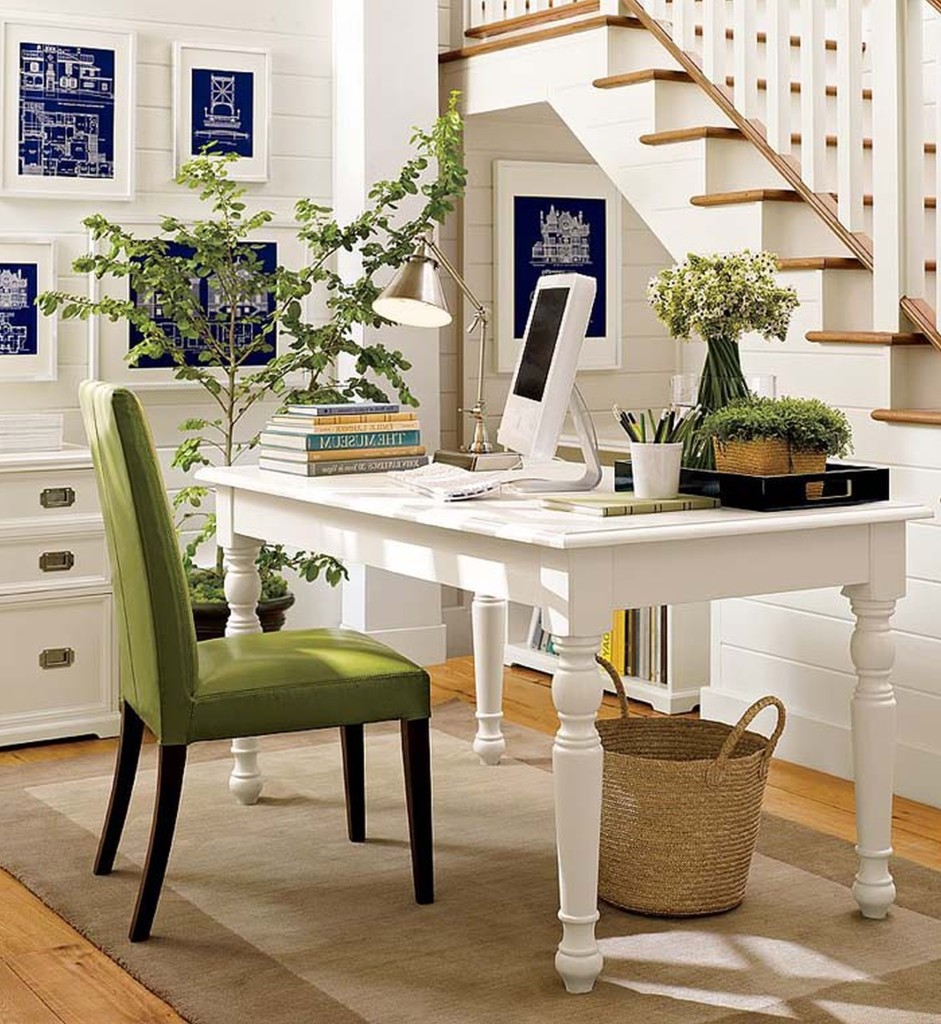 via kijashi.com
Add a Surprising Pop of Color
This masculine-leaning space is a lesson in contrast. The orange table pops against the (near) black and white color scheme. Creating groupings of books stacked both vertically and horizontally adds visual interest when the bookshelf is wall-sized. Keeping wine and some glasses on hand can make for a productive and creative Friday afternoon.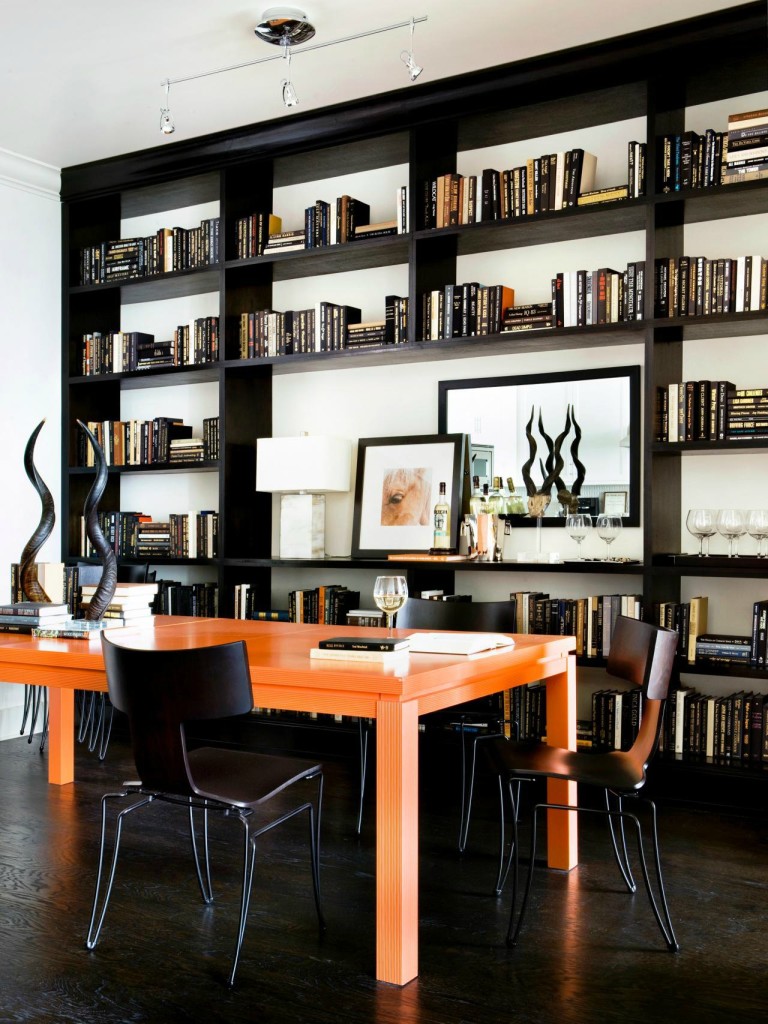 via robertbrowninteriordesign.com
Are you dreaming of the perfect space in which to spend your workday? Contact me today, and we can create the home office of your dreams.