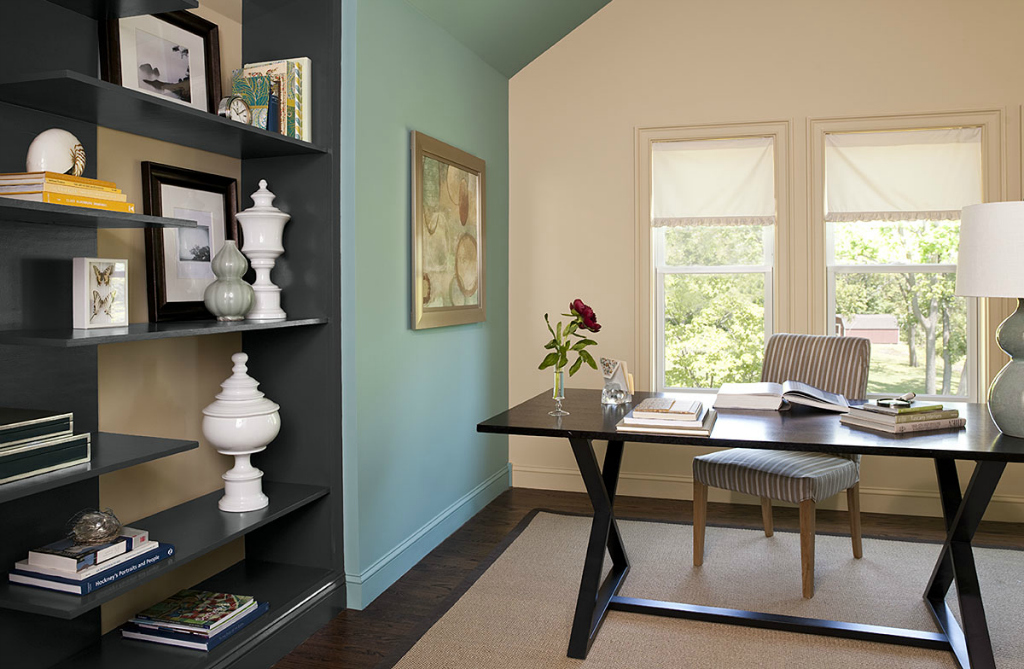 7 Best Home Office Interior Decorating Ideas
The home office is a necessity in our busy world. Whether you work from home and need a dedicated room where you'll spend the entire work day or just need a nook within a bedroom to sit while paying bills, this space should be functional and reflect your personal style. Making your home office a relaxing or rejuvenating space depends on your personal work style. Colors matter. Patterns matter. And furniture and accessories make the space.Don't forget to spice it up with a few current home office design trends and ideas. Here we've gathered seven of our favorites.
Add an accent wall with wallpaper or paint
amorclix.com   hbu.h-cdn.co
Liven up your home office or help define the space with an accent wall. This can be achieved with either paint or wallpaper and style options are endless. Here contemporary horizontal stripes are shown in two patterns and colors, one in wallpaper and one in paint. The black and white adds bold sophistication, while the taupe helps pull out the gorgeous wood chair and bedding.
Take it outside for inspiration umph!
s-media-cache-ak0.com
Being outside can boost mental health and creativity. Go further than just taking a walk during your lunch break; why not make your home office out there? Consider converting an existing garden shed or building something new, and make sure to let the outside shine in with lots of large windows so you can see the birds and that Colorado blue sky. This decidedly Asian-inspired space uses dark woods and clean lines with floor-to-ceiling glass walls for maximum outdoor inspiration.
Hide a desk in plain sight
Many homes do not have enough spare rooms to leave a guest room set up year round for guests who visit only occasionally or an office that is used only a few times a month. When space needs to do double or triple duty, flexible furniture can be the perfect touch. This home office by Beautiful Habitat is made possible by a Murphy bed for guests that folds up to reveal a convertible desk. Facing the window offers excellent views and repeating the drapery pattern in the light shade pulls the room together. The desk also folds up to create room for at home workouts and yoga – this room does triple duty!
Get a sunny outlook with loads of bright colors
mostbeautifulthings.net
We almost can't help but feel happier and more positive when exposed to happy, bright colors. That's the idea behind this design idea. Add lots of pops of color in everything from the file cabinets to the chair and not-so-white whiteboard to improve your disposition. After all, work really can be fun.
A workspace built for two
st.hzcdn.com
When a workspace must accommodate two people, ample storage is key. This serene space has lots of natural light, uses bright colors and a variety of patterns while maintaining a cohesive look. The matching filing systems stay in line with the room's design theme while keeping items separate and organized.
Soothing and sophisticated
nxfolio.com
Accent colors can set the mood for any space, and the same is true in the home office. Painting one wall a soothing color can calm the space and add personality. Black furniture and accessories throughout the room add a pop of color and sophistication. This attic office has plenty of sunlight at the desk by placing it near the windows, offering a serene workspace.
Loads of storage and light 
house-talk.com
Keeping everything organized in your home office can be the key to productivity. Before buying any furniture, consider all of the different aspects of work that will be completed in the space from filing cabinets for bills and statements to shelving for books and drawers for the stapler. This large office has a wide variety of beautifully coordinated storage, and the color coordination between the rug and vases pulls the room together. The desk is strategically positioned in front of the window for a great view and lots of natural light.
Good home office design can make work more pleasant — even enjoyable. If you're ready to refresh or set up a new office in your home, let us help. Reach out today.