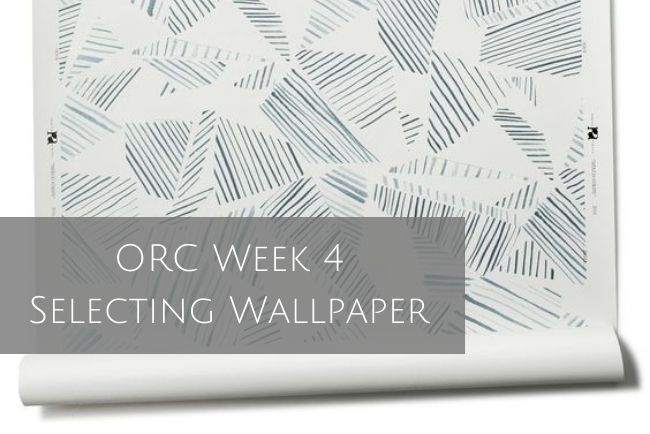 Selecting the Right Wallpaper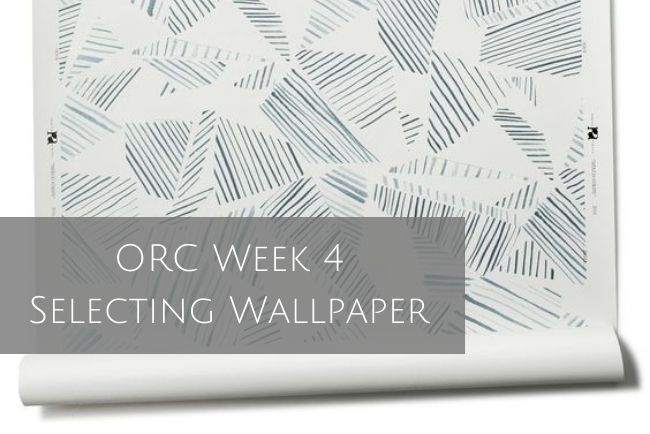 We're moving forward on the One Room Challenge and redesign of my guest bedroom. Did you miss week 2 and 3? Find it here. After the functional aspects of better lighting and a work space were addressed, it's time to move on to the fun parts of a room design: decorating with fabrics, wallpaper and color.
I knew without a doubt that wallpaper would be the focal point for this room. I love wallpaper and am a firm believer that this world needs more wallpaper.
I wanted multi-colored wallpaper so that I can pull a lot of colors out into other elements of the room
Design Tip: The perfect room design has a bridging piece; something the pulls all of the colors, and patterns of a room together.
I also have a headboard in mind for my room design. You see, I designed this custom fabric channel headboard for the 2021 Denver Designer Showhouse and it doesn't yet have a home.

It's a black and white modern pattern and I can certainly reuse it in the guest bedroom. With this black and white base, I was off to find a wallpaper and other fabrics to coordinate.
The first fabric that caught my eye was the green, black and white velvet flame stitch (center below). It's modern, edgy and compliments the headboard fabric. I quickly pulled together a textile plan around this combination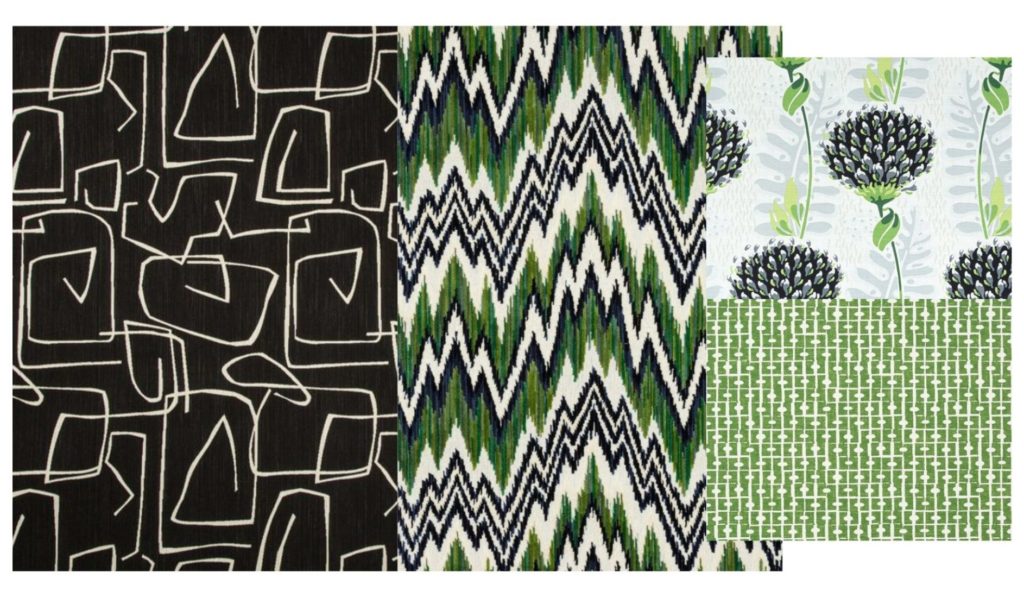 It's beautiful and I love it, but…. But I specifically wanted t a colorful room in which I could pull many colors into the plan. So back to the drawing board and back to shopping for more wallpapers. Here are a few of the stunning options that I considered for my bridging textile. There are so many stunning wallpaper options out there.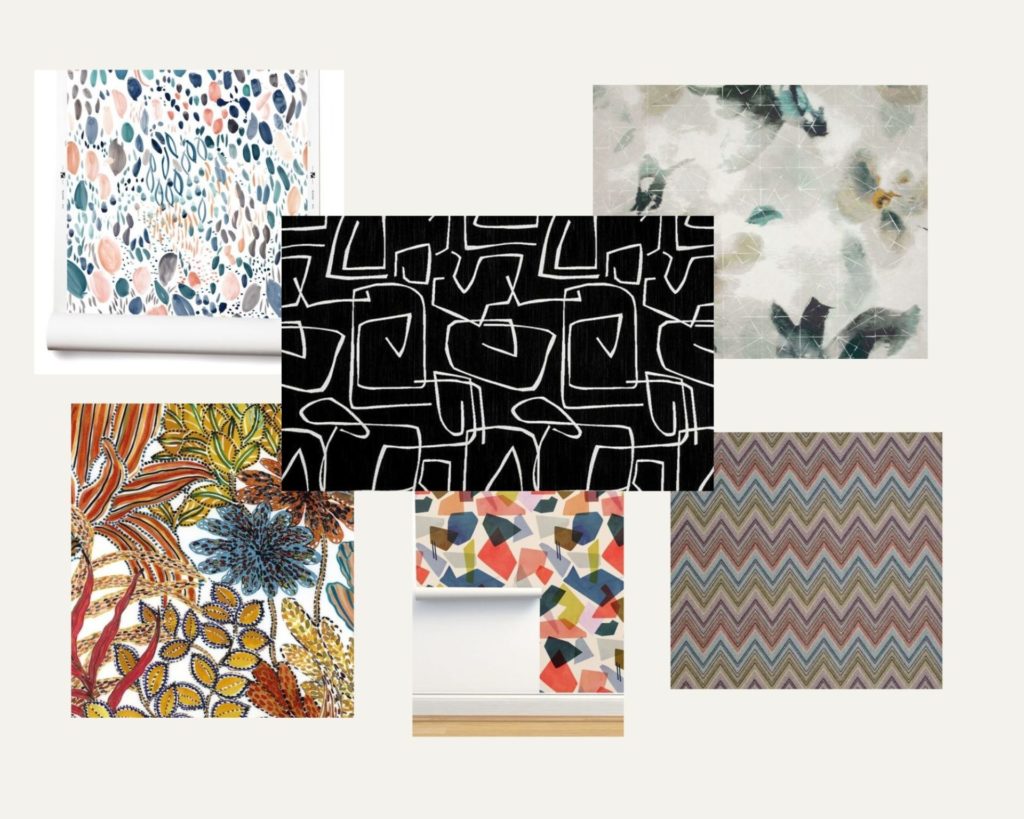 And finally, I discovered the winning option through Romo fabrics, one of my favorite British textile lines.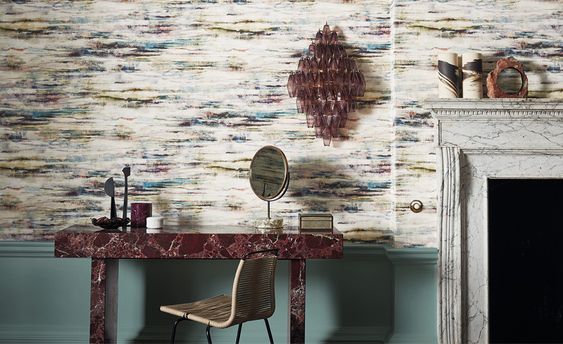 The next step was to determine which walls I wanted to be wallpapered. I do this by importing the wallpaper to my 3D design planning drawings. This is the same process we use for client projects. We add the actual materials into our 3D interior design models to help our clients visualize when a pattern covers a large surface. We test it on paper before we commit to it in real life.
I tested 3 options for the wallpaper quantity and location: just the "niche"/recessed wall, wrapping it around the next wall, or wrapping it onto the window wall.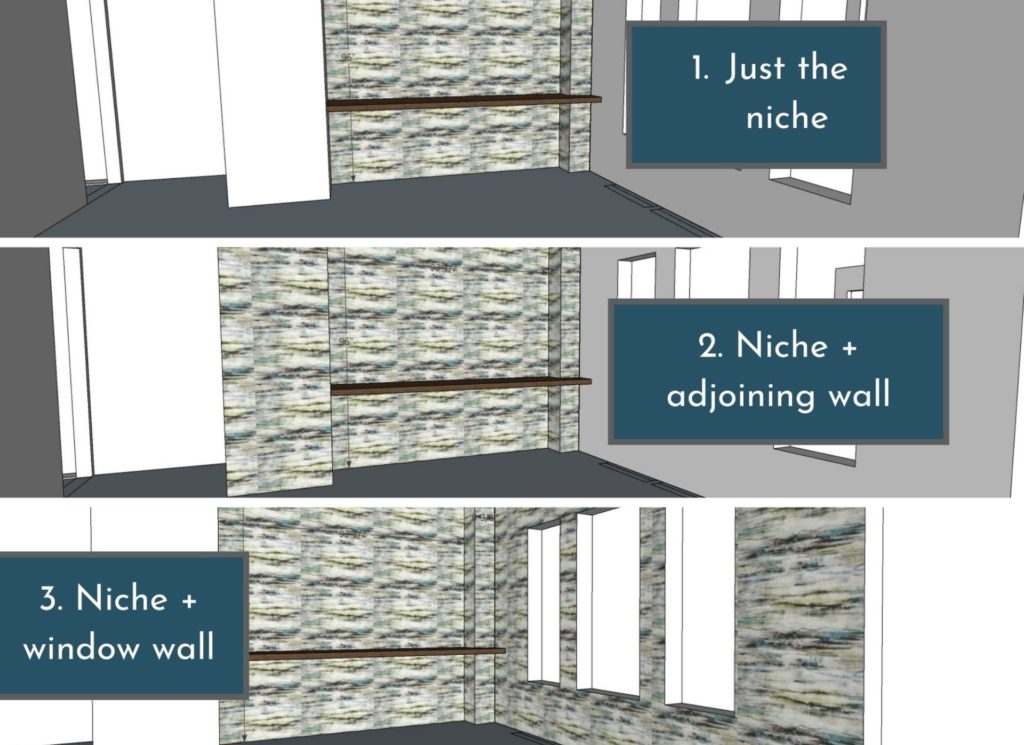 So which walls did I choose? You'll have to wait for the big reveal to see that one!
Want more interior design inspiration? See the following articles featuring pattern mixes and wallpaper.
A Fresh, Youthful Take on Wash Park Interior Decorating
Boring Walls? Wallpaper Will Fix That!