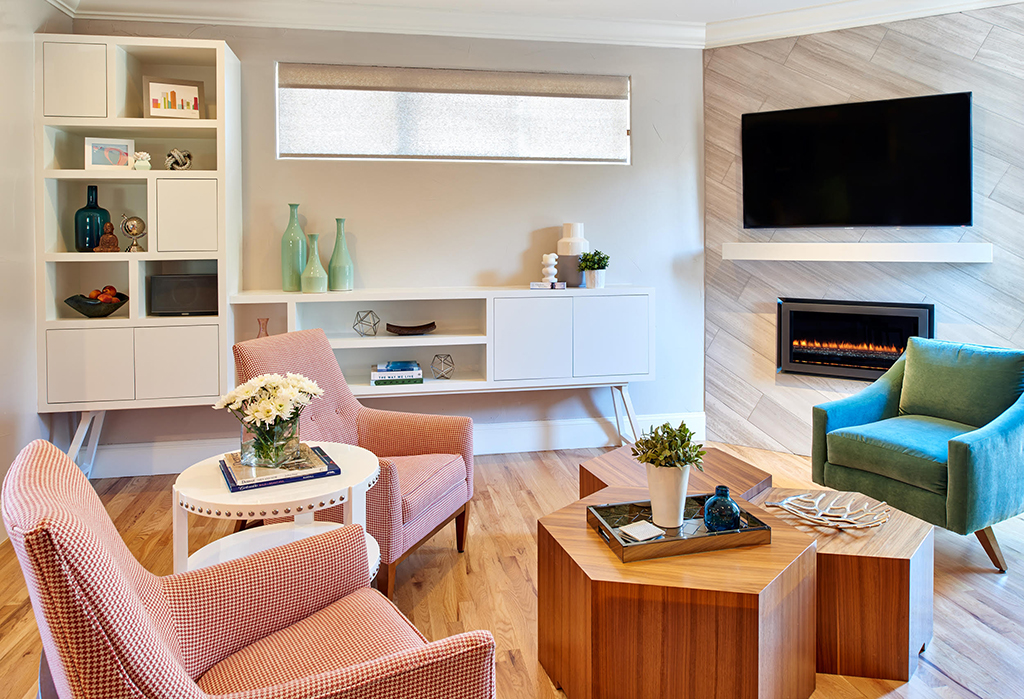 A Fresh, Youthful Take on Wash Park Interior Decorating
Beautiful Habitat freshens up a space in Denver's Wash Park. It is now suited to the couple's unique style and personality.
By Emily O'Brien
This newly rehabbed home, located in the hip Denver neighborhood of Washington Park, needed a little love when homeowners first purchased it. They knew they wanted to brighten it up. That's why they commissioned Tennille Wood for interior decorating services. Tennille says, "The home was a little dated and was more on the stark-modern side when we started. The clients wanted to freshen everything up and make it much more 'them.' They are a young, vibrant couple and the home did not reflect that. He loves New Orleans and Miami Beach; she wanted to add an airy Hamptons, beachy feel." The result is a mix and match of lush textures, rich fabrics and beautiful colors all blended together to showcase the couple's unique style and personality.
"Refreshing" Traditional Furniture
While all the new furniture carries traditional shapes and lines, it was "refreshed" through the use of plush fabrics and eye-catching patterns. The design is considered "New Traditional" meaning you preserve the important design elements of the past but add the comforts of modern life. For example in the living room, Tennille used a navy blue pinstripe sofa with a coral herringbone pattern on the armchairs. Herringbone is traditional by nature, but doesn't need to be classic black and white. In the dining room, she opted for traditional draperies but it feels fresh because of the modern floral print and the solid banding in the design. And while the fireplace may be covered in a traditional limestone, it was designed with a twist — installed on the diagonal for added interest and appeal.
For this home, it was all about contrasting and complementing stains, materials and fabrics. Tennille says, "My favorite part about furnishing and decor is the mix of fabrics, patterns, textures and colors. It's like my version of a painter's palette."
The perfect design comes in achieving a harmonious balance of different elements.
Creativity in the Dining Room
This is shown in the dining room via the repetition of blue hues — seen in a dark blue on the dining chairs and the light blue of the table in drapery fabric. In fact, blue variants and the coral color scheme are woven throughout the entire home to create a cohesive flow when moving from room to room.

See more Beautiful Habitat design projects.
Since it's a city home, it needed an office, too. So Tennille created a design to combine the dining room and office space to make for one dual-purpose room. By day, the desk and bookcases function as office and file storage, but by night the desk serves as a buffet for the dining room.
Multifunctional, Bespoke Pieces
"What also makes the home special is how some pieces of furniture were not only custom designed but created to be multifunctional," says Tennille. This is kicking interior design up a notch.
Schedule a Consultation Today
"The three hexagon tables in the living room were custom designed and built by a local furniture maker. The tables can move around to accommodate many styles of entertaining, from vignettes at large parties, to game nights." Traditional upholstery tacks seen on the modern table helps to marry the room's distinctive blend of styles.
An off-center clerestory window was a challenge as it was awkward and looked out of place. "We built a custom wall unit to hide the fact that this was off-center and to create a sense of balance that was missing from the room," says Tennille. It provides storage while concealing the asymmetry of the window's placement.
Soft Beach Vibe
In the living room, Tennille notes the chairs and the custom built-in all have a subtle mid-century modern vibe to them, especially when you look at the legs. Although the homeowners didn't want an all-inclusive mid-century look, they did love the idea of a nod of the Miami Beach vibe.
The soft beach vibe continues in the bedroom with the traditional bed frame being the focal point. The modern geometric rug design turned out to be a "happy accident," according to Tennille. "We knew we were going to wallpaper the wall behind the headboard. As we were looking at wallpaper, the client noted that a particular wallpaper sample would make a great rug design. So we took that wallpaper sample and had the area rug custom designed in a similar pattern."

Overall Success
This hip abode is a perfect example of how interior decorating can really make a space come alive. It's playful and fun and shows off little bits of each homeowner's personality. While combining their different styles into one interconnected look that could be carried throughout the home, Tennille solved all design challenges that arose from finding a common ground in the styles and building from there. Mixing design styles has a certain finesse to it. You can't just toss everything together and hope for the best. It's all about finding ways for pieces to get along, without clashing or all trying to overpower one another. This home truly pulls it off in a fresh yet classic, traditional yet modern kind of way, a beautiful visual of the homeowners' cool characteristics and more.
See the portfolio of this project.
Ready to express your personal style with a new interior decorating project? Fill out our pre-consultation form and let's get started!
Back to Blog