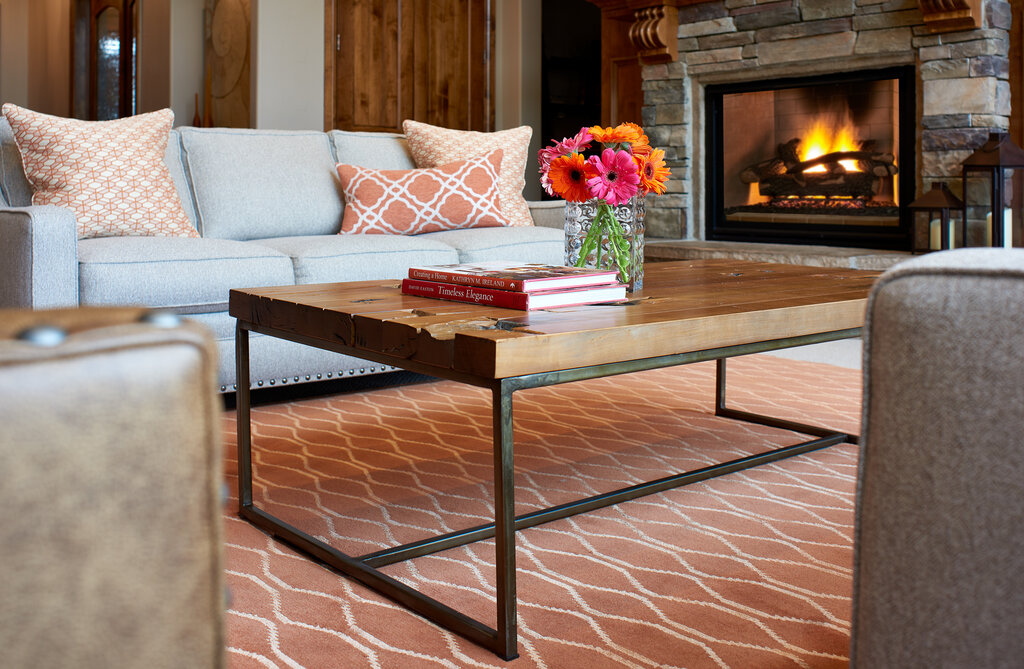 Favorite Fall Rooms
I am not big on decorating for the seasons – you won't see me transitioning all my pillows or accessories or putting pumpkins on my front porch. However, there is a certain natural inclination to acknowledge the changing from summer to fall. {Although we have multiple false falls, and second or third summers here in Colorado.}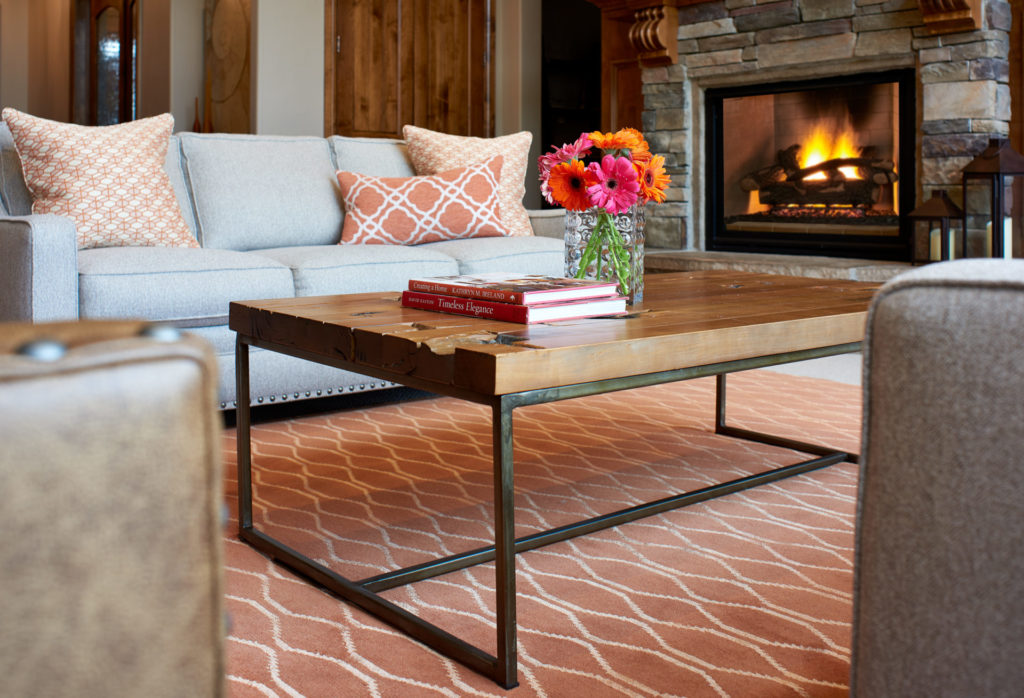 The colder air brings with it much inspiration in the warm, vibrant, spicy colors associated with autumn and the desire to nest and spend more time in our interiors. The days get longer and our circadian cycles tell us it's time to slow down.
We design a lot of blue and cooler tone rooms here at Beautiful Habitat. It's not intentional; we just naturally draw in clients that prefer grays and blues.  And those colors have been more popular in the last 10 years. However, we've designed many beautiful homes in warmer tones as well.  They make me think of autumn. Here are some of our favorites.
This Dining Room is part of a whole great room interior design that we created. To create the drama our clients requested, we selected a stunning table of large slab Olive wood with black resin fill. Two captain's chairs with a high curved back are upholstered in two fabrics in a soft orange. The custom drapery, in an embroidered pattern of soft orange, yellow and gray pull the whole great room design together.
See the full project here: A Warm and Inviting Denver Golf Course Home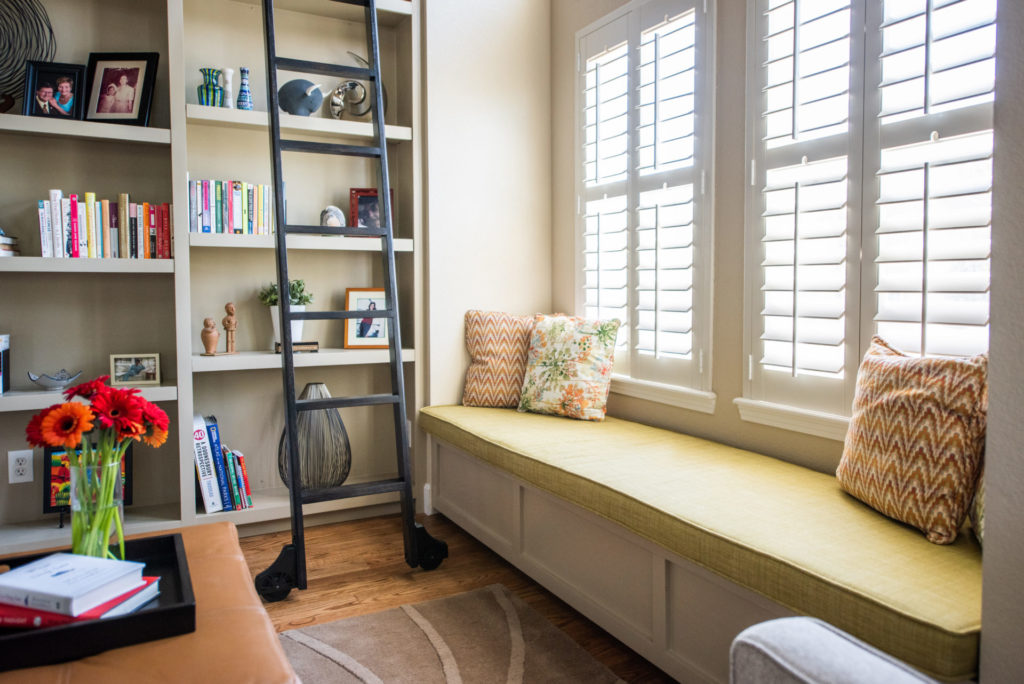 This project is  another home in which we created a new interior design plan for the whole main floor. One notable feature is that we changed the function of the formal dining room to be a home library for the whole family to enjoy. In addition to cozy swivel chairs, we created this window seat for the perfect place to lounge with a good book. Our warmer color scheme is brought in through the fabrics in colors ranging from red and orange to a yellow-green for the seat cushion.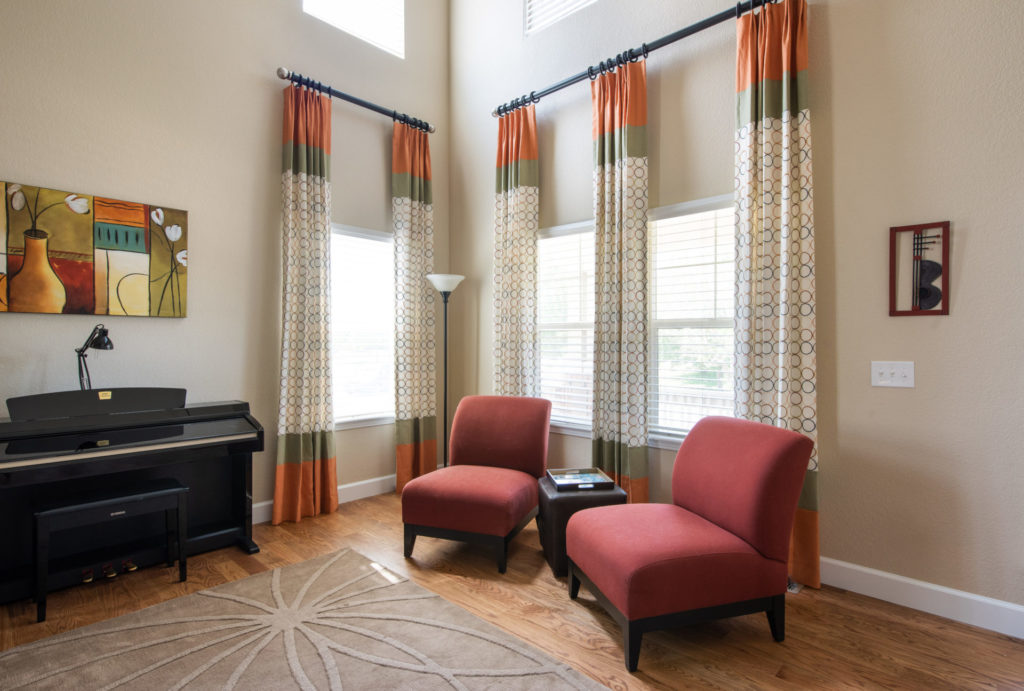 In the same room, opposite the new bookcase and library ladder, we added some design style to the formal living room. We designed custom drapery with bands of orange and green pulled from the embroidered pattern in the center.
See the full before and after of the project here: Create a Home Library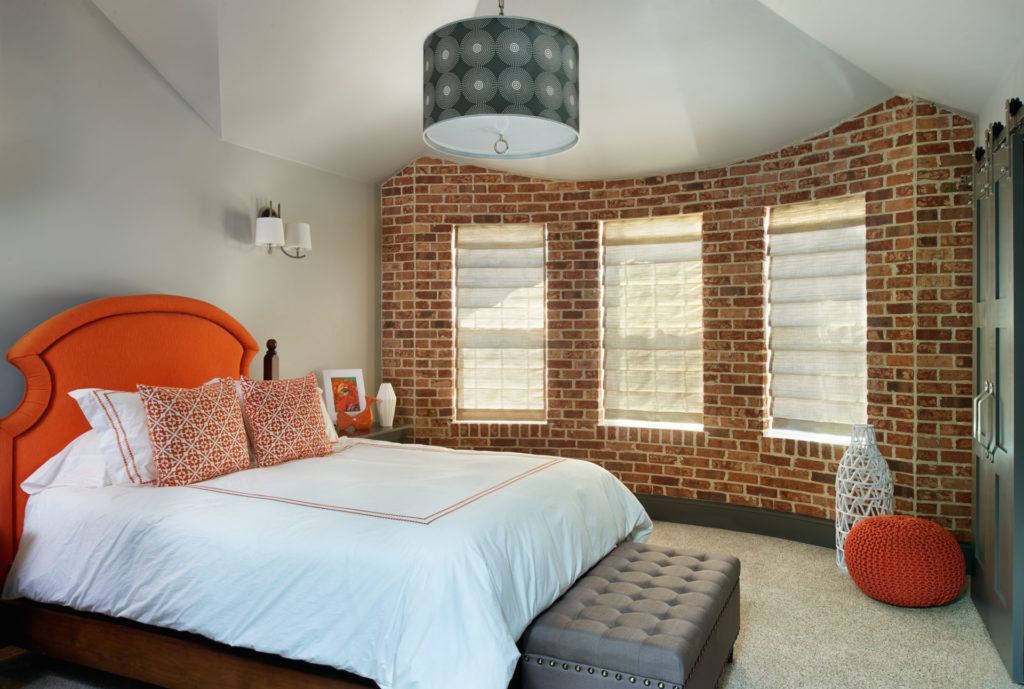 Even bedrooms can have a warm color scheme. It's rare, I know! Most people select neutrals or colors that are considered more soothing, like blue or green for their bedroom décor. However, it's fun to spice up the color scheme in a bedroom. Here the addition of a bold orange headboard takes this room from boring to a statement.
See the full project here: Pop top brings this Wash Park Denver home up to Par
Not ready for a full home makeover? There are simple ways to add the cozy feel of fall to your home
Warm tone accessories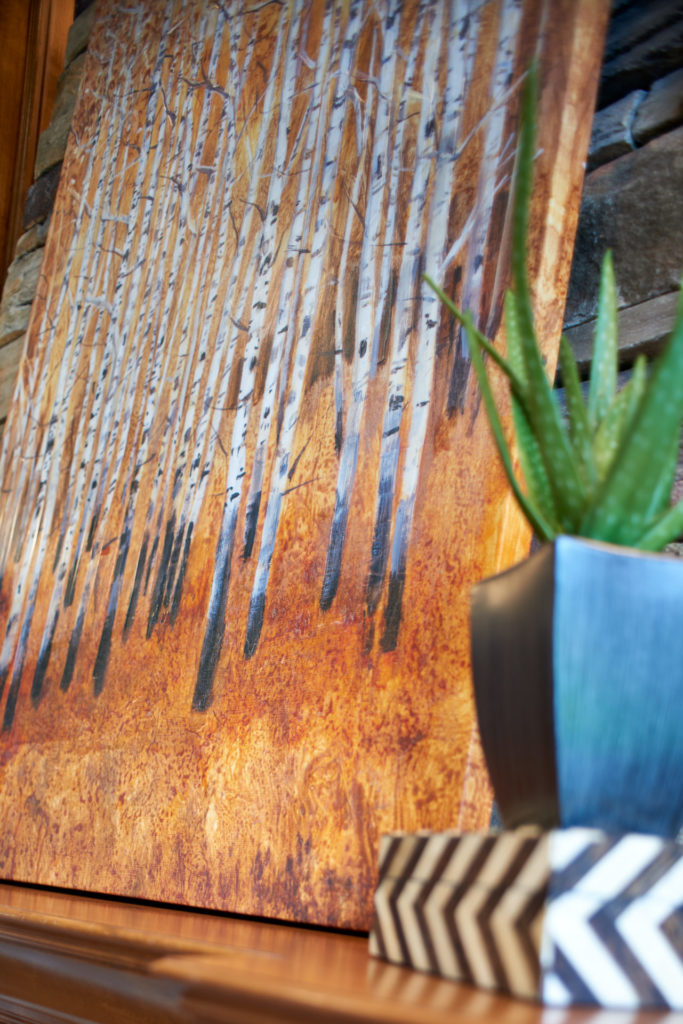 Warm colors in art work, or sculptural wood pieces add a fall-feel to a room.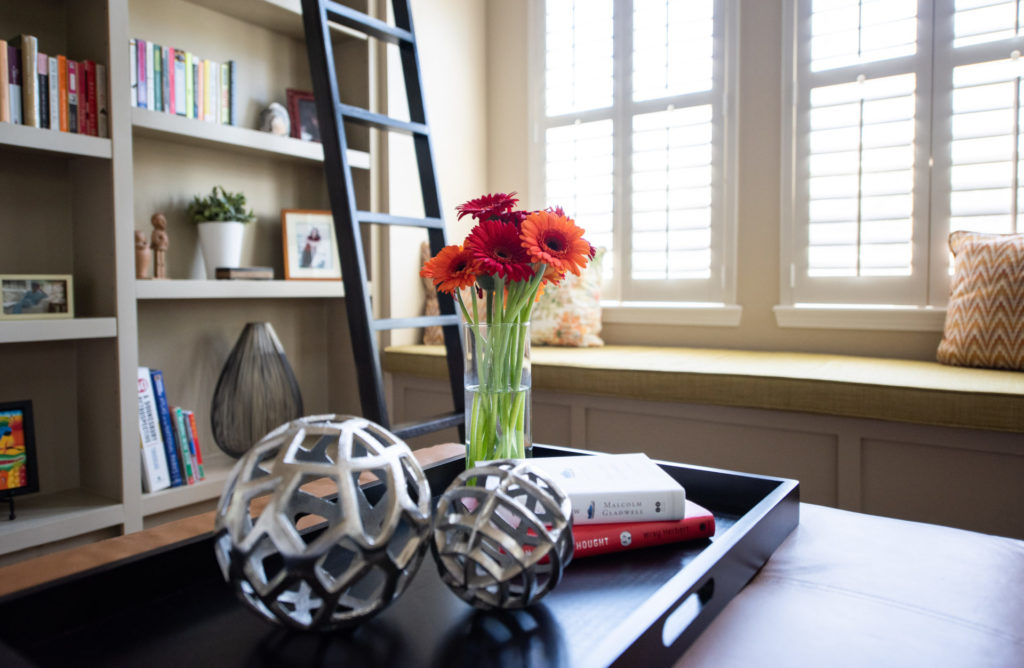 Or even just flowers in warm colors, or fall varieties like sunflowers or mums.
Scents and candles
This is my go to autumn fix! I love candles that smell of fall spices or pine needles.
Textiles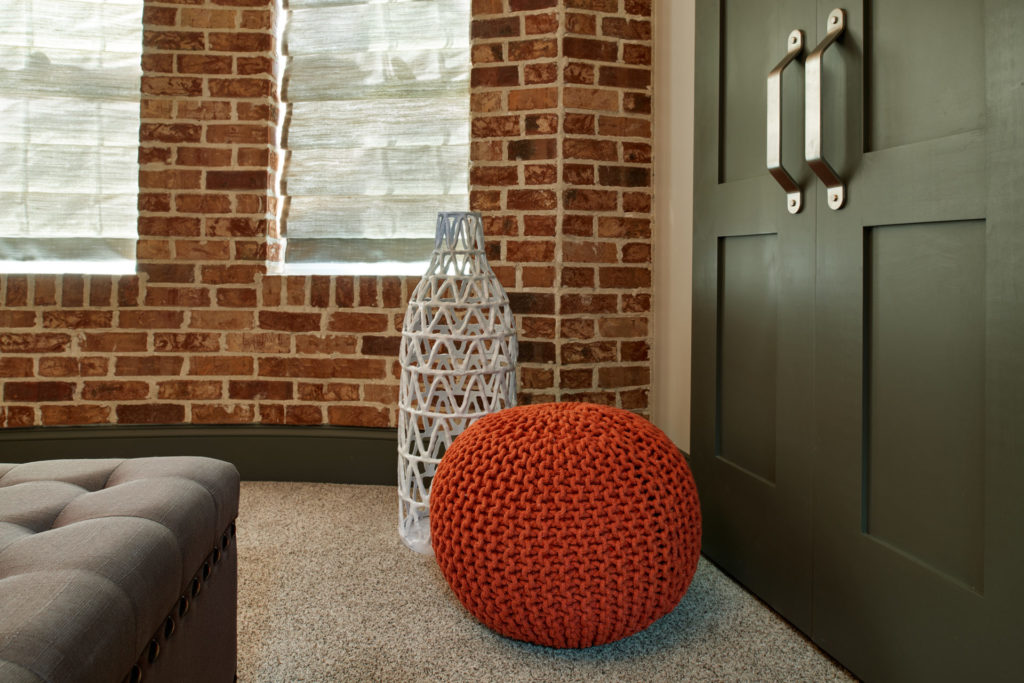 Bring out the chunky knit throw blankets , pillows or poufs for a fall-feel.
Want more inspiration
Time for a Dining Room Design Refresh?
Double Duty |Creating a Home Library in Another Room