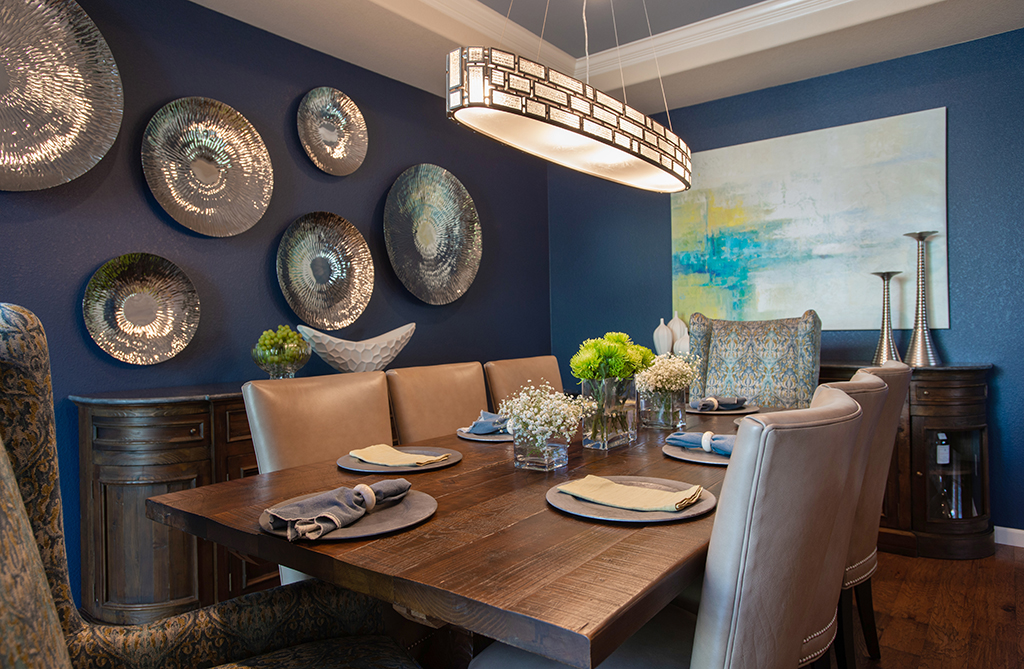 Time for a Dining Room Design Refresh?
Design Inspiration for your perfect Dining Space and just in time to plan for the Holiday Season!
By Emily O'Brien
Does your dining room need a little love and attention? With the holidays on the horizon, now is a great time to refresh your dining room's look and make it just right for any upcoming entertaining. Do you want to lighten and brighten, or darken for dramatic, opulent effect? Whether you're looking for a completely new look or a medium-sized refresh, an interior designer can help give you the dining room design you've been dreaming of. Whether you're hosting family and friends or a party with many expected guests, you'll love showing off your latest dining room refresh.
From formal rooms to casual family-friendly spaces, you want your dining room to fit your family and lifestyle.
Add Details 
Great design is all about the special finishing touches. Bringing in new elements like layered lighting, which is great for creating a mood, or window coverings, for privacy and lighting control, can really amp up your style. In this Denver-area dining room, recessed lighting blankets the room in soft light, while the metal and glass light fixture adds a modern touch to the space. Candles can also give you an extra layer of light and create a cozy atmosphere.
Incorporate seasonal design into the mix. You can add or subtract elements as you go for added drama, such as changing tableware and linens. Use an ample buffet space to spread out a feast for a crowd.
Schedule a Consultation Today
It's All About Balance
A great way to harmonize a room is through the use of color. In this dining room, a floor-to-ceiling light stone wall with a fireplace is balanced by dark blue hues. Take a cue from outside. Natural stone adds texture and brings an earthy element inside, yet the color and cut make it feel polished and chic. Metallic bowls break up the blue while adding another layer of texture and a hint of sparkle. Use bold color to play and have fun, and then add light color or metallic accents to instantly glam up the look.

Make it Comfortable
Give your chairs a stylish and plush makeover. Click glasses in comfort when everyone is gathered around the table. Cushy upholstered chairs invite guests to linger for conversation after the meal.
Fabric can add warmth and elegance to a room. Having artistic custom chairs and window treatments designed just for your space creates a feeling of opulence. Plus, they make for a great conversation piece. Consider focusing on two chairs for the design and balance the rest with a more casual covering, like in this dining room.
  
Bring it Up-To-Date
For a glass door, sliding fabric panels are a sophisticated and modern way to complement it. These bespoke fabric panels warm up the space while dressing it with an intricate design with sateen framing. The fabric connects the door to the dining room. Additional modern elements include mixing curved ceramic vases along with rectangular glass ones. Your décor details should blend well with your color scheme and speak to your design style.
Blend Styles
Balance differing styles by blending modern and traditional pieces. Here, the modern elements include the chandelier and art, while the traditional ones are the buffet cabinets and medallion patterned fabrics.

Make it Wow
Draw the eyes up by embellishing the ceiling. In this room, a light blue color added inside the tray ceiling deliberately draws the eye up to the detail as it breaks up the white. A decorative touch on the ceiling can not only open up the room but also add interest without taking up any usable square footage.
It's Time to Start Holiday Design Planning Now!
Does your Dining Room need a refresh for the holiday season? If you wait until October or November… it will be too late. Transform your place into something special. The right interior designer can turn your dining room vision into a party-ready reality. So, what are you waiting for? Get started today! An Interior Designer can help you add special touches make your dining room (and your party) sparkle. Then as the seasons change, so do the decorations.
Ready to start your holiday planning? We can help! Fill out our pre-consultation form now!
Here are some more tips for you to consider for your dining room design.
Need help with your kitchen instead? Read Prep Your Kitchen Design for the Holidays and ensure you're ready for the season ahead and every day.