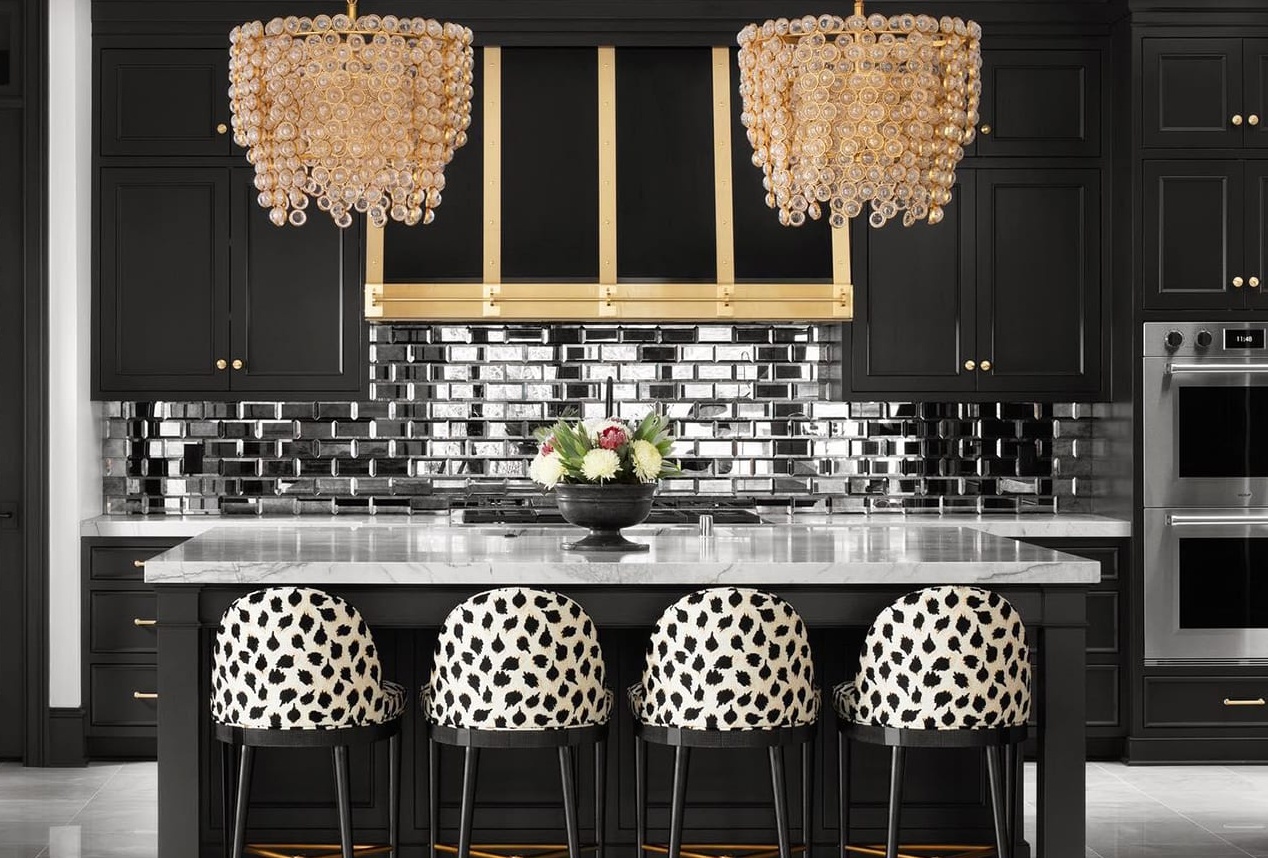 Black Kitchen Design Inspiration
Back in January of 2020, I predicted that Black was going to be the hot color in kitchen cabinets and kitchen design. I predicted this on Instagram, then followed with a blog post of design tips on Using Black in Kitchen Design. Despite everything that happened from January 2020 on, that prediction held true. Certainly black kitchens will never gain the popularity of the white shaker kitchen. However, we've seen a big jump in the number of kitchens that incorporate black, particularly black cabinets.
Since 2020, Beautiful Habitat has completed two kitchens incorporating black cabinetry. The first was part of a whole home remodel that we completed in Broomfield. The clients wanted a more streamlined and contemporary feel to their suburban home. The husband requested high contrast in the materials. Throughout the interior design, we incorporate black and white to achieve this contrast.
In the kitchen we utilized black base cabinets, white countertops and a graphic backsplash tile to pull it all together. We softened the contrast and added warmth to the home by incorporating oak wall cabinets.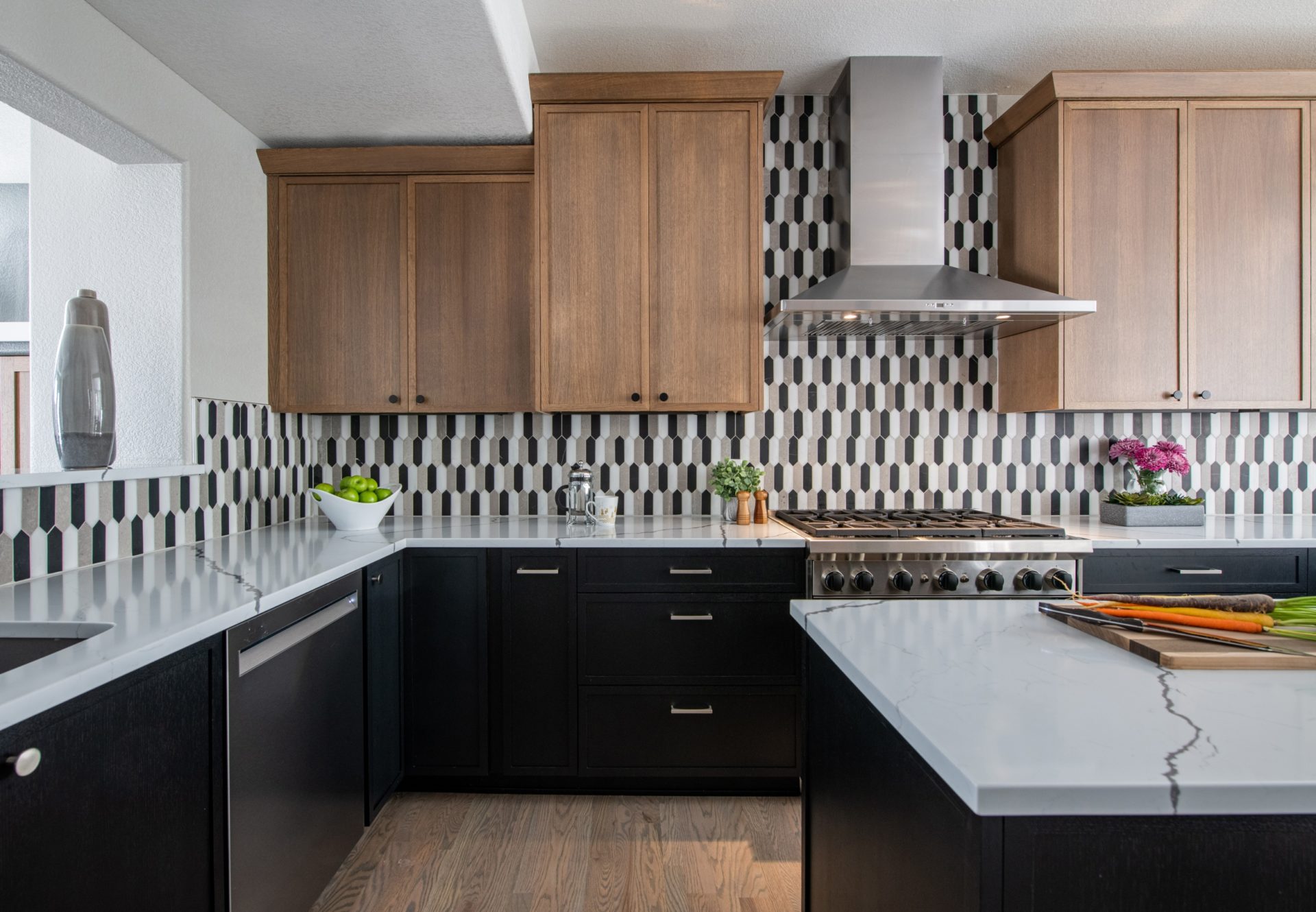 Via Beautiful Habitat
The second black kitchen design was the kitchen in the Denver Life Designer Showhouse in October 2020. In this interior design plan, we incorporated tall black cabinets and a black range hood with a black soapstone countertop. To add warmth to the room, we pulled the green undertones in the soapstone by adding an emerald green backsplash and fabrics for seating.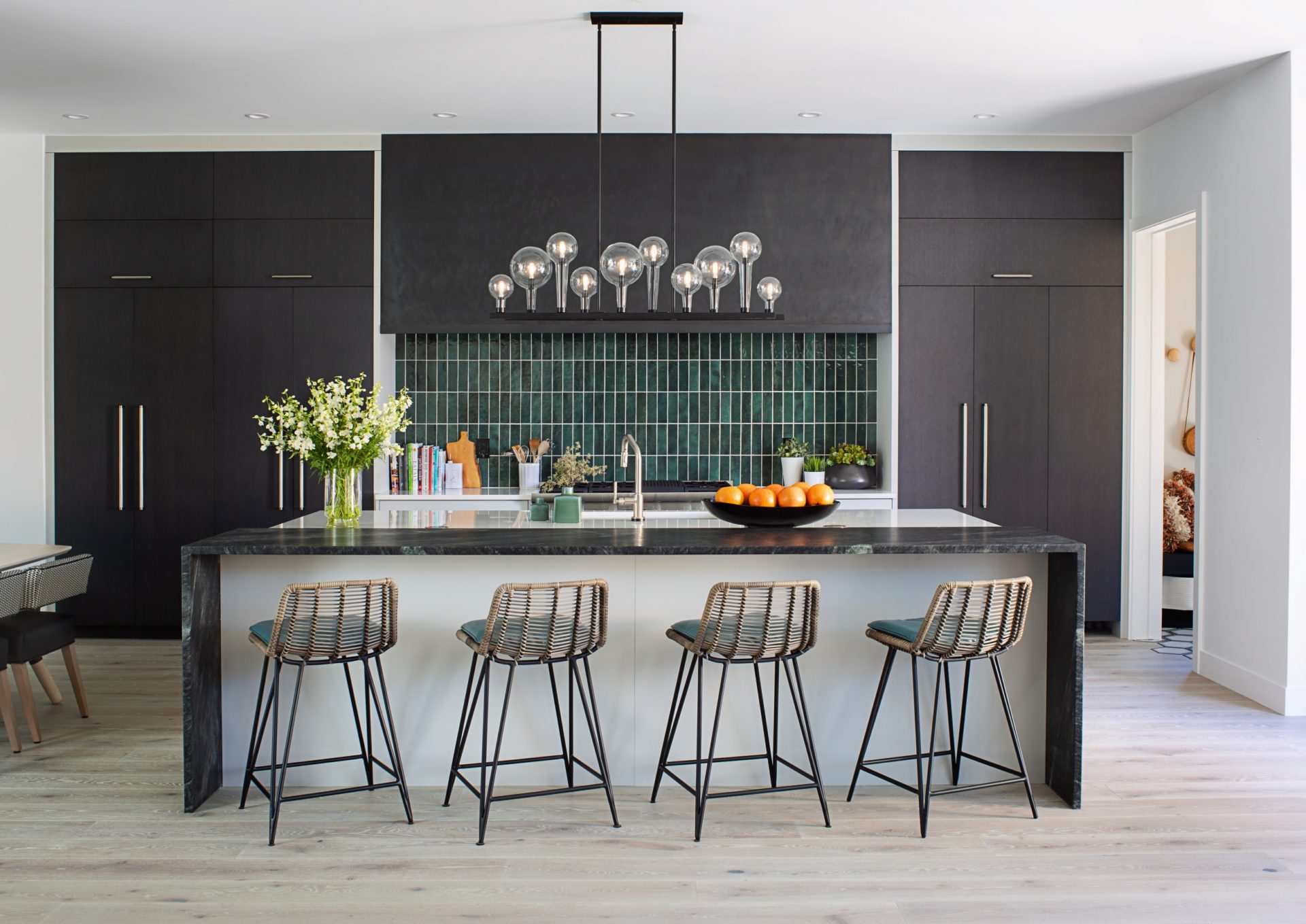 Via Beautiful Habitat
I still think black is holding strong in kitchen design, so today I'm sharing even more inspiration. The following rooms are from the article by Circa Lighting "11 Black Kitchens that Redefine Modern Style".
Design Tip
You are going to see a common theme here. Every kitchen design I am featuring has one or more elements utilized to help warm up the space. That is the key to making a black kitchen design work. The warming elements include natural wood tones, warmer colors, or brushed brass metal.
Via Dan Rak Design
This is a lovely kitchen in which the black cabinetry is balanced by warm oak floors, white subway tile and red accents. The large pendant lights make it feel timeless and classic.
Via West of Main Design
The warm wood accents and gold touches warm up this otherwise black and white kitchen design. I like the seating area that has been incorporated into the island at one end instead of all facing the sink.
Via Amy Carman Design
Rarely do kitchens go full black or with even with all of the cabinets black. However, Interior Designer Amy Carman REALLY embraced black in this very glamorous and dramatic kitchen design. She had the courage to go full black cabinets AND backsplash. Of course this is balanced with white and gold accents. I love it.
As I said in June of 2020 "We have a tendency to see Black as the opposite of White. Instead, embrace black as a color to be used like any other color in the color wheel. In this sense, black is a bold and courageous choice for a kitchen or bathroom design."
In that same vein, I say we should embrace black as a color to be used in ANY room and ANY design plan. Stay tuned because I'll be sharing all the beautiful black rooms that I can find.