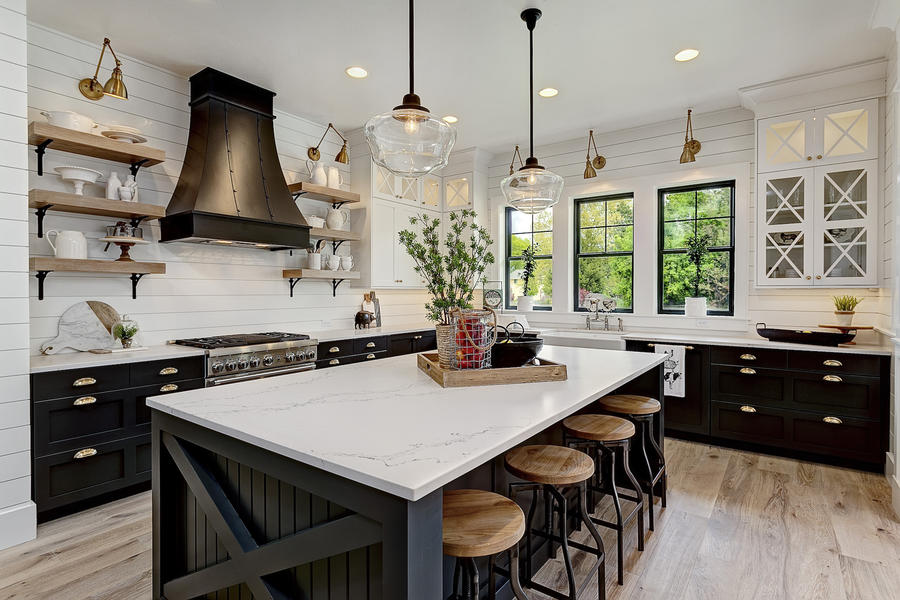 Using Black in Kitchen Design
Way back in January, you know, before our world was turned totally upside down, I made a forecast that black kitchens were going to be big in 2020. The world has completely changed in the last 6 months, but I still hold to that prediction. In fact, we are currently working on two Denver kitchen remodels that feature black cabinetry. And they are going to be stunning!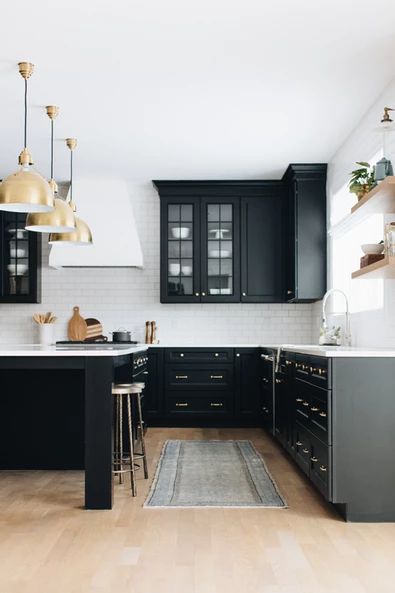 It all started with an Instagram post of this kitchen by reDesign Co.  And I asked the question – why don't we see more black kitchens?
Speaking of reDesignCo, they have several truly exquisite black kitchen designs, so check out their Instagram account for amazing Interior Design Inspiration.
I love black kitchens and I have for many years (more on that to come). Black creates a more organic and natural feel than a white kitchen any day. Black cabinets work with all interior design styles from modern design to traditional homes and even farmhouse kitchens. And just like the Little Black Dress, black is timeless, classic, and can be dressed up (interior design drama) or dressed down (casual grounded décor).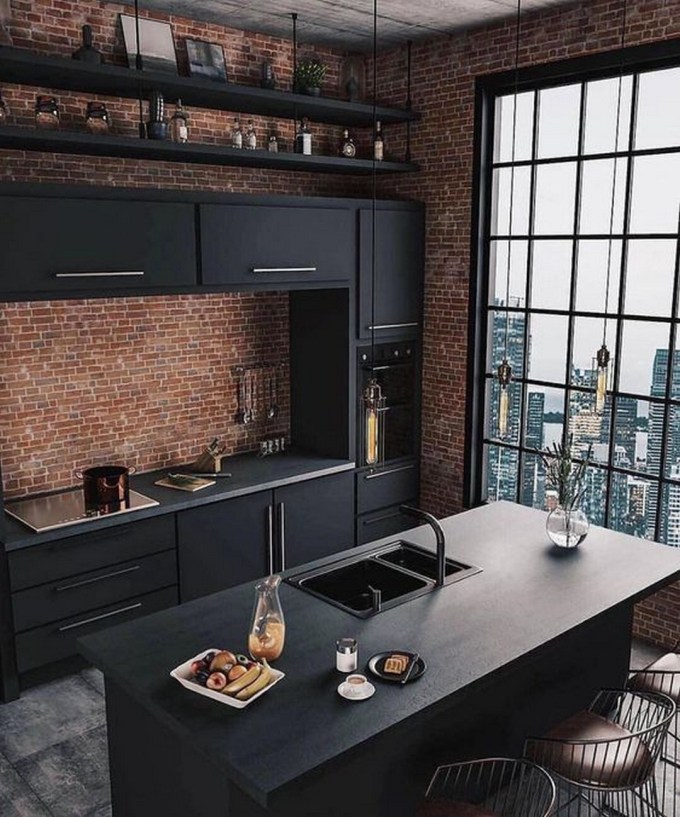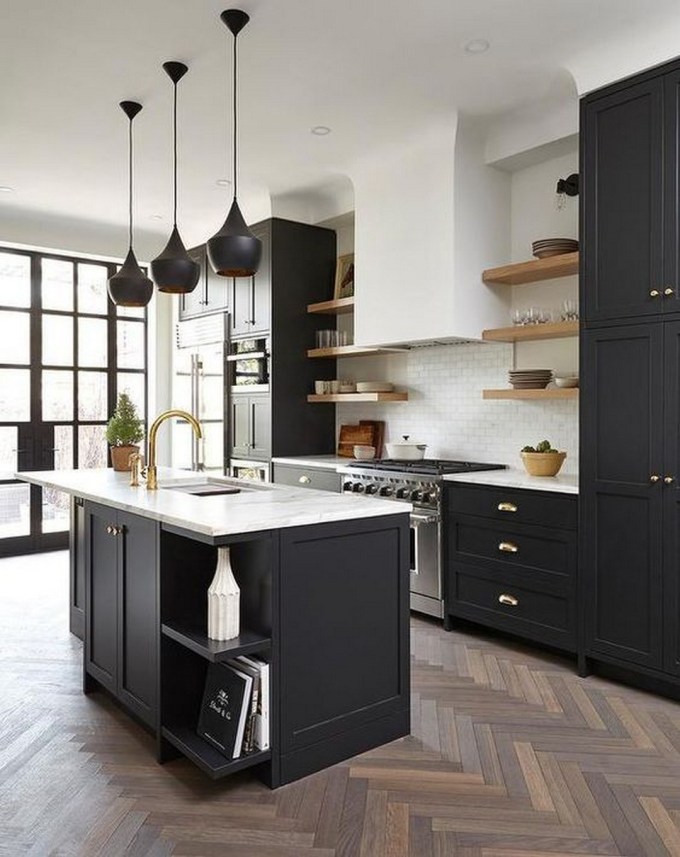 I found the 2 photos  above on this article  "39 Best Black Kitchens". Unfortunately they are not properly credited, so I am unable to give full proper credit to the Interior Designers or photographers.
Why don't we see more black kitchens?
I think the  reasons that we don't see more black kitchens are:
White kitchens remain very popular
Embracing black as a color
The myth that a black kitchen will be a dark kitchen.
I have nothing against white kitchens. They are fresh and bright and a strong reaction to decades of dark wood grained cabinets. We have designed many kitchens with classic white shaker cabinets and I expect that we will continue to do so.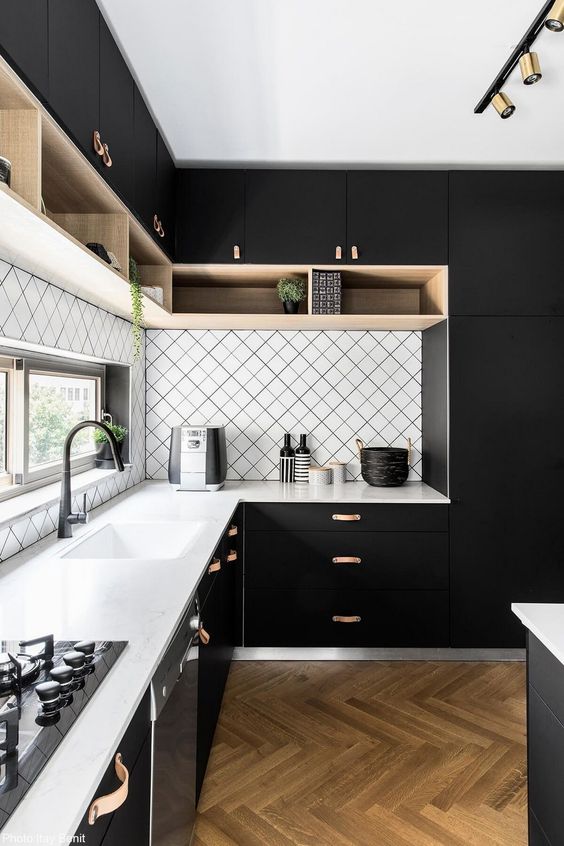 My issue is only when people follow any interior design trend blindly, and that includes white kitchens.   Quick history: golden oak cabinets reigned for YEARS. Everyone was so sick of them and desired something different. Espresso-stained cabinets emerged for a brief heyday. Then white painted cabinets became the rage.
Until the last 2-3 years, cabinet companies offered only a handful of paint colors as an option. White was one of those few colors and rose to be the most popular. People were drawn to the refreshing and lighter feel of white kitchens and this exploded with white kitchens being shared all over Pinterest, Houzz and then Instagram.
Cabinet companies used to charge a whopping 25-30% upcharge on your cabinets for a custom paint color. Therefore, many people wanted painted cabinets and defaulted to the standard white paint, simply because it was the best of very few options. Today, any good cabinet line will allow you to choose any Sherwin Williams or Benjamin Moore color for 0-5% upcharge on your cabinets. With all that variety, why stick with just white?? But I digress, that's a whole other conversation.
Back to my case for black kitchen cabinets.
Just A Color
We have a tendency to see Black as the opposite of White. Instead, embrace black as a color to be used like any other color in the color wheel. In this sense, black is a bold and courageous choice for a kitchen or bathroom design.
Fear of the Dark
The most prevalent  reason that I believe black is not used more for kitchen desings is the fear that black cabinets will make the whole room dark. I understand this. I grew up with a 1970's kitchen with dark oak cabinets and it was indeed a dark room. However, we used to also have one central fixture to light the whole room. Kitchen designs of today incorporate much better lighting design.  We employ proper lighting designs that include layering of ambient, accent and task lighting. With a properly lit kitchen, any dark cabinet color will work.
In addition, mixing lighter materials like white countertops, backsplash or walls, light floors or stainless steel appliances will keep a black kitchen from becoming too dark.
Another interior design trick is to use two-tone cabinetry by mixing black cabinets with a lighter color of cabinetry.  In fact, mixing a black paint with a lighter wood grain makes for a stunning modern organic design vibe.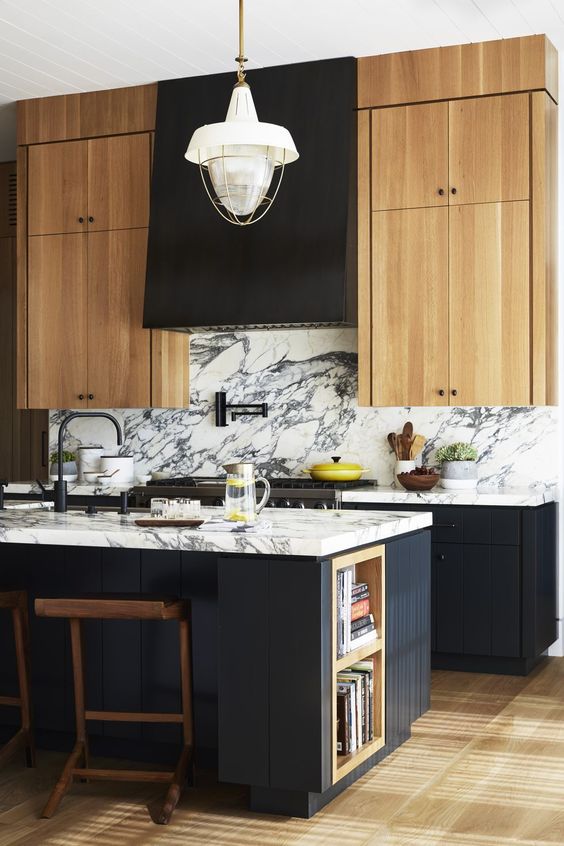 Via Barata Interiors as seen in Elle Décor
Even the Farmhouse look, which everyone equates to white kitchen cabinets, looks absolutely stunning with a black cabinet remix.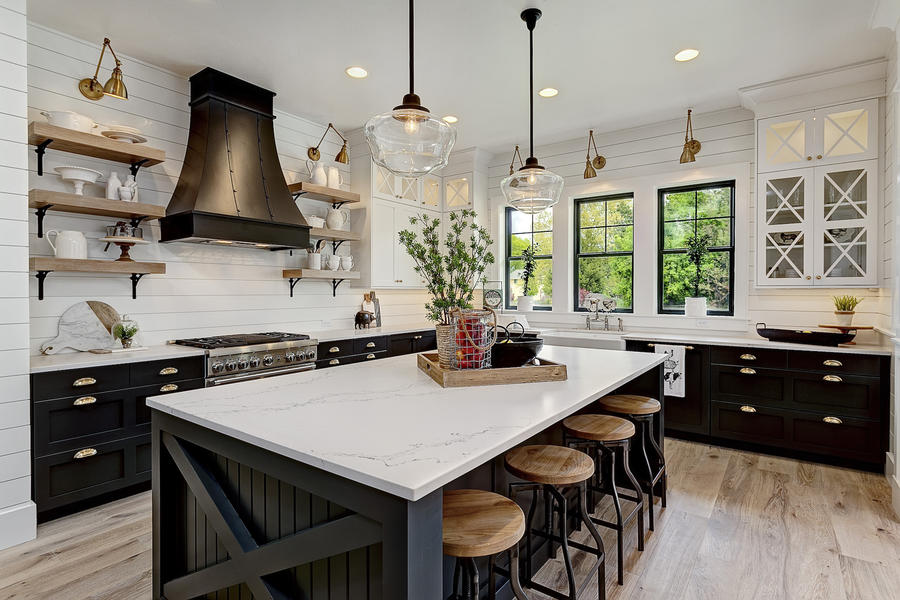 Via Clark & Co Homes
Am I sure about Black Kitchens?
Yes! I live with black cabinets in my own Denver home. When we moved here seven years ago, I gave the kitchen a facelift. I kept the base cabinets and countertops in place, and replaced the wall cabinets with gray-stained cabinets. I painted the base cabinets in black, which makes the kitchen more sophisticated and ties it all together.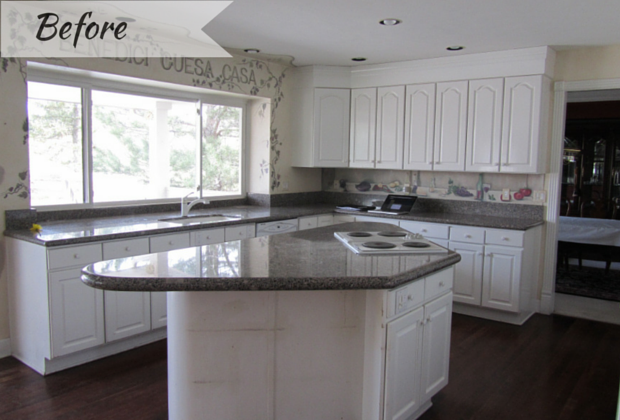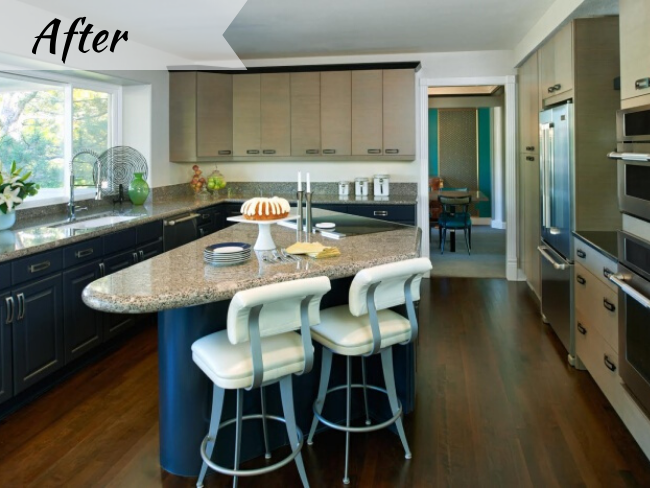 Are you ready to add a black kitchen design to your Colorado home? Contact me today!
For more Kitchen Design Ideas
For more information on Lighting Design, so that no room in your house is ever too dark
And specifically Lighting Design Tips for your Kitchen