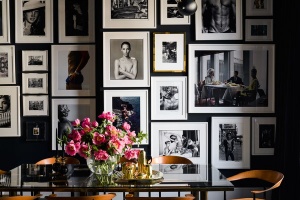 Gallery Wall Design Inspiration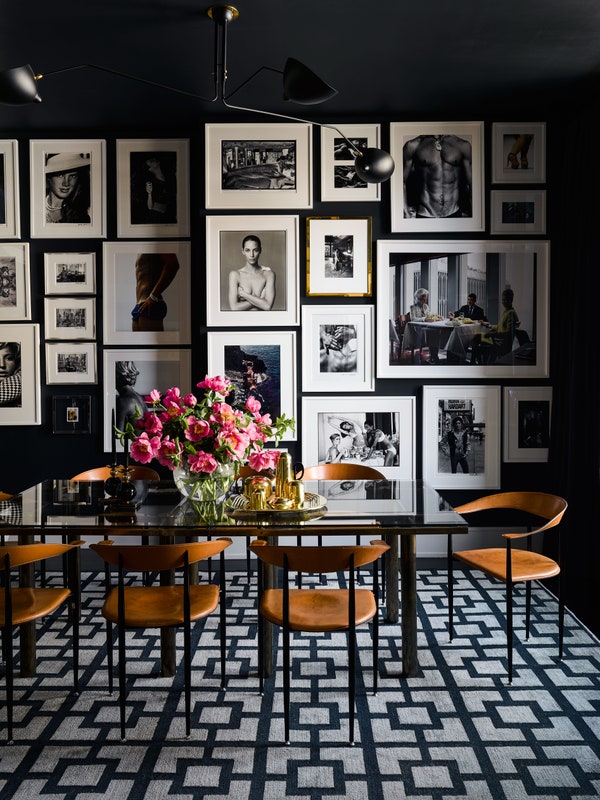 For anyone that has recently joined me on a zoom call, you've noticed I've been growing a gallery wall behind the desk in my office.  As I grow my gallery wall, I'm often looking for inspiration and what to incorporate into the wall. Today I'm sharing some inspiring rooms and tips for your own home decor.
We've created many gallery walls for interior design clients over the years, but we rarely photograph them. They have often included many family photos, so I've chosen not photographed those in order to keep my clients' privacy. Today, I'll be pulling inspiration from other Interior Designers.
There are a couple of ways to approach a gallery wall. The easiest, is to incorporate similar style art work – black and white photography is common – in similar frames. This is a safe bet if you are new to gallery walls. The similar art and frames makes it instantly cohesive, so it's easy to pull together.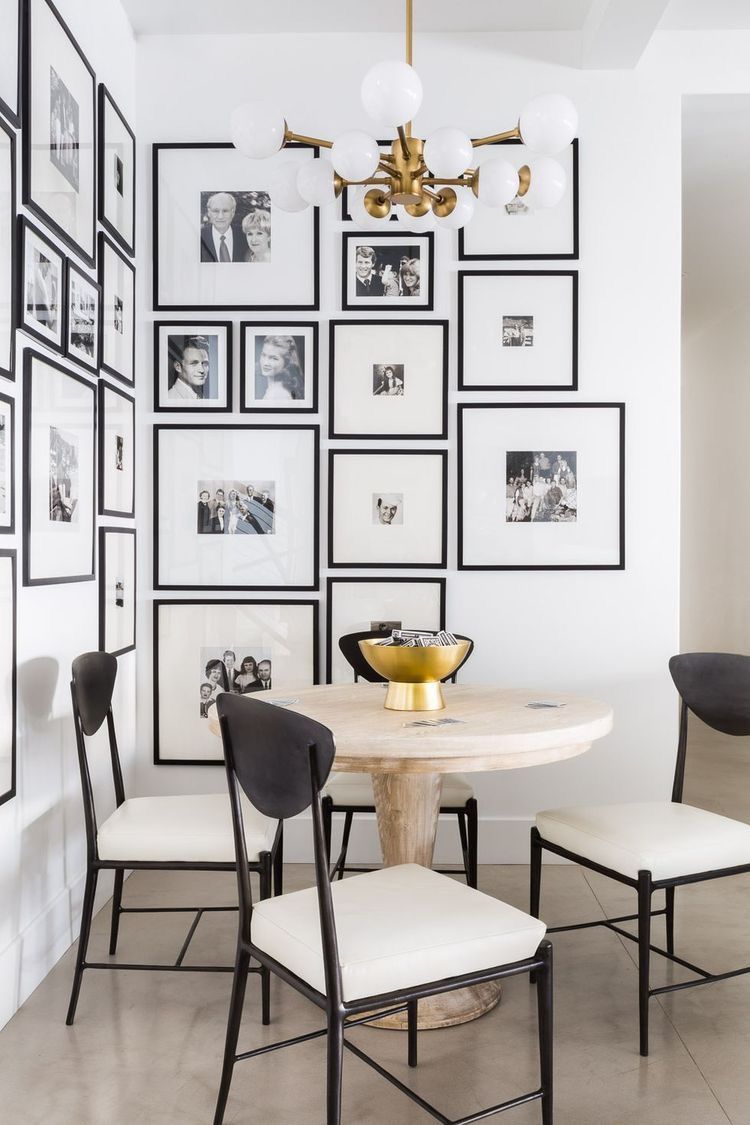 And here is a great example of similar style paintings, all in white frames. The white frames and matting make this grouping cohesive and easy to put together.
Via Beautiful Habitat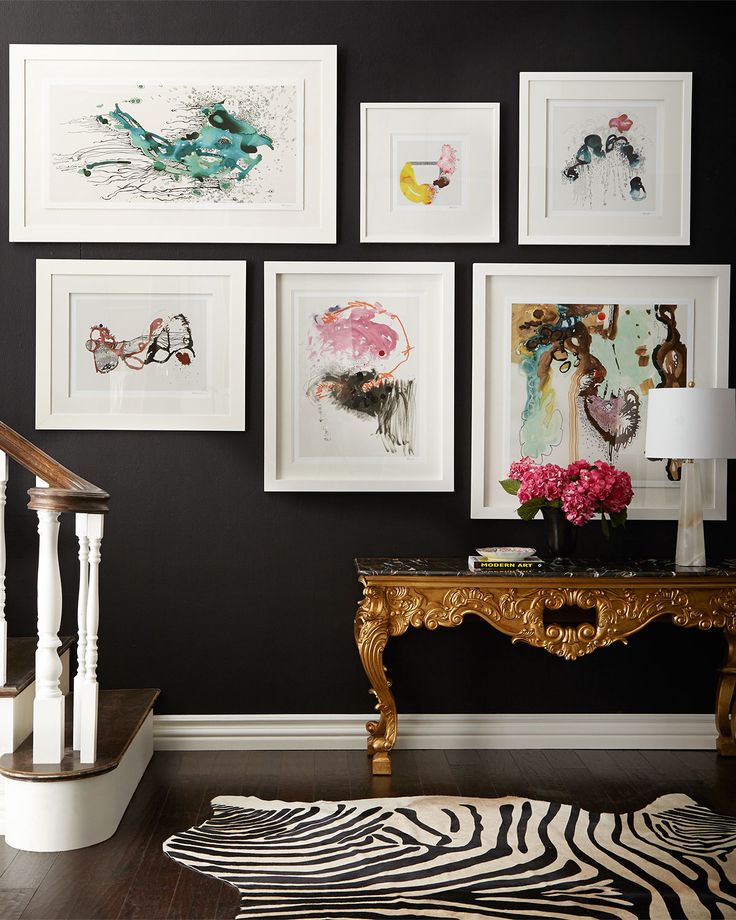 To take this a step further, you can start to mix different styles of frames. This example mixes gold and wood frames together. The key to making this work is to ensure that you have at least 2 of each kind of frame so there is a relationship. If you used all black frames and throw in one that is different, it will really stand out as the oddball.  (Note that this collection is also bringing in some different scales and shapes in the upper right corner)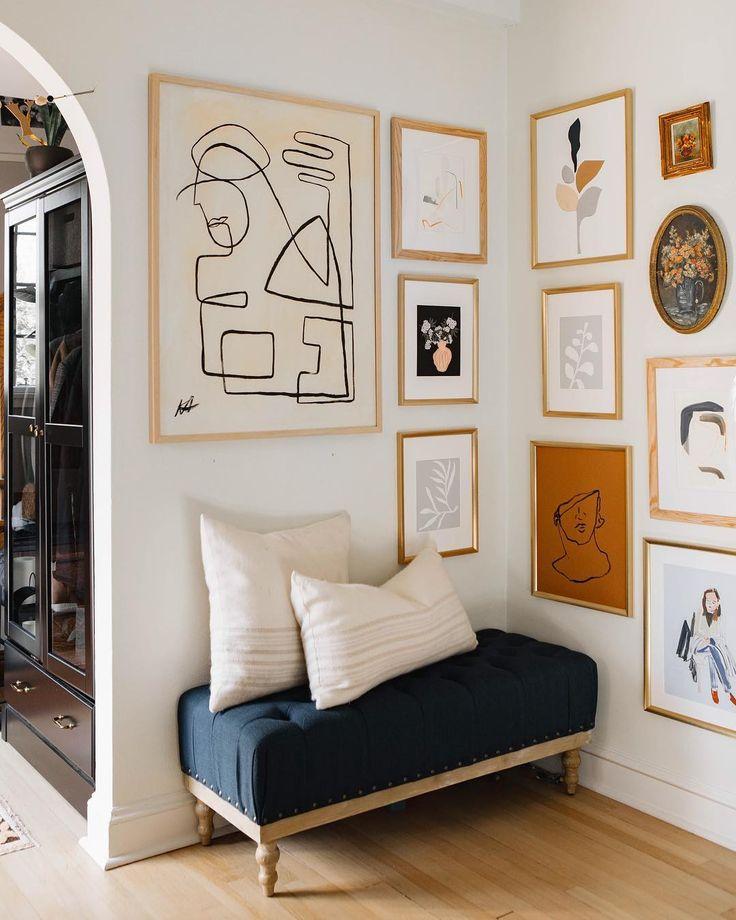 Via the Printable Concept
In my own gallery wall, I'm actually branching into multiple mediums. I have unframed painted canvases, Framed artwork and photos, and I'm starting to build in embroidery pieces. (If you haven't seen on Instagram, embroidery art became my COVID hobby).
Here are a couple of inspiration rooms using more variety in mediums and frames. I also really love this collection in the powder bathroom. The green walls really make the colorful artwork stand out.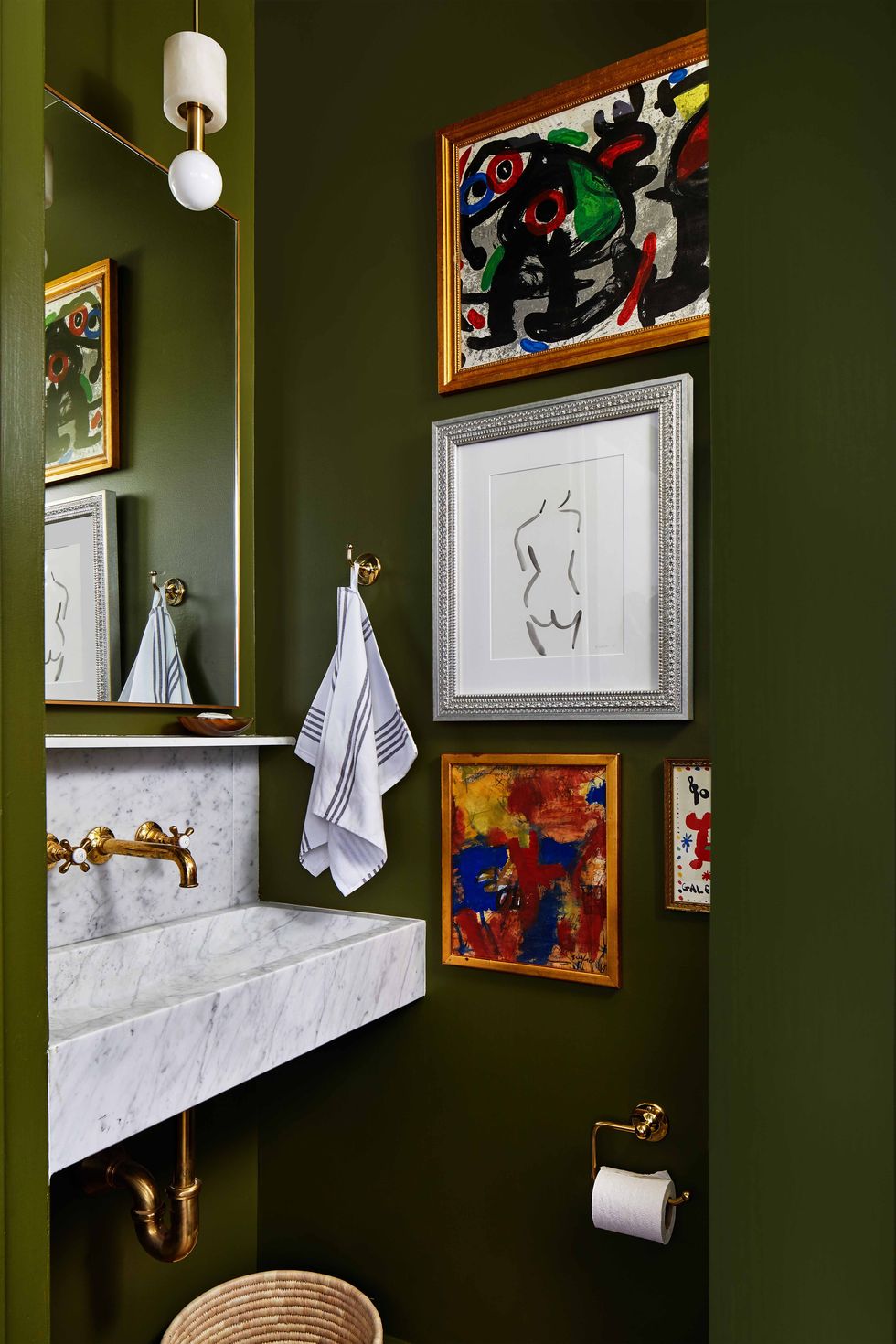 Via  Elle Décor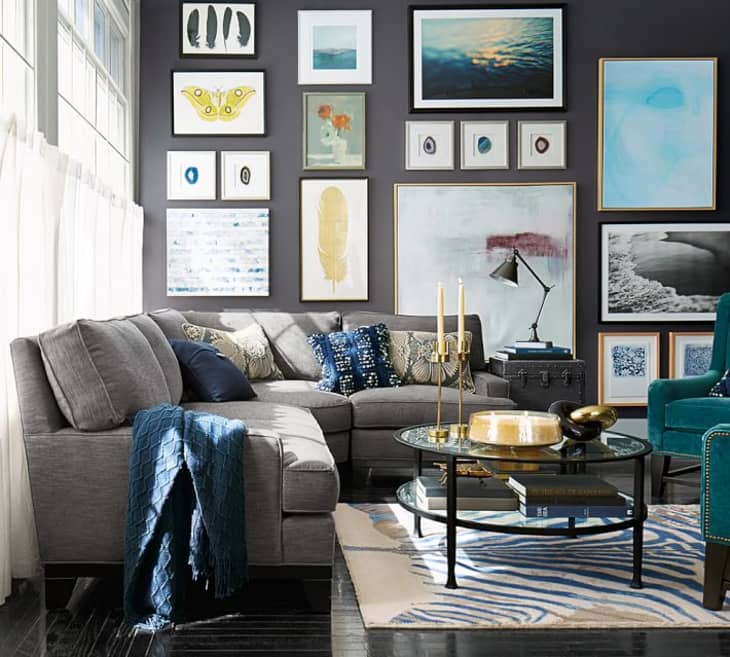 Via Apartment Therapy
Recently the Denver art gallery, Walker Fine Art, published a blog post with inspiration from their artists and available small works.  They gave the following advice: "A lot of overthinking goes into choosing art and making a gallery wall, but it should be fun choosing things that you like to look at every day," says Michelle Adams, editor and creative advisor. "It should show what your interests are to people when they walk into a room."
These are 2 of their inspiration rooms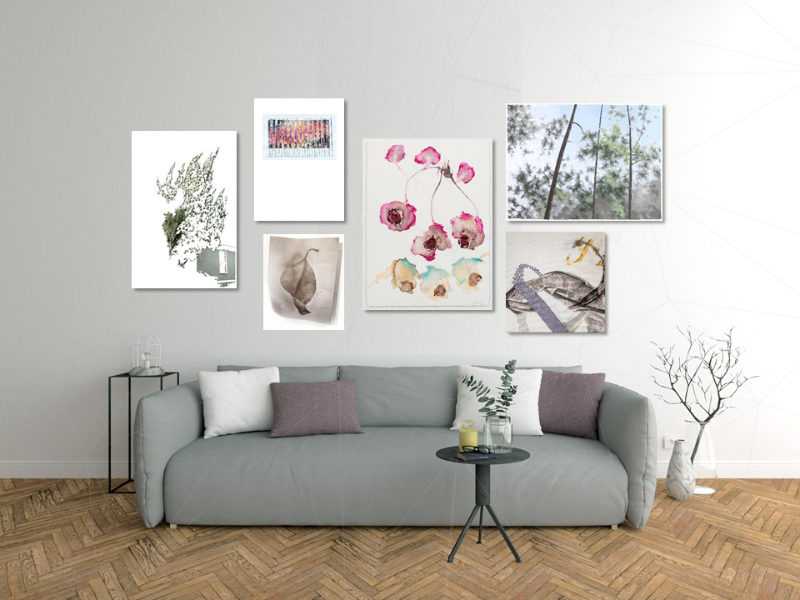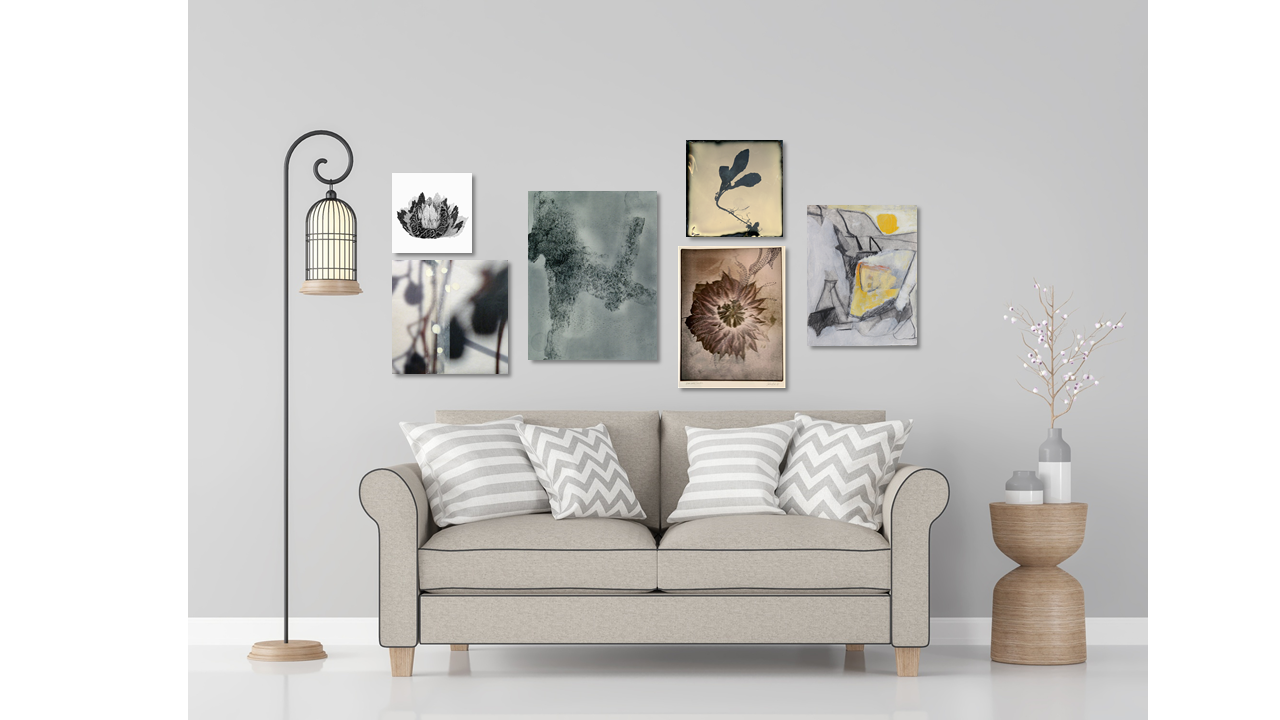 Shop their small works collection here.
My office gallery wall is still a work in progress. I need to frame the recent modern mountain embroidery designs that I've created.  Then I'll share photos with you. Or join me for a zoom call and you'll see how it's coming together.
Want more art inspiration for decorating your home?
Three Tips: Right-size Artwork for Your Home.