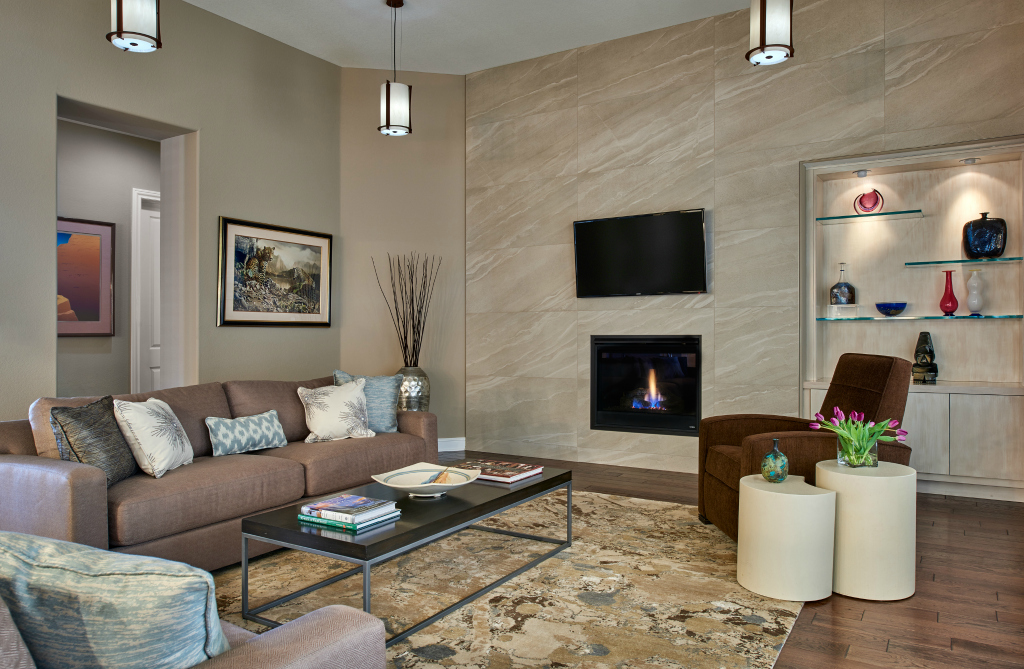 Art-Inspired Modern Design Creates an Indoor Sanctuary
Enjoy the high-end amenities of a luxury home even when you downsize. See it accomplished in this Anthem Ranch home.
By Jules Marie
Apair of emptynesters relocating to Colorado wanted to downsize without sacrificing any of the high-end amenities of a luxury home. They also wanted an interior designer who would understand their vision for a modern space that would highlight their extensive art collection. The found a home in Broomfield's Anthem Ranch — a luxury 55+ community — and they found Tennille Wood to help them realize their dream home design.
Wood's passion for tackling challenging interior design projects is unmistakably clear when she embarks on a new task. As CEO and founder of Beautiful Habitat Design & Decoration, her award-winning designs have endeared her to clients as she seamlessly integrates and balances architecture and interiors to create customized, livable spaces.
Wood collaborated with her Anthem Ranch clients to create an interior design that flowed throughout the home and connected the artwork. A beautiful blend of classic design married to muted textures, tones and hues showcased their distinctive sculptures, wall-art and clay, pottery and glass pieces.
"My clients were moving to Colorado from New Jersey and they found me on Houzz. They wanted to work with a designer who understood their longing for a modern home with clean lines to house their art and that exemplified their own style. They wanted to accessorize it with resources they didn't think they'd find on their own," says Wood.
"We can have the same floor plan for five people but I approach it with different finishes, furnishings and decorative items based on who the client is, their lifestyle and their desires. On this project, the client wanted a contemporary, modern home with simple lines and a muted color scheme" explains Wood.
Art inspired us as we designed the home around the art collection which was the focal point for each room — even hallways. –Tennille Wood
Design Features
Beautiful Habitat focused on what is often an unused space — the entryway — by placing colorful wall-art, a contemporary furniture piece and sculpture inside the front door. The striking assortment of art creates an attractive welcome and sets a warm tone for the rest of the home.
Furnishings complement the décor. Finishes including flooring, accessories, window treatments and paint colors embody the couple's preference for understated color. A subtle blue or green accent color is woven throughout custom-made pillows, upholstery, window valances and chairs adding pattern and texture to every room. The lavish home continues to impress in the bedroom as textured accessories in green hues and earthy tones create a warm, soft space for sleep and relaxation.
"Our clients like to entertain, and with their growing family of grand-kids, we focused on the great room and creating a fun entertainment space for them, their family and friends. We tiled the entire wall housing the fireplace with natural stone and the results are both stunning and relaxing We worked with a local artisan who customized a built-in bookshelf for the great room which highlights their collection of exquisite glass pieces. The timeless shelving added storage and hid the wall-hanging TV components," Wood says.
The artisan also designed a one-of-a-kind cabinet with textured doors — a timeless work of art itself. Wood slipped it into a hallway adding an intriguing painting and sculpture to create a tantalizing element in an otherwise overlooked space. Wood tucked art, sculptures, pottery and glass pieces into nooks-and-crannies, odd-sized corners and niche spots throughout the home.
With few options to change in the builder's floor plan for the kitchen and dining areas, the couple chose shades of brown and gray with metallic accents to produce a sleek and polished modern dining area. The kitchen features black-stained cabinetry and natural stone countertops and boasts a large island with added seating and upgraded flooring. Glass pendant lights and stainless appliances against a gentle white backsplash complete the contemporary style.
Alluring Elements
Wood's innate flair for juggling various projects is obvious when working with contractors, suppliers and vendors. "I love coordinating all the tradespeople who bring my clients' dreams to life. It doesn't faze me to move from one project to another. It's fun for me to play in many styles. I've worked with many of my vendors for a decade; they understand me and what I expect, and I know the quality of work to expect when I hire them," says Wood.
The Denver Design District features multiple showrooms and is one of Wood's go-to shopping choices when searching for unique items. Armed with ideas, dreams and lists, she meets with vendors and combs through displays ranging from rustic to modern until she finds ideal design solutions.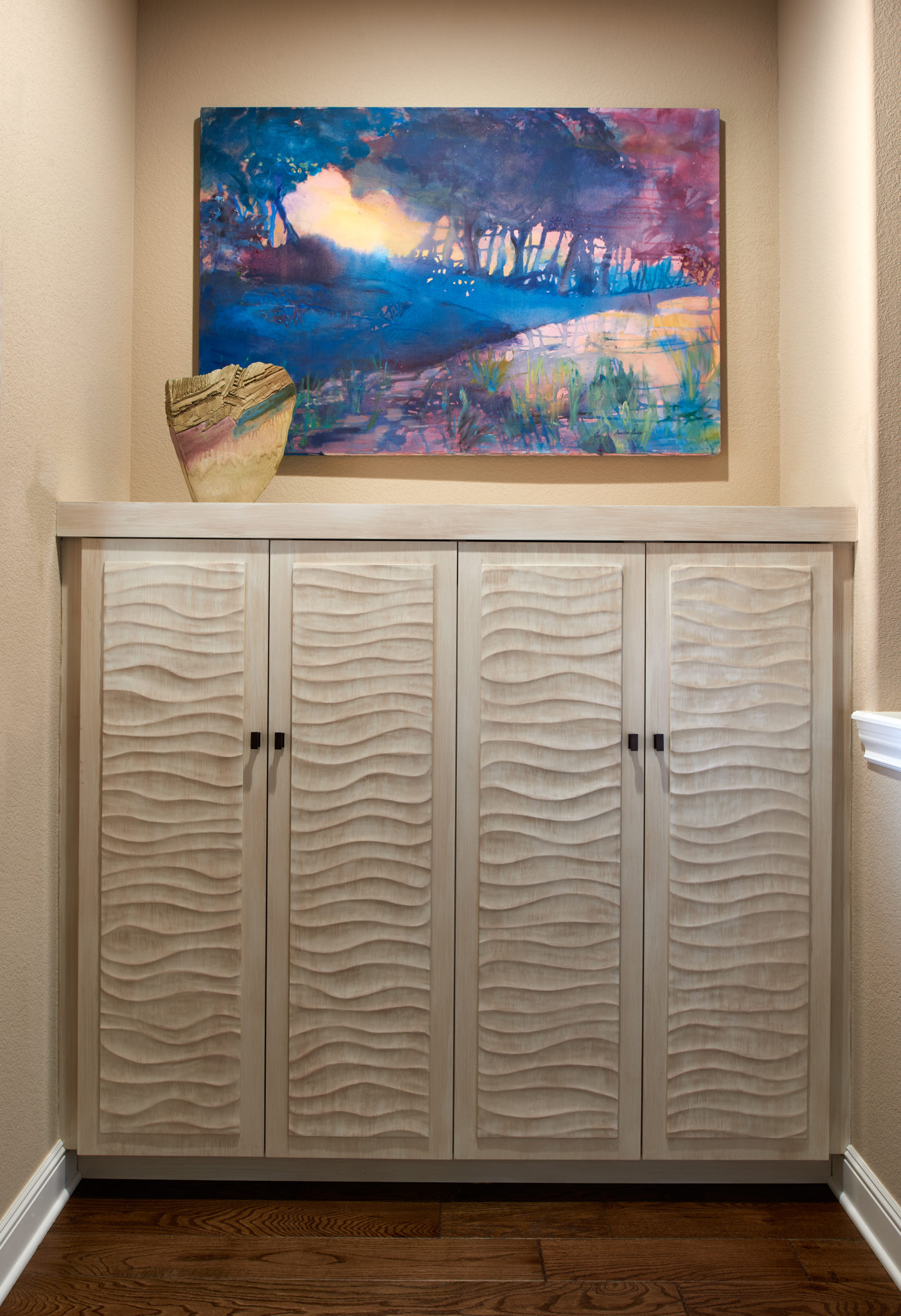 "One thing we selected, which I love the most for the Anthem Ranch project, are the alluring light fixtures. We searched endlessly for light fixtures for each of these spaces. We didn't want them to match — we wanted each room to have something unique but cohesive. All rooms open to the great room and we placed the fixtures so you can see every one of them from every other space. The 12-foot living room ceiling presented a challenge: If you put recessed cams up there the light fades by the time it reaches you on the sofa. So, we added dropped pendant lights which are beautiful and offer better lighting," Wood says.
Beautiful Habitats designs new construction homes as well as renovations of existing homes. When the client expressed dismay that the only way to reach the closet was through the bathroom, Wood discovered the builder wouldn't deviate from the floor plan so she hired a contractor to move the doors after the sale was complete.
"I'm not a builder so when it comes to working with a general contractor, I have a vision and they have a vision. I see a space and visualize how I want it to look and function but I don't understand the technical components. We might have to compromise because there's something that doesn't allow exactly what I want; so as long as we can talk about what we're trying to achieve and what the best way is to achieve it, we will get there," she says.
"We know something will go wrong; it's inevitable. We tell clients upfront that we'll take care of everything — no matter what. We keep it light, we make sure the process is fun, and we eliminate as much stress as possible," encourages Wood.
Beautiful Habitat's passion for creating pleasant atmospheres for their clients shows in every project whether the client has a vision and needs a designer to bring it to life; wants to manage the project on their own; or who wants a top-to-bottom design or remodel project.
Beautiful Habitat's Anthem Ranch Modern project was featured in Colorado Expression magazine. Please visit Beautiful Habitat Design & Decorating for more photos of this luxurious project.
Back to Blog