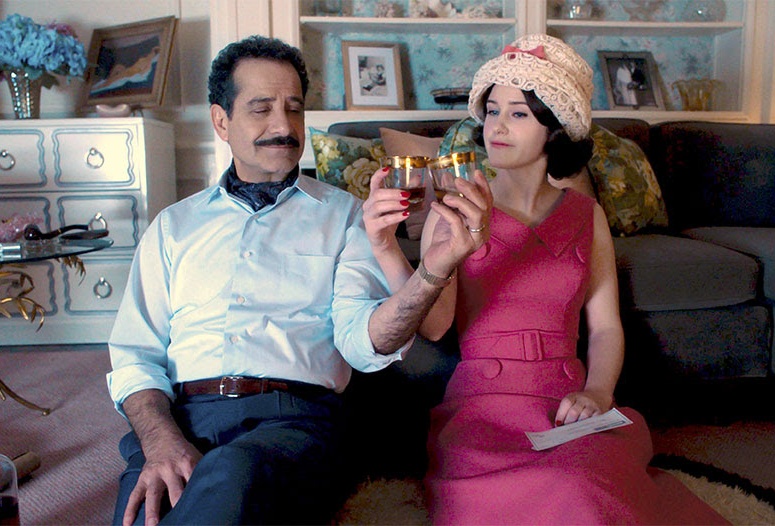 Best Interior Designs from TV shows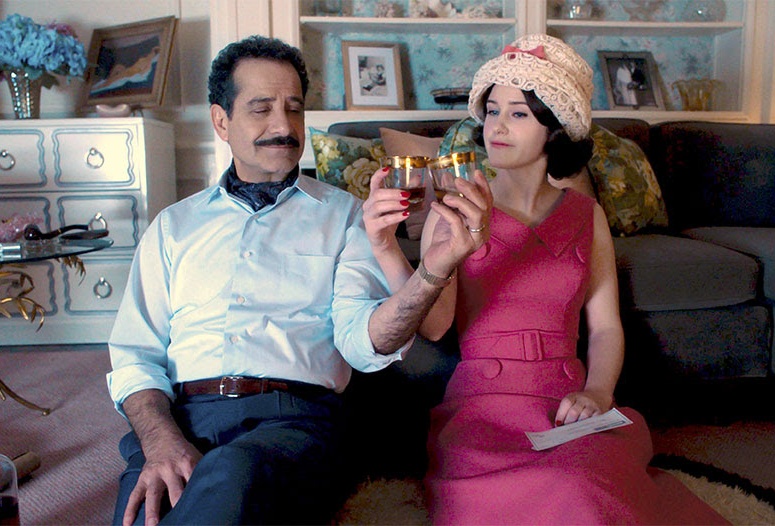 You may not know this about me, but I love history. I was always fascinated by the 20/20 vision of history and the way you could see the cause and effect of actions, ideas, discoveries; what people did in the moment and the impacts that followed later. Then I studied Interior Design while living in London. And history was a major emphasis of my studies. Not only could I follow this same pattern of political, economic and technological changes and how they impacted society, but we also watched it play out in architecture, interior design and fashion design. Combine that with actually living in Europe at the time and the ability to visit dozens of historical homes and castles. My brain was so happy it almost exploded.
I now continue my love of history and design by teaching the history class for the Interior Design program at Arapahoe Community College here in Denver.  I try to share the stories about how and why a design style came to be and ignite that same passion in my students.
In the same vein, I continue to geek out on all Historical fiction – books, movies, TV shows. And the TV gods have been generous, with recent TV shows that are plentiful in their history and luscious design! Below are a few of my favorites, in historical chronological order.
The Great
The Great is billed as an "occasionally true story" about the rise of Catherine the Great. Set in Russia during the 1760's, the interiors are Baroque; a Russian version of the Palace of Versailles. Like all things Baroque, the interiors (and costumes) are extravagant, opulent, and designed specifically to showcase wealth and power. Huaazh to the set designers!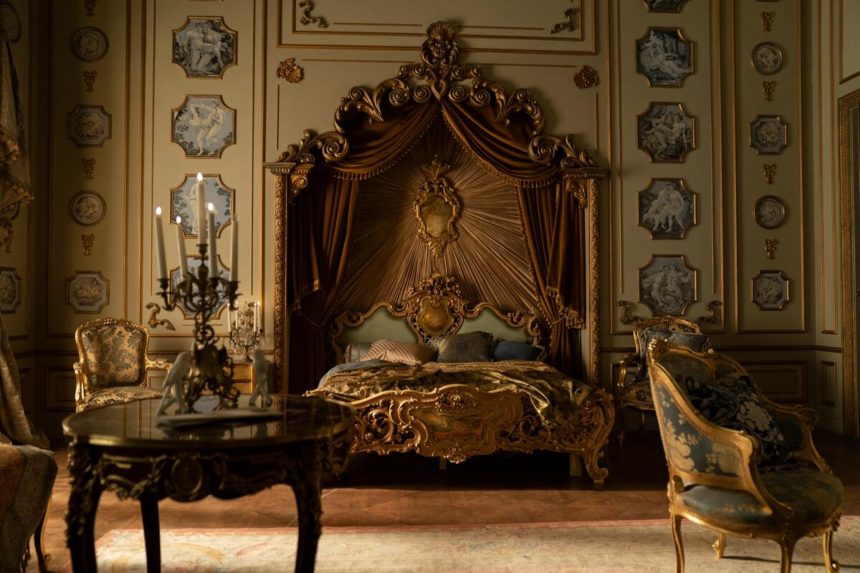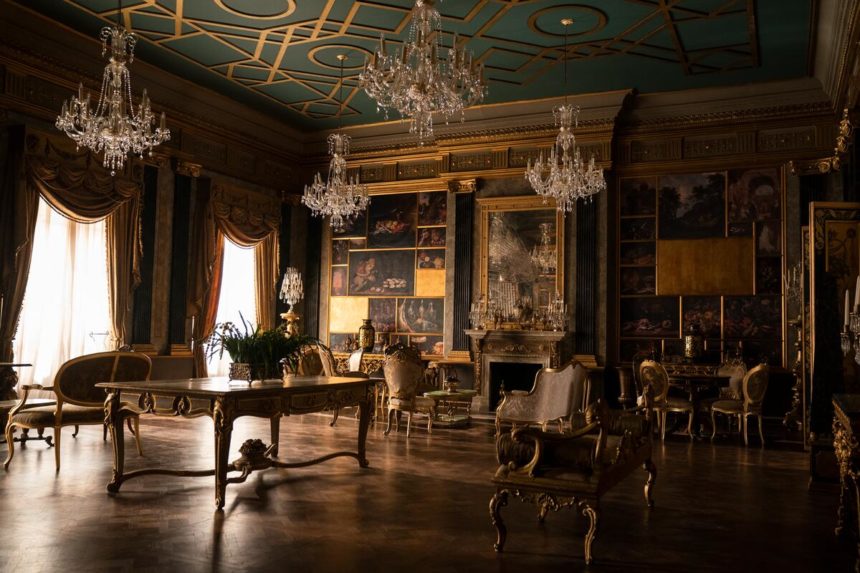 Bridgerton
Bridgerton is set in the English Regency/Georgian period during the rule of George III (early 19th century). The show details the competitive world of Regency era London's society during the "social season" where marriageable youth of nobility and gentry are launched into society.
This bed design is known as a corona – read more about it here – Designing with Bed Draperies.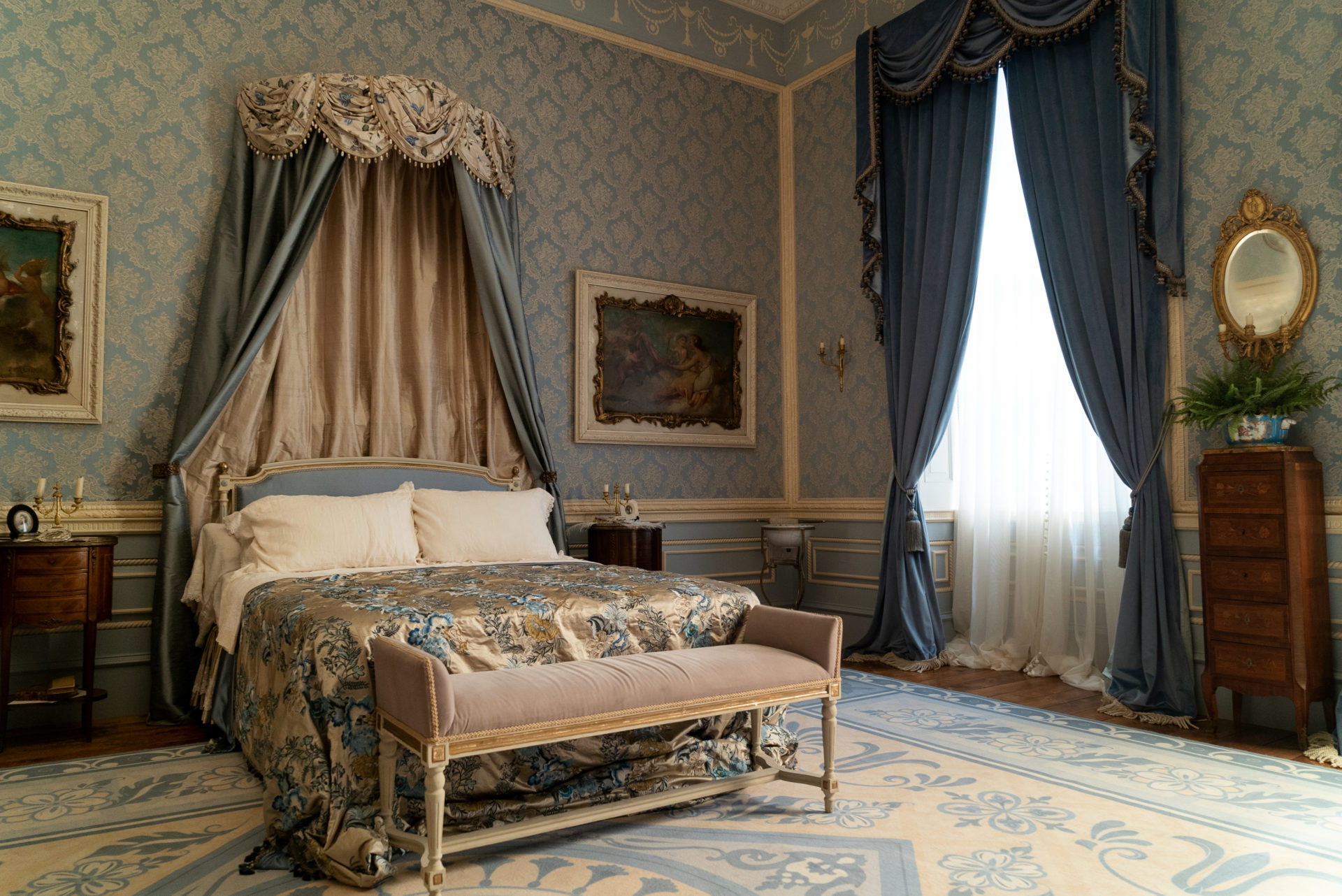 One of my favorite elements of English Regency design are the neoclassical plaster swags and garland over pastel paint in the style of Robert Adam, like those featured in this stairwell. There is also a glimpse at the very top of that blue bedroom.  The set designers are spot on with the  interior design of this neoclassical period.
Gilded Age
The Gilded Age refers to an American era; a post-Civil War boom from 1870 to 1900. It was a time of rapid economic growth, especially in the Northern and Western United States.  The rapid expansion of industrialization led to real wage growth of 60% and led to massive growth of cities like New York and Chicago.There was an unprecedented level of wealth, and people meant to show it off!
The interior designs featured on the show are American Victorian; which is really a hodge podge of "revival styles" where the Victorians revived a very fussy interpretation of past interior design styles like Rococo, Gothic, or Italianate. I won't lie; I generally dislike all Victorian interiors. It was a dark, fussy, cluttered nightmare of interior design. It was a gaudy, show-off kind of design, but that's really what the entire mindset behind the Gilded Age is about. I absolutely applaud the set designers for nailing the set designs so accurately.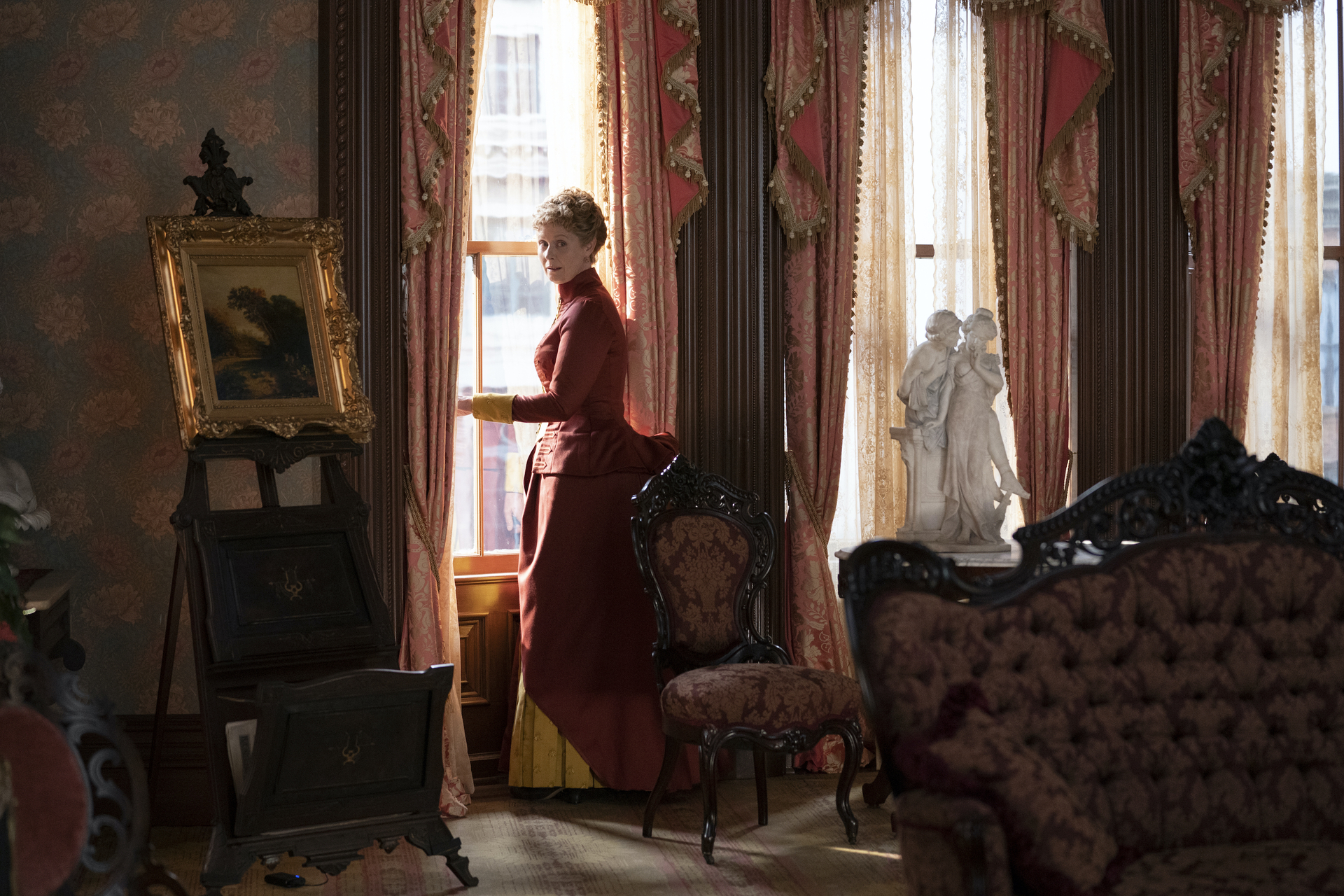 I've seen recent articles that predict that this current trend in 18th and 19th century dramas, including Bridgerton and the Gilded Age, is creating a higher demand for fancier interiors. Do you agree?
The Marvelous Mrs. Maisel
For a totally different, yet still historical view, I also love the interior design of The Marvelous Mrs. Maisel. Set in the 1950's and 1960's in New York. The interior designs blend mid-century modern with Midge's pre-war apartment on Manhattan's Upper West Side.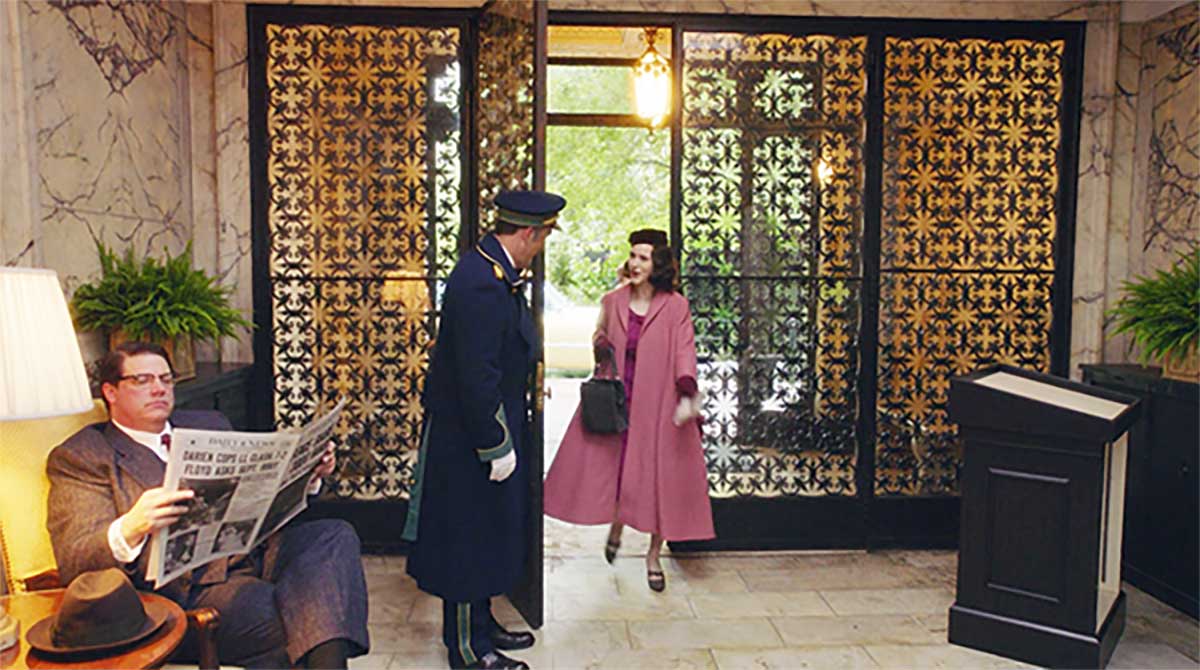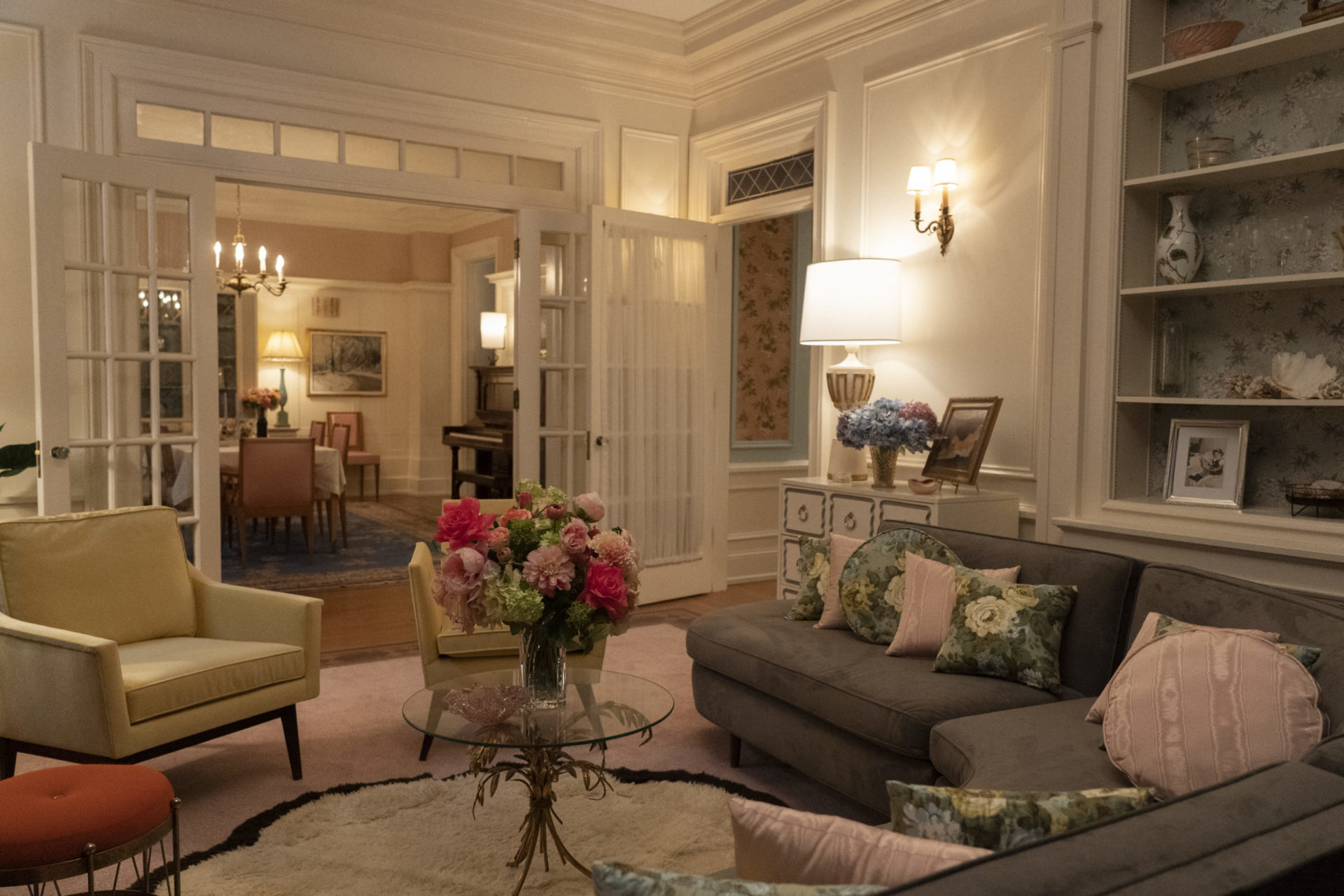 In the living room we see the true blend of the mid-century furniture and décor with the more classical architecture of the building. Mid-century design is seen in curved sectional and 2 chairs, all with tapered legs, plus that brass and glass table. The interior moldings and millwork of the building itself nod to and earlier time, possibly even built as a mansion during the Gilded Age (ah – history!).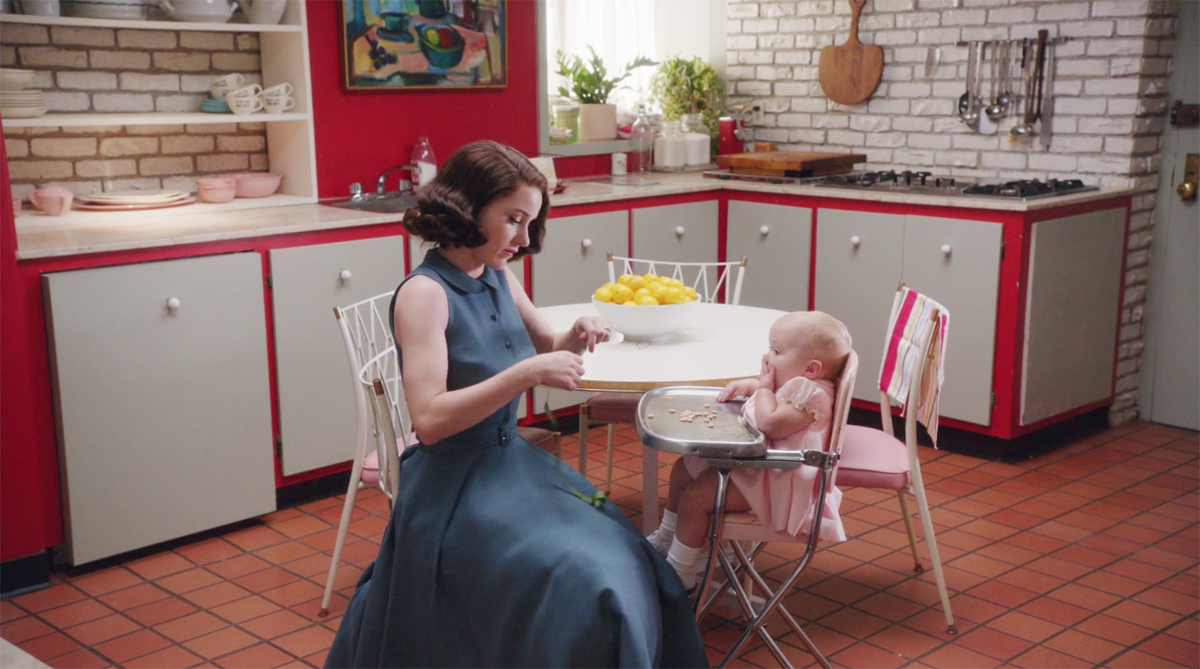 This kitchen is fabulous in its kitschy two-tone color scheme. It's a definite departure from the sophisticated style of the living room. A more true mid-century style of the 1950's.
Here are a couple of recent project with nods to mid-century design here in Denver.
Nod to Mid-Century in Wash Park
What are your favorite shows?