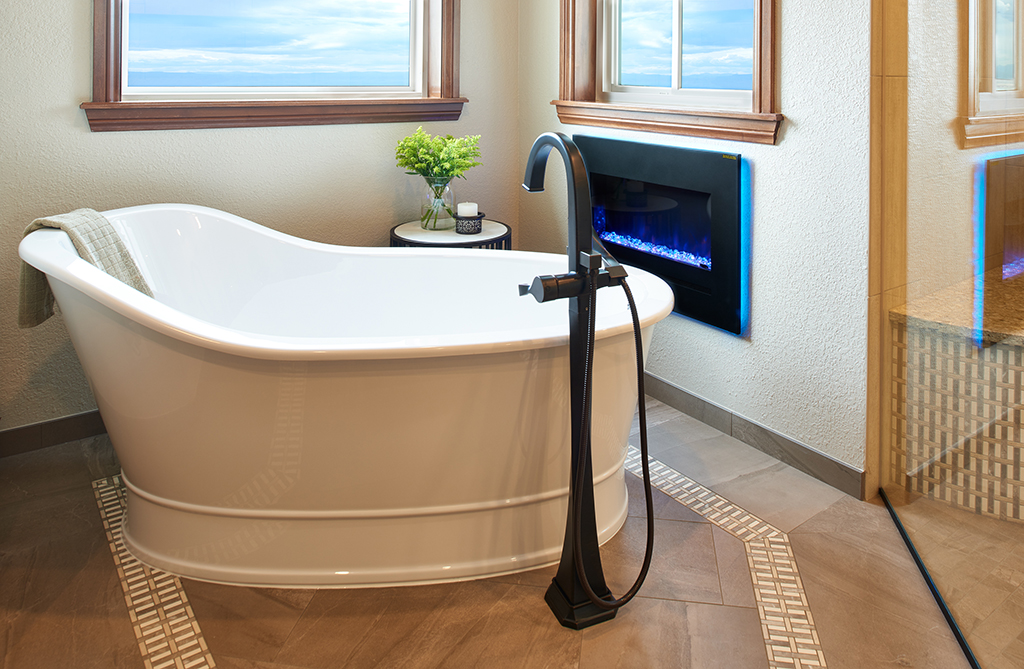 Before & After: Luxury Bathroom Remodel
Design the luxury bathroom of your dreams and relax and unwind from your day.
By Samantha Trueheart
Life is stressful, and nothing is better than a beautiful, luxury bathroom where you can soak your troubles away. A sweet escape to a resort spa, where pampering and self-love come naturally, is easy and accessible in your own master bathroom with the right interior design.
Tennille Wood's clients dreamed of a luxury bathroom that was open, spa-like, mixed with soft and warm touches, and accessible throughout all stages of life. "I love everything about this bathroom because it's literally a spa," says Wood.
Bathroom Area Before The Remodel
Ultimately, the clients wanted to refresh a severely outdated bathroom. "The bathroom was dated and didn't fit the client's style at all," says Wood.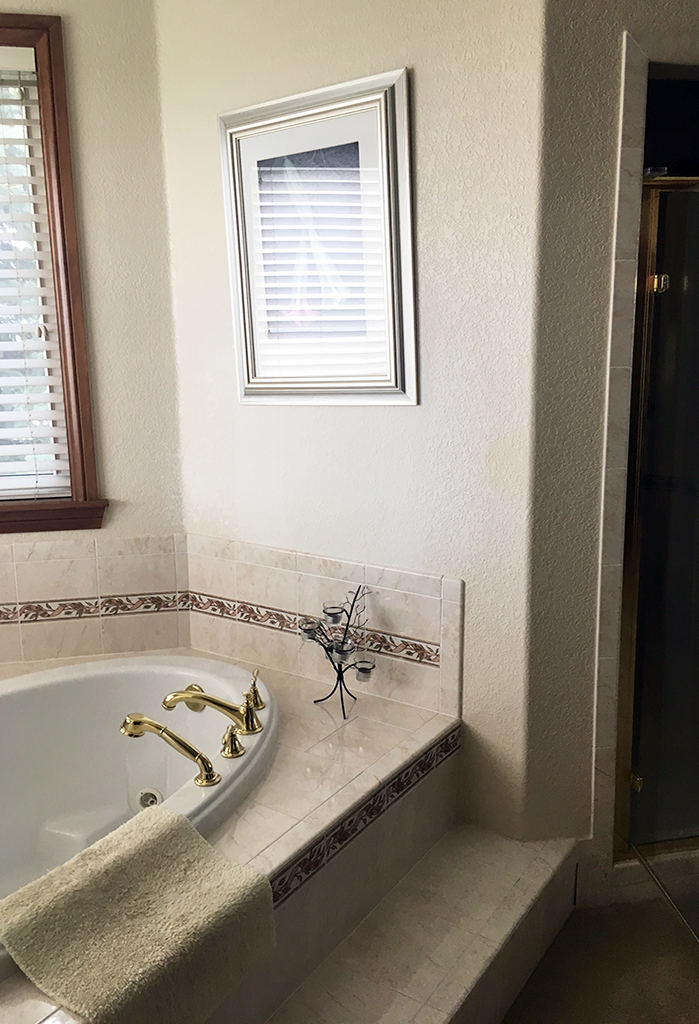 Beauty in Form and Function

Wood worked with her clients to find the look that would best enhance their style. "While gray hues are very popular, I could clearly see that they prefer warmer tones," said Wood. The client "had also given me a few inspiration photos, and I picked up that they gravitated toward those more open showers and rooms with a contrast of light and dark finishes."
Schedule a Consultation Today
Wood designed a shower that was accessible, large and efficient. "The clients wanted a steam shower and a zero-threshold shower so they can stay in this home forever," says Wood. Curbless showers are ideal options for couples looking to stay in their forever home. The shower is designed with a small slope and a long drain on one wall rather than a traditional drain in the center. A design without a ledge is naturally easier for older adults to access, and reduces the chances of a slip or fall. Additionally, the modern, clean design is great for people of any age.
Opening up the shower also made it appear larger and more integrated with the rest of the space. "We left the footprint of the shower relatively the same," says Wood. "However, it was all tile before. By replacing interior tile walls with glass, it really opens up the whole room."

Adding Warmth and Ambience

One of the problems Wood faced was the existing bathroom's lack of heat-retention. "The client's primary concern with the room is that it was cold," says Wood. "The shower is on a north exterior wall and wasn't properly insulated."
In order to retain the heat, Wood and her team employed several bathroom design tactics. First, the glass walls in the shower help keep the steam and heat in that space. Second, heated floors and benches keep what could be cool-to-the-touch tile toasty warm.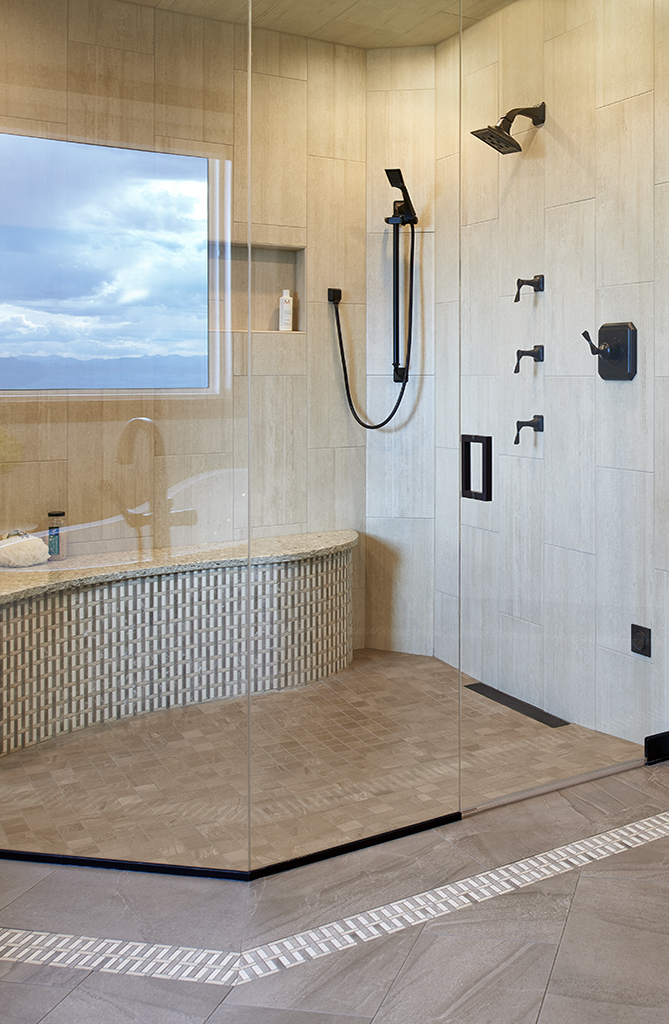 Wood and her team also decided to replace the jetted bathtub with a more sleek and sophisticated freestanding model. This helped open up the room and updated the space to closely fit the client's style. "We added that beautiful sculpted bathtub with its own fireplace for ambiance," says Wood. And a fireplace installed near the new bathtub creates ambiance and keeps the space outside the shower warm.
But what gives this shower the spa-quality, luxury bathroom feel is truly in the features. "The shower is maxed out on all the features," says Wood. "It's a steam shower that includes aromatherapy, chromotherapy and Bluetooth speakers." Aromatherapy uses essential oils to soothe the senses and is common practice at any high-end, luxury spa. Chromotherapy uses light color and vibration to give off different moods. And the Bluetooth speakers allow the clients to listen to their favorite calming tunes (or upbeat music for sleepy mornings).
Tying it All Together
Wood created a mosaic tile design that ties together the individual design elements as well as the overall look of the bathroom. "From a visual aspect, I really love the sculpted tub and filler, and the accent tile that we repeated on the shower bench, floor border and backsplash," says Wood. "It's the perfect amount of visual accent to keep the room interesting without going overboard."
View the portfolio for this entire project
Both Tennille and the client were pleased with the exceptional ambience created in this master bath remodel. With high-end amenities, gorgeous neutrals and increased warmth "this relaxing space has truly evolved into a spa in the privacy of their home."
View another award-winning bathroom "before and after" remodel and discover some details for your own master bath redesign!
If you've thought about remodeling your dated bathroom to include high-end amenities, we would love to chat! Fill out our pre-consultation form now!
Interested in transforming your master bath into a personal spa? We share 7 Luxury Bathroom Design Ideas that can give your private space that extra push towards peaceful serenity.
Looking for some inspiration for your home remodel or redesign? Download our Luxury Design e-book which is full of ideas to get the creativity flowing.