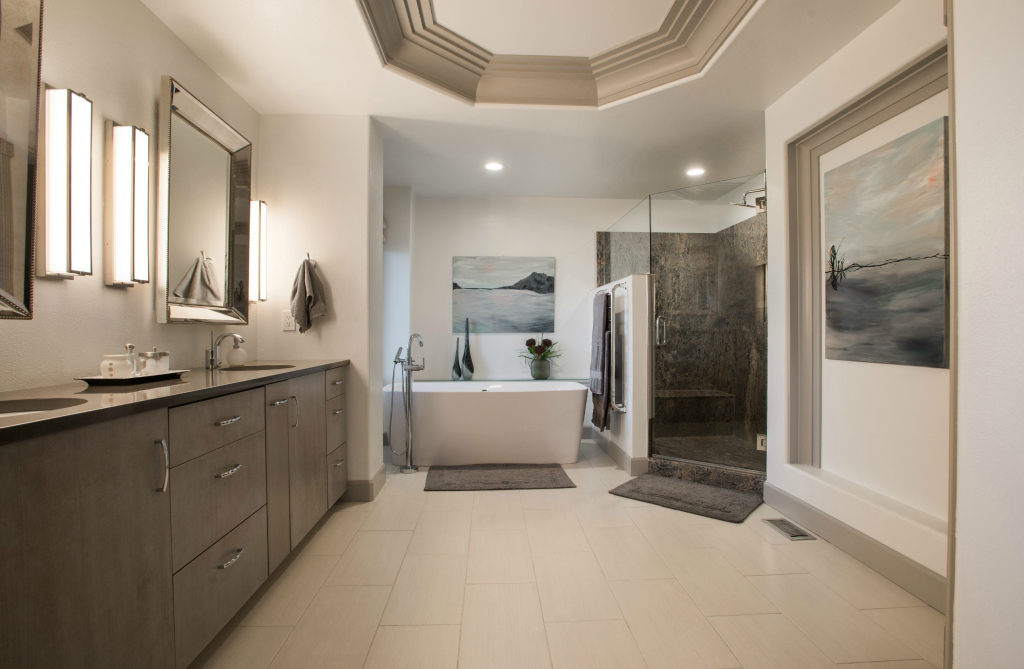 Beautiful Habitat Wins for Bathroom Design!
Tennille Wood takes home a 2016 Peak Award for Master Bathroom Design!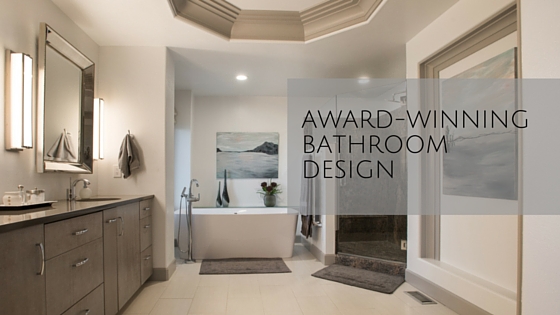 The NKBA Peak Award Gala was held last night (June 23, 2016) at the Mile High Station in Denver. Tennille Wood of Beautiful Habitat took home a Peak Award in the Master Bathroom category for a her design of a dramatic bathroom remodel. This is Tennille's second Peak Award, having also won in 2014 for a Kitchen Design in Boulder.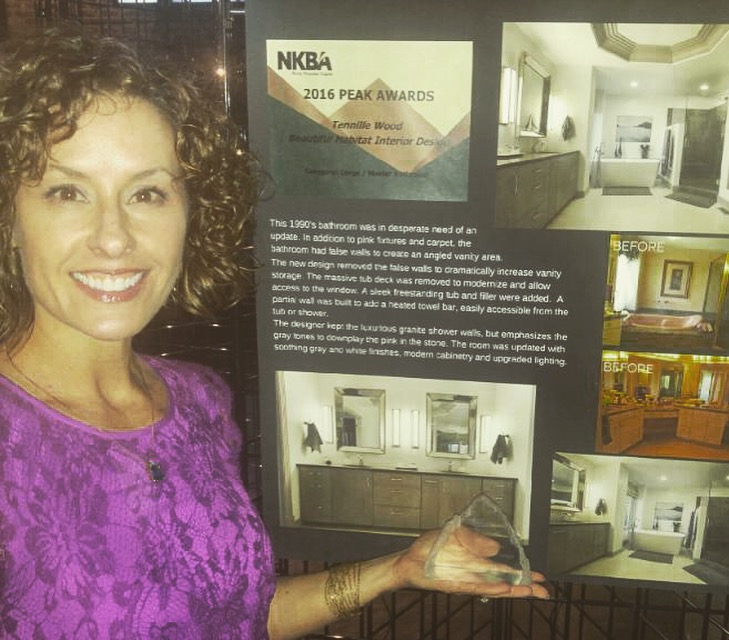 The Winning Design
The master bathroom design is part of the complete home makeover of a 1990's home in the Hyland Greens East neighborhood in Westminster, Colorado. The full remodel can be seen in the Beautiful Habitat portfolio: Luxury Whole Home Remodel.
Before
The original bathroom was very dated, featuring pink  and brass fixtures, and carpet. The bathroom had false walls to create an angled vanity area.  It wasted a significant amount of space and also partially blocked the double doors leading into the bathroom.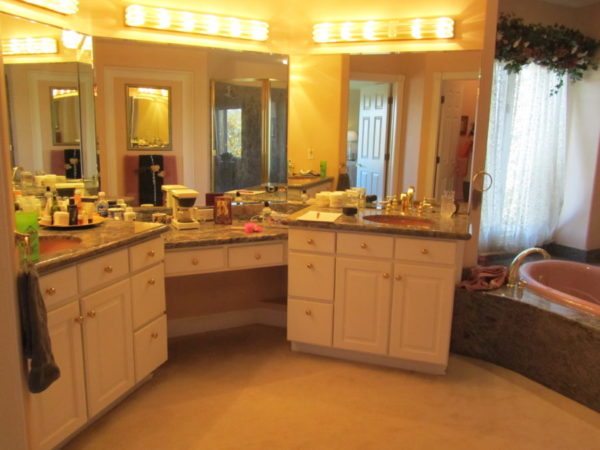 The bathroom was large, but not well utilized and storage was not adequate. The massive tub deck meant climbing into the bathtub to open or close the window or shades.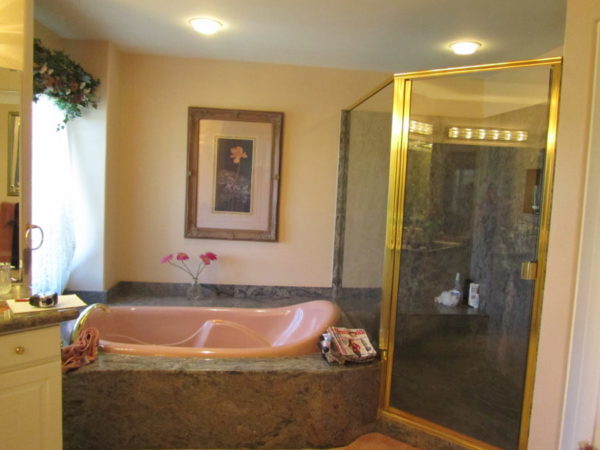 After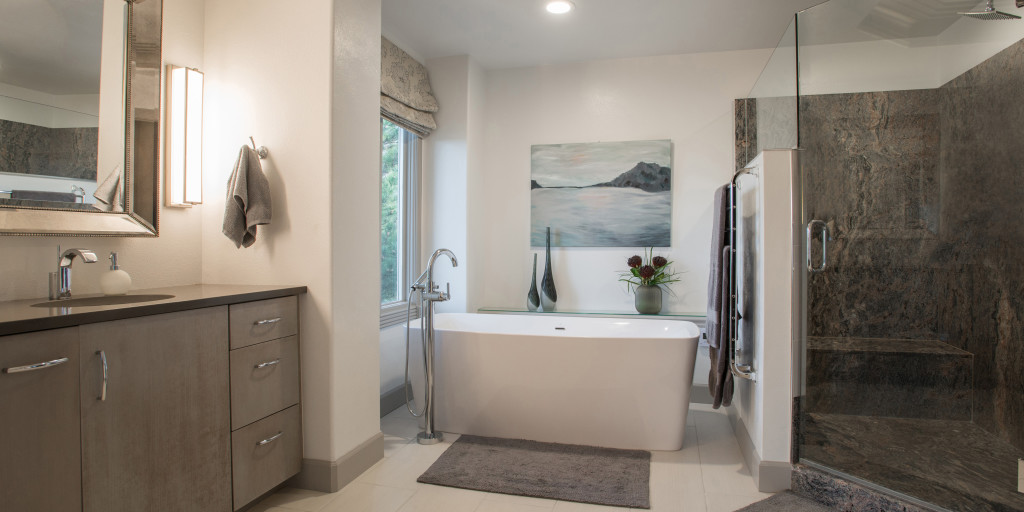 The massive tub deck was removed to modernize and allow access to the window. A sleek freestanding tub and modern chrome tub filler were added. A ledge was built along the wall to allow easy access to products while bathing and display beautiful decorative items.
The new bathroom design plan called for removing the false walls to dramatically increase vanity storage. With the false walls removed, the entry received functional double doors, which create a sense of drama appropriate to the home. The vanity received updated lighting at the sides, which is best for grooming, and beautifully framed mirrors.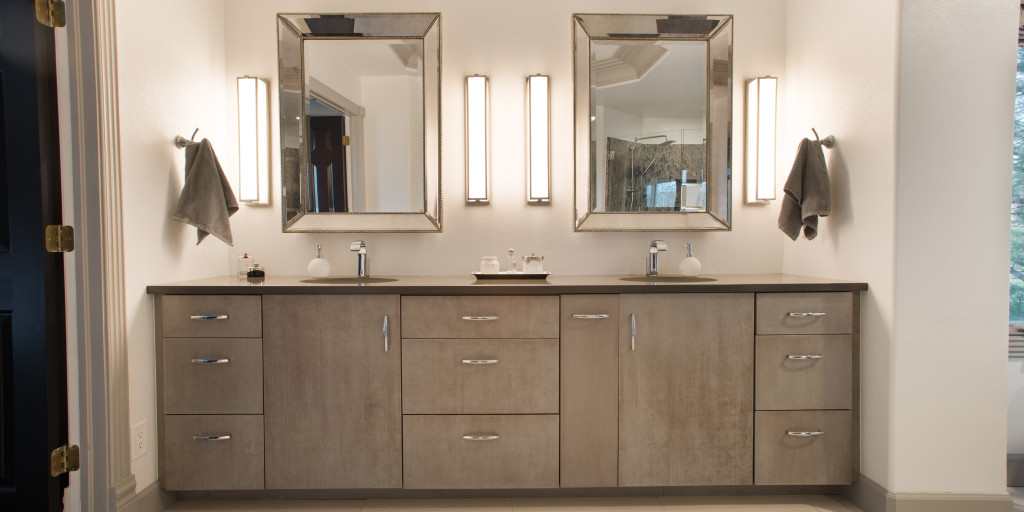 Tennille recommended keeping the existing granite shower surround for environmental, budget and aesthetic (luxury, drama) reasons. There is nothing quite as luxurious as full slabs of stone in the shower! The new design and color scheme emphasizes the gray tones to downplay the pink in the granite.
She then added a 56" high wall between tub and shower with the purpose of holding a heated towel bar and creating storage for tall shampoo bottles inside of the shower.
An updated tile floor with under-floor heating replace the carpet. The beautiful wood molding work is emphasized with a gray paint against the white walls. New artwork and black doors pull the whole bathroom design together.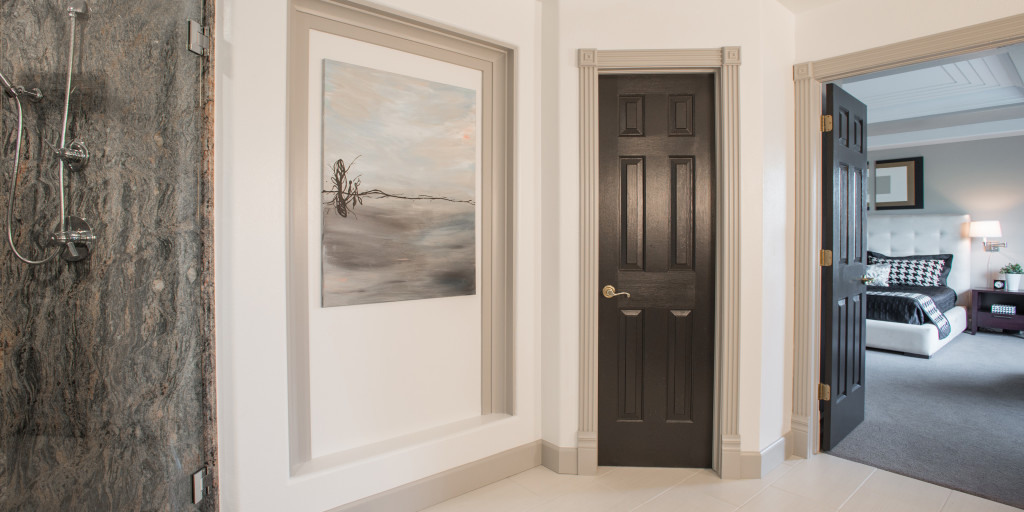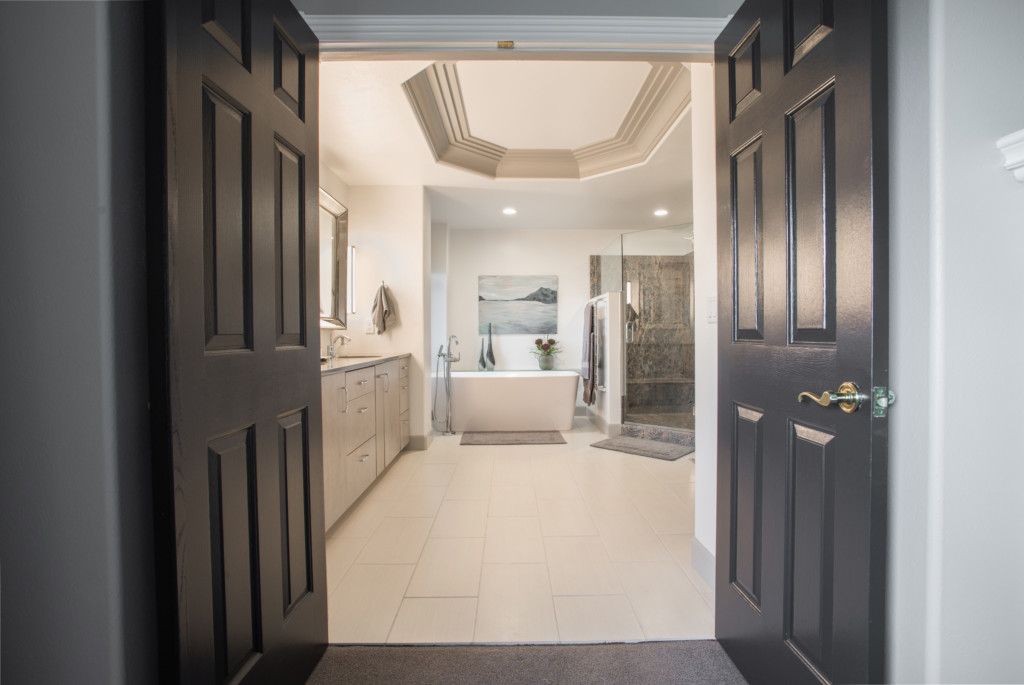 A huge Thank You to Brad for building out the bathroom design and bringing the vision to life!
The Peak Awards
The Peak Awards honor those in Colorado who have achieved excellence in Kitchen & Bath Design. Recognizing talent, creativity, and commitment to design, the Peak Awards is a distinctive opportunity to highlight and acknowledge work that ascends style and inspiration.
The NKBA
The National Kitchen and Bath Association (NKBA) has been the premier association for kitchen and bath design professionals working in North America since its founding in 1963. The Association has over 40,000 members in 11 industry segments throughout the U.S. and Canada