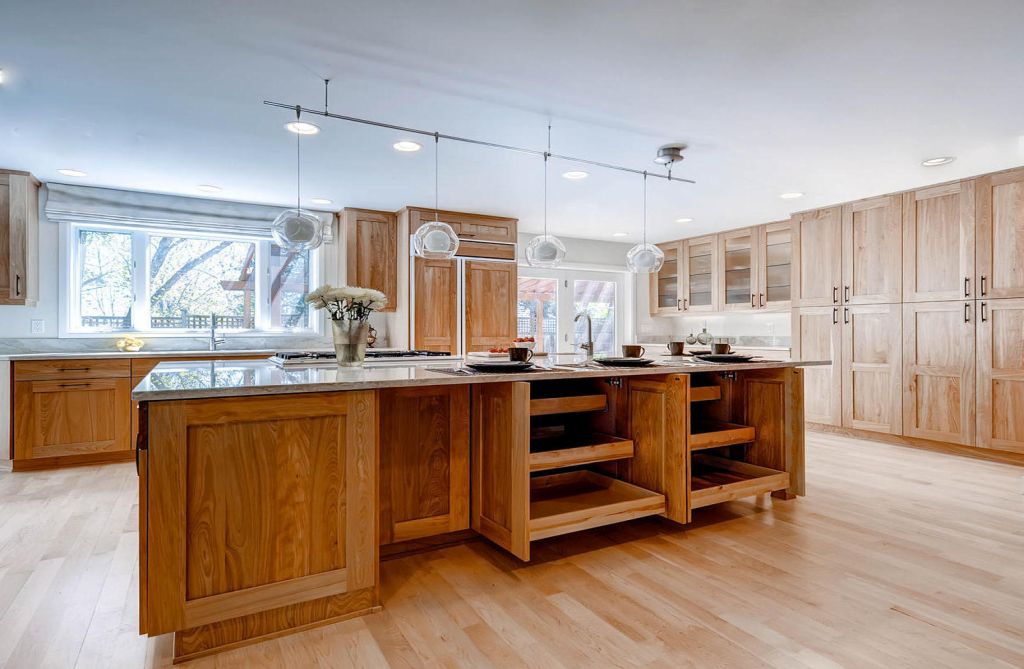 The Latest in Kitchen and Bathroom Design
I just returned from the annual Kitchen and Bath Industry Show (KBIS), which is the largest show for all products and inspiration related kitchen design and bathroom design. KBIS is held together with the International Builders Show (IBS) to create Design and Construction Week. It's the best place to see the latest and greatest in home technology and products, especially Bathroom and Kitchen Design.  
Throughout the show and exhibitors, we saw a number of design trends including a lot of black everywhere, and a lot of mixed metals in plumbing, lighting and appliances. If you want to see more on design trends, check out my post from last fall. Today, I won't discuss trends, but I'm focusing on unique things – things that actually stopped us in our tracks to explore and ask questions.
Solid Surface Cabinet Doors & Drawers
Solid Surface materials are a man-made large format slab materials. It could be quartz, like countertops. However, there are also several thin, but large slab materials. These are sometimes called large format porcelain tiles. Neolith is one such material and the Neolith exhibit used their material on all manner of surfaces.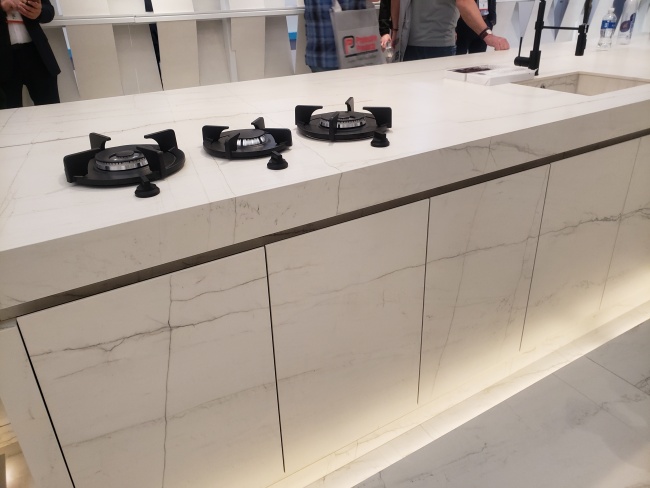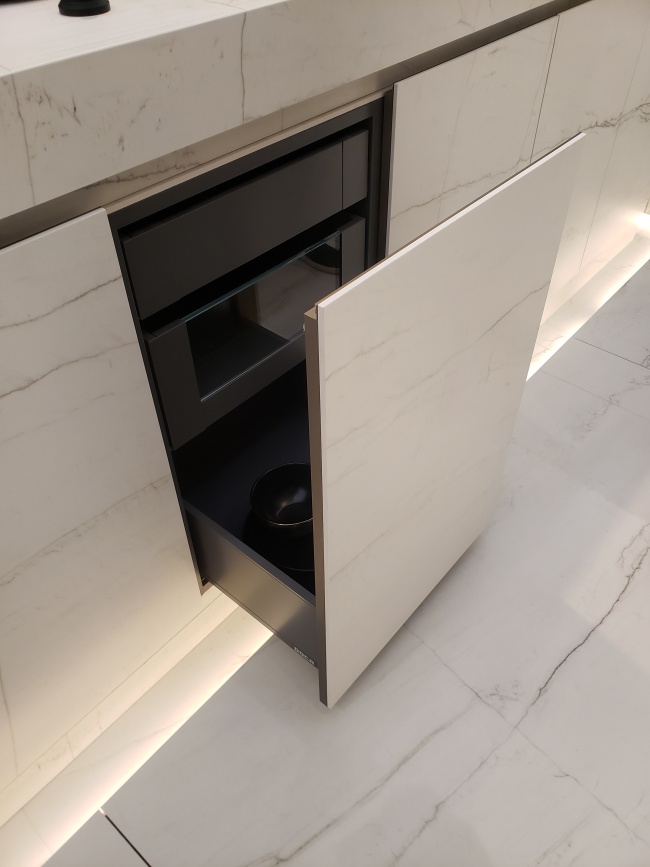 These materials have been around for several years, often used on walls and countertops. At KBIS, we saw these materials expand to cabinetry and appliance fronts. This allows for islands to be one similar surface and to create a unique focal point with the veining and patterns. Here you can see the vein pattern continue across the whole island front of doors and drawers.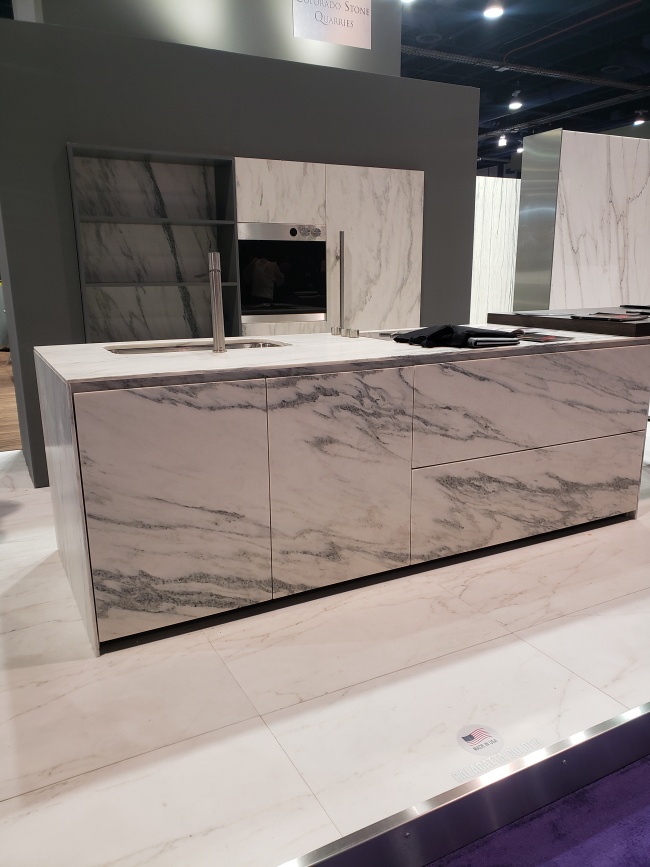 Not only is this a very a different look than the usual wood cabinets, these slab materials are very durable and washable surfaces.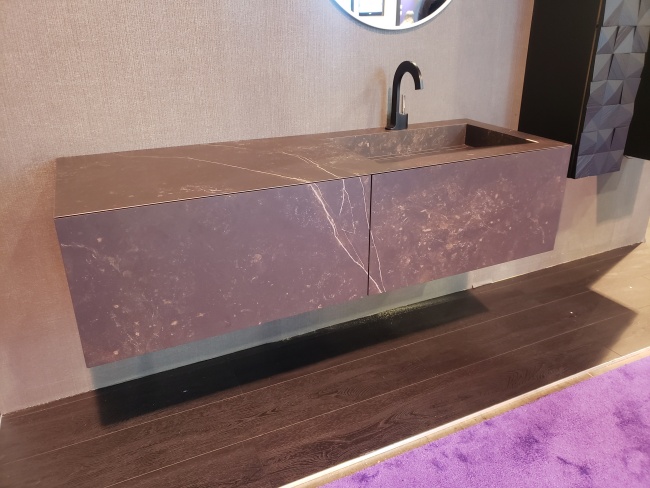 Contemporary Shaker Cabinets
Everywhere we looked, we saw a new look in cabinet door and drawer profiles. I did not know the official name for this profile. It's like a flat panel with an edge detail or a very narrow shaker. I've been calling it Contemporary Shaker. Whatever it's called, it's a lovely new addition to kitchen and bath designs. It's contemporary, but not as harsh as a flat-panel cabinet. 
Update: My cabinet-maker calls it a "micro-rail" style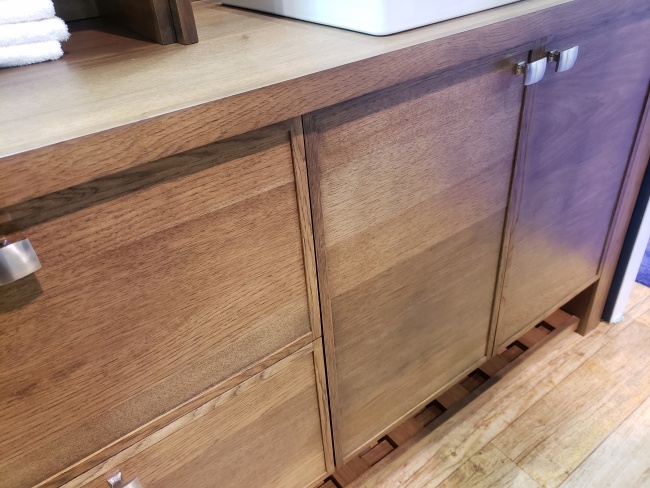 Upholstered R

efrigerators

 
For some of our kitchen designs, we include a cabinet face on the refrigerator front to blend the appliances to the cabinetry or so the kitchen doesn't look so industrial. At KBIS, we saw multiple appliance lines showing upholstered panels on the refrigerator front. The look is sexy!
This is some truly beautiful and out of the box thinking. Smart fabric technologies have come a very long way. The newer technology has created fabrics that are family-friendly, stain and moisture resistant, easy to clean for upholstery. I applaud the appliance companies for combining fabrics and appliances in a new way. However, I know that my refrigerator handle and door get dirty in the process of food prep and need a wipe down at least once each day. I LOVE the look, but for practicality it might be better suited in a sexy bar area than a household kitchen. 
Time is Luxury
A common theme from multiple companies is that Time is Luxury. And I agree; we are all starved for time! These exhibits were all about innovations that automate routines to save time.  One of the best examples for this is this Kohler Konnect. This smart hub has bathroom routines to set the exact conditions you need automatically, from the panel or an app on your phone. This includes the lighting level of the room and the vanity, the appropriate playlist, and automatically starting the water in the bathtub or shower, and at the perfect temperature.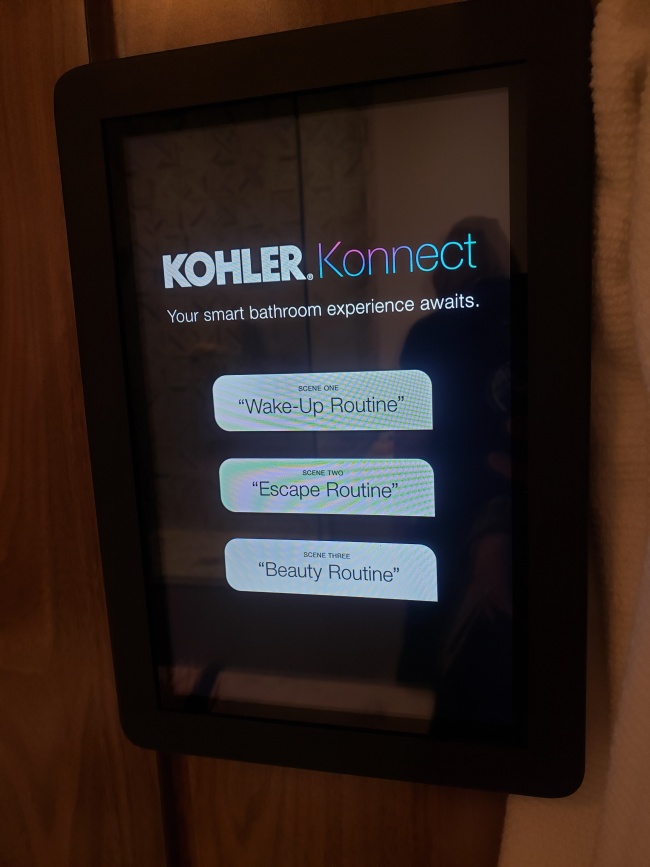 Although perhaps less sexy and in your face as a set bathroom routine, I believe a smart kitchen layout aligns with this. Have you ever worked in an inefficient, poorly designed kitchen? It's frustrating and time wasting. Even without all the cool new advances and gadgets, just a smart, well designed kitchen is a luxury and a time saver! 
See more Kitchen Design Ideas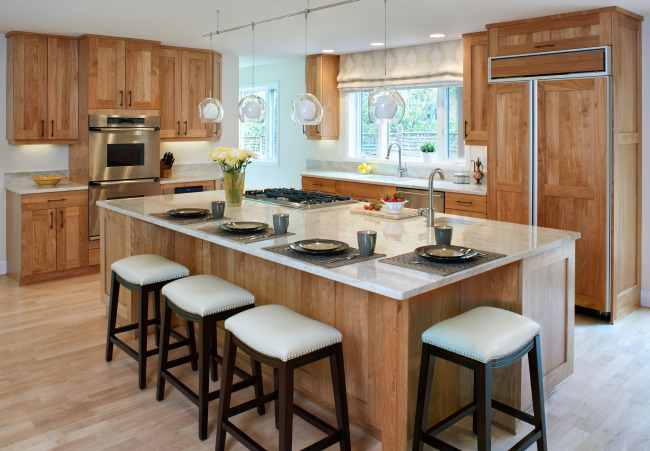 New Ideas
Talking to the reps for each product is also an invaluable opportunity. There was one major takeaway that I had from Miele. 
I have previously designed kitchens with 2 dishwashers for either large families or clients who entertain frequently. But a Miele representative started to tell me about commercial dishwashers and I had an epiphany.
The Miele commercial dishwashers offer 24 or 6 minute cycles (Yes! 6 minutes!), compared to the 2 hour residential cycle. So dependent upon my client's primary complaint, they may need 2 dishwashers or they may need one commercial dishwasher. And the cost is similar for 2 residential or one commercial. Is the problem with volume, like the dishes stack during a large party? In that case maybe 2 dishwashers is best. Or is it just the long wash time? For example I host a large gathering every Christmas Eve. I would rather a short wash time so I could get all the prep items clean and put away before guests arrive. 
The visit to KBIS was time well-spent and I am now full of innovative ideas and resources for our next Kitchen or Bathroom Remodel project.
Do you have a kitchen design or bathroom design question? Contact me today!