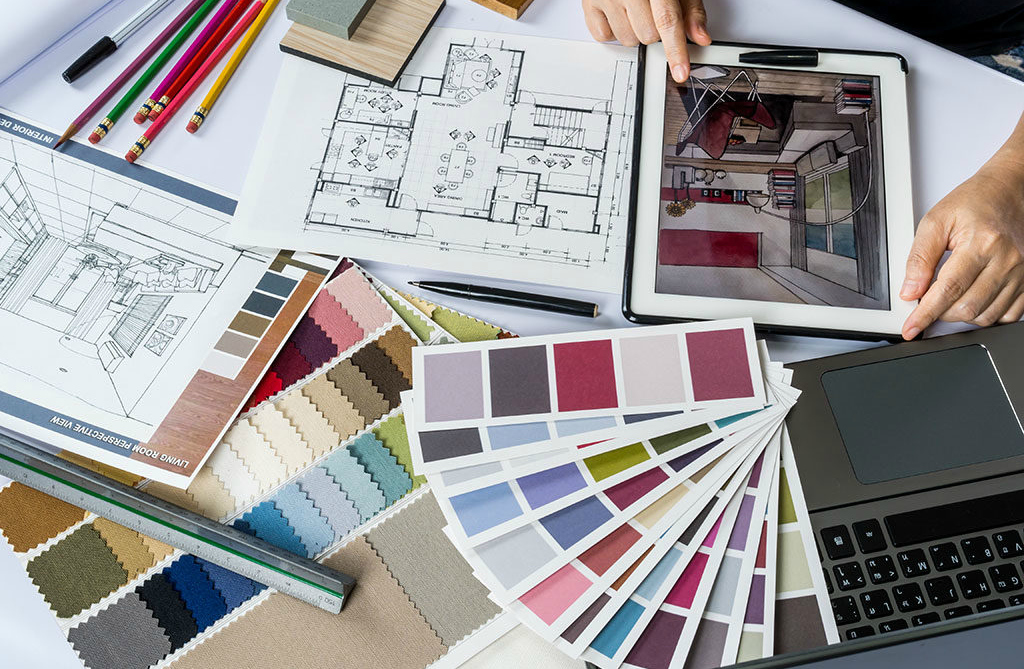 Purchasing Interior Design Services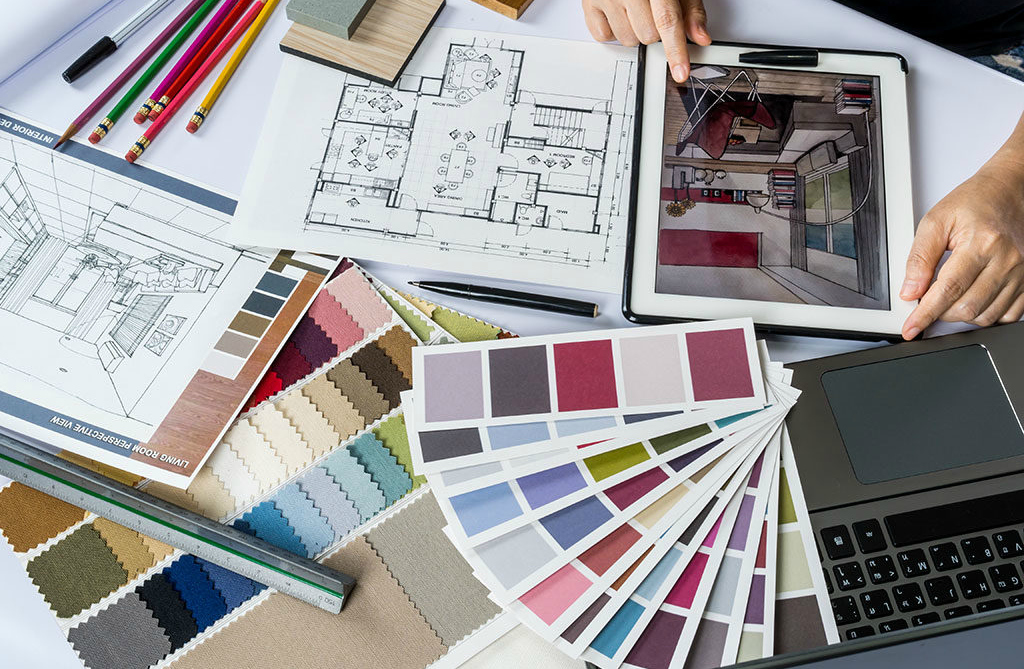 If you've never worked with an Interior Designer or an Architect before, you may be wondering what exactly you "get" for your investment. This is a great question; you are purchasing a service, so it is intangible and harder to quantify.
Before we get into the details, I structure Beautiful Habitat as 3 interrelated businesses. The services offered are different and therefore so are the fee structures. They also move from the least tangible to the most tangible.
Interior Design Services/Consultation
Beautiful Habitat Retail/Purchasing Management
Construction Support and Delivery Oversight
Interior Design Services
This one is the most important, yet the hardest to quantify. Ultimately, you are purchasing the end result; you are purchasing what it takes to get from your "before" to your "after".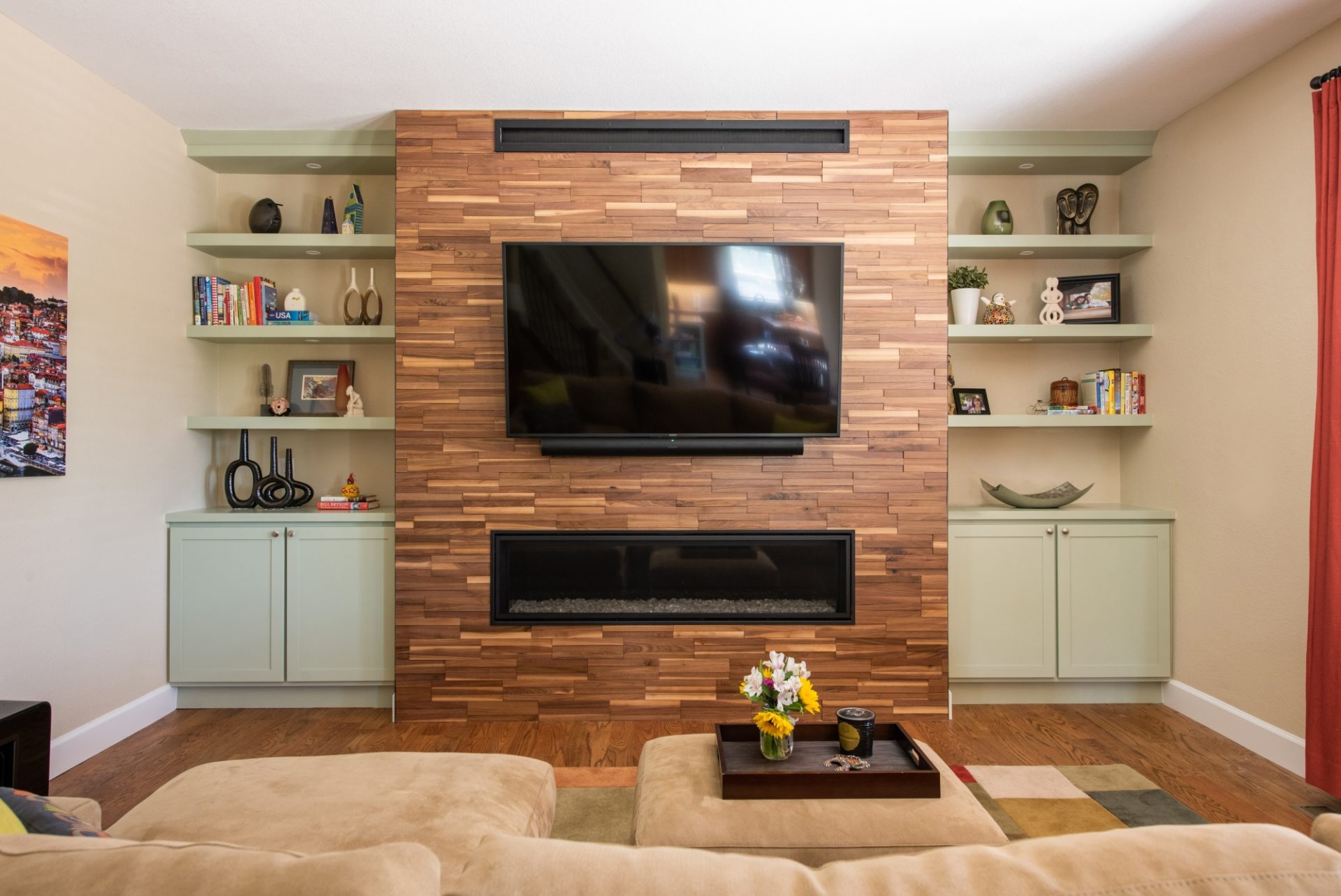 You can't get from the "before" to the "after" without thought, planning and expertise. This might be most apparent on complicated remodeling project. But even on purely furniture and décor projects, there is planning required to get the best results.
Part of what you are purchasing with Interior Design is the tangible design plan. This includes the technical drawings or construction documents to properly install the design.

This also comprises any concept designs and 3D renderings to help you visualize the aesthetics and how the final room will look with all of the materials and finishes pulled together and in scale and proportion.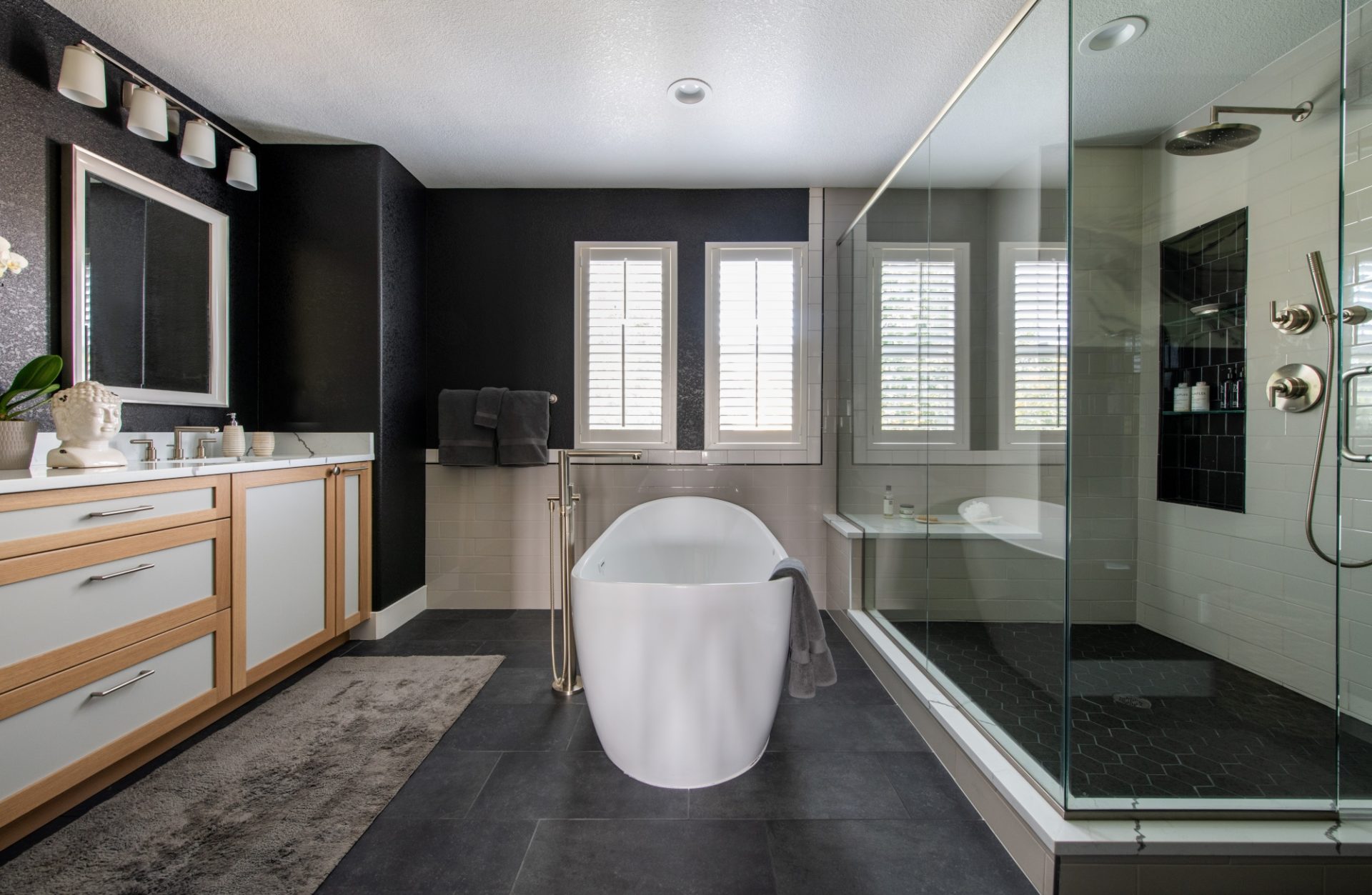 However, you aren't just purchasing a set of plans at the end. Design services are a process that helps you get to the final decisions.  That might come in the form of reviewing different floor plan options, or different styles and colors. Often times that comes by pricing out your whole wish list to understand what the project will really cost, then revising to bring the costs down. It's a series of conversations and collaborations to get to the best and final design and these rely on the Designers' (intangible) experience and expertise.
For example, in this kitchen we proposed several backsplash tiles and design options to the clients. And the clients didn't love the options. Therefore, we decided to have the clients join us at the tile showroom to find a tile that really did wow them. Together we collaborated to create the final design, which made a big WOW statement in the kitchen. This whole process to get to the right result – that's what you get when purchasing interior design.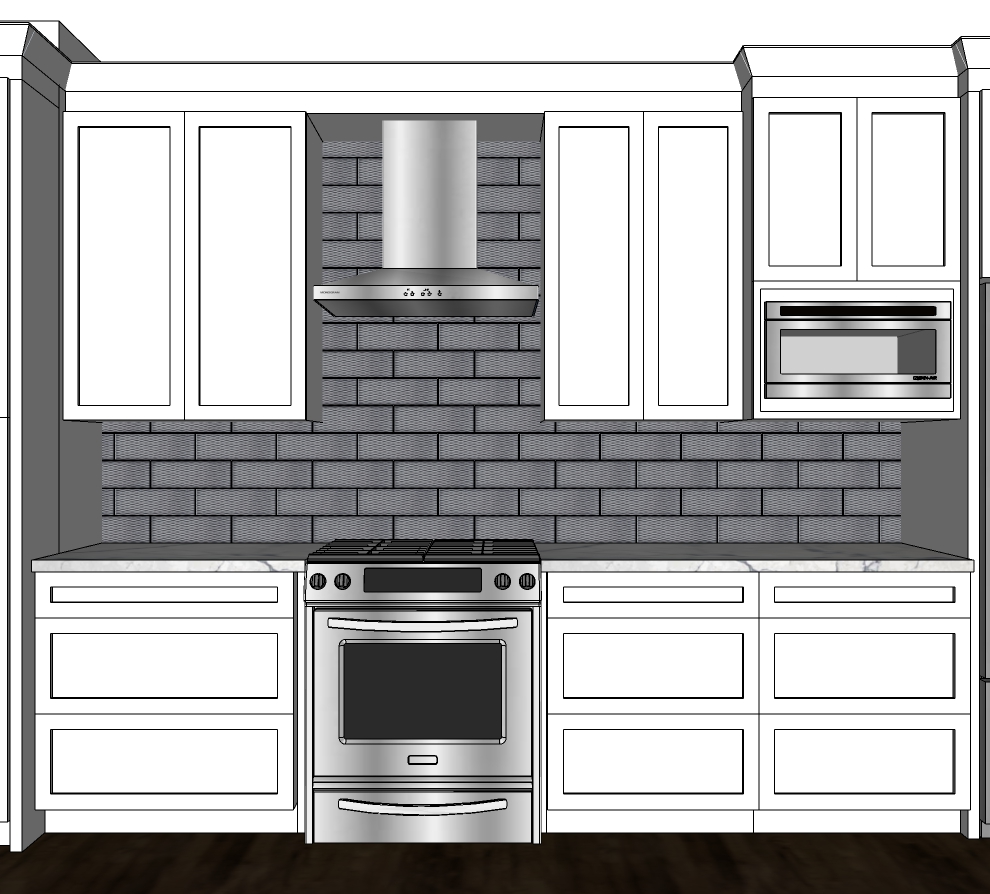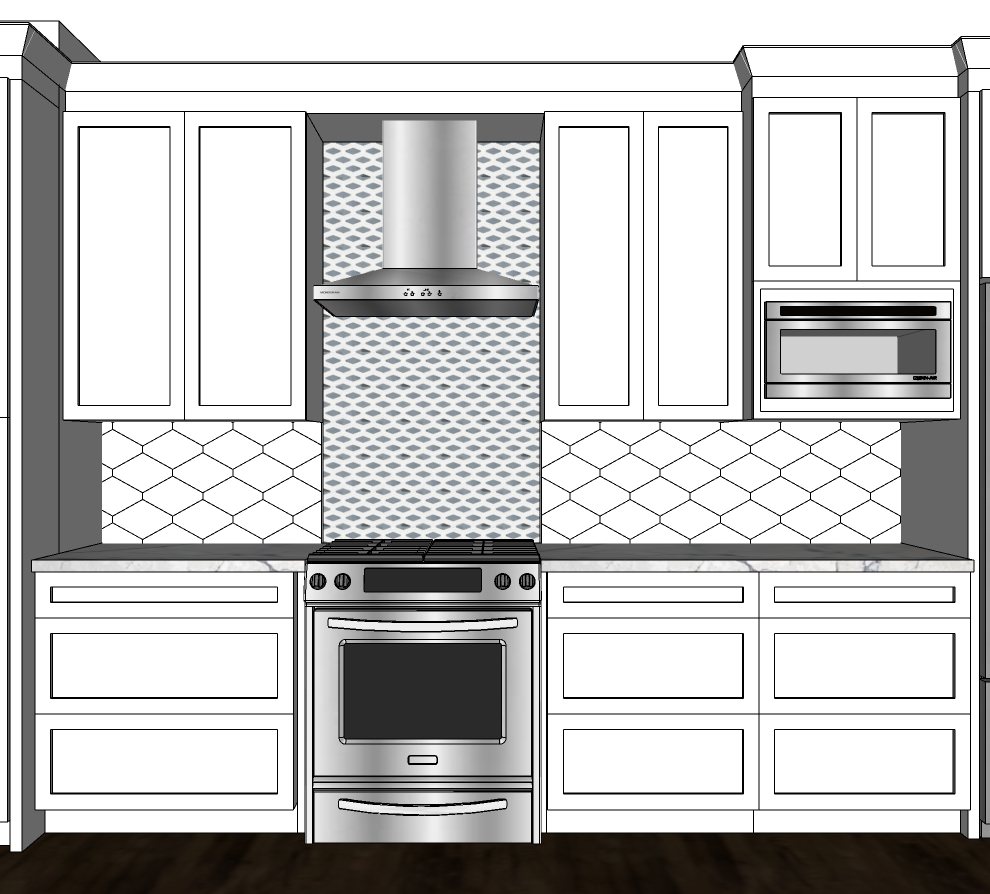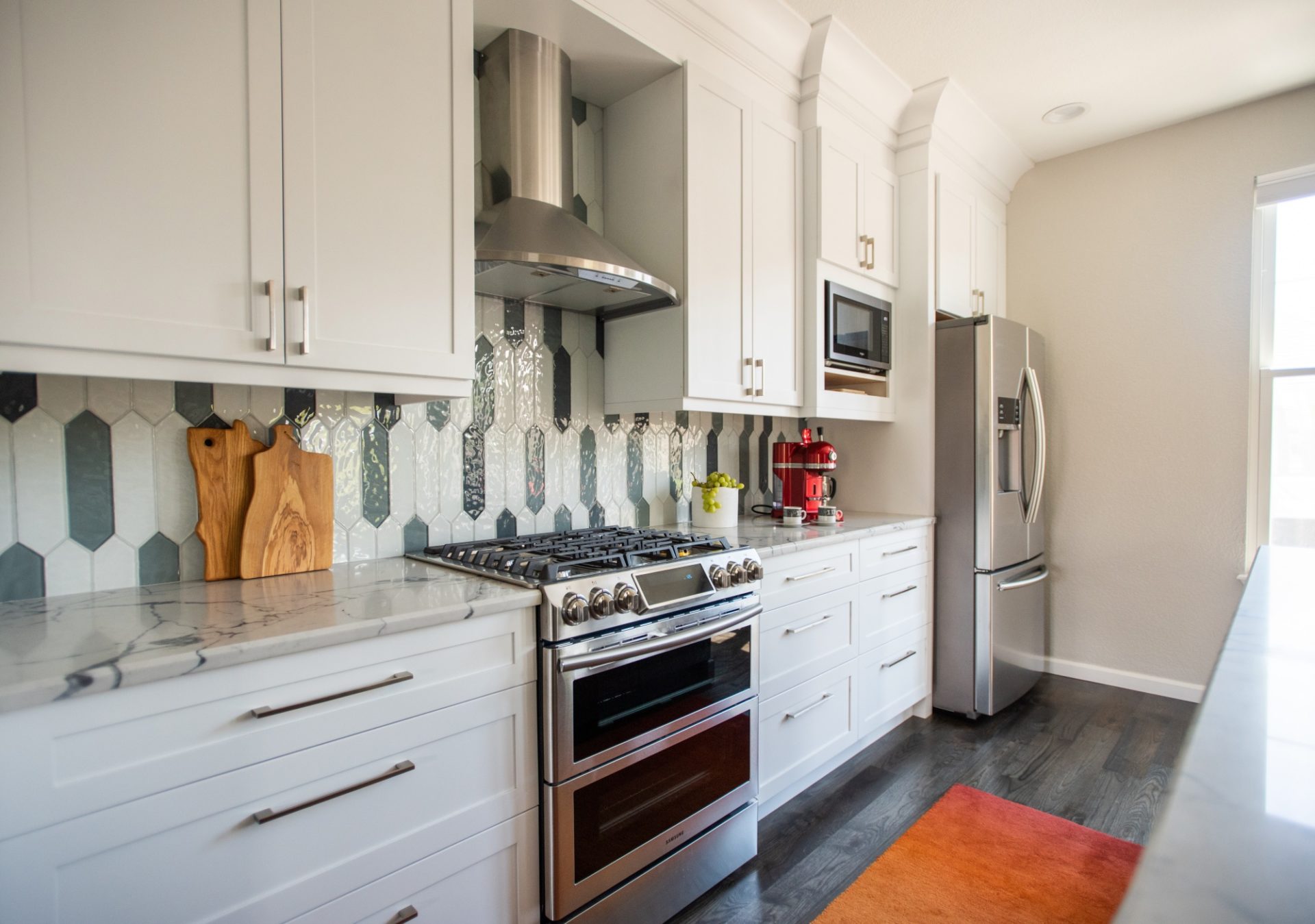 There are more intangibles to interior design services. First is peace of mind. Because we try everything "on paper" before any orders are placed or work begins, you have the peace of mind that the design works, achieves your goals and looks beautiful. You also save time and stress. An expert is handling this for you and that saves you time and stress.
In addition to the design planning and drawing creations, interior design services include product sourcing, recommendation and selection. This is another area where you benefit from the intangible "designer expertise". Your interior designer will have far more brand and product awareness and experience than you. At Beautiful Habitat, we purchase through vetted and trusted trade resources. Our vendors align with our quality, value and customer service goals. We prefer to buy from local trade resources or craftspeople whenever possible. Having local relationships improves the product quality and customer service we receive. As a client, you benefit from the decades of relationships built and direct experience with products, manufacturers and vendors.
This leads to our next type of service for clients – purchasing management.
Purchasing Management Services
Purchasing management, or procurement, is easier to understand because it is a more tangible service. You will ultimately have physical products at the end. When you purchase furniture, fabrics and products through Beautiful Habitat, we are acting as a retail store for your purchase. You are getting the product, along with our Purchasing Management Services.
We take over the burden of ordering, tracking, and delivery scheduling for you. If something goes wrong, and it often does, we handle it. You'll be amazed at all that goes wrong on product orders: wrong item ships, freight damage, items that just disappear. Not to mention the coordination of deliveries and installations. As an architect friend once said "It takes 50 calls to place an order, and that's if everything goes right."  We have the appropriate team of people to manage these steps and any problems.
For most projects, the orders will go to a warehouse until they are needed on the job site (remodels) or until all furniture and accessories have arrived (Furnishings, Decor). The items are inspected. If there is damage, claims are filed on your behalf and replacements are ordered or repairs take place. Once all of the pieces are ready, we schedule ONE delivery and installation at your home. We may be ordering from many manufacturers. This process ensures you don't have 30 different deliveries coming to your home, each requiring someone be home for a 4-hour window.
Construction Support and Delivery Oversight
Our final service level is construction support for remodeling projects or delivery oversight for furnishings and décor. This is also a tangible service in the way that you will see someone from the design team onsite; you can see the work being done.
During construction support, your interior designer acts as your liaison on the project job site. At Beautiful Habitat, we schedule a Trade Day early in the process to review and price the project. Next, we have a pre-construction meeting to review the ground rules (where does the dumpster go, what time will the crew start and end each day, will there be pets onsite). Finally, we set a weekly meeting to check in, ensuring that the design intent is followed and installed.
Delivery oversight includes coordinating the furniture delivery and being onsite to ensure that the furniture is placed or art and window treatments hung exactly as we designed. We come prepared with dimensioned furniture plan and tape measure.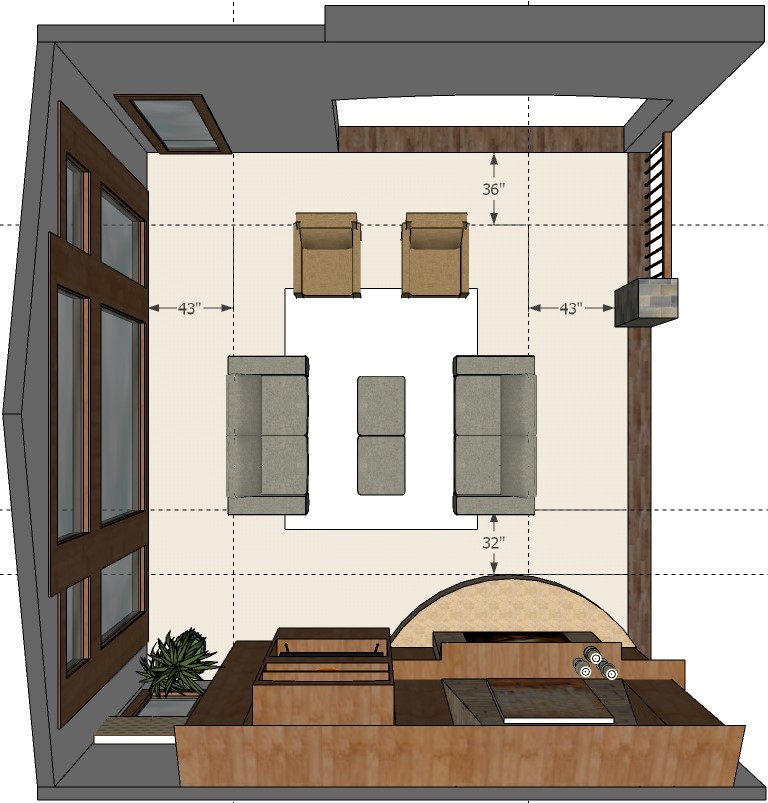 Collectively, these are the tangible and intangible services of Interior Design. Do you have more questions? Please Contact me with your question here.
For more about working with an Interior Designer:
5 Questions to Ask a Designer Before you hire
Beautiful Habitat Design Process