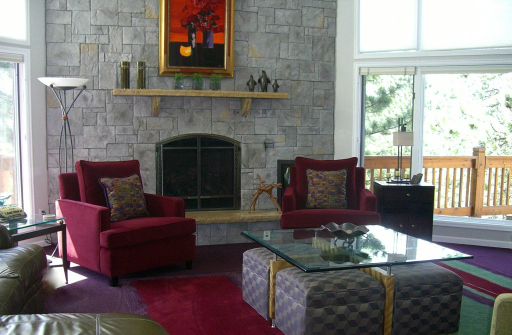 Mixing Materials for a Mountain Modern Interior Design Style
Colorado interior design has a personality all its own. We call it Mountain Modern, and you'll see it in neighborhoods throughout the Denver metro area as well as along the Front Range and throughout the high country. The hallmarks of this design capture the essence of our beautiful surroundings — rich and rustic woods, grand metalwork and natural stone — contrasted against sleek, modern elements.
This fun family room blends a rich, playful palette of sleek, tailored furnishings with a stone fireplace facade that runs floor-to-ceiling and window-to-window. The hearth and mantel made of natural stone slabs create contrast on the feature wall. Ample seating, including stools stored under the coffee table, ensure this room gets plenty of action.
This fantastic family room is a perfect example of the Mountain Modern look.The floor-to-ceiling glass brings the outdoors in, as does the earthy, heavy, stone fireplace. A wood-slat ceiling brings warmth to the space. Polished concrete floors, clean-lined furnishings and the metal mantel of the three-sided fireplace fulfill the modern aspect of this interior design. Love the look of concrete? Consider it for the bathroom.
This kitchen is a softer take on Mountain Modern. The overall look is sleek and clean while the flooring brings in that element of nature and appearance of rustic roughness to create contrast. Warm wood cabinets add richness to the palette and are a great complement to the ever-popular white kitchen cabinetry.
An easy way to create this Colorado interior design look in your home is to choose one focal element to begin introducing the trademark elements. You might choose an oversized metal range hood. A slate tile floor or backsplash is an excellent way to introduce earthiness, color and texture.
To go all-out and create a cozy family space, go floor-to-ceiling with stone and wood. A smooth floating staircase and polished concrete floor complement the heavy textures.
Capture your own Colorado interior design style and create a beautiful habitat perfectly suited to you and your family. Contact Beautiful Habitat today!