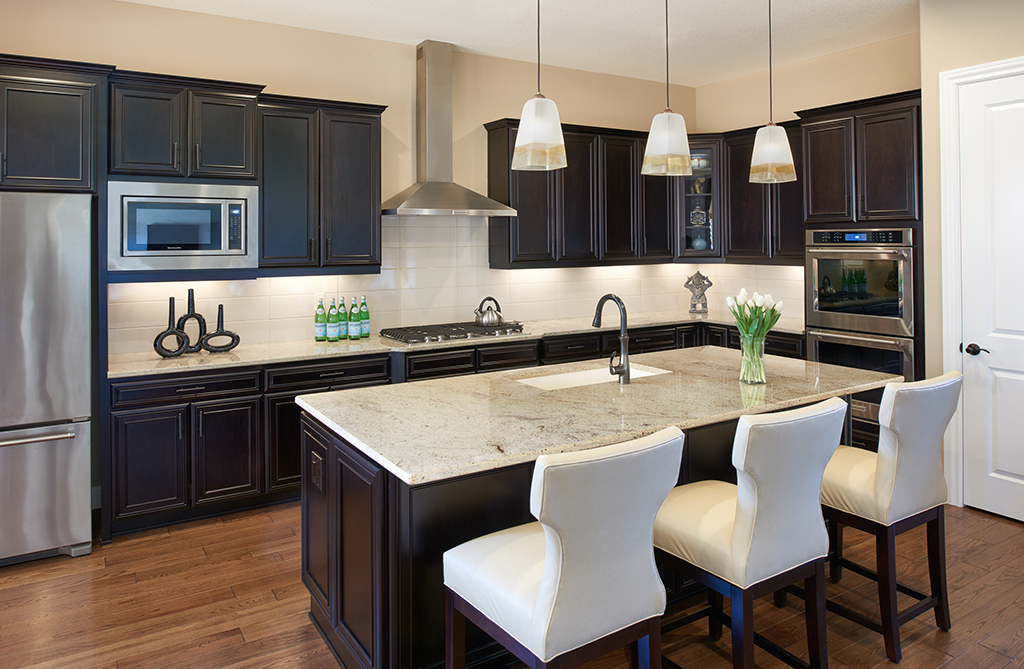 Luxury Downsizing: Simplify to Increase Your Home's Function
Downsizing – live with less, while living better.
By Samantha Trueheart
Downsizing is about simplifying your home so you can spend energy in other areas of your life. "Luxury downsizing," Tennille Wood shares, "is about living with less but actually living better. It means investing in pieces that are higher quality or have more meaning for you." It is a wonderful option for families looking to maximize their lifestyle with luxury features and smart design solutions which result in a simplified but highly-functional home.
Many people immediately assume luxury downsizing is primarily for empty nesters. While downsizing is great for retired couples looking to let go of their large family home and focus on the golden years, the concept is ideal for anyone looking to simplify their life and home.
"I have downsized working professionals that wanted to exchange yard work and house work for more travel," says Wood. "I have also downsized a young family in their 30s with a toddler."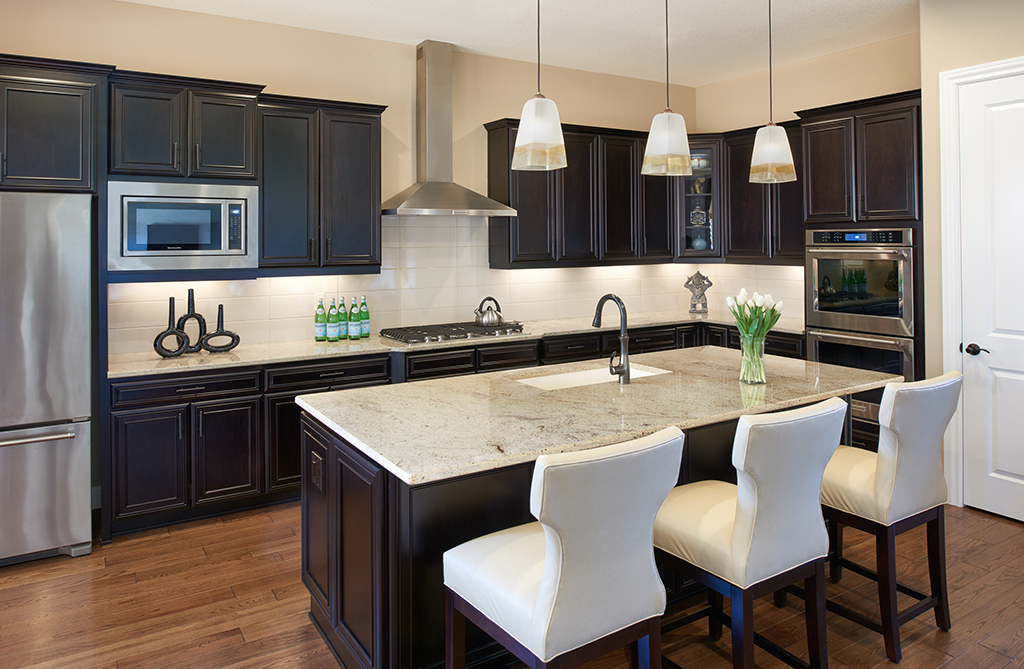 See this entire beautiful Habitat project
If you're used to living in a large home with an abundance of closets, cabinets and storage options, downsizing might appear daunting at first. But choosing to live with less and getting smarter about your space will ultimately result in a an enhanced lifestyle and less clutter you and your family.
Wood and her team work closely with their clients to assess the type of lifestyle and flexibility the space will need without sacrificing the comfort of a larger home.
Schedule a Consultation Today
"We assess how they need to live every day and if they need flexibility for out of town guests or entertaining," says Wood. "We determine all of the functional needs and strategize how we can still fit those into a smaller footprint."
3 Ways to Luxury Downsize Your Space

Luxury downsizing is all about maximizing the function of a room through multi-purpose pieces of furniture and custom built-ins to increase storage in a home. Wood and her team use these three strategies to optimize your simplified space for practical use and comfort.
Design Your Room for Multiple Purposes

Finding ways to use a room for multiple purposes is crucial in a smaller space. Wood looks at rooms and areas of the house that might be wasted outside of a daily setting and customizes them to fit any situation a homeowner might encounter.
"Instead of having a guest room that is slept in 10 to 30 nights per year, I recommend making a multi-purpose space that can be converted into a guest room, but is utilized by the homeowners every day," says Wood.
"A Murphy bed is just one of the solutions we use to create multi-purpose spaces," says Wood. "We also use sofa sleepers, depending upon the functions that a guest room might need to serve."
In one Boulder home, Wood had a client that needed their guest room to also function as an office and a home gym. "In this case, a Murphy bed with an added drop down desk was the best way to maximize function," says Wood.
Another example of using multi-purpose spaces in a luxury downsize is in the dining room. "We essentially took the dining room from a single-use dining room to three uses — a mud room, office and a dining room," says Wood. "The built-ins also added depth and texture to the wall, increasing the interest of the space."
Be Clever with Your Storage

Built-ins and smart storage spaces are a great way to optimize your luxury downsize and increase the functionality of your home.
Wood and her team added two custom tall cabinets with a banquet between them in the dining room so  that it can also serve as the mud room and office. "One cabinet is designed for coat and shoe storage near the back door," says Wood. "The other conceals a roll-out desk for a hidden office space, as well as overflow kitchen storage. And the banquet top hinges up for storage under the seat."
Finding dead spaces, awkward corners and other areas of the home that are not commonly used are excellent ways to add storage to a smaller home.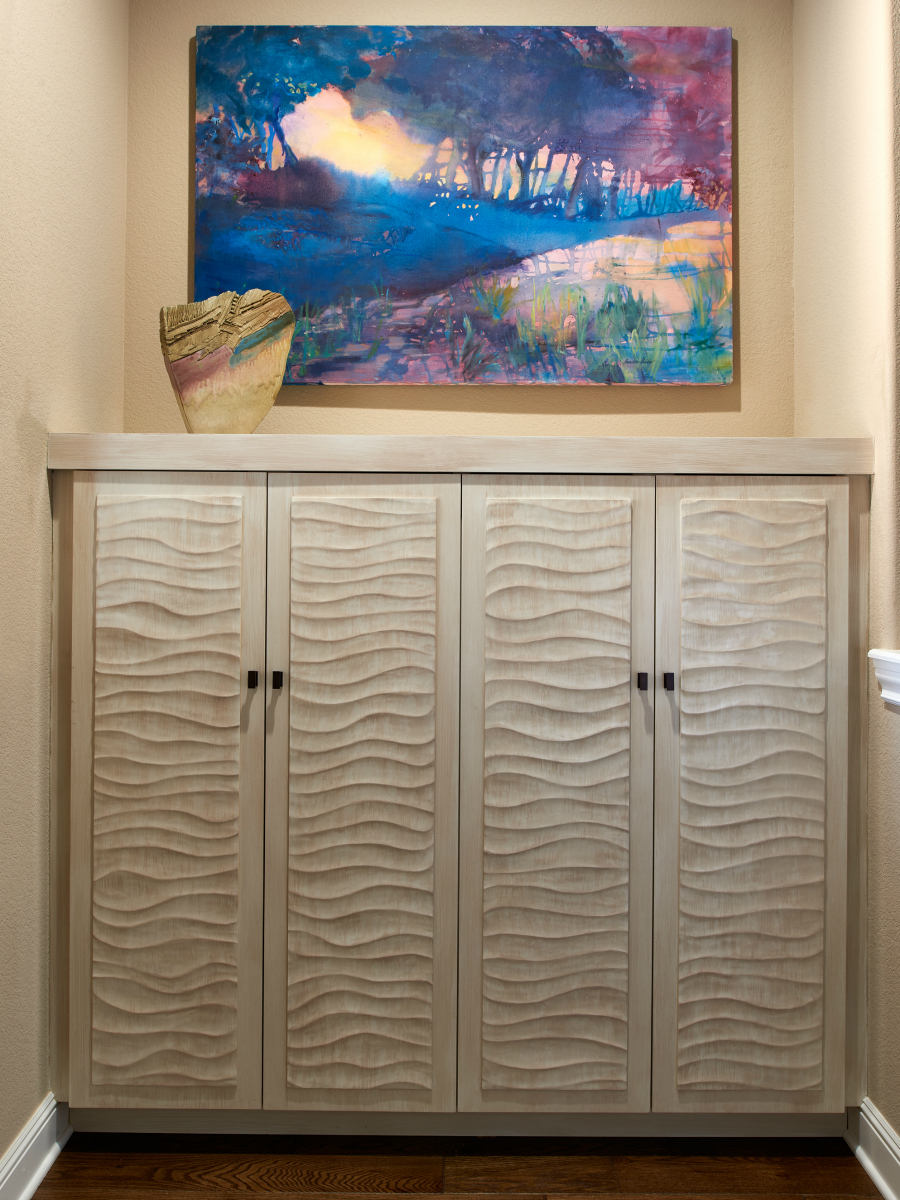 Adding a custom built-in cabinet in an awkward corner accommodates overflow dining and entertaining pieces, while also creating a great place to showcase artwork in one client's home. "The custom textured design and painted finish made the dead space interesting and it became a beautiful feature in itself," said Wood.
Splurge on Luxury Features

Downsizing does not mean you have to be uncomfortable or sacrifice a home with the amenities you desire. Wood says she sees the opposite in a luxury downsize and, conversely, this type of lifestyle gives the client more flexibility to invest in high-end products that ultimately sets the home apart.
"Because my clients are spending less money on the square footage, they can incorporate luxury fixtures, finishes and amenities, like marble tile in the bathroom, professional appliances, radiant heat flooring and steam showers," says Wood. In fact, clients often feel as if they have upgraded their overall lifestyle. And that's the point!
Luxury downsizing, or rightsizing, is all about living with less — but living better. It allows you and your family to simplify your home through smart and well-designed spaces to allow more room to focus on other important aspects of life.
If you or a client is considering a downsize for any reason, we would love to chat! Fill out our pre-consultation form now!
Need some inspiration for rightsizing? We helped this pair of empty nesters downsize but still highlight their extensive art collection.
Download our Clever Solutions for Townhome Living e-book and see how we helped one couple turn a dated property into the family home of their dreams by taking multi-purpose storage to a whole new level.