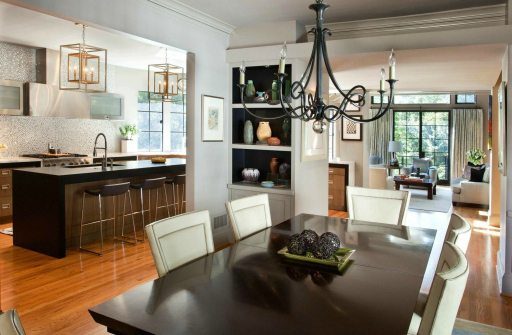 Kitchen Design for Today's Busy Families
Be inspired to cultivate the kitchen you desire — designed specifically for your busy family and lifestyle. The perfect kitchen design can change the way you live and make life easier. Here are some tips to make your kitchen work for you.
A smart kitchen design is crucial for busy families — especially if space is limited. Above, clearly defined zones ensure multiple activities can be going on in the kitchen keeping the family together without being on top of each other. The kids can pop a healthy snack in the microwave while they do homework at the bar.
A beverage zone holds everything needed for making coffee or serving wine without having to move into the inner part of the kitchen. Crisp white cabinetry with a simple Shaker style looks elegant paired with marble countertops and the rich, dark wood flooring.
See more kitchen design ideas.
Refrigerator drawers make do-it-yourself snack time easy for younger children. Fill them with adult beverages when you're entertaining (without the kids).
Drinks and appetizers in multiple locations make it easier for you when serving. Or guests can help themselves from various spots in the kitchen.
A custom, pullout table that extends from the kitchen island is a genius way to instantly have an eat-in area or to gain additional serving space for large groups.
The sable island with marble countertops is classic, while adding white perimeter cabinets with contrasting countertops gives the space an updated, fresh look.
Open shelving offers easy access to oft-used items and makes taking out and putting away dishes a breeze. Abstaining from wall cabinets is a great way to create the illusion of more space and keep the room feeling light and airy even when the palette is dark.
A great kitchen design for busy families includes carefully planned accessories. This serving station keeps all of the necessary tools right at hand.
A large, open kitchen means you and your family can spread out while still enjoying time together. Several different seating options allow for snacks, games and family time even while dinner is being prepared.
An oversized refrigeration unit and ample storage space allow you to stock up on essentials. Dual ovens and a warming drawer make cooking for the whole group effortless.
Contact Beautiful Habitat today to create the kitchen design of your dreams perfectly matched to your lifestyle!