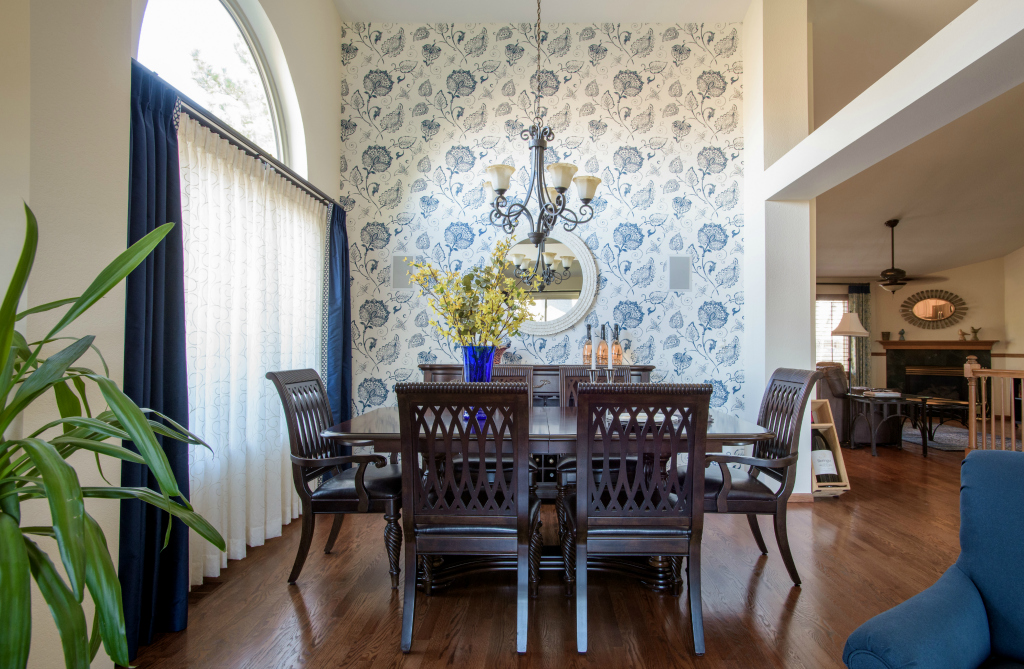 Interior Decorating With Window Coverings That WOW!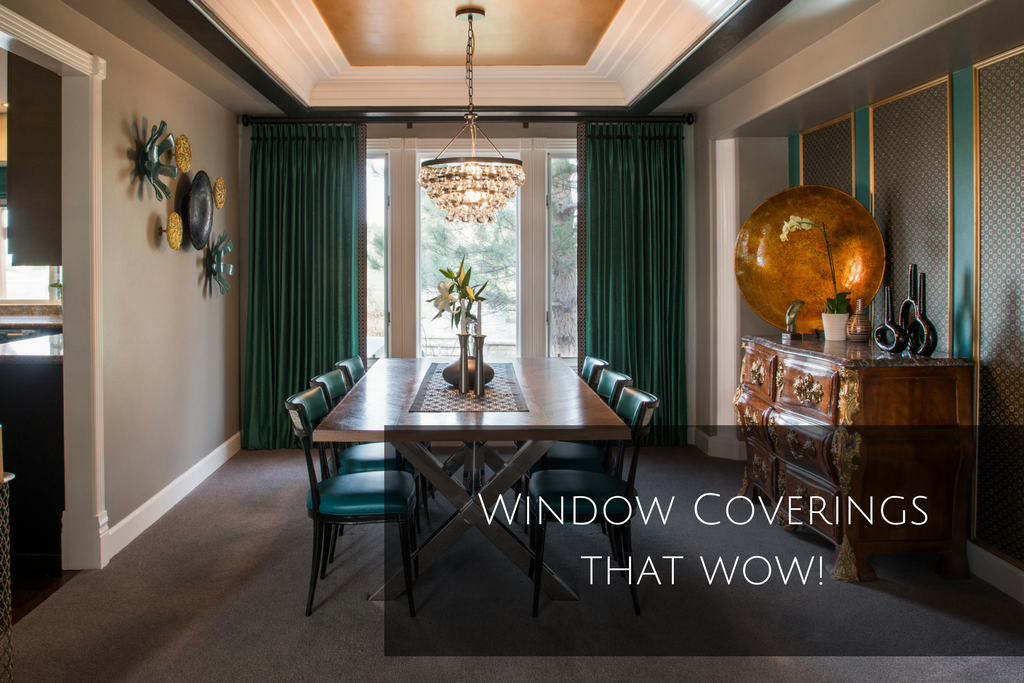 Homeowners often say they are intimidated by the process of selecting window treatments. Even though interior decorating with window coverings can be one of the easiest ways to add wow to a room or quickly update a space, the go-to white wooden blind remains a staple in many homes. As an interior designer, I view every window dressed in plain white blinds as a missed opportunity to complement the design personality of its space, and I love helping clients discover how fun and easy it can be to do more.
Whether your room needs a scene-stealing focal point or just a pop of color, a bold pattern or rich, shiny texture, window coverings can pull off many different aspects of interior design. Below, I've pulled together seven images from my recent interior decorating projects to demonstrate how window coverings can add interest to the room's design, without being fussy or old-fashioned! And you'll notice none of them stops at white wooden blinds.
Goblet Pleat Drapery Panels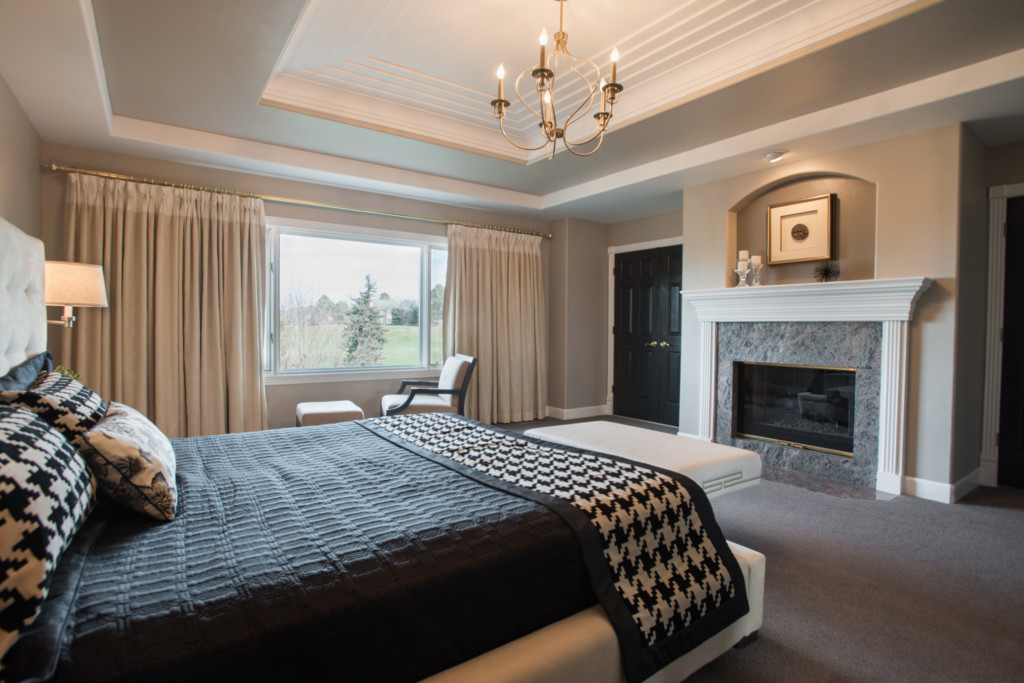 See this entire Beautiful Habitat project.
This traditional bedroom design features neutral tones throughout and makes use of a variety of sophisticated patterns and textures. The taupe wall color extends to the floor-length goblet pleat drapes, but I added a solid band or ivory fabric at the top for more interest. The wide brass rod ties in the reading sconce and gorgeous chandelier.
Ripple Fold Drapery
See this entire Beautiful Habitat project.
This multi-use guest room features simple dark walls and solid white convertible cabinets. I chose a large-printed fabric on this simple curtain design to add visual interest while beckoning the desk user's gaze out the gorgeous window view. The room ties together further by repeating a similar pattern in the light fixture at a smaller scale.
Box Pleat Valance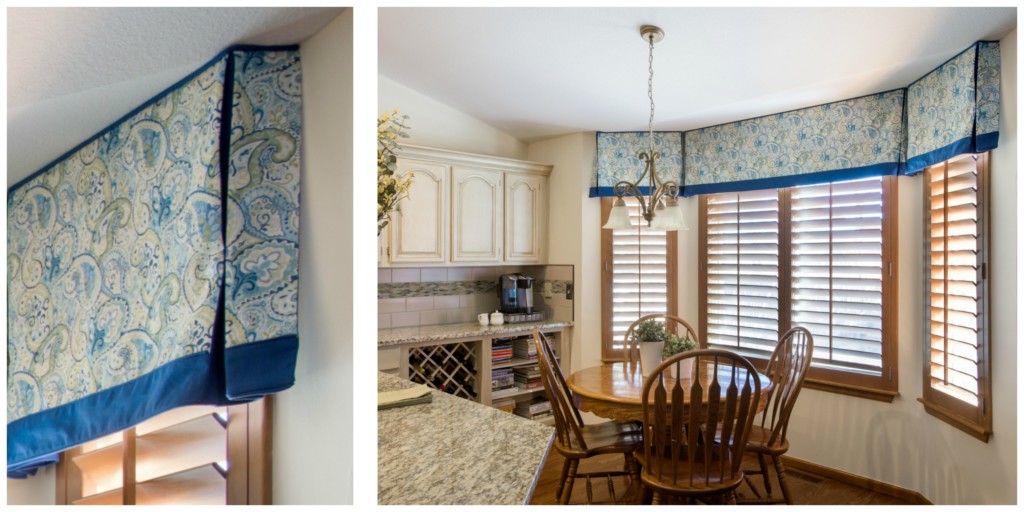 This kitchen nook features traditional wooden plantation shutters topped with a charming box pleat valance. The valance offers elegance, without adding any bulk, for a streamlined look. The paisley pattern brightens the room and fits the traditional style, while the blue trim creates clean separation and weight at the bottom of the valance. See more Beautiful Habitat projects.
Box Pleat with Sheers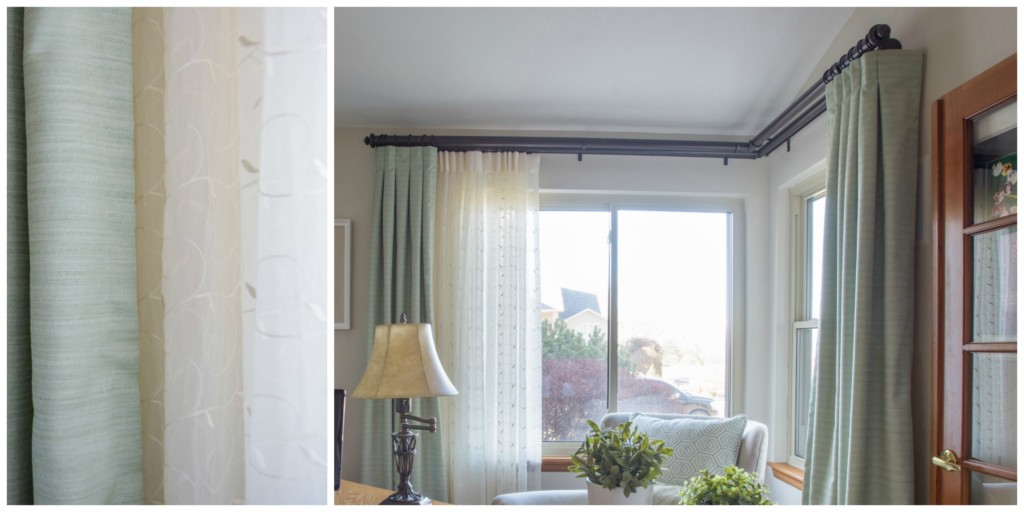 This cozy office oozes elegance thanks to the sophistication of the box pleat drapery layered with textured sheers. The dark, heavy rods add an architectural element to the room and complement other dark metals found in the accessories, while panels on each side of this corner window frame a beautiful mountain view.
Triple Pleat with Sheers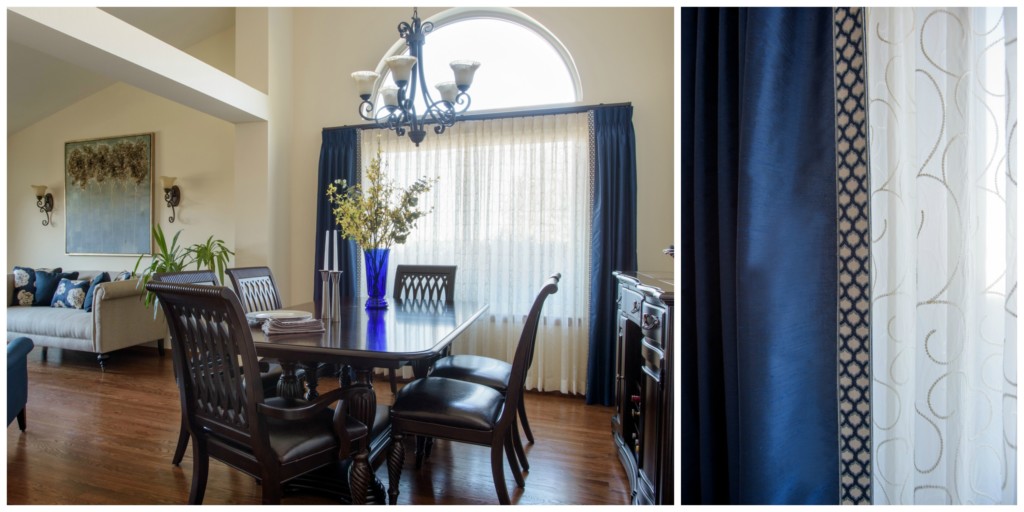 A symbol of wisdom and confidence, the color blue has a calming effect. Used here as an accent with browns and creams, the striking blue silk triple pleat curtain frames the dining room window. The curtain trim pattern complements the slightly Moroccan feel of the chair back . The blue drapery are layered over a textured sheer to soften the light and add privacy without blocking the light. Blue carries throughout the room in other art, throw pillows and accessories to pull the look together.
Pinch Pleat with Tape Trim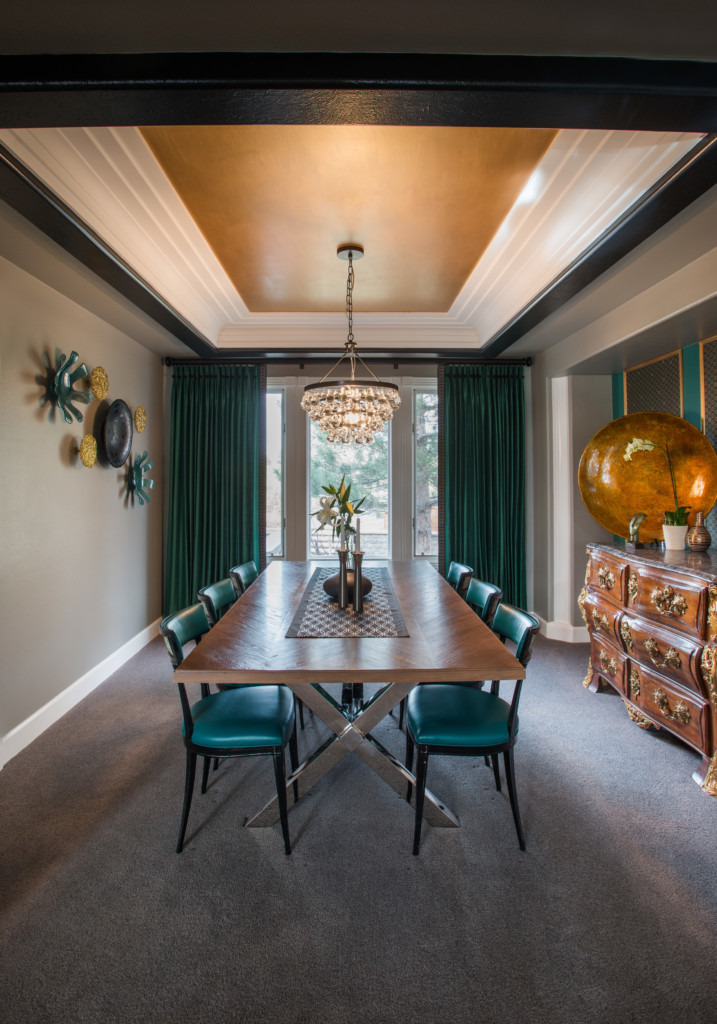 See this entire Beautiful Habitat project.
The window coverings in this yummy modern dining room are definitely the scene-stealer. A deep jewel-tone green pinch pleat curtain hangs from ceiling to floor. The solid fabric is embellished with buttons at the top and includes a decorative tape trim. The trim pattern reappears in the table runner for continuity. The amazing green hue is repeated as well in wall accents and chair upholstery. The gold-toned buffet and ceiling panel complement the green and make it stand out even more.
Sporty Roman Shades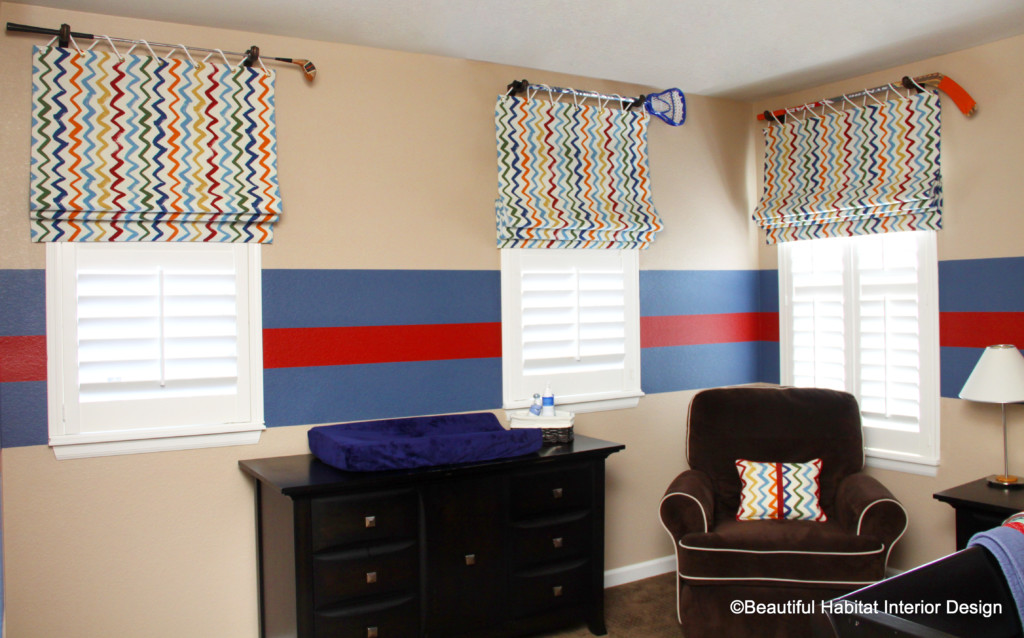 See this entire Beautiful Habitat project.
The element of surprise can bring a fun flair to any child's room. For these kids, I topped traditional white plantation shutters with custom roman shades and hung them from sports gear. The vertical chevron pattern in fun primary colors offsets the otherwise geometric shapes throughout the room, and a hockey stick, golf club and lacrosse stick were used in place of curtain rods. The fabric was carried over to a throw pillow to complete the look.
Whether your room needs a change from traditional to contemporary or neutral to elegant, or you are looking to add bold color, floral prints or completely change up your look, window coverings can be an easy solution with a large impact. The options can seem overwhelming, but they don't have to be. Let us help you get some wow into your window treatments.