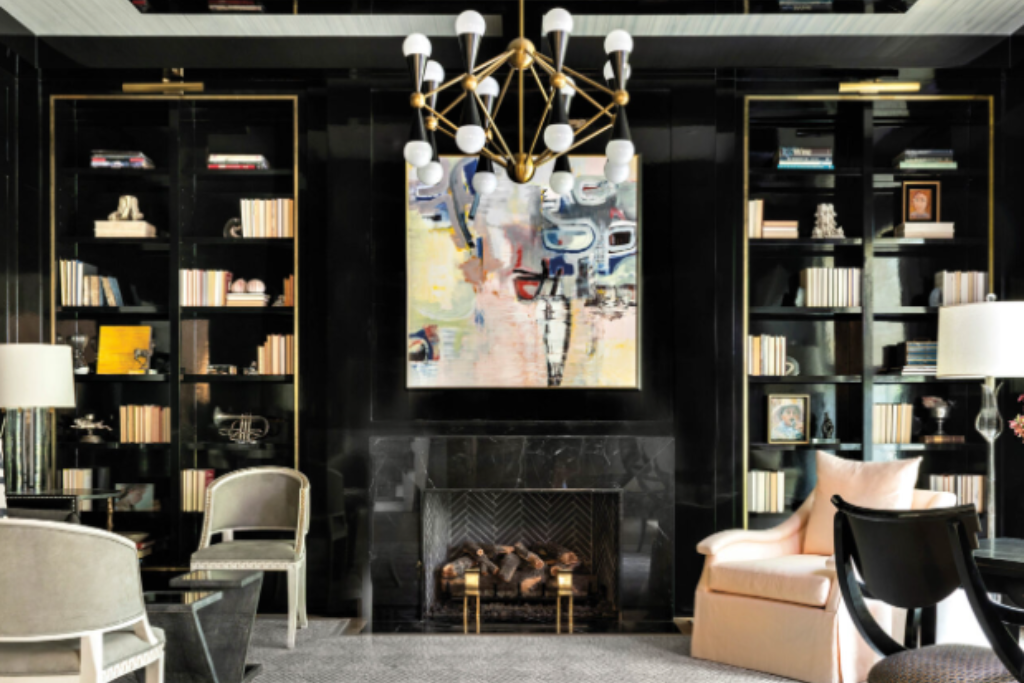 Designing Black Rooms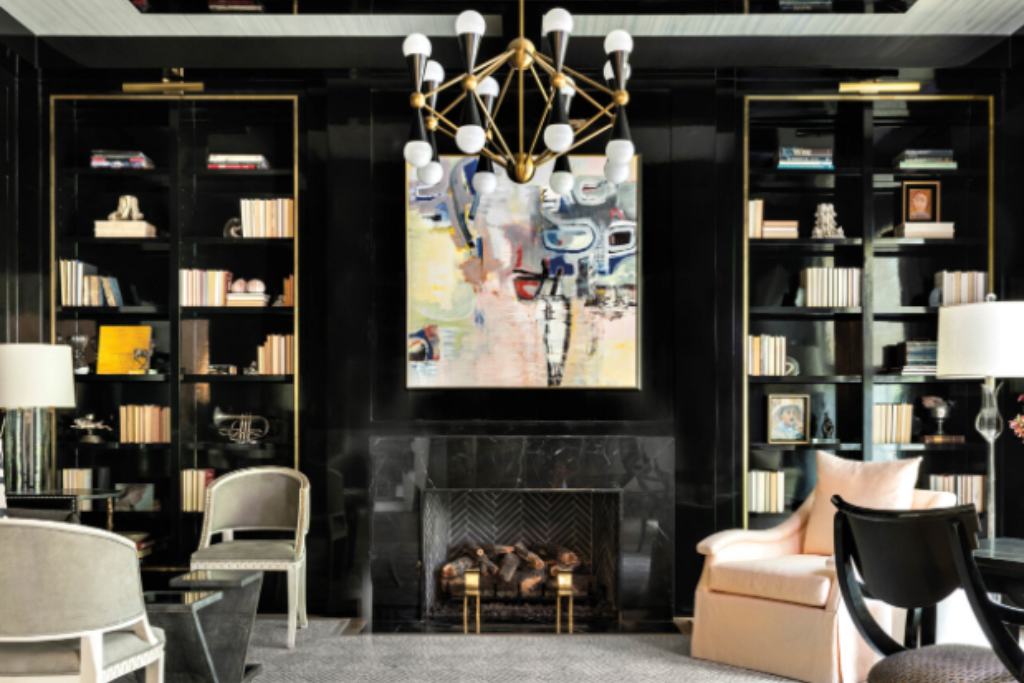 If you've been around Beautiful Habitat for a while, you know that in 2020 I was asking why we don't see more kitchens designed in black. I also debunked some myths and fears about designing a kitchen with black cabinets. Read that post on Black Kitchen Designs
Next, I offered the number 1 design tip for designing a kitchen using black in the article Black Kitchen Design Inspiration.
Let's take a moment to look at a few more stunning black kitchens, in case you still don't believe me.
Now, I'd like to look at other rooms that feature black walls or a lot of other black elements and give you design tips and design inspiration to try this bold look in your own home.
How do you make a black room work?
The key to designing with black walls or built-ins and cabinetry is to create a sense of balance. This is true of all room designs. However, it just seems more necessary or important when you're working with black walls. The idea of an all-black room seems overwhelming and like it would close in on you. The key is to create balance by breaking up the black elements to create points of relief.
Walls and Doors
Rooms that very easily lend themselves to having black (or any dark color) walls are rooms with many or large doors or windows. These naturally break up the expanse of black walls. They also help to flood the room with natural light and offset any feeling that the room is too dark.
This room has a large opening from the adjoining room, along with 2 large windows. This reduces the overall wall space pretty significantly and therefore the black is not overwhelming. The overall feel of the room is cozy and enveloping; like a big hug. Imagine if this room had white walls. The walls would disappear and you'd feel more exposed to the windows and outside. It's not wrong, it's just a different feel to the room.
The black walls and millwork of this room are broken up by a large door and window as well as the bookcases and white ceiling. The result is a sophisticated-glam home office design.
Art and Furniture
Another way to provide balance to a black room interior design and break up a black wall is by adding light colored artwork and furniture.
This bedroom design features black walls and ceiling, yet it uses balance and is not overwhelming. The large, mostly white artwork, combined with warm colored furniture, fabrics and ceiling beams give the room and organic and comfortable feel.
A similar tactic as above, but going in a more traditional and glam direction for this bedroom design.
Another approach is to create a gallery wall. The abundance of photos with white mats, hung nearly floor to ceiling, break up the expanse of wall. Again, if the walls were white, the photos would be less dramatic. They would blend into the wall instead of really standing out and making a statement.
Make a Statement
Why do I love black rooms so much? They are bold and make a statement. The room can be organic and warm, it can be playful, or it can be glamorous. Using black just makes it more of whatever statement you were intending to make. Black rooms make a statement; a stronger impact than a room with white or gray walls.
This room is an excellent example of that. The room is feminine and playful, yet the black walls keep it grounded and sophisticated. Imagine the room with white or gray walls. Suddenly the pink is too prominent and the room becomes overtly feminine. That's not wrong or bad; it's just a very different design statement, simply by changing the wall color.
I hope I've inspired you to consider black, or another bold color for your whole room and not just
accessories. For more bold design inspiration: 6 Ways to Use Bold Color for Interior Decorating Drama