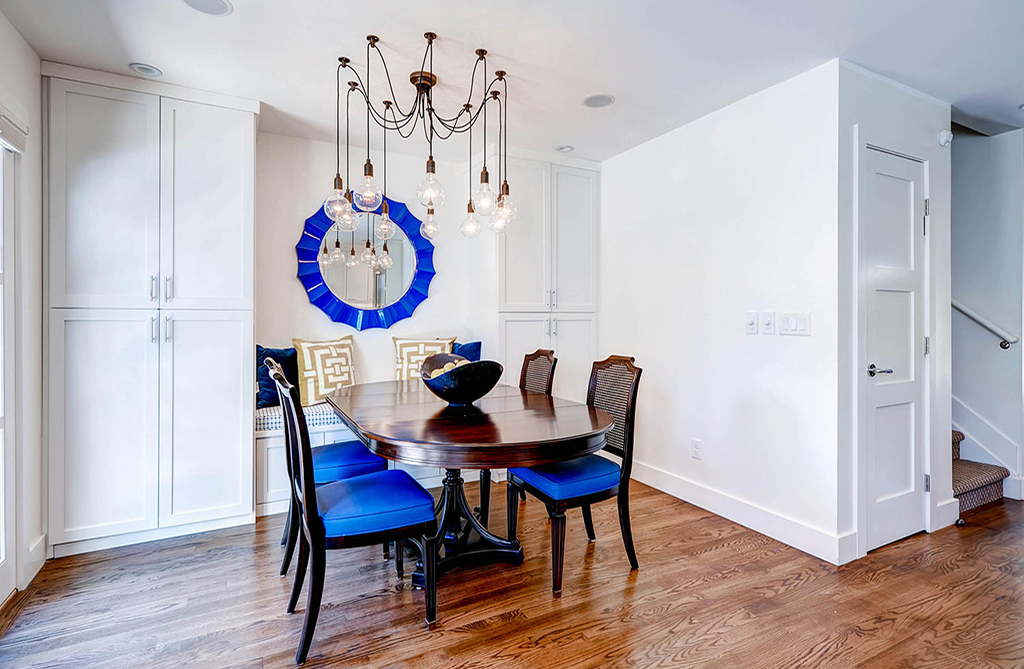 The Art of Fine Lighting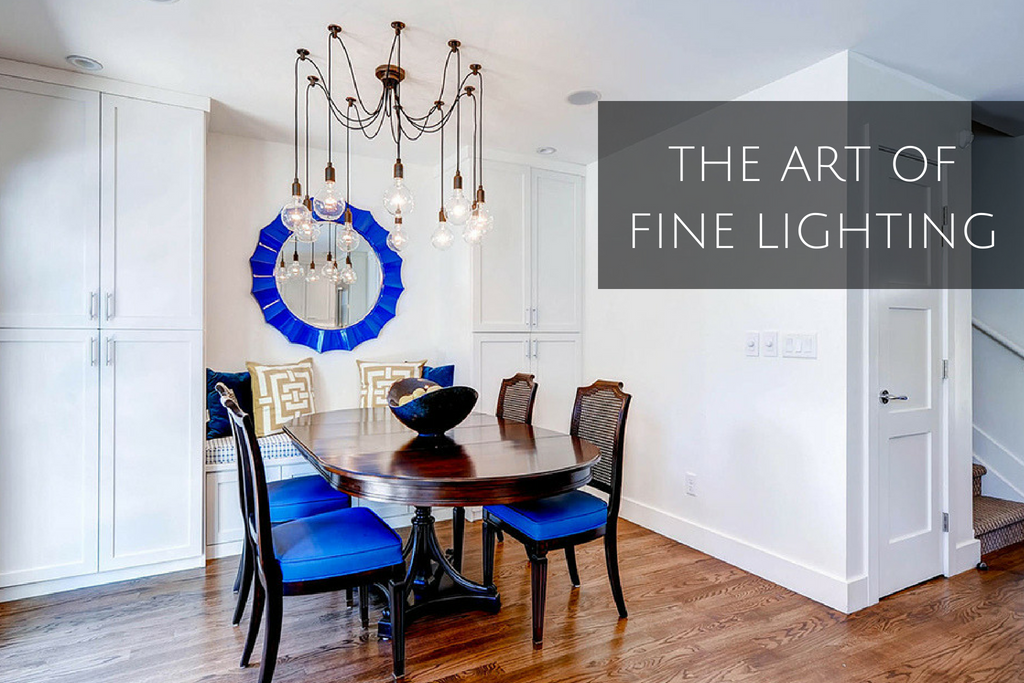 Lighting might not be at the forefront of your mind when you're planning a new interior design for your home, but it should be. The right lighting can create an inviting and harmonious atmosphere. It can also add that "finished look" while enhancing personal style and character. Whether your preference is industrial, contemporary, traditional or bohemian, having beautiful and complementary lighting fixtures and fittings ensures your interior will shine. Finding the perfect period-style lighting is easier than ever now thanks to spot-on reproductions and an assortment of choices. Different types of lighting are important for various tasks like writing, reading, cooking, sewing or eating, and those tasks can be visually brightened in all sorts of ways: track lighting, hidden lighting under cabinets, wall sconces, table lamps, chandeliers and more.
Schedule a Consultation Today
Lighting design has evolved rapidly over the last few decades. From the introduction of halogens to LEDs to compact fluorescent bulbs, there are numerous types of built-in lighting and unique fixtures that can solve both your physical and stylistic needs. Whether your space is dominated by natural light, perhaps with floor-to-ceiling windows or multiple skylights, or you just need a few lights to brighten up daily tasks, your choices can have a lasting impact. Incorporating more ways to use natural light will reduce your electric bills since you won't be using as much power during the day. If you need to enhance the lighting in your task projects, for something like sewing, having a good amount of light can make your project run smoother (and help you thread that needle faster!). We've rounded up eight noteworthy lighting designs to help you flip the switch and turn on the style.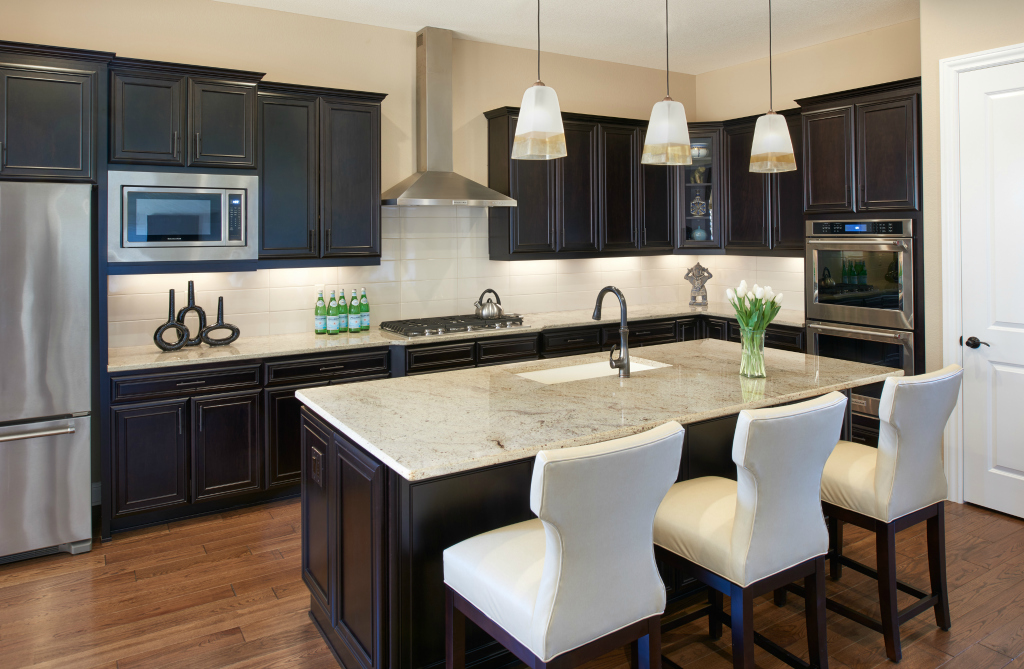 See this entire Beautiful Habitat project
Multiple Layers of Lights
The kitchen is where all the action happens, so you want to make sure you can see every moment of it. Under-cabinet lighting is an excellent way to soften the space and create some ambient light. The three pendant lights with semi-opaque glass match both the softness and texture of the room. This is a great example of how lighting can balance the design; the varied layers enhance the mood.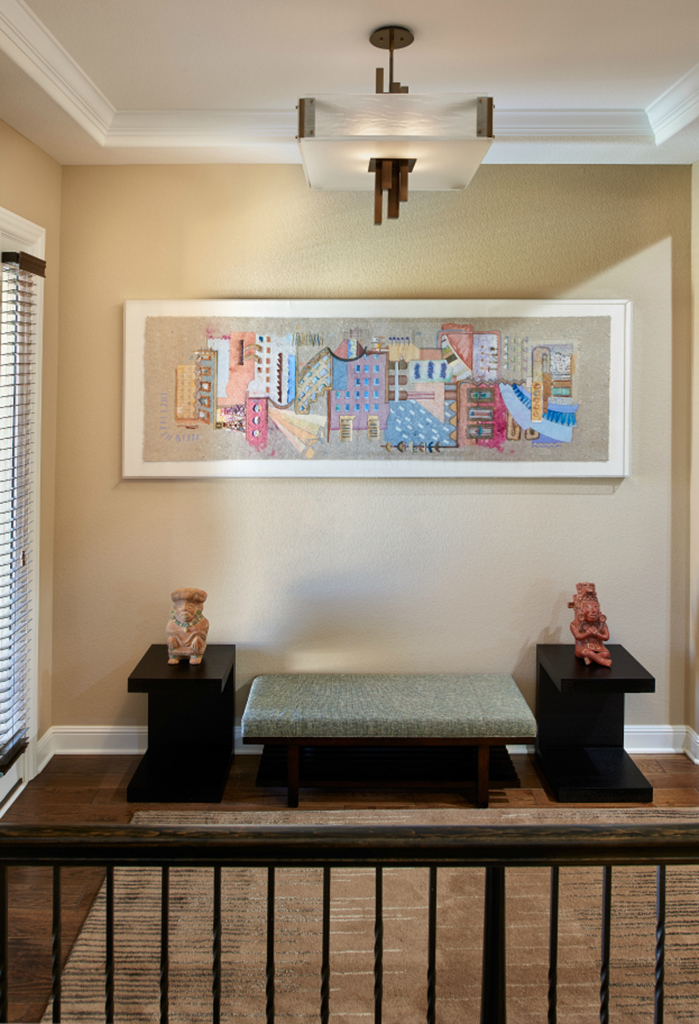 See this entire Beautiful Habitat project
Modern Mood
A modern home calls for a modern interior design. This Zen-like entryway shows off the homeowner's character with minimal features: bench, side tables, artwork, rug and unique light fixture. Everything is simple and functional. The light adds just the right amount of style by complementing the use of crisp, clean lines and edges seen in all the elements in the room. The lighting in this entryway helps to not only complete the look but also sets the artistic tone for the rest of the house.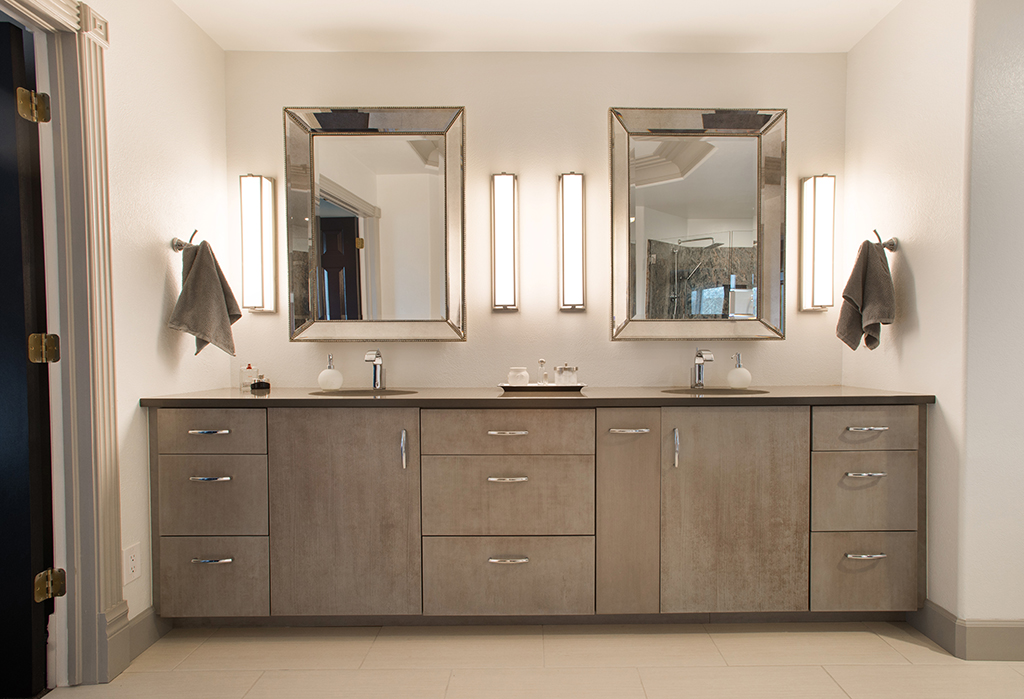 See this entire Beautiful Habitat project
Brighten Up, Baby
These four bathroom wall sconces not only brighten up the space, but can have a particularly flattering effect on those looking in the mirror. The placement of these sconces is key for eliminating shadows, which can wreak havoc on those applying makeup—when you want to have the best light possible. These sleek, rectangular stainless steel sconces bode well with the rectangular mirrors smooth, solid lines in the bathroom's interior design and are reminiscent of a Hollywood dressing room. Diffused light is the right choice for above a vanity.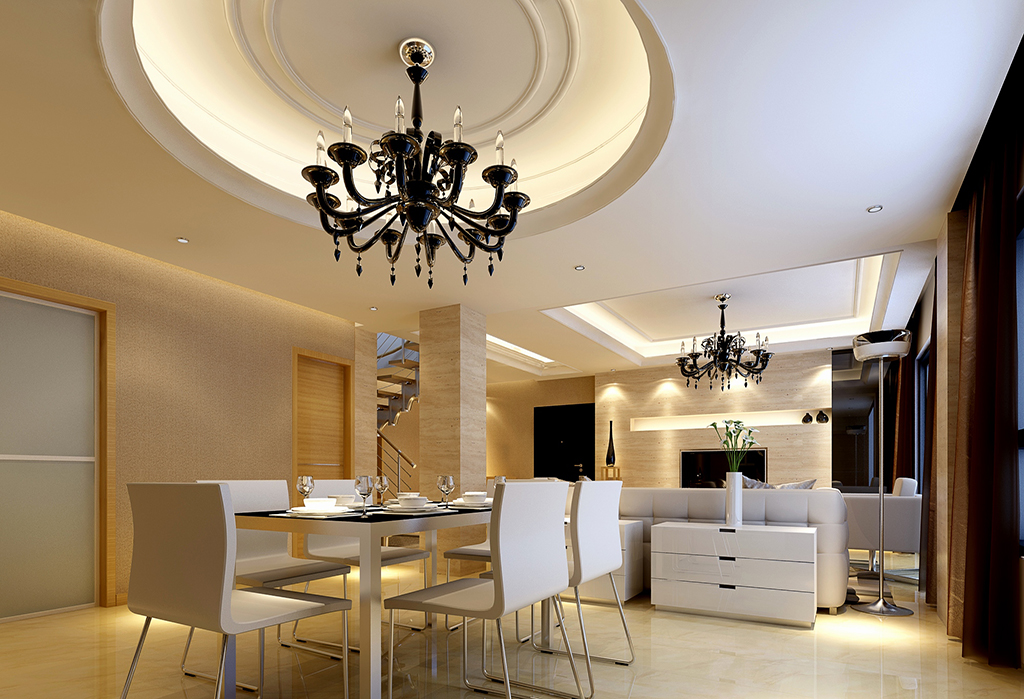 digikids.us
Drama Queen
Make a dramatic statement with a black glass chandelier. Theatrical lighting adds a regal effect and adds interest to the dining room. The architectural tray ceiling and uplights give the space more height, which complements the natural stone columns.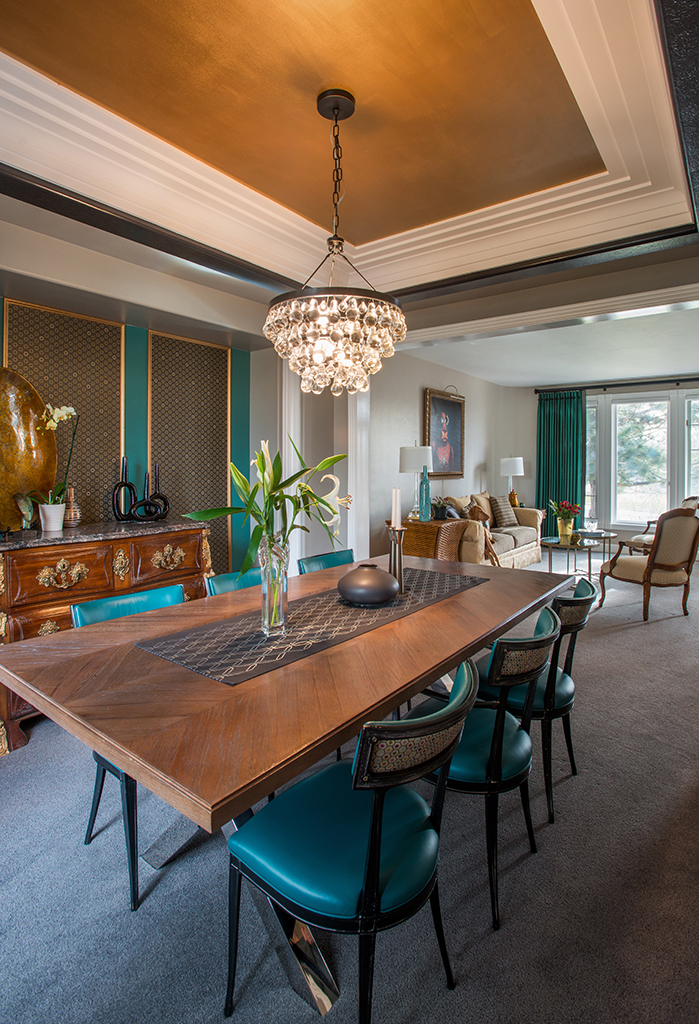 See this entire Beautiful Habitat project
Glass Droplets
Glass chandeliers are outstanding at letting the light shine through while creating something dazzling to look at. This one in particular tops the charts with its mesmerizing glass teardrop design, reminiscent of water droplets. It's bright enough to light up the dining room table, and the large window in the neighboring room serves as soft ambient lighting during daylight hours. A couple of candlesticks on the table increase the romantic vibe after dark.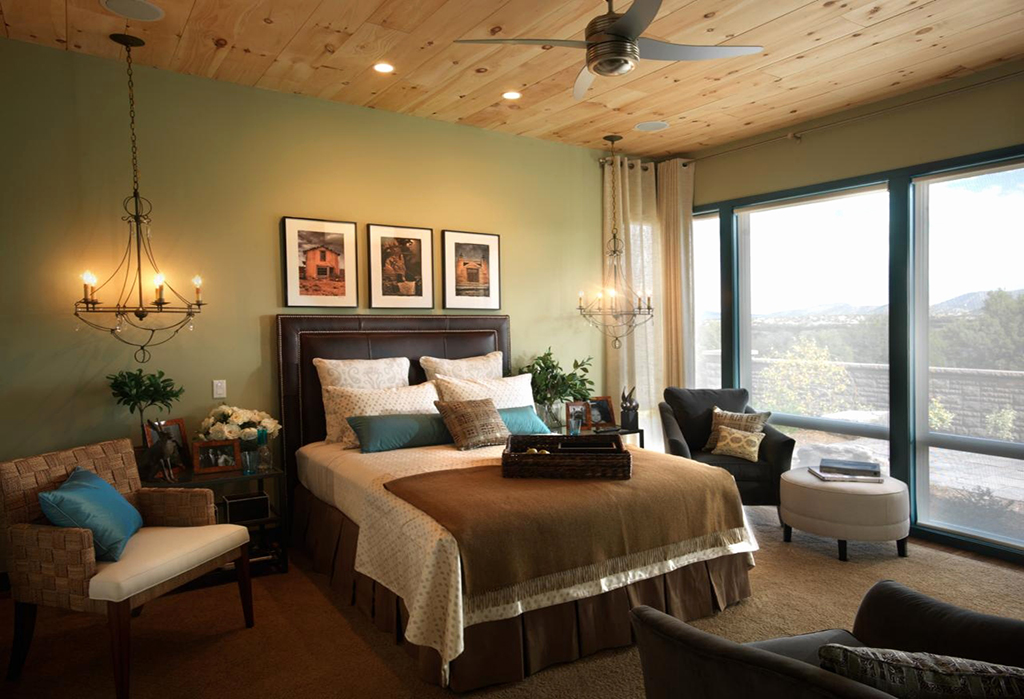 hgtv.com
Layers of Style
This romantic-rustic bedroom retreat has numerous lighting "yeses" going on. Recessed lighting set into a timber ceiling provide a soft way to brighten up the space, while the floor-to-ceiling windows give a healthy dose of natural light. But it's the matching pair of black, metallic minimalist chandeliers that give the room a romantic and luxurious feel. They also provide just the right amount of soft light at night when you want a little but not a lot.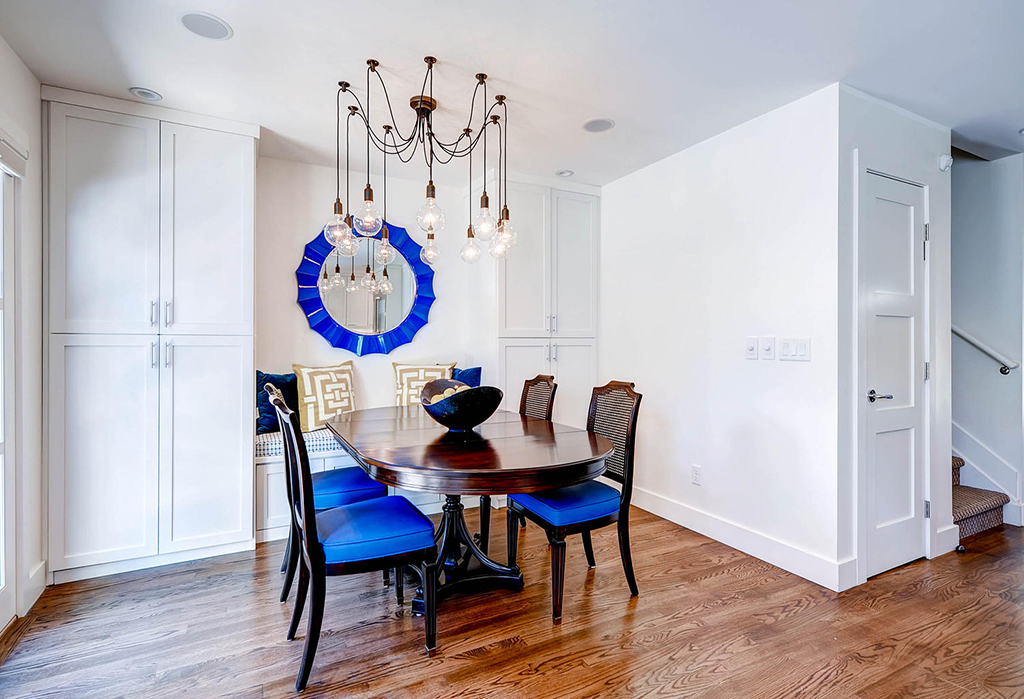 See this entire Beautiful Habitat project
Create a Focal Point
Dining rooms are fun because you can use a chandelier as an artistic focal point and add impact and drama all at the same time. This beautiful creation draws attention to the center of the room and the best piece of furniture in the space: the dining room table. A great light fixture adds that certain pop to the room that truly delivers the style. This one in particular looks like it's dangling from the ceiling, making it drip with light. The dramatic effect adds a touch of elegance to the dining room.
thespruce.com
Clear and Simple
This traditional room is lit up with style. Glass doors let in loads of natural light and the four hanging fixtures add height to the space and draw your attention upwards to the lovely, coffered ceiling. The fireplace enhances the warm and relaxing vibe while kicking off a little heat and light as well. To top it off, a lamp on a side table gives that extra boost when you're snuggled up with a good book at the end of long day.
Which room in your home needs a lighting boost? Create a relaxing atmosphere in your bedroom with the right lighting.
Incorporating or drawing attention to similar lighting styles in adjacent rooms can make a space feel larger and tie it all together!
Ready to get started on your interior decorating project? Fill out our pre-consultation form now!