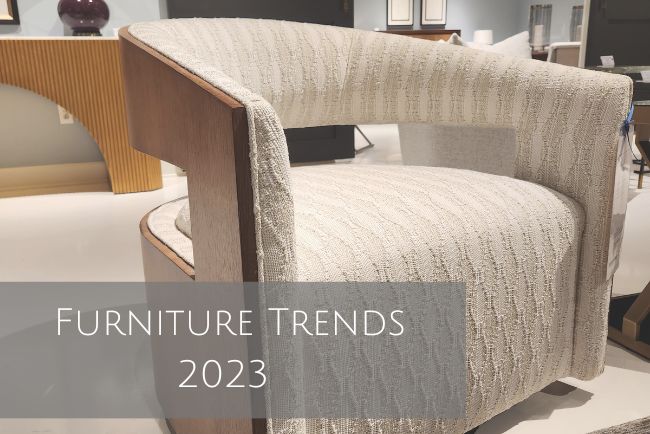 2023 Interior Design Trends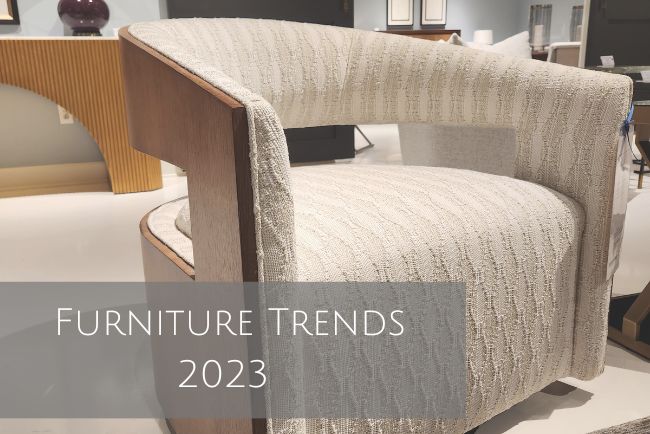 A few weeks ago I attended the High Point Market in High Point North Carolina. North Carolina is the furniture capital of the US, with a history of furniture manufacturing going back well over 100 years. 
Twice each year, the entire furniture industry comes together to showcase the latest and greatest in furniture products and interior design as well as many educational and networking opportunities within the furniture and home design industry.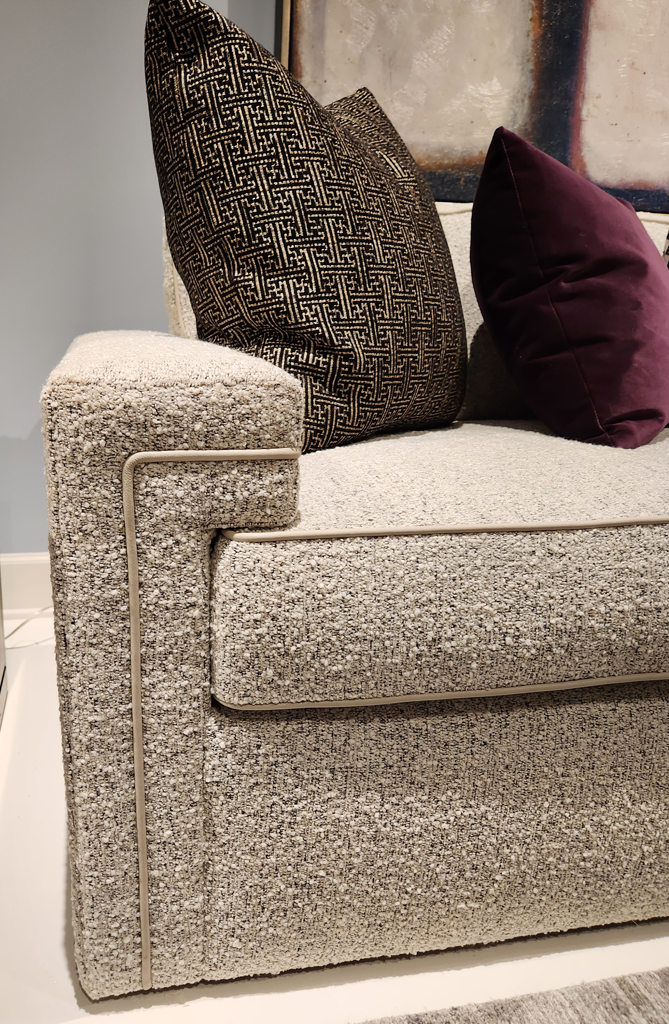 In this photo you'll see three of the top furniture trends: boucle, interesting arm design and a contrast welt. Read on for the details! 
While every vendor displayed their own best in furniture and interior decor, you can't help but notice some larger trends across the entire industry. In this article, I'll focus on the Interior Design trends for upholstered furniture in 2023. 
Design Trend 1: Boucle
I'm starting with Boucle because it was so popular that many of the following photos feature the other trends, in a boucle fabric. I'm sure your probably wondering, what exactly is "boucle"? 
"Derived from the French word meaning 'curled' or 'ringed', bouclé can refer to a yarn, made from a series of looped fiber, or the fabric made from it."  
It's a fabric, with a particular curly, nubby texture. It appeals to the Hygge cozy feel, making it a wonderful upholstery fabric, especially for one of our favorite styles – Mountain Modern.
The prevalence of boucle this year no doubt has to do with the progress made in performance fabrics (aka kid-friendly, pet-friendly, indoor/outdoor fabric). Whatever you choose to call it, the performance fabrics have improved to the point that a heavy texture, such as boucle, is now available in this durable, washable fabric. 
Here are some specific boucle pieces that I saw, but stay alert as you'll see more boucle in all the trends to follow.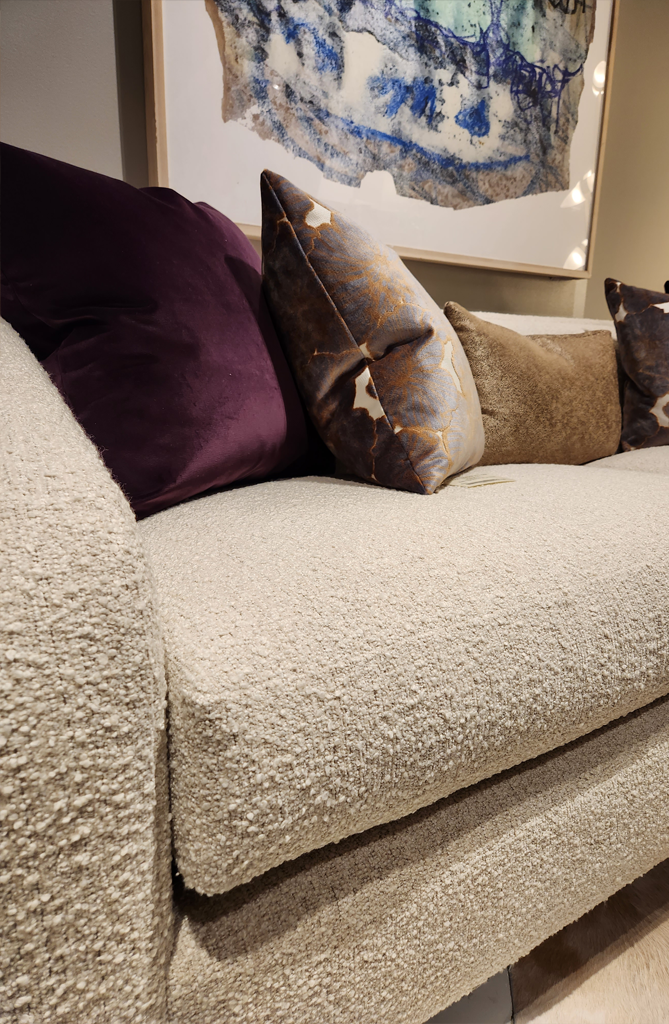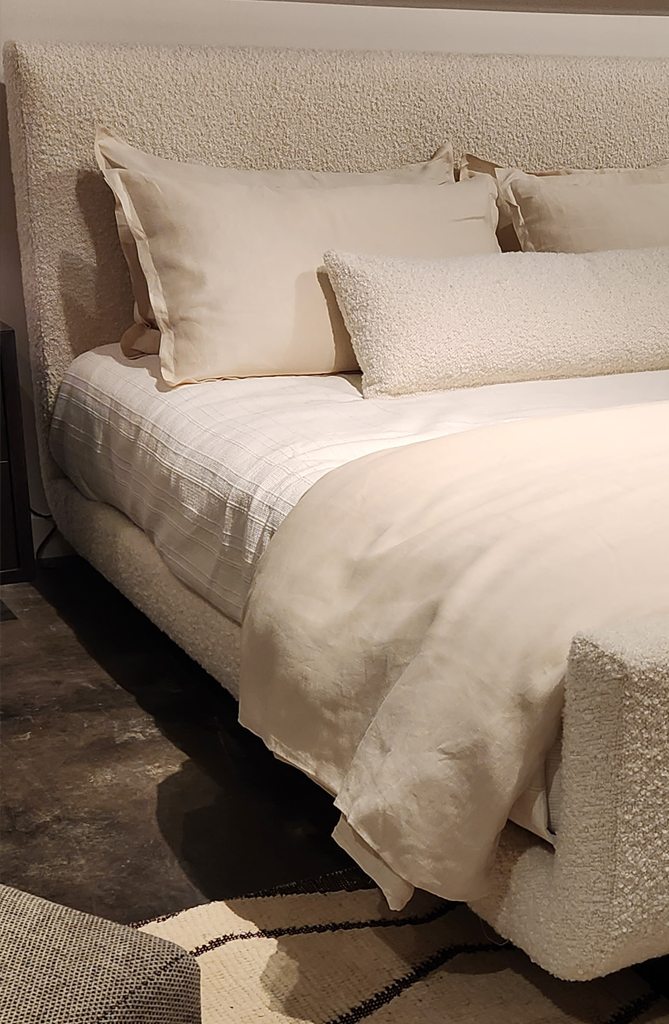 Design Trend 2: Interesting Arms on Upholstered Furniture
This trend has been building for a few years. Now in 2023, we really see some interesting shapes at the junction point where the arm meets the seat cushion on upholstered furniture. 
The arm shape and in boucle. 
And remember back to the first photo of this article. 
Another trend is the use of wood details at the arms. A wood arm on upholstered furniture is nothing new. However, the use of wood in current trends is taking on all new shapes and adding unexpected detail.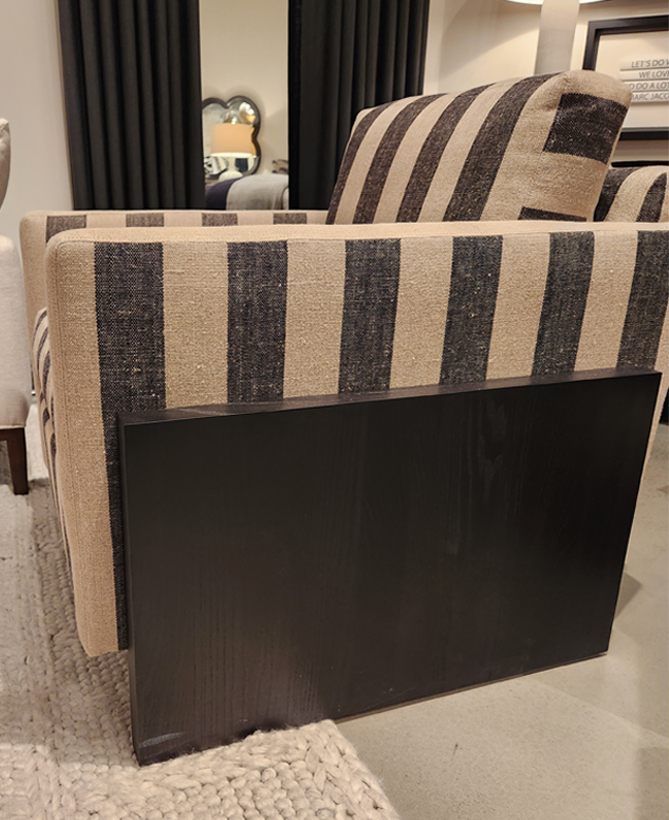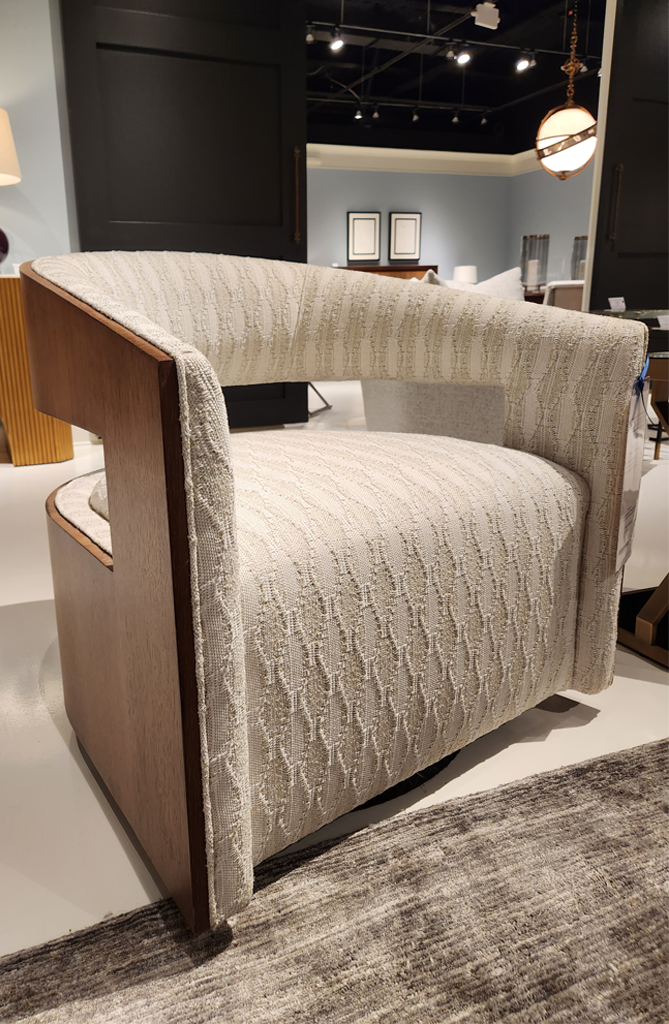 Design Trend 3: Interesting Chair Backs
Unusual designs of the backs of chairs were visible in two distinct ways at High Point Market. The first trend is chairs in which the back two legs merge into one leg.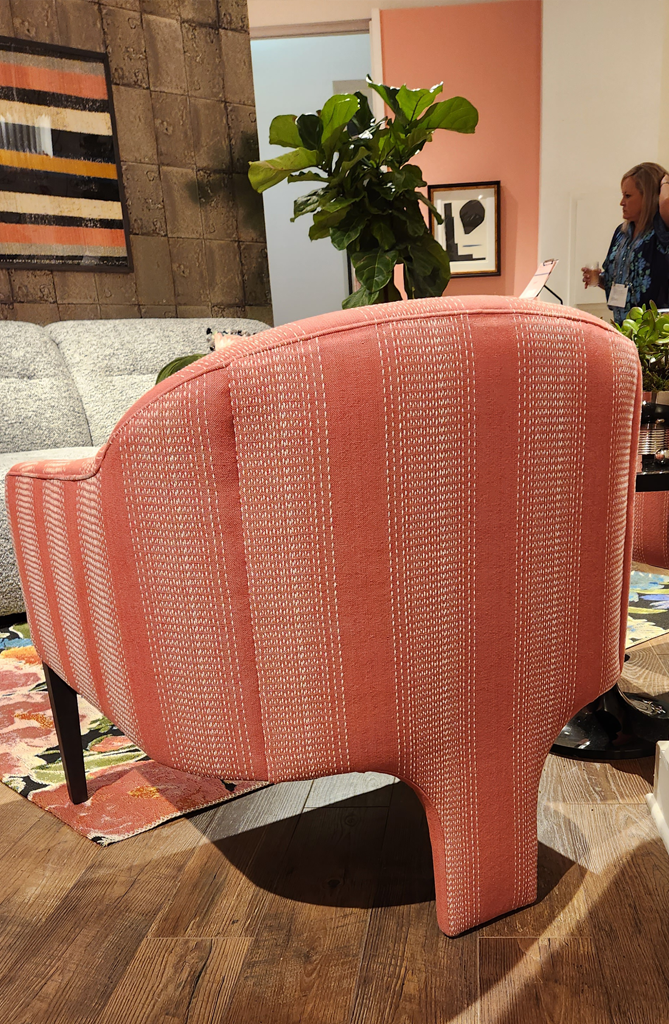 An arm chair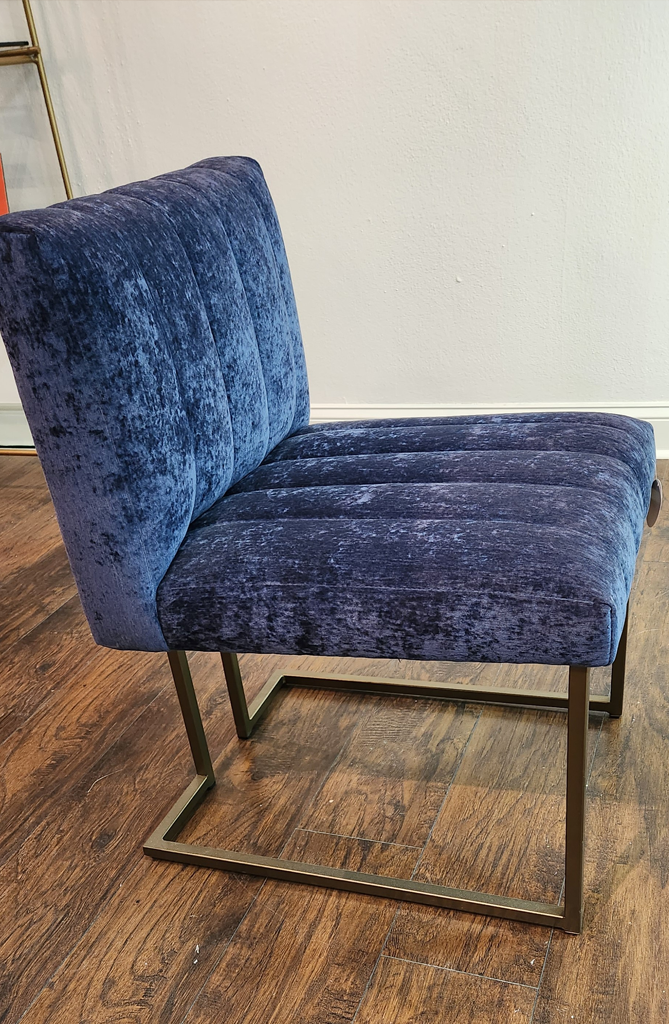 Also seen on Dining Chairs 
While not joining into one leg, I'm sure that you can follow along with me on this one being in this trend category (and boucle in color).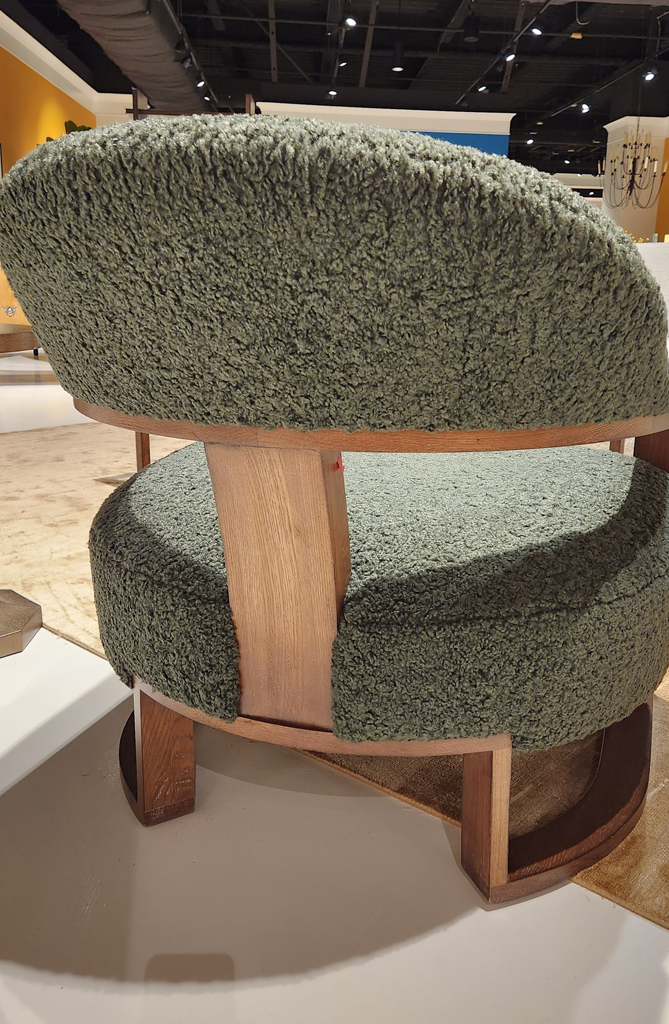 The second trend that I saw often at the market was split chair backs.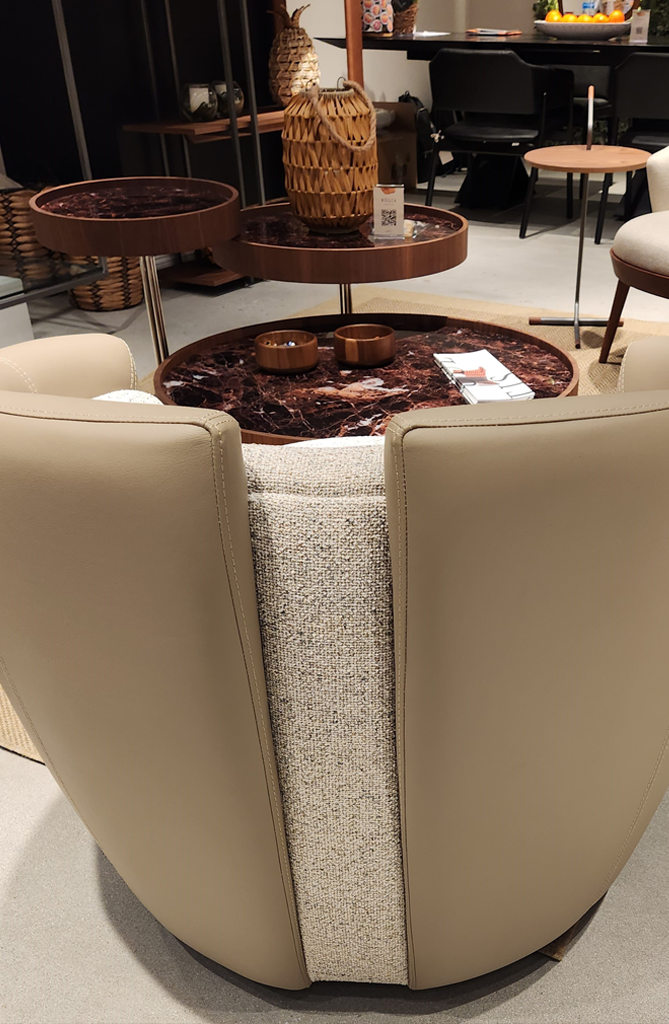 Design Trend 4: Welts
Another upholstered furniture design trend that I spotted is unconventional styles of welts. Like boucle, your first question may be "what is a welt?" 
"A welt is simply a fabric covered cord that follows the seam of a chair cushion, sofa cushion, or pillows."  
The first trend I saw is not anything new or innovative. In fact, it's something I like to use often when we design custom furniture and window treatments – a contrast. A contrast welt is a welt made in a fabric other than the main body fabric of the furniture. (AKA a self welt). It creates a contrast to the main body of the furniture. This brings attention to the deges and can provide emphasis to those interesting arm shapes.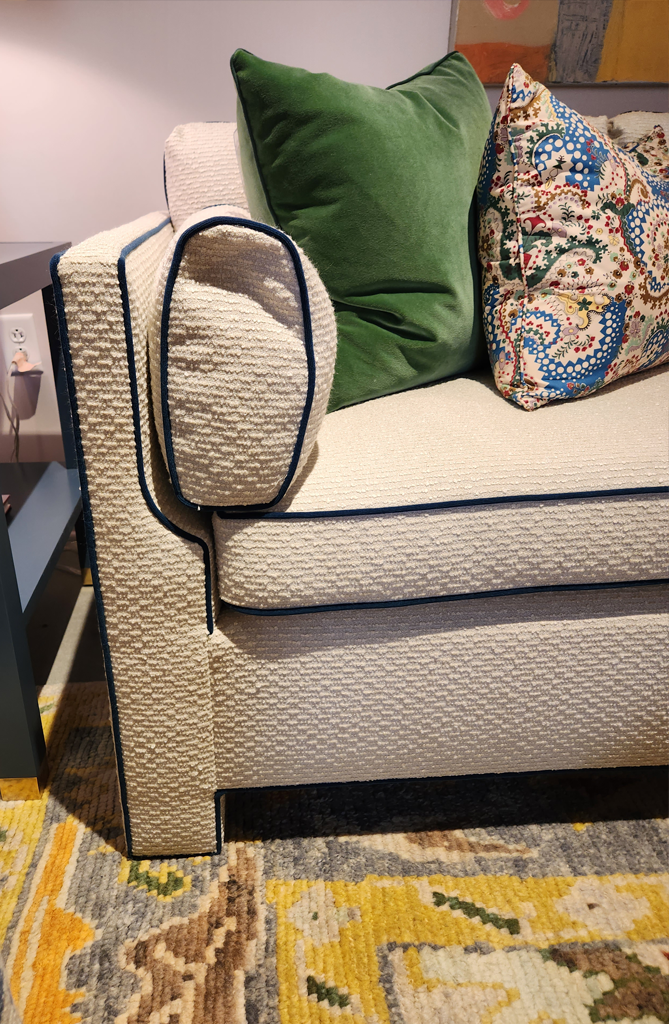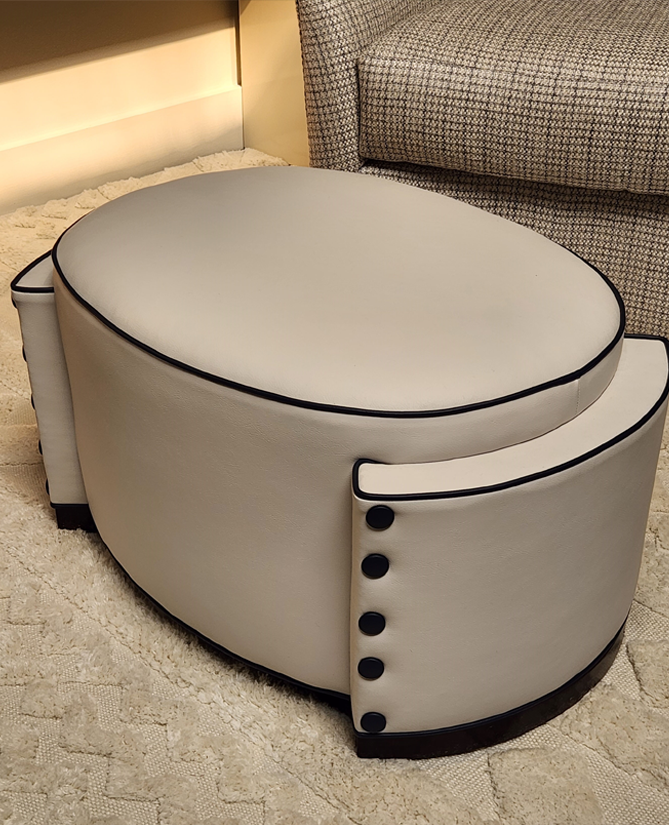 A newer trend that I spotted in the world of welt design is a flange welt or double welt.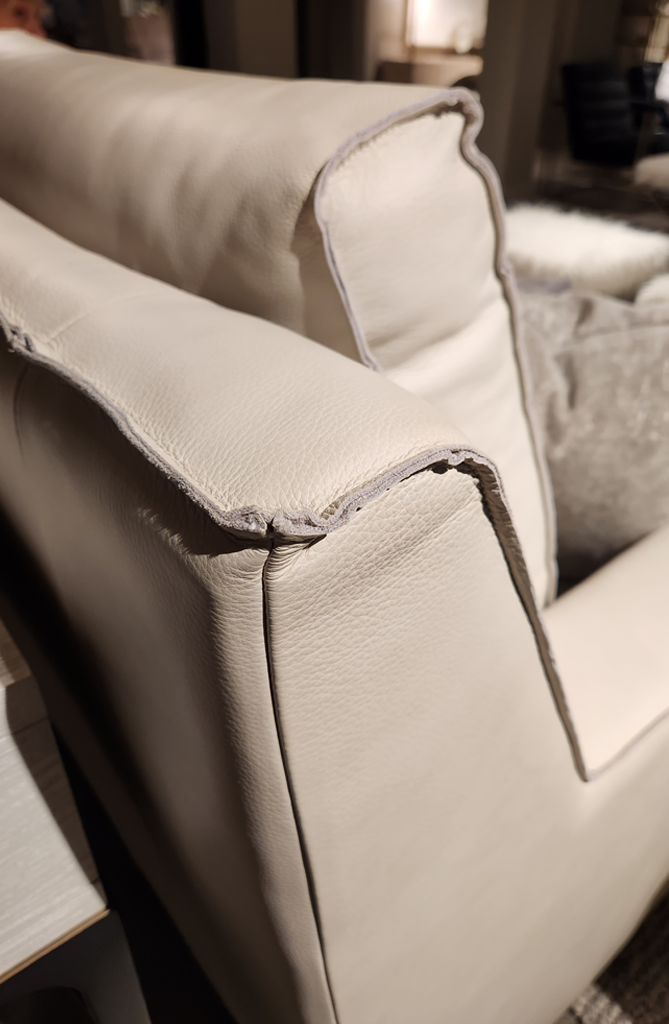 A flange welt is created when the edge of the fabric is left raw and the 2 pieces are sewn together. It does not use a cord, nor does it tuck the fabric inside of the seam where two pieces meet. A flange welt is really only going to be successful on leather furniture as a fabric may start to unravel.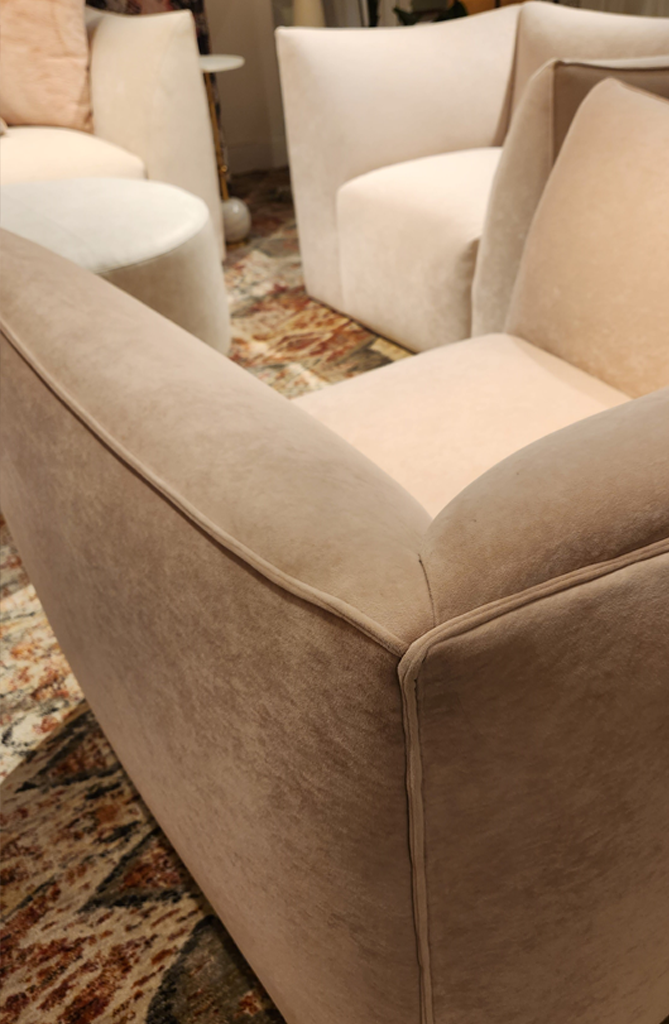 I can't really be certain if this chair is featuring a double welt or more like a hybrid flange. It looks like a double welt in that there are two welts at the seam. But I say it could be like a hybrid with the 2 pieces coming together like a flange, but the fabric has been rolled so there is not a raw edge.  
Honestly, that's probably more technical than you, my valued reader cares about; I just geek out on this detail. I think we can both agree that the result adds interest to an upholstered piece. 
There are even more trends I want to share with you, but this is getting rather long. More Furniture Design Trends can be found in Part 2. 
For more photos, see my highlighted IG stories on the trends. Follow me on Intagram@beautifulhabitat