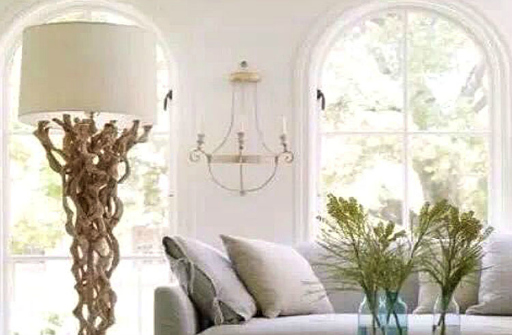 Salvaged Driftwood Decor | Guest Post
Hi! I'm Joanna, a writer with Arcadian Lighting, a go-to source for all things lighting, including awesome light fixtures. I love my job, but to be honest it doesn't seem like work at all. I spend my days searching the web for lovely interiors and terrific decorating ideas to share with blog readers like you. Thank you Tennille for allowing me to share today.
With grey being one of the dominant colors in interiors going into 2012, it's no wonder we are seeing weathered salvaged woods, like driftwood, popping up in rooms everywhere. From farmhouse to loft, woods are light, rough and unfinished. Tables are perhaps the most popular pieces being made from driftwood, but there are many ways to incorporate it into the home. A driftwood table lamp anyone? Here are a few ideas I found from around the Internet. Which is your favorite?
This seaside cottage features a remarkable driftwood coffee table which goes nicely with the room's style.
Three starburst framed mirrors are made from small pieces of driftwood. This would make an easy DIY project if you are fortunate to live in close proximity of the beach.
A small end table of driftwood and metal goes well with the rustic elements of this screened porch.
Rustic driftwood shelves make a nice place for showing off a vignette of books, candles and a jar of seashells.
This unexpected lighting fixture, tall driftwood floor lamp, creates a can't miss focal point in an eclectic living room.
Small pieces of reclaimed wood are joined together to create an unusual flower vase. This would make a lovely centerpiece used in multiples down a long dining table.
A cottage bathroom gets its own touch of driftwood on the framed mirror. The contrast between the patinaed wood and the rich marble below works well.
This isn't driftwood but you can see the many possibilities of using driftwood and other reclaimed wood around the house. I love that handcrafted hanging lantern. Images 1 | 2 | 3 | 4 | 5 | 6 | 7 | 8
Accentuate your beautiful driftwood decor with pendant lights and beautiful lamps!