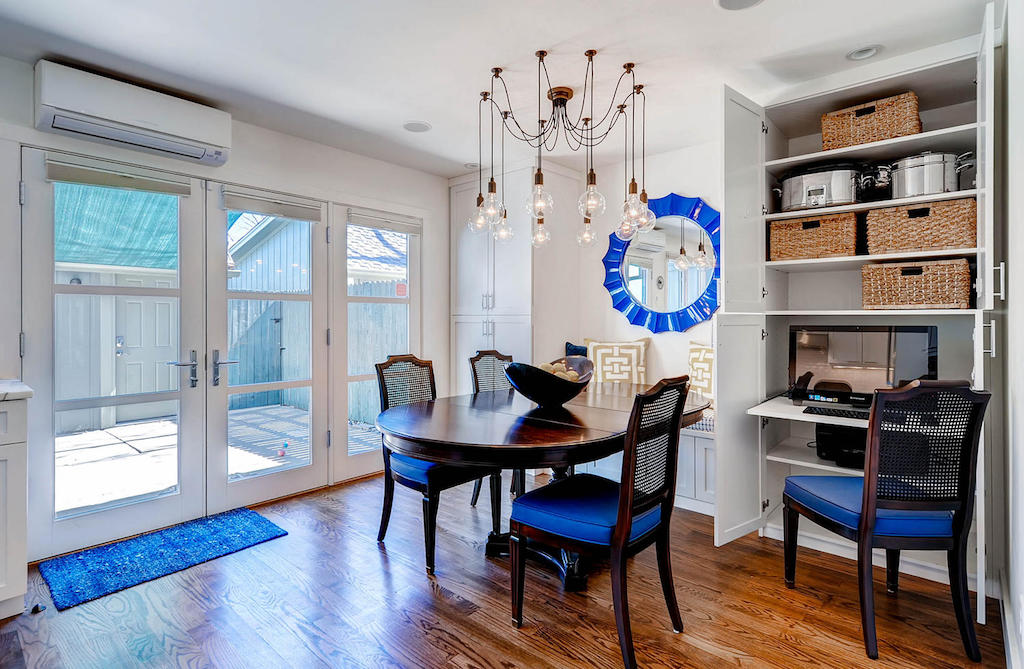 Uncompromising Design for Simplified Living
 Luxury Downsizing Offers Coloradoans More Time for Fun Without Sacrificing Style
By Jules Marie
Adesire to embrace a simplified, yet luxurious, lifestyle is driving the trend behind luxury downsizing in the Colorado home market.
Some growing families appreciate large homes with multiple bedrooms, great rooms, mud rooms, laundry rooms and dual office spaces. Others feel that sustaining a large home requires time and resources better used to create a well-appointed home environment.
"Luxury downsizing is simplifying in a lot of ways. There's less house and less stuff to maintain," says Tennille Wood, principal designer and owner of Beautiful Habitat Design & Decoration. "Rather than buying more stuff you simplify by emphasizing the quality of items and the quality of lifestyle desired rather than focusing on things that aren't actually needed. So maybe you don't have a master bath with a big tub and a huge vanity; instead you choose that really great steam shower you've always wanted."
Wood notes that baby boomers as well as young couples are driving the downsizing trend. Boomers don't have to entertain as much; there's no longer a need for a formal dining room, great room or several bathrooms.
"Boomers are at a point where the kids are grown and now it's about them," says Wood. "They can splurge and treat themselves and have some of those dream things they never had because they were giving to their family."
Value-Added Interior Design
Design choices in a large home are often driven by what's practical. It can be costly as there's more square footage to cover and more space to fill. Reducing a home's footprint allows homeowners to splurge while adding value to smaller spaces. Coveted marble countertops and stunning kitchen cabinetry may be cost prohibitive in a large space but downsizing means luxurious and beautiful finishes, higher-end appliances, attractive flooring and unique lighting elements are now within reach.
Multi-Purpose Rooms add Design Features
Many young couples are shunning a lifestyle based on accumulating more and instead are choosing to spend their downtime in hobby pursuits — especially here in Colorado — rather than maintaining a large house and yard.
A recent downsizing project allowed a young couple to create a three-in-one, multi-purpose room in their townhome. One room is a guest room, exercise room and an office. Wood chose a custom Murphy bed with a drop-down desk — when the bed and desk are folded up, it's an exercise room. When the desk folds down the room becomes an office; when the bed folds down, it's a guest room.
The young couple opted for a cozy dining nook with comfortable seating over a traditional dining room. Adding two closets along a back wall allowed for ample coat storage but also for a beautiful roll-out secretary desk for easy access.
"Downsizing and adding luxury features means we must get really clever about combining spaces together. In this case, the homeowners maintained their same lifestyle but in a smaller footprint; they still have a home office, dedicated exercise space and a guest room," says Wood. "They still maintain all the 'function' things they need. If we need to adjust the room for multiple purposes, the accessories would be functional as in something that can be moved easily. If we need to move the coffee table, we'd have one with wheels. It's meant to look like a design feature but it serves a practical purpose."
Downsizing Design Advice
Designers help clients transition towards downsizing without losing the luxury and comfort they desire. One primary question Wood asks is 'How often do you use it?' as people tend to hold on to things they haven't used in years. One recent project involved a couple in their twilight years who chose a more simplified lifestyle over maintaining a bigger home and a more complicated lifestyle.
"Downsizing to a new house requires work. It's all about editing. The furniture isn't a good fit so a lot has to be replaced. Some items can be repurposed. You take the pieces you really love and incorporate them into a new smaller space. We're editing out the three eating spaces: the kitchen island, the kitchen or breakfast nook and the dining room — those are three separate eating spaces, and that doesn't make sense. Do you really need three?" asks Wood.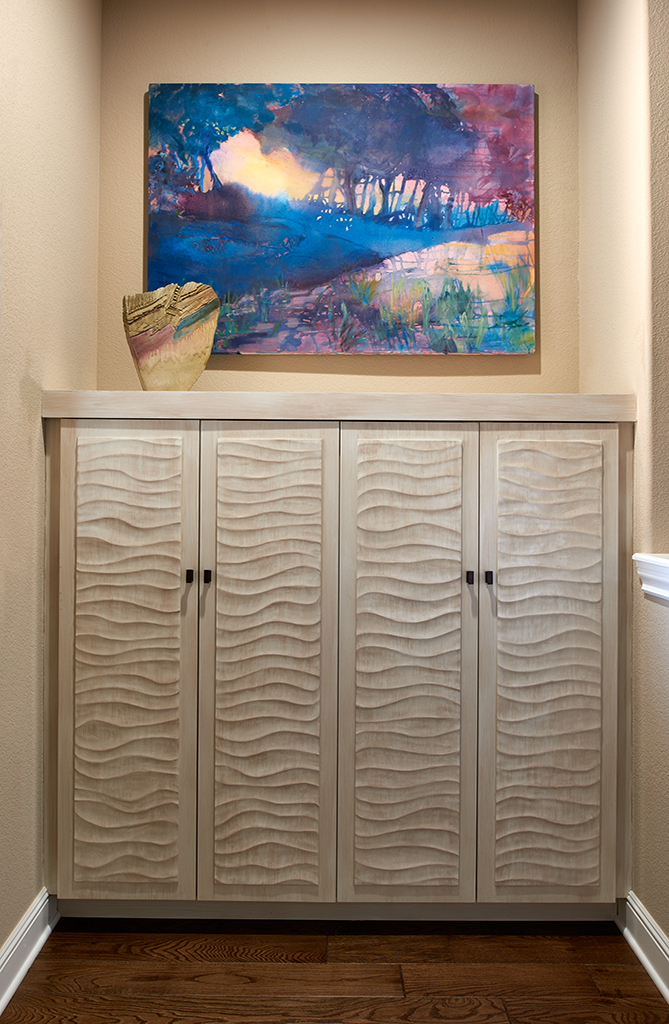 In one Anthem Ranch home that had many nooks, crannies and unused space, Wood had to get clever about storage. There was an odd nook in the hallway by the stairs to the basement. The nook was repurposed with a custom cabinet for overflow serving ware. A gorgeous work of art was hung above the cabinet lending an air of sophistication to an otherwise under-utilized space.
"Luxury downsizing is an opportunity to live differently. You spend the same money but you spend it differently," says Wood.
Back to Blog