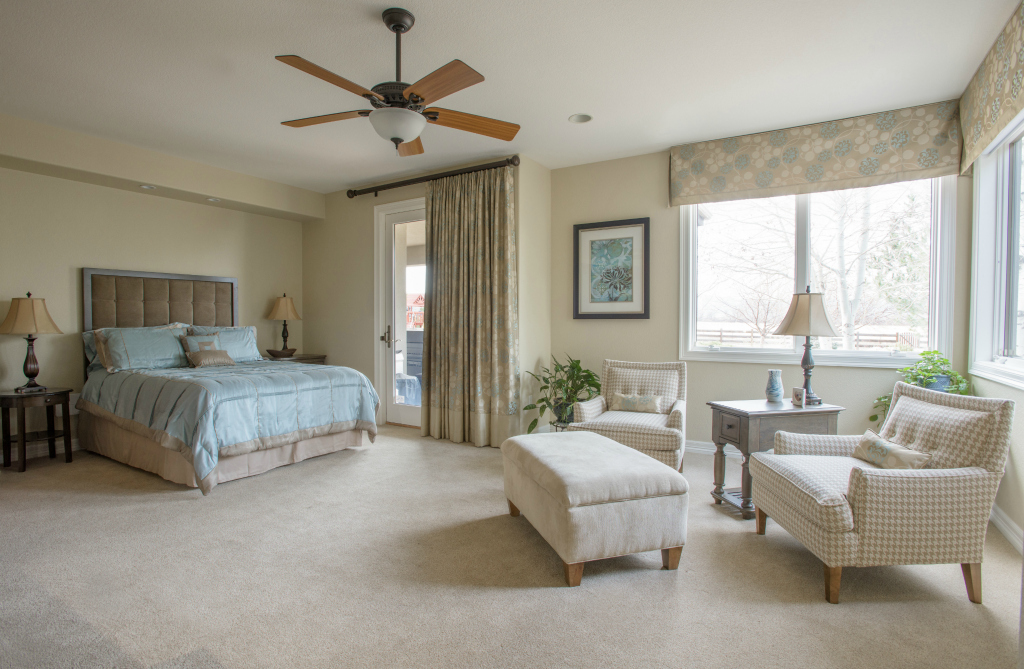 Luxurious Guest Suite Is Home Away from Home
Beautiful Habitat recently remodeled a Boulder County home, and it has all the bases covered for a gorgeous guest suite.
By Camille Wilson
Preparing for houseguests can be stressful, especially if you don't have a beautiful and well-appointed space for them to relax and unwind at the end of the day. When the family moved in, the traditional, formal design throughout the house did not fit their casual lifestyle. Beautiful Habitat designed many changes to personalize each space to the family's needs while honoring the overall style of the home. The oversized guest suite needed to feel comfortable and functional by offering plenty of areas for guests to put their belongings. It also needed to flow with the rest of the home by remaining in the blue and cream color scheme.
Beautiful Habitat Owner and Designer Tennille Wood suggests beginning any guest suite design project by determining how often it will be used and what requirements guests may have.
"Put yourself in the shoes of the guest," said Wood. "Where will they put their luggage, and can they comfortably stow away the things they brought with them from home?"
Adding comfort and function
The Boulder County homeowner has guests fairly frequently and wanted them to be comfortable without having to leave the room. Wood says the large size of the space afforded lots of options but also made for a design challenge.
"We didn't want to have any voids in the large room," she recalled. "Our solution was to create a private seating area within the suite so two people can sit in the comfortable chairs and have a conversation or read."
The luxurious bed includes high thread count sheets and a cozy bedspread. Comfort is maximized with an upholstered headboard offering another reading location for guests who want to sit up in bed. This style of headboard is a handsome addition to any bedroom.
Furthering the serenity of the space, guests have patio access through a door on the back of the house should they choose to stroll through the outdoor gardens.
Everything in its place
Guest closets often become a place for the homeowner to store off-season wardrobe items or extra bedding, but it is important to ensure guests have enough free hangers and space in the closet for the clothing they brought from home.
"This goes for drawers in a dresser as well," added Wood.
She suggest all homeowners supply an adequately sized and well-lit nightstand on each side of the bed so guests can keep reading material and other personal items close during the night. The nightstand should have a coaster to avoid water rings if guests bring a drink to bed.
A clock is critical to making sure guests know the time and can set an alarm if they wish, and setting out a few current-issue magazines or a classic novel gives guests something to turn to if they need help winding down. Be sure there is at least one clutter-free outlet available since most people travel with a mobile device requiring charging.
Luxury in the details
Light blue accents in the soft color palette of this guest suite bridge the blues and creams found throughout the house. Complementary framed art prints, planters and accessories carry the palette through the room, while custom drapes adorn the patio door and coordinating valances dress up the windows. Gold detailing in the fabric adds warmth.
The overall ambiance of the room is vital. Beyond soft natural light from the large windows and door, bedside lamps and the overhead fixture ensure plenty of light at all times of day. A touch of nature is brought inside through live plants for this room, but Wood says fresh cut flowers are a nice addition to any guest room.
"Flowers also make the room smell great, tapping into all five senses," she added.
The bathroom should include simple, clean design and coordinate with the bedroom. Include counter space on which guests can place a toiletry bag, and provide a few travel-sized items in case they have forgotten something at home. Set out a clean washcloth, hand towel and large bath towel, and consider adding a plush robe to push the wow factor.
Are you expecting guests and looking for ideas to enhance or redesign your guest room? Contact Beautiful Habitat today.
Back to Blog