OH, our love affair with the kitchen
They say it is the heart of the home. I say it is the heart and soul. In Colorado, we are an active bunch — always on the go. But we're also foodies and love to entertain. So having a kitchen that is functional as well as beautiful is a must.
Creating a kitchen design that is functional requires a high level of understanding of the way you and your family live and the ways in which you use your kitchen. Who does most of the cooking? Do the kids ever help out with meal prep, and how old are they? Do you use a lot of kitchen gadgets such as a smoothie maker, a pizza oven or a stand mixer? I go to great lengths to understand all of these details because they all play a part in creating a kitchen design that works just right for you.
Other considerations for your new kitchen design include: Do you want an eat-in area? Do the kids do homework at the kitchen table or island? Do you have or want a formal dining area, and how many people should it seat? Do you want a beverage station or wine storage? What home technology and connectivity will make your kitchen more functional?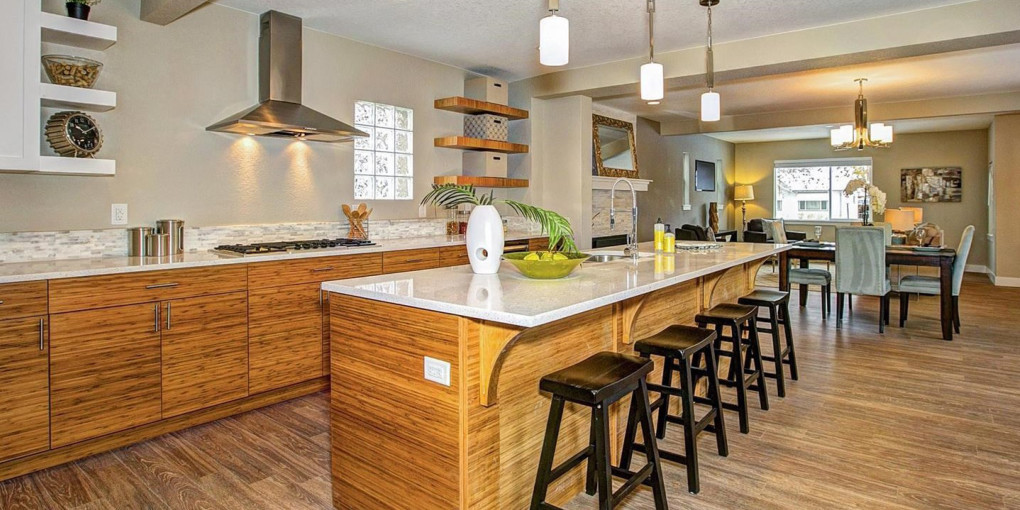 The other side of the kitchen design coin is the aesthetic aspect. You want not only a functional kitchen — you want it to look amazing, too. It's important to me that your design tastes are reflected throughout the kitchen. Whether you love a minimalist, contemporary look or a woodsy, rustic space, I will present you with finishes and details that will bring your ideas to life. Maybe you aren't really sure — you like white cabinets, but you also like dark cherry wood. Or maybe you love marble tile, but your partner really loves travertine. Don't worry! Together we will explore the options and arrive at a kitchen design that your whole family will love.
When the new kitchen design is complete, my work continues right through the construction process. I work in tandem with your preferred contractors to ensure the kitchen design comes together just as we envisioned it. Don't have preferred contractors? Don't worry — I can help with that, too. And, if you've remodeled before, you know it can be stressful, but I will help you navigate the ups and downs of the project and be there to handle any problems that arise — and there will be some! But in the end, you will be happy you decided to embark on this kitchen remodeling journey, and you'll be happy you sought the help of a trained professional to guide you. All that's left to do is invite over some friends and enjoy your beautiful new kitchen!
Let's get started! Fill out the form below, and let's dream together about your new kitchen.