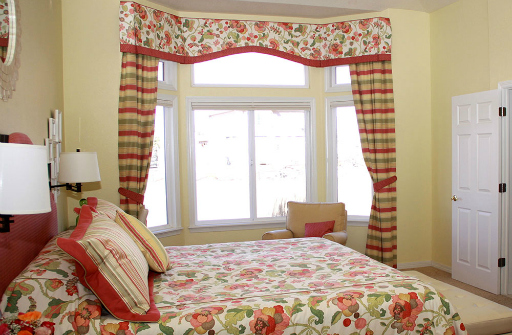 Today's Interior Design Takes Florals Out of the '50s
These aren't your grandma's floral prints. The popularity of today's florals is growing thanks to fresh palettes, contemporary lines and bold design. Sow the seeds in your home for a large-scale, vibrant interior design update or simple — yet elegant — touches.
Add a splash of whimsy to your kitchen or bath with wall décor featuring line drawings of single stem flowers in simple vases. The straightforward design is an easy way to incorporate florals into your home without committing to a full-scale floral remodel.
This refreshing palette of red, coral, yellow and green brighten the bedroom and bring a bit of spring into the space. Mixing patterns can be tricky, but keep in mind a linear, graphic pattern like these stripes complements the free-flowing florals.
See more of this interior design project by Beautiful Habitat.
Choose unusual designs for visual interest in any application — not just the bedding. This contemporary take on hydrangeas and cherry blossoms defy old-school traditions of realistic-looking floral patterns to give you the updated interior design look you're after.
Oversized, modern floral patterns add just the perfect amount of color and texture into a neutral space. This fabric, used for curtains and pillows, delivers soft hues in a manner not overwhelming to this space with warm gray walls and a light beige sofa.
If you want to try out some bright, bold florals without a major commitment, opt for a small piece such as a rug to try out the colors, pattern and scale of the design. This can be the perfect way to add the punch of color and print you desire while easily being able to swap it out for another palette and design.
Ready to go full-on floral in your home? This stunning, graphic orchid wall design acts as a beautiful backdrop that anchors this living space. The cool color palette accommodates a variety of choices in furnishings and the opportunity to mix-and-match patterns in the room.
Choose a simple, yet elegant, floral wallpaper to highlight one wall without overpowering the room. This delicate pattern offers just enough color and texture while creating movement and liveliness to the sitting room. The dark background fades away behind the regal purples and contrasting chartreuse.
Akin to the floral prints of your grandmother's generation, this wallpaper features traditional blossoms such as peonies. The bold black-and-white contrast gives it an updated look. Don't be afraid to use an oversized print like this in a small space such as the powder room.
Get an interior design lesson in using florals to liven up your home, and create your own Beautiful Habitat!