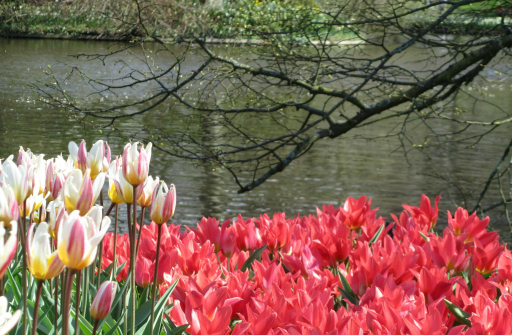 Inspiring Images | Kuekenhof Gardens (Tulips!)
I have recently returned from a European trip visiting Budapest and Amsterdam. It's Tulip season in Holland, so we did the proper touristy thing and took a day trip to Keukenhof Gardens. Keukenhof is known as the "Garden of Europe" and boasts a full 7,000,000 flower bulbs. That's seven million bulbs that are arranged and replanted into beautiful designs and combinations every year! It also holds the title of most photographed place on earth. To say it is beautiful would be an understatement.
I love tulips, I even had a spread of white and purple tulips in my wedding, so this was a little slice of heaven on earth. And they hyacinth! Hyacinth were also planted en mass and their perfume filled the air. If you ever have the opportunity, I suggest a visit. I have tried to capture the beauty and feel as much as possible, but I feel photos can never do a place like Keukenhof justice.
Enough words, sit back and enjoy the beauty!
I really loved the bold colors of the tulips and the strong statements made with them together. Yet, I'm also so drawn to the classic red tulip. It's simple. It's elegant. It's timeless.
And no Beautiful Habitat post would be complete without ideas for incorporating these inspiring images into your home. Some beautiful container gardens. I love both the mental buckets and the bold painted urn.