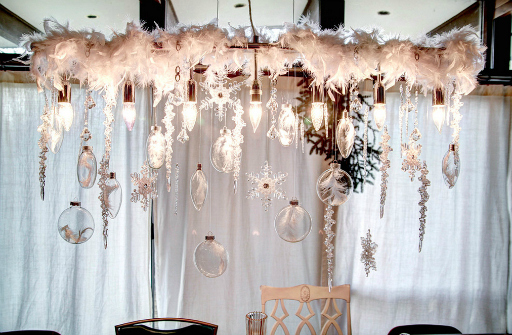 Eight Elegant Holiday Interior Decorating Ideas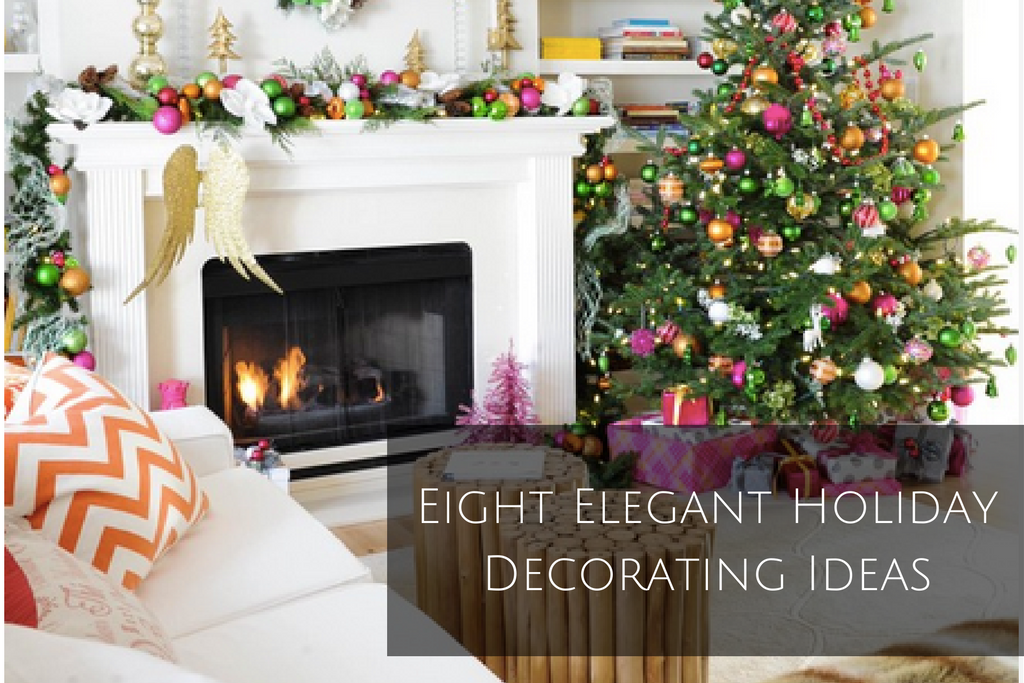 Take your holiday interior decorating ideas to the next level with the beautiful and inspirational concepts. Whether you lean traditional or modern, you'll find a look you love here to bring into your own home for this festive season.
Pair Classic with Nontraditional Holiday Designs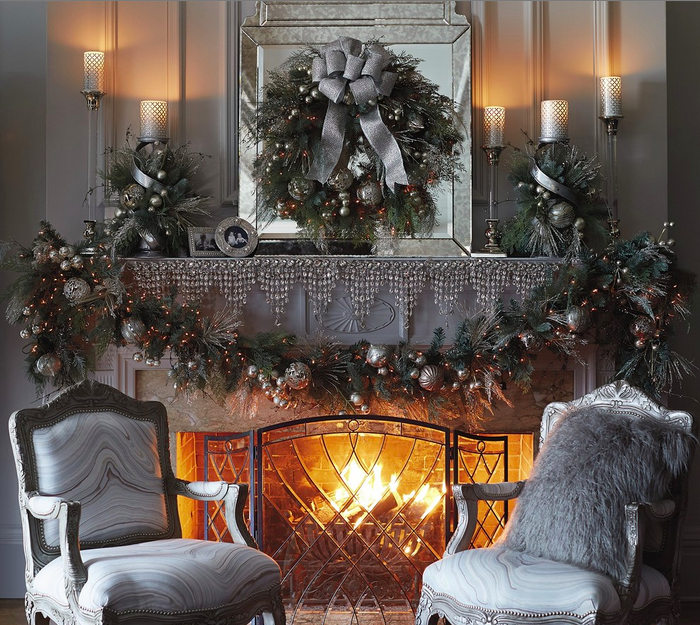 Take note of this ultra-traditional living room and create a cohesive, sophisticated and elegant holiday look by pairing a combination of classic Christmas ornaments and nontraditional decorations. Work with the current design of your room and choose decorations that integrate its existing color scheme. The silver wreath and garlands, for example, utilize a dynamic layering effect and perfectly complement the gray walls and chairs, and the crystal garland gives ode to the room's antique theme and traditional furniture.
Minimalist Holiday Interior Decorating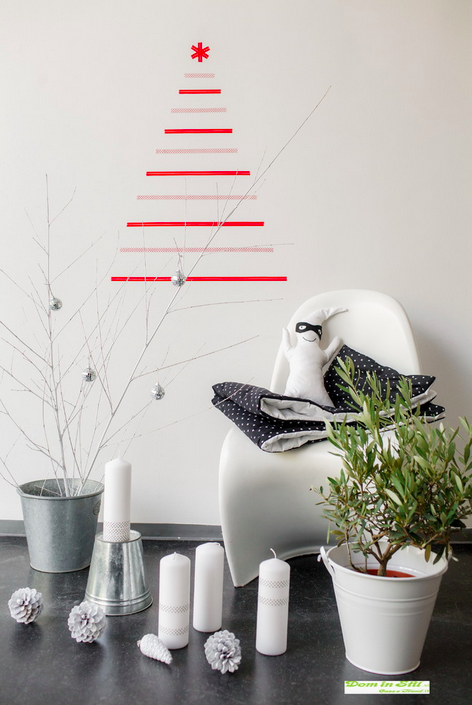 via pinterest.com
Minimalists, take note — holiday decor doesn't have to be traditional or excessive. Minimalistic decorations like these serve the same purpose of traditional decorations: to inspire a sense of warmth and create a wintry atmosphere in your home. White candles and silver pinecones perfectly complement the white walls and gray runner in this modern loft, tying the existing design of the space into the ambiance created by the seasonal decorations. The bare silver branches sparsely adorned with matching silver ornaments make for an ideal space-conscious and coordinating substitute to a traditional green tree and accents the contrasting modern-minimalist red Christmas tree decal on the wall.
Decorating Throughout the House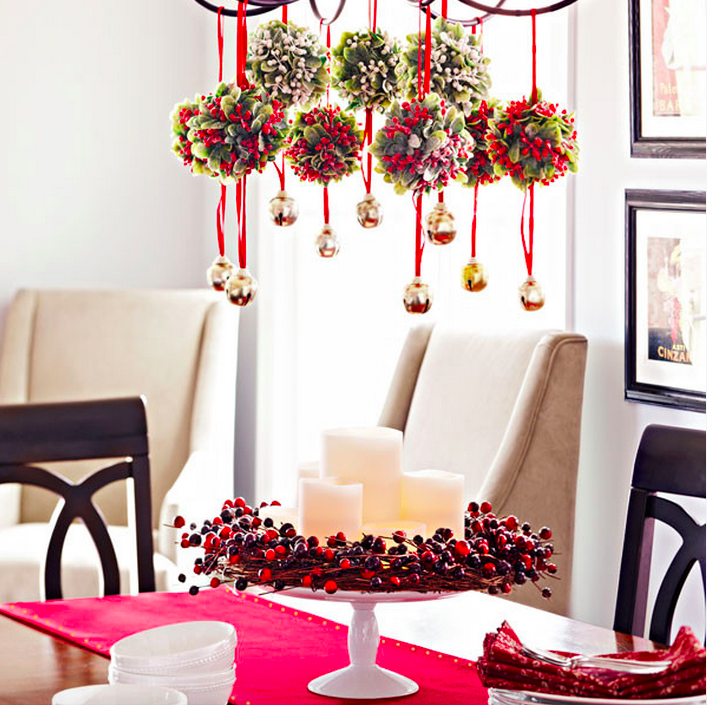 via minimalisti.com
In today's fashion of open living spaces and incorporated themes throughout rooms, don't limit your decorations to the living room — repurpose them for use in other spaces, like in this classic dining room. The cake stand, topped with a berry wreath and multi-sized candles, serves as a creative and festive dining table centerpiece. The mistletoe, hung from the chandelier at varying lengths, provides the opportunity to provide both depth and color without overtaking the space. This dining room table is fully functional, and features a unique holiday flair that won't interfere with your family's meal.
Rustic Holiday Decorating Theme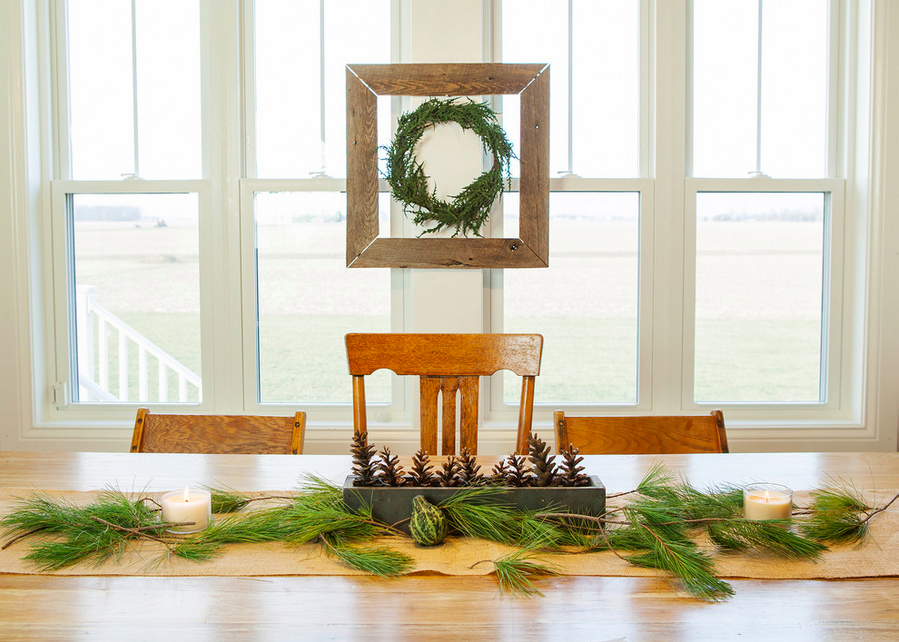 via houzz.com
Rustic holiday décor is making a big comeback in the modernist age and provides the perfect theme for a rural-style dining room like this one. The semi-finished light wood table and chairs and wide, bright windows create a rustic feel that is enhanced by the burlap table runner adorned with pine sprigs and candles. The natural colors and textures brings a touch of color and nature to the warmth of the room and lend a seasonal feel to the space. The simple pine wreath inside of a driftwood frame is a unique alternative to a traditional, ornamental Christmas wreath.
Get Creative with Color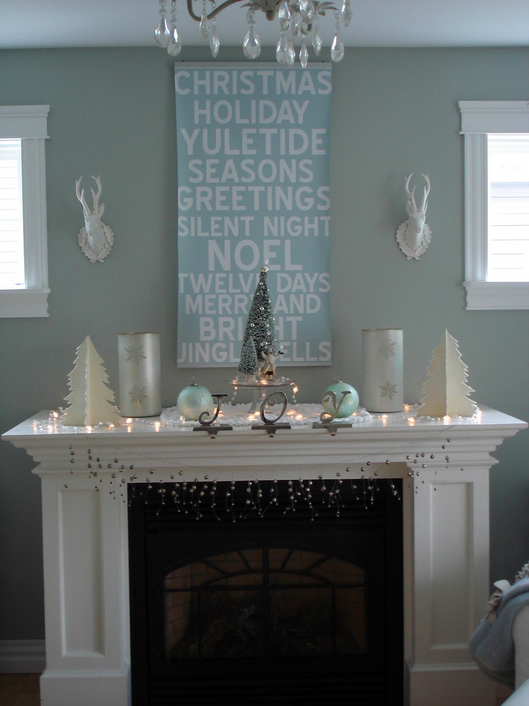 via houzz.com
A well-designed holiday look does not necessitate bright, flashy ornaments or a commonplace red and green color scheme. Choose traditional holiday decorations in untraditional colors, like in this soft, classic living room. The muted silver and blue color palette is a fresh take on classic Christmas ornaments, like the snowflake-stamped candle holders, miniature trees and "Joy" stocking holders that adorn the fireplace mantle. And the look integrates perfectly into the room's existing color scheme. For a unique and festive twist, switch out your everyday art for a themed piece, like this hanging tapestry, in colors that complement your existing decorations.
Sophisticated Style for the Holidays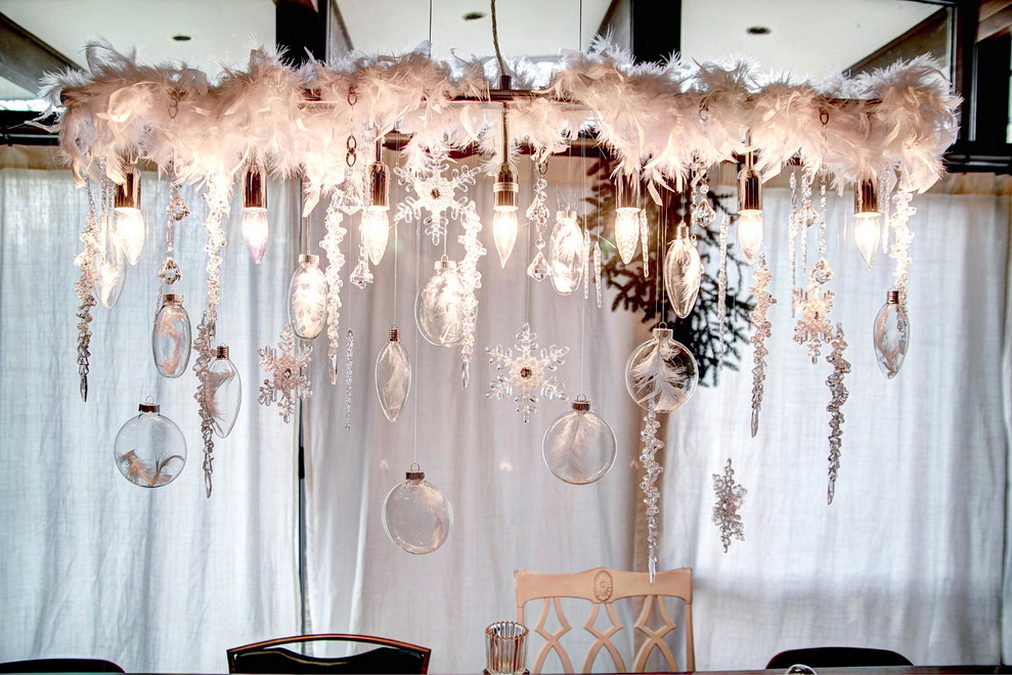 via decoist.com
The holidays often present what can be a paralyzing dilemma: Do I sacrifice the elegance of my home for the rah-rah of traditional holiday décor. This stunning chandelier is a perfect example of fighting back against the common and typical. Ultra-chic, yet festive, this chandelier is the very deserving centerpiece of this dining table. A new slant on a time-honored design element, the white feathers, crystal baubles and teardrop-shaped lights are stylish and modern yet lose none of the sophistication and elegant ambiance this space naturally commands. The snowflake and icicle shaped ornaments lend the chandelier a flurry of wintery feel.
Fresh Take on Traditional Decorating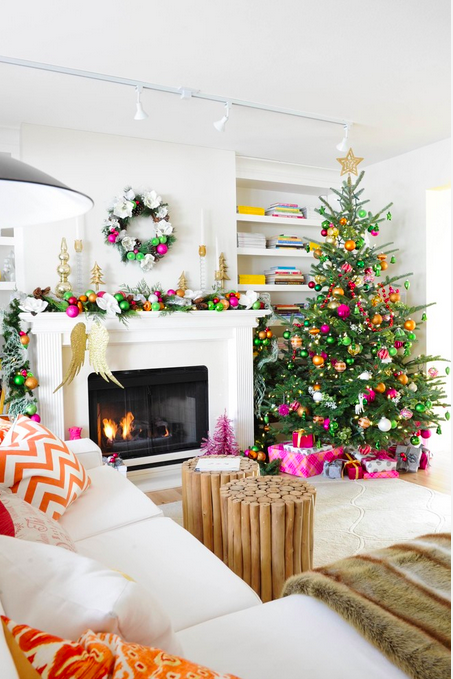 via pinterest.com
These colorful Christmas ornaments prove that classic holiday décor will never go out of style, and traditional and contemporary can coexist in peaceful harmony. While an extravagant Christmas tree with a matching wreath and mantle garland feel traditional and make anyone nostalgic for their childhood Christmases, the colorful baubles and gift wrap match perfectly with the bright throw pillows and pop against the all-white living room. The full white blossoms in the wreath and garland unites the whimsical theme of the room with the traditional holiday decorations.
Gilded Holiday Decorating Style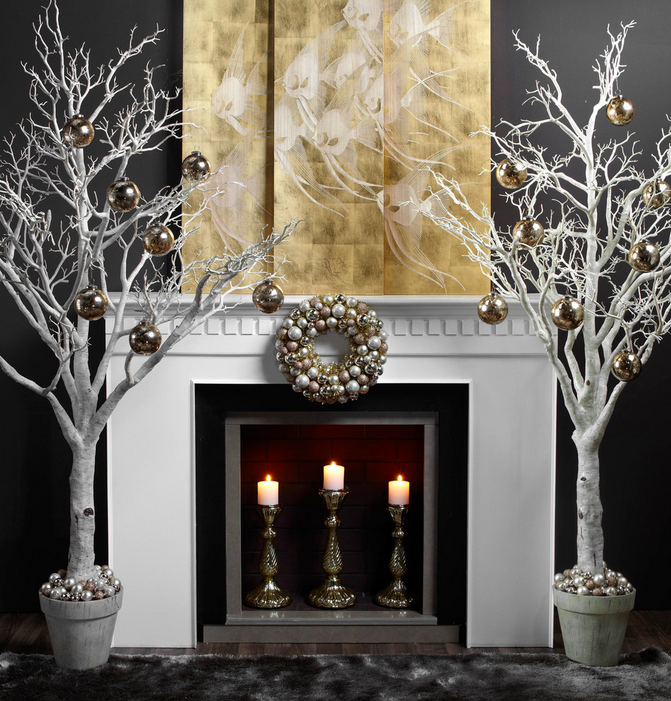 via pinterest.com
These luxe holiday decorations set off an already impressive space. The extravagant and sophisticated air of this living room is made even grander by the two bare white potted trees decorated with metallic ornaments — a posh alternative to a traditional Christmas tree. Candles on ornate candelabras in the fireplace are a chic replacement for a fire and provide the perfect finishing touch to the space. The subdued gold, silver and mauve tones in the wreath and the trees' ornaments pair brilliantly with the brighter gold wall art and the glow in the fireplace to present a setting that is at once elegantly formal and celebratory of the season.
For more Holiday Decor inspiration, Check out our previous posts – Holiday Decor
Contact Beautiful Habitat for all your interior decorating needs.