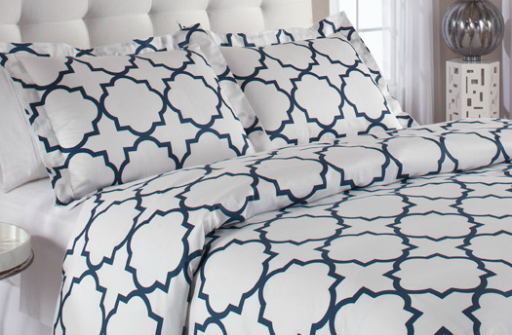 Exciting Patterns for Every Room | Guest Post
Hi all! I'm Susi and I write as a guest blogger for DesignShuffle.com, a fabulous social media site that promotes interior designers from around the world and their work. My writing focuses on things I'm passionate about: interior design, home furnishings, gardening and art. I'm lucky enough to have a background in art history, auctions, and antiques, and a passion for decorating ideas. Plus, I get to look at gorgeous things all day and write about them. What a fantastic job!
This week I'll be looking at ways to add exciting patterns for every room in the home. From bold patterned tiles to graphic towels and linens, don't be afraid to bring patterns into your home. Patterns add interest and style to any space. Be bold, mix and match, and have fun with pattern!
DE Design Coop via
Patterned floors in the kitchen, bath or entry add an extra style element to these rooms. Tile laid in interesting patterns or a herringbone wood floor are interesting twists on these traditional materials.
Coco Cozy via
Patterned tiles… for the bath or kitchen add color as well as pattern to these spaces. Use them on the floor or as a backsplash. Moroccan style tiles are very popular now.
Bedding Chic via
Bold patterned bedding is a smart way to add pattern to the bedroom design. Mix and match it with solids to break up the pattern, or choose a patterned coverlet or duvet.
Design Sponge via
A bold pattern area rug is a smart choice for adding pattern to a dining room, entry, living room, bedroom or even a bathroom design. Indoor/outdoor rugs can add pattern to your porch or deck.
Apartment Therapy via
Wallpaper is the big trend for adding pattern to walls today. Available in a range of patterns, colors and sheens, wallpaper can work in small spaces, like powder rooms, and larger rooms like dining rooms.
Shore Dreams and Beautiful Things via
Colorful patterned bath towels, like these from Amy Butler, can liven up your bath or guest bathroom. Patterned tea towels for the kitchen are a hot trend right now. Other interior design ideas to think about, might include colorful tea towels as guest towels in a powder room.
Rent the Runway via
Curtains in the living room, dining room or bedroom can be the perfect place to add pattern. And they are easily changed if you decide you don't like the pattern anymore.
Pepper Design via
Pillows, like these ikat patterned pillows from Fabricadabra, are the easiest way to add patterns to any room.
Pattern will add excitement to your décor and your life, start adding it today!