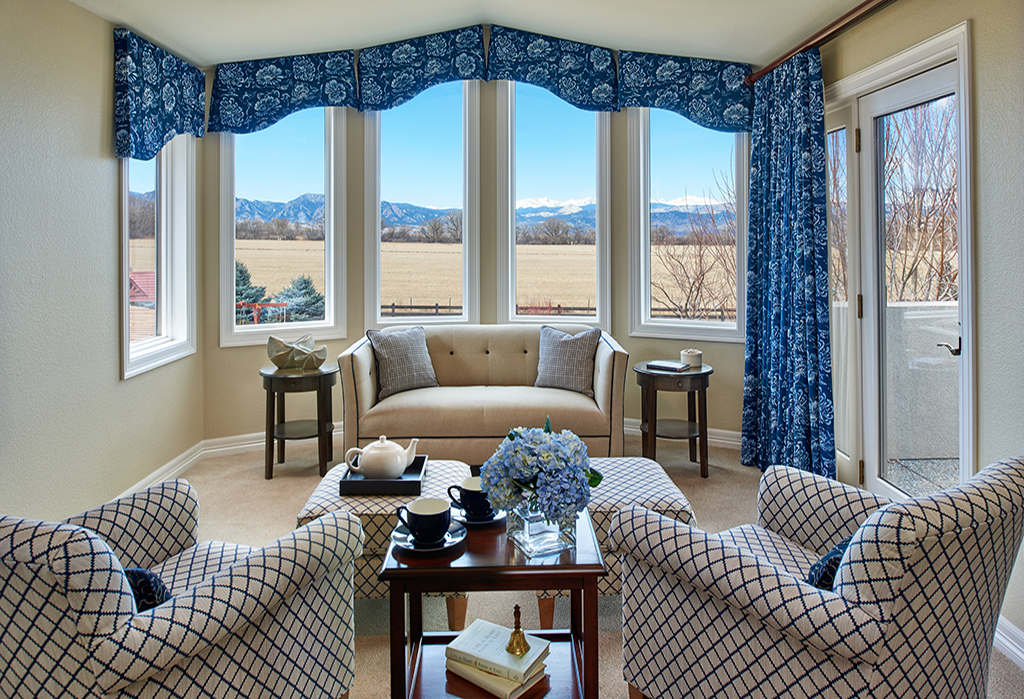 Ditch the Builder-Grade Mini Blinds
Choose Custom Windows Coverings with Panache and Achieve That Polished Designer Look
By Emily O'Brien
Custom window coverings may seem like an indulgence, but they truly are an important element for achieving that polished designer look. Windows sole purpose aren't just to let light into an interior or even to capture the view. They make a visual contribution to the space as well as adding levels of texture and vibrance that balances out the room as a whole.
"Many of my clients cringe when I first tell them that I want to add draperies or a valance. They immediately think of fussy and formal treatments that are heavy and swag. But then I show them the simple, classic treatments for which I am known, and they understand the vision and happily go along with me," says Interior Designer Tennille Wood.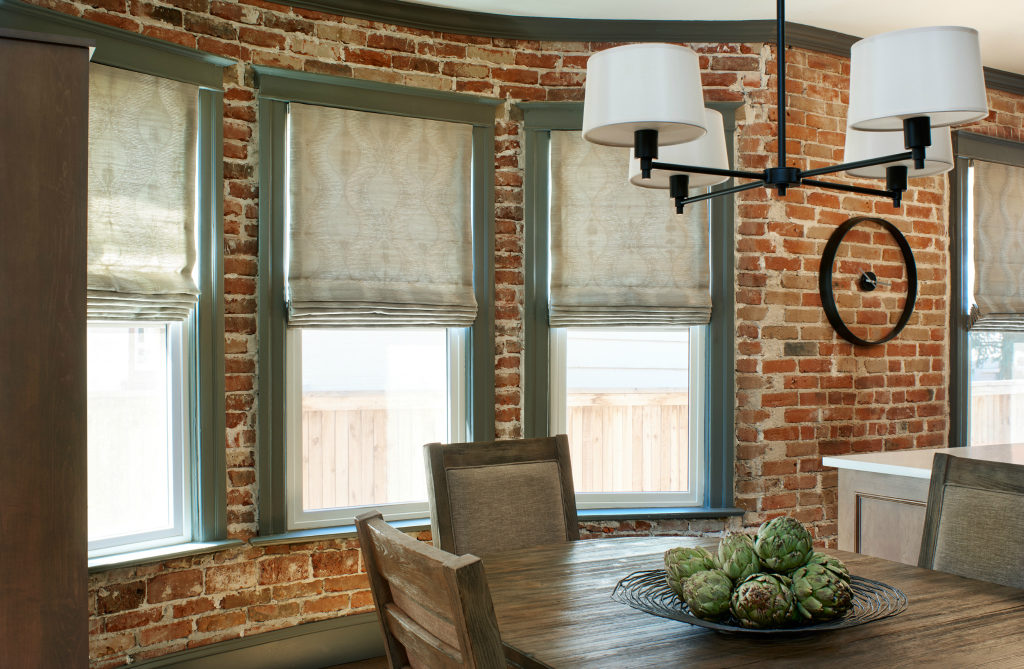 Her most popular designs are simple drapery panels with a 2 pinch or Euro style pleat at the top, valances and Roman shades.
Schedule a Consultation Today
She adds, "Window treatments are my 'go-to' solution for a creating a room that feels complete and inviting. They complete the rooms on many levels. Decorative and fabric window treatment, such a drapery or valances, are a beautiful and impactful way to add texture and color through fabrics. Often this fabric at the window is a fabric that ties a whole room or color scheme together. The window treatments often add a WOW to the room."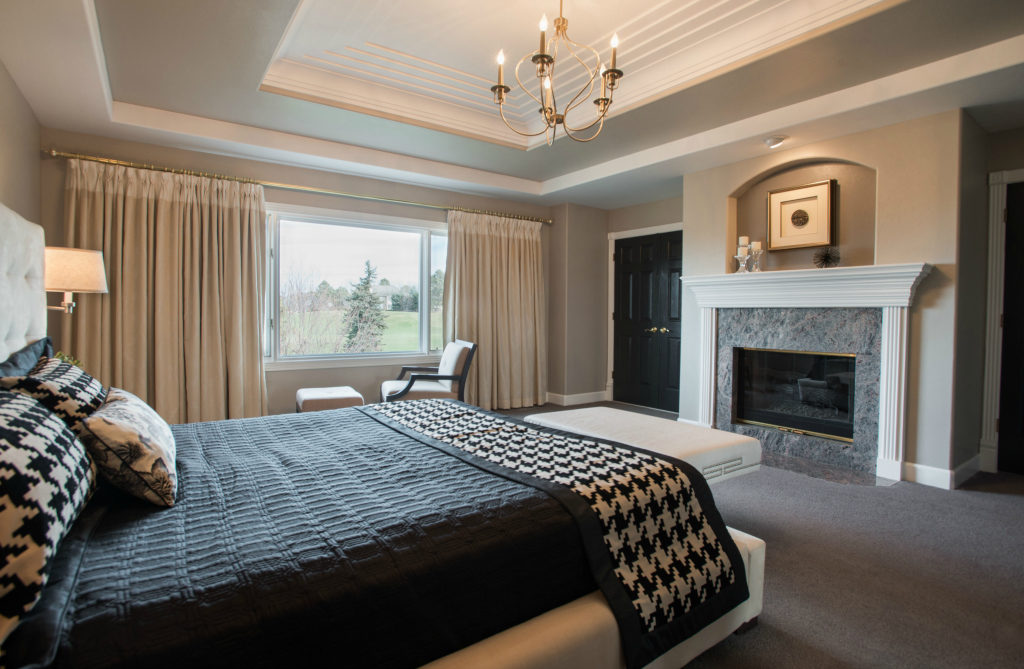 Establish A Budget
A quick trip to a fabric store or scroll through the internet — with calculator in hand — can give you a ballpark idea of how much you might spend per window. Being realistic about your budget from the start will ensure a smooth financial process. If you're on the fence about using a professional to create custom window treatments, a consultation may be well worth the money.
"Full draperies require a lot of fabric, which drives up the budget. For a budget-friendly solution, I'll often add a valance or top treatment. This allows us to bring in the fabric and impact of window treatments, but on a smaller budget," says Tennille.
Create Priorities
You'll want to consider your goal for the project. Is it strictly for privacy, or to insulate against harsh outside elements such as heat, cold and noise? Maybe you want to frame a breathtaking view, similar to this award-winning Boulder County interior design project by Beautiful Habitat. If it's the bedroom, it might be more about controlling the light coming in. Think about not only where you live, but how you live. Do you have kids? Are you thinking of using a delicate fabric (like a sheer or embroidery) in a high traffic area?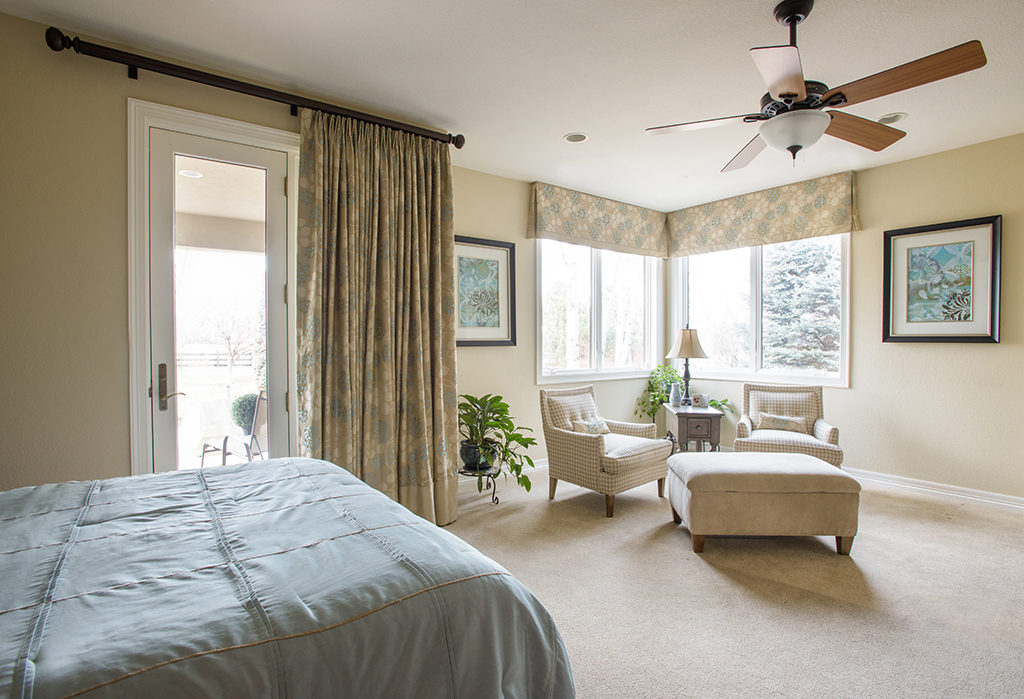 Tennille says, "I start with the practical and functional considerations: How do the window treatments complement and enhance the overall design scheme? What are the functional requirements of the treatments: privacy, light blocking, light filtering, energy savings/heat retention? What is the view and should it be disguised or enhanced? Then we look at the aesthetic: What is the overall feel of the room? How do the fabrics coordinate with the room and colors? How can we add a custom element such as bands of different fabric, a tape trim on the edges, an interesting pleat — these design details differentiate between a basic window covering and a custom-designed treatment."
And Tennille would know. She recently won an International Window Covering Expo Award (IWCE) for her work on a beautiful home that included seven windows and an exterior French door. The challenge entailed vaulted ceilings, angled windows, sweeping views of the mountains and homeowners who are unable to sleep in a room without significant light control. Her solution involved mounting external shades across the windows and installing valances to follow the angle at the top of the windows and ceilings. To harmonize the lines and create a softer flow, the valances feature an undulating curve at the bottom.
Tennille says, "Window treatments help to soften a room and make it more inviting. Windows are angular and hard surfaces. Often times people then cover the windows with more angles and hard surfaces through blinds and shutters. The addition of drapery panels or valances help soften these and, therefore, make a room more cozy. Window treatments can help hide or enhance the view as needed."
Refining Style
Whether it's adding a custom element —banding solid and patterned fabric together, button details on the pleats, trim on the inside edges — to valances to Roman shades, the possibilities are endless when it comes to adding bespoke window treatments. It's not only about the fabric and achieving the main objectives, it's about completing the room.
Dreaming about that polished designer look but don't know where to start? We do! Let us know what you're looking for by completing our pre-consultation form.
Back to Blog