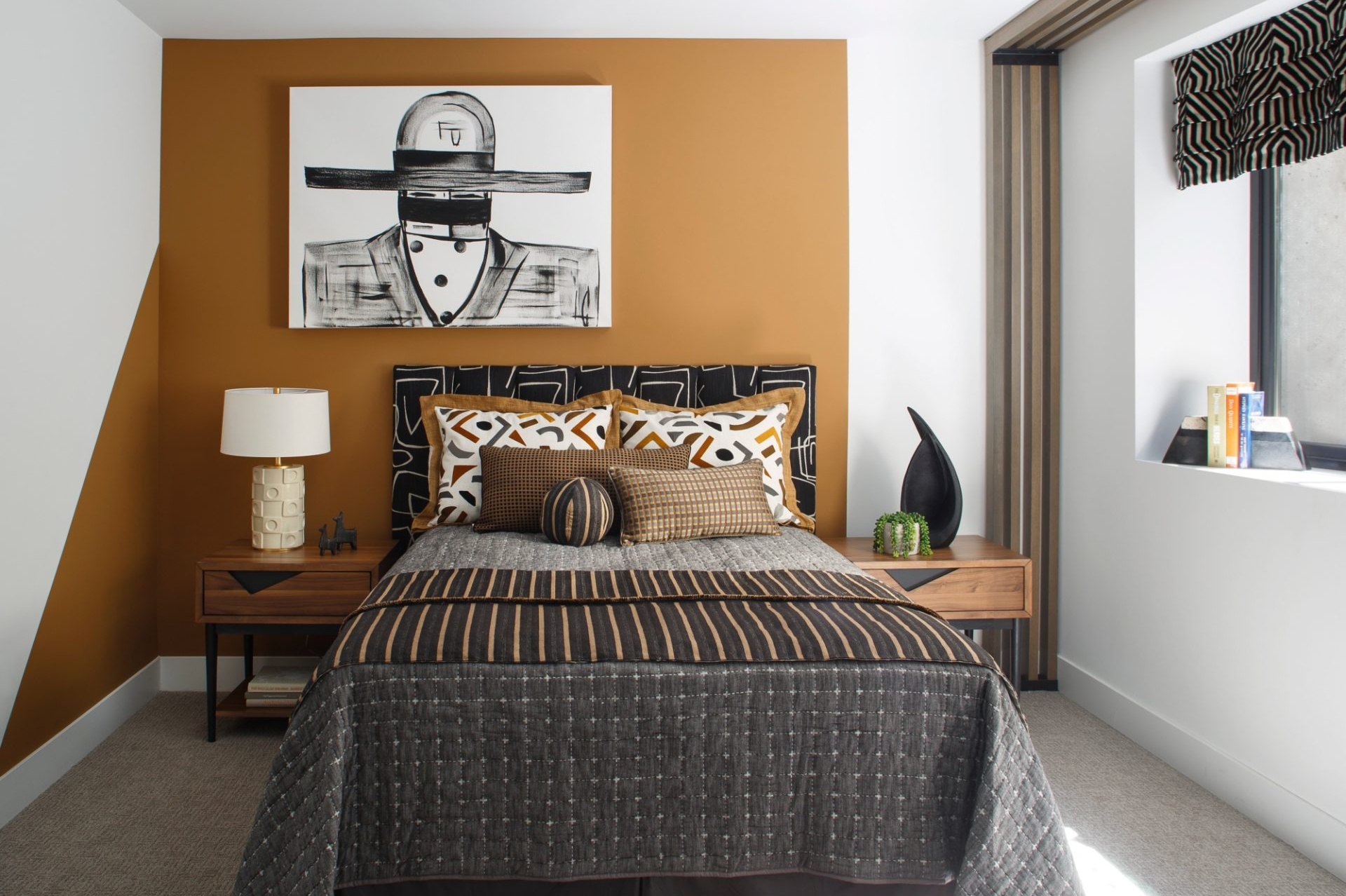 Colorado Artists in the Showhouse
In designing my room for the 2021 Home and Garden Colorado Designer Showhouse, I tapped into the work of three Colorado-based artists. These are artists that have LONG been on my radar, but I hadn't had the opportunity to work with them. The bedroom and bathroom designs in the showhouse created that opportunity and I was so thrilled with every piece that I want to share the details of these talented creators with you.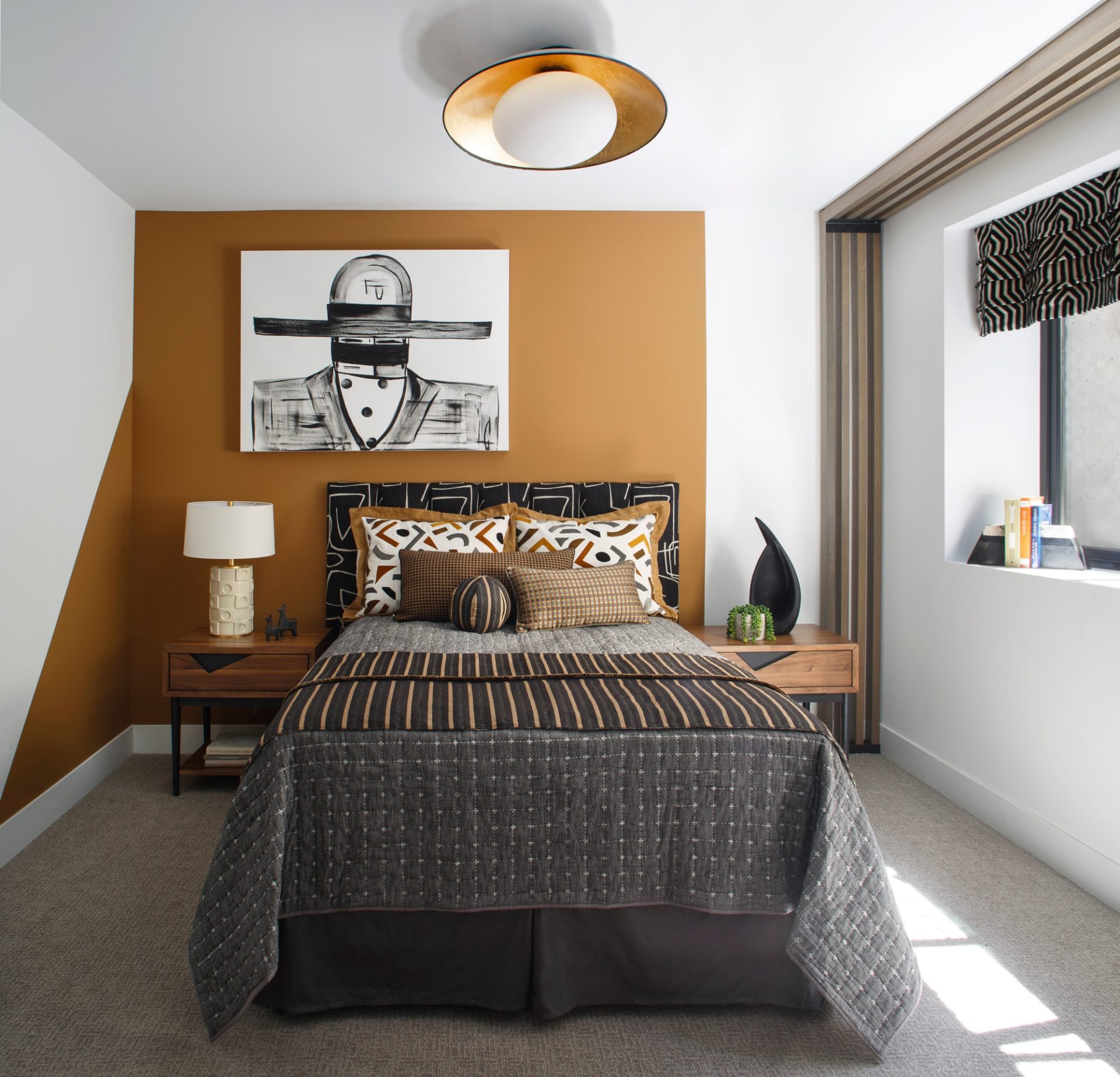 Laura Goodson
I'm not going to lie; I had been seriously stalking Laura on Instagram for a solid 3+ years before the showhouse was even on my radar. There is something absolutely mesmerizing about her black and white paintings of cowboys and bandits. They are simple, yet complex, and always striking. There is a deep emotion in the face of each cowboy, even when many have their eyes closed. I couldn't stop looking at them all; I was obsessed. I still am.
When I was selected for the 2021 Colorado Designer showhouse, the room I was to design was the bedroom for a (fictional) 15 year old boy. The interior design direction of the room was to be Modern, Earthy, and Masculine. Immediately, I wanted to include one of these cowboys or bandits. Not only did I do so, the painting was my inspiration and focal point for the entire room. The whole design was to emphasize this bandit.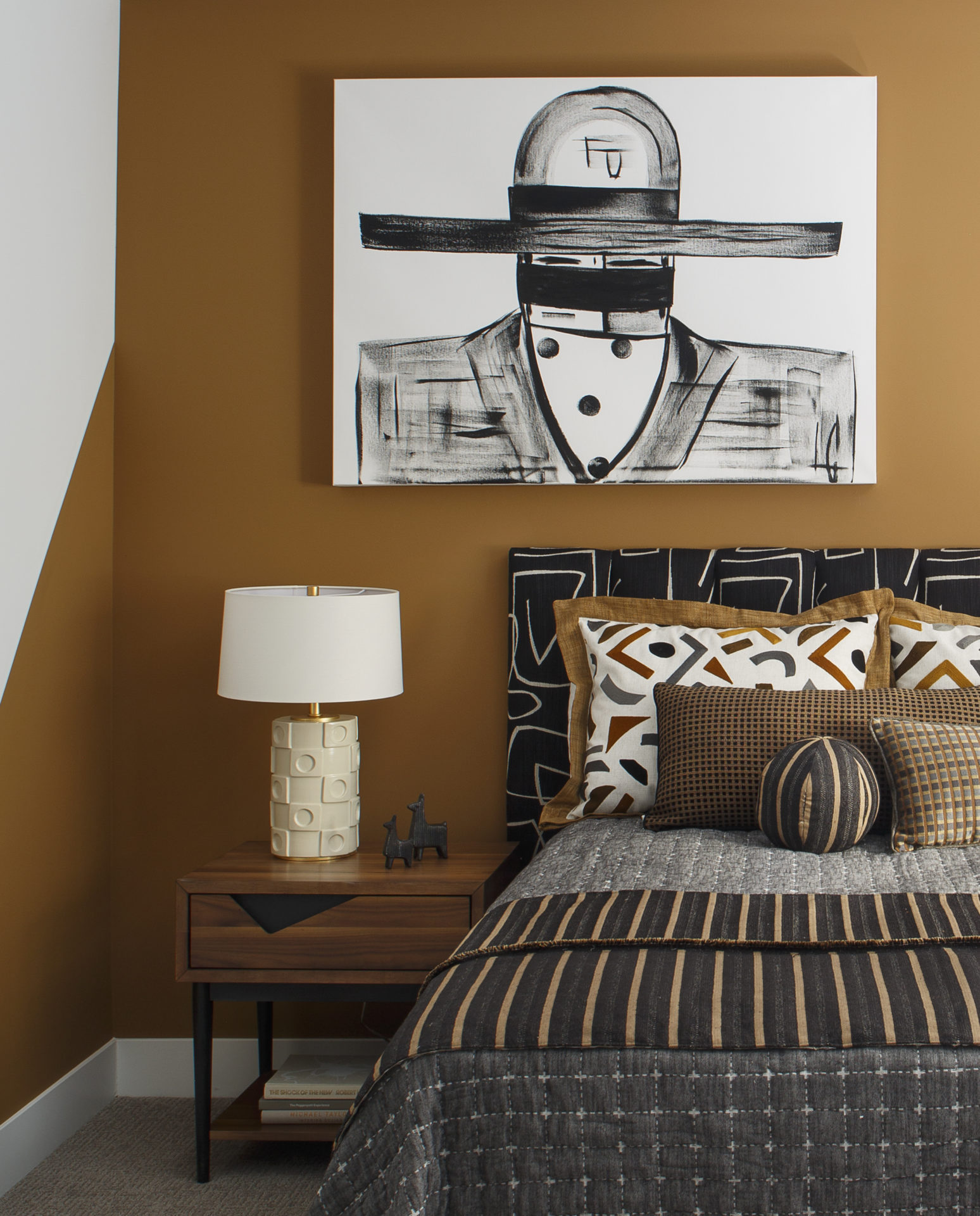 About Laura and her work:
Laura Goodson's work is a modern representation of americana/western figures of the past and occasionally their unforgiving landscapes.
Her work is dominated by bold, hat wearing cowboys, bandits and outlaws. She lets the depth of her characters and their journey come through single brush strokes and hard shadowing to emphasize physical pain and grit endured by emotional discourse and hardship. Laura's Studio and Gallery is in Denver, CO.
Andrea Poland
I met Andi in 2000, when I had a different career and we worked together as recruiters. That was also the infancy of her love of photography and I remember her starting a website dedicated to her nature photos. Well, 22 years later she is still capturing the stunning nature found in Colorado.
While the natural world was not in alignment with the design direction for the teenager bedroom design, her work includes some brilliant architectural pieces. I included this photo of the modern architecture of Union Station in Denver.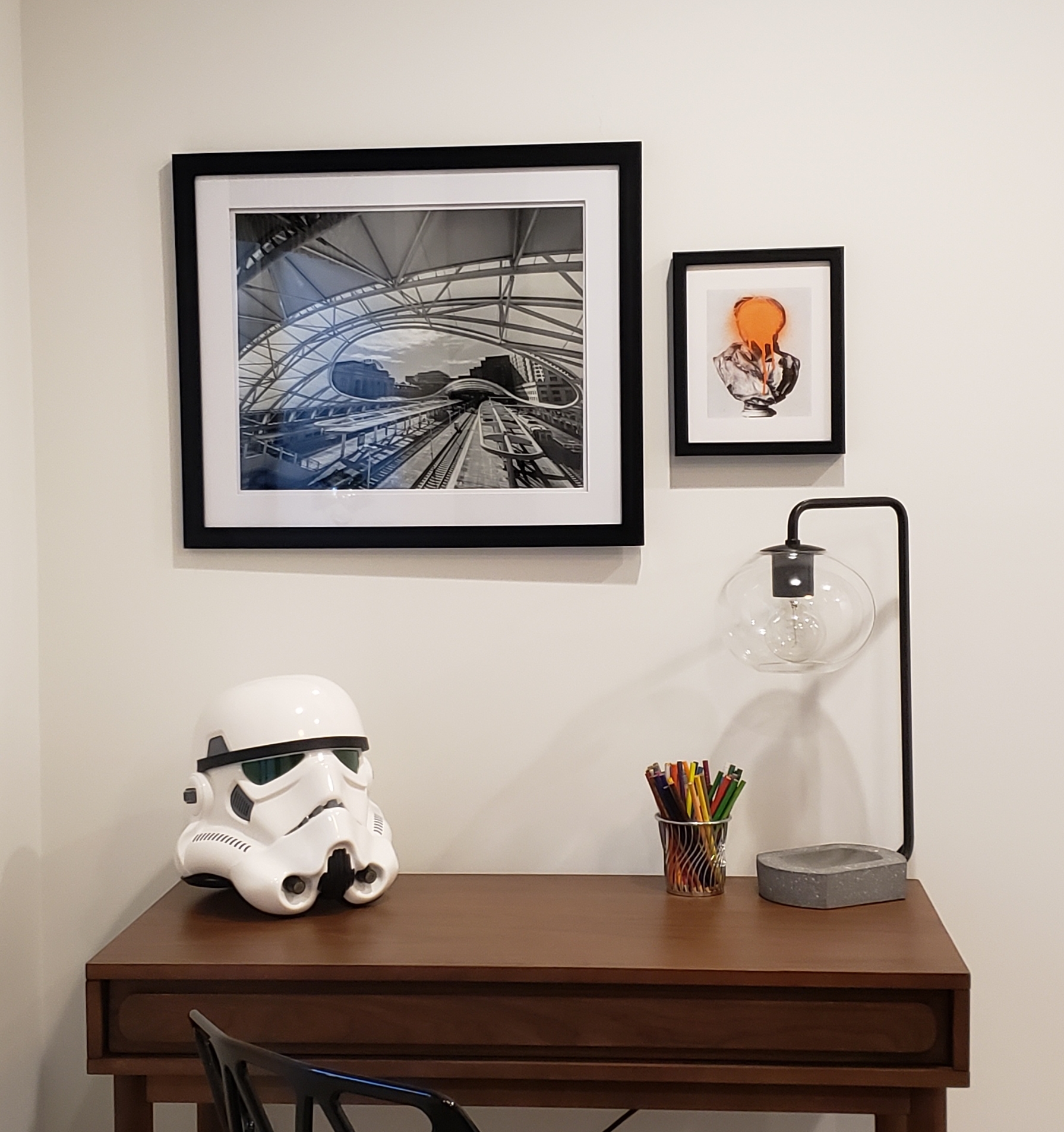 About Andrea and her work:
Andi Poland is a Colorado native who has been photographing Colorado landscapes and wildlife for the last 20+ years. She's a Local to Highlands Ranch Colorado and a proud parent of one. You can find her work at coloradonaturephotography.com.
Tania Dibbs
Tania and I met over social media. I was immediately captured by the depth of Tania's paintings. When on a canvas or board, the paintings appear so dimensional and tactile; you want to touch them. I also love the scale of her work; most of her paintings are quite large. They are perfect for expansive walls and making a big statement in a room. The painting that I included in the Denver showhouse is actually one of her smallest pieces.
The design direction for this powder-room is dark and moody. This painting added some color and ethereal feel to this room design, emphasizing the moodiness. The large scale creates drama.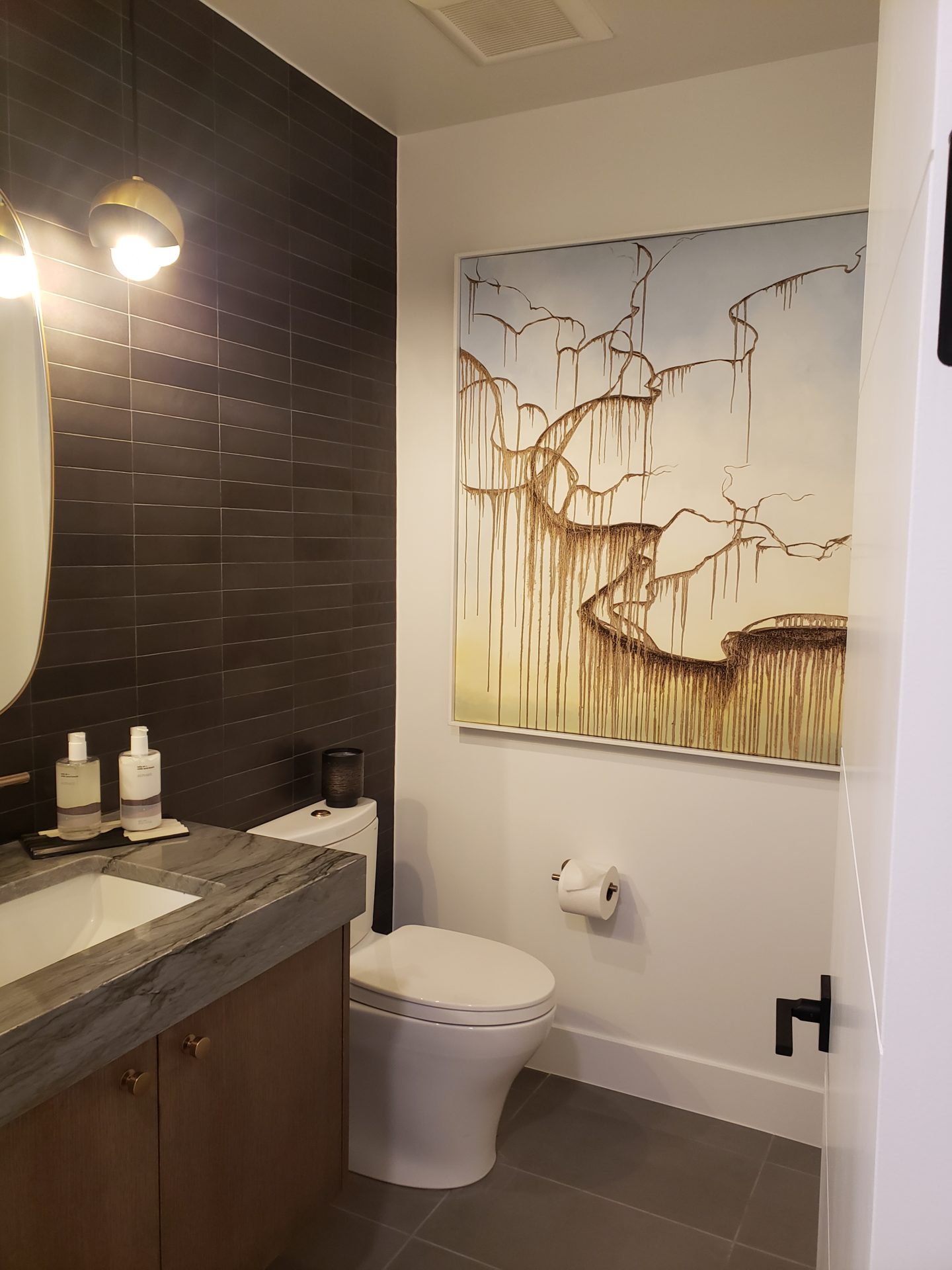 About Tania and her work:
Tania Dibbs is a technically gifted and highly accomplished artist who explores the jagged intersection between the natural world, humanity and culture through painting and sculpture. The screens and overlays that she paints over her scenes both highlight and obscure the landscape beneath, speaking to the beauty of nature as well as to the conflicting yet fantastic constructs of man. Her work is diverse in style yet unified by its intent, passion and devotion to exploration. Tania's Studio and Gallery is in Basalt, CO
I hope to work with all of these artists again soon.
If you're looking for art in your home, check out these artists and support a Colorado small business and Colorado artist!