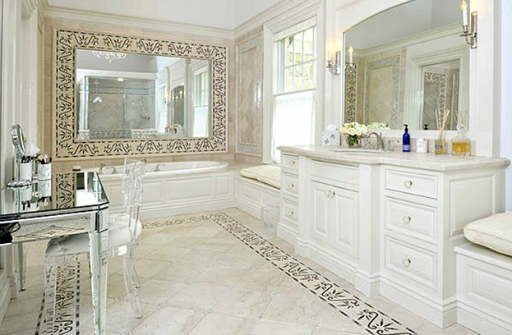 Chairs in Your Bathroom Design | Guest Post
Hello, everyone! It's Mari here from Arcadian Home blog, a wonderful place to find, among many other inspirations, a fabulous array of ideas for lighting your home, from foyer lights to floor lamps. I'm so excited to be visiting with you at Beautiful Habitat today to share a guest post about chairs in the bath.
To fuel your interior design dreams, I've brought along eight images of bathrooms that include beautiful and comfortable chairs. Please enjoy!
Thanks for letting me stop by!
~ Mari
Not all bathrooms with a beach house vibe are done in coastal blues with seaside references everywhere. This sedate design has only subtle coastal touches—shells in a glass container on the counter and four diverse shell collections in identical black frames on the wall. At first glance, this comfy chair in brown appears to be aged leather, but it's actually a lovely velvet fabric.
An elegant marble bath with sparkling white free-standing tub gets a splash of color with an ornate chair upholstered in a beautiful green and white Greek key patterned velvet.
A plump armchair and ottoman upholstered in periwinkle blue Tides fabric gives a nod to the sea in this white and pale turquoise bath. I love the little glass pendant light with metallic gold detailing.
Seating comes in the form of two chairs in this lovely eclectic bath—an ornate French armchair in the corner and a stylish slip-covered high-backed armless chair at the vanity.
Brown is beautiful here—walls, ceiling and chair are beautiful in this chocolate hue. Golden accents and 80's pendant add a lovely glamorous look.
A brown chair offers a place to relax in this great eclectic bath. The space is an appealing mix of traditional, rustic and contemporary.
A small table and chairs offers a place for tea at bath time in this formal bathroom. The black sinks and tub are so perfect, as are the legs of the console.
Absorbent terry cloth covers the armchairs and ottoman in this stunning bath. Decorative trays hold toiletries here and there about the space. I love the architectural details and subtle blue touches. Images 1 | 2 | 3 | 4 | 5 | 6 | 7 | 8
What do you think of these bathrooms? Leave us your thoughts below and be sure to stop by our blog for more home decor, lighting and interior inspirations each day.