Bring Two Decorating Styles Together | Guest Post
Compromise can be hard, especially when it comes to clashing styles of home décor. I have a very vintage and bold style and would prefer to have my house look like it could be in an episode of Mad Men.  Meanwhile my fiancé has more of a modern and simplistic style in mind. We are in the process of putting together our home which at first seemed impossible, but we learned a few things about making the two styles mesh.
Let each other win with the small things.
Make each room decidedly vintage or modern, but with splashes of its opposite thrown in. If your living room has vintage furniture and bolder colors on the walls, hang metal frames for a touch of modern art on the walls. This will make for a smooth transition from room to room as you negotiate each major theme per room.
Incorporate candles simplistically to add warmth
Candles easily add class to any interior design project. They can bring a lot of warmth to what I see as the cold modern style that my husband likes.  Our dining room is more of the modern style, so we put a cluster of three pillar candles (QuickCandles.com has neat green ones) as a centerpiece to add warmth.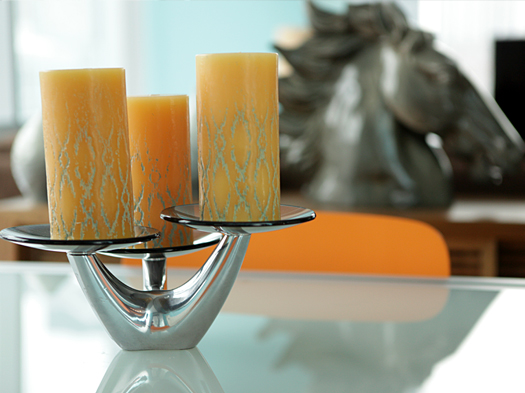 If the room you are decorating is primarily vintage, get some metallic modern candle holders to mix the two styles.
Color the walls according to one style, and get appliances agreeing with the other.
If you happen to have furniture that is decorative and vintage, keep the walls neutral and modern. This is a very simple way to compromise and make both people happy. The lime green in this kitchen design brings a very vintage look to this otherwise modern kitchen.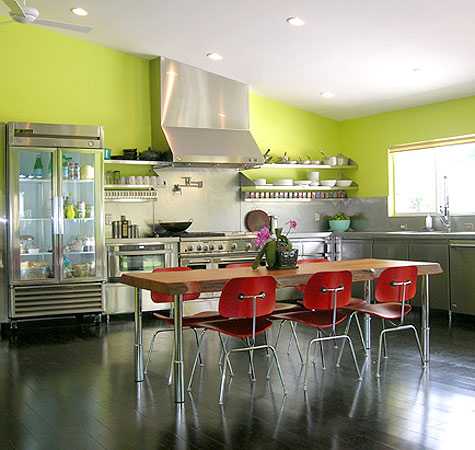 The biggest piece of advice I have is to relax and keep an open mind.  Our styles have slowly started to blend together and look more like close relatives rather than complete strangers.  When we first started combining our things into the same home, everything seemed to clash and provoke headaches. Thankfully, that is becoming less and less the case and our separate décor styles are working together in harmony.
About the author:
Carmen Denny can't believe that she's finally engaged! In between wedding planning she enjoys spending time with her fiancé, bike riding and of course, more wedding planning. She writes while drooling over choices for wedding candle sets and other decorative pieces for QuickCandles.com.