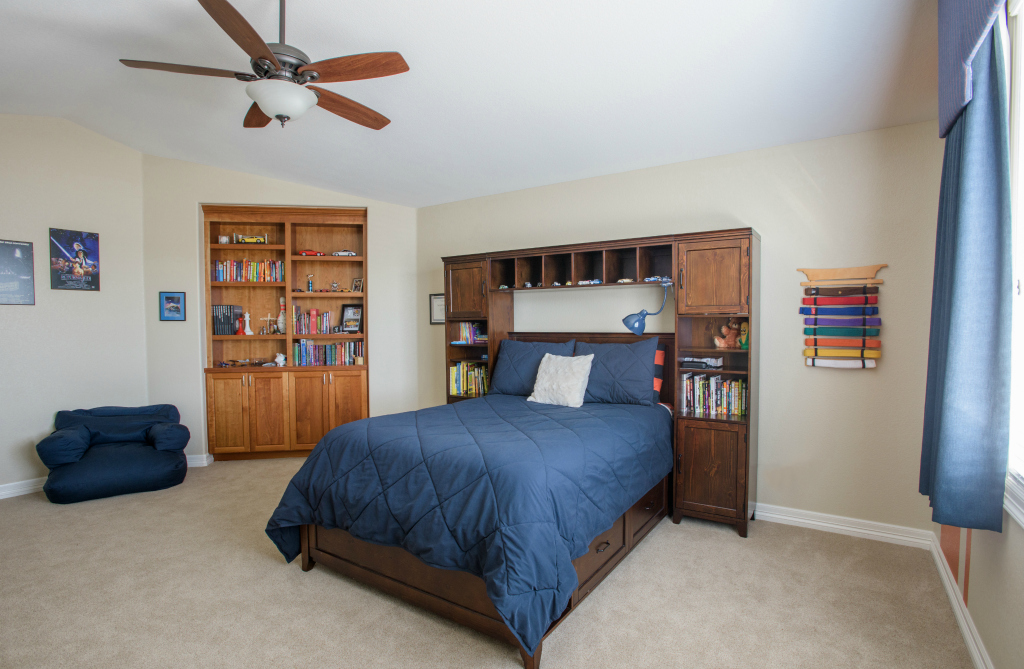 Bedrooms for Kids: A Boulder County Project
Formal is a word rarely used to describe a 21st-century child's bedroom, and this Boulder County home is no exception.
By Camille Wilson
When the family moved in, the traditional, formal design throughout this large house did not fit their casual lifestyle. Beautiful Habitat designed many changes to personalize each space to the family and create a more casual feel while honoring the overall style of the home. With two children, their bedrooms needed to flow with the rest of the home — the color scheme for the home includes shades of blue and cream — but had more freedom to be adventurous in the design.
"Parents typically expect that kids' rooms will be fun and add levity to the home," said Beautiful Habitat Owner and Designer Tennille Wood. "As a result, they're really fun to design."
Beautiful Habitat's design process, when it relates to bedrooms for kids, includes discussing with the child his or her own tastes and then working them into the design in a tactful way. Wood explains this doesn't have to mean including cartoon characters or zoo animals.
"I once had the child of a different client insist on sharks, zebras and shoes for her bedroom design," Wood recalled. "We ended up finding some great fabric with flip flops on it to use in the curtains and incorporated animals into a few custom canvas paintings for the walls. The overall look coordinated nicely with the home and wasn't too whimsical."
Wood says the main consideration when designing a child's bedroom is creating enough functional storage. Since kids tend to accumulate a lot of stuff, either movable furniture pieces or built-in units with a lot of shelves and drawers are helpful. Materials should be durable since children are often harder on their things than adults.
For her
When asked, this Boulder County young girl happened to favor turquoise, a shade perfect for flowing with the rest of the blue-themed home. She also loved purple and had been drawn to a restaurant design where she saw painted swirls on the wall.
Wood says she found the fabric first for this room.
"The swirls and colors are just what the client wanted and made a nice jumping-off point," Wood said. "We used that for the valences and the drapery at the sliding door. We hired a decorative painter to create coordinated swirls for the walls."
Her bed helps limit clutter by providing space to display a vast collection of dolls, stuffed animals and other things. Under-bed storage provides further organization, while the turquoise bedspread ties the whole look together.
For him
The son also happened to prefer blue, so this child's bedroom carries over very naturally from the rest of the house. His opinions beyond color were not strong, so the room carries a simple and sophisticated look while maintaining a youthful vibe.
Dark wood in the dresser and bed add masculinity and provide functional space for clutter-free display of books, model cars and awards. A formal navy blue valance and drapery combination are framed and offset by orange paint with a stripe pattern for visual interest.
Bedrooms for kids give permission for the design to be more fun and adventurous. Kids love it, and parents generally expect it. By not requiring every space to be serious, the overall project can gain levity.
If you're thinking of updating your child's bedroom, contact us below to find out how we can help.
Next month we'll peek into the beautiful guest suite within this same house and discuss tips for designing the retreat within your home that guests will savor.