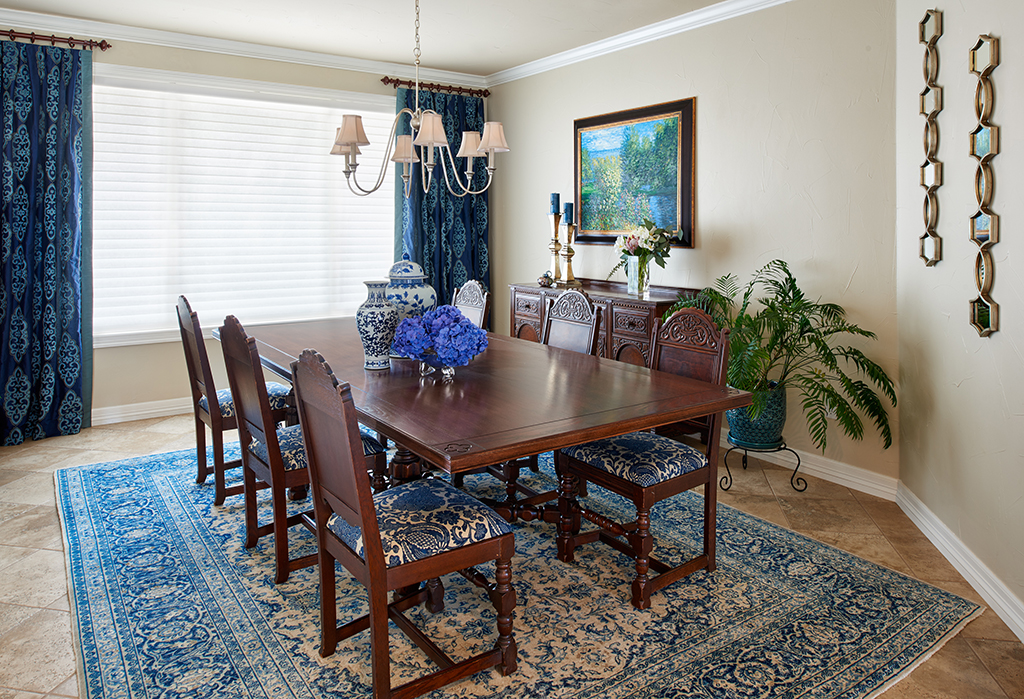 Beautiful Habitat Wins Coveted Window Covering Award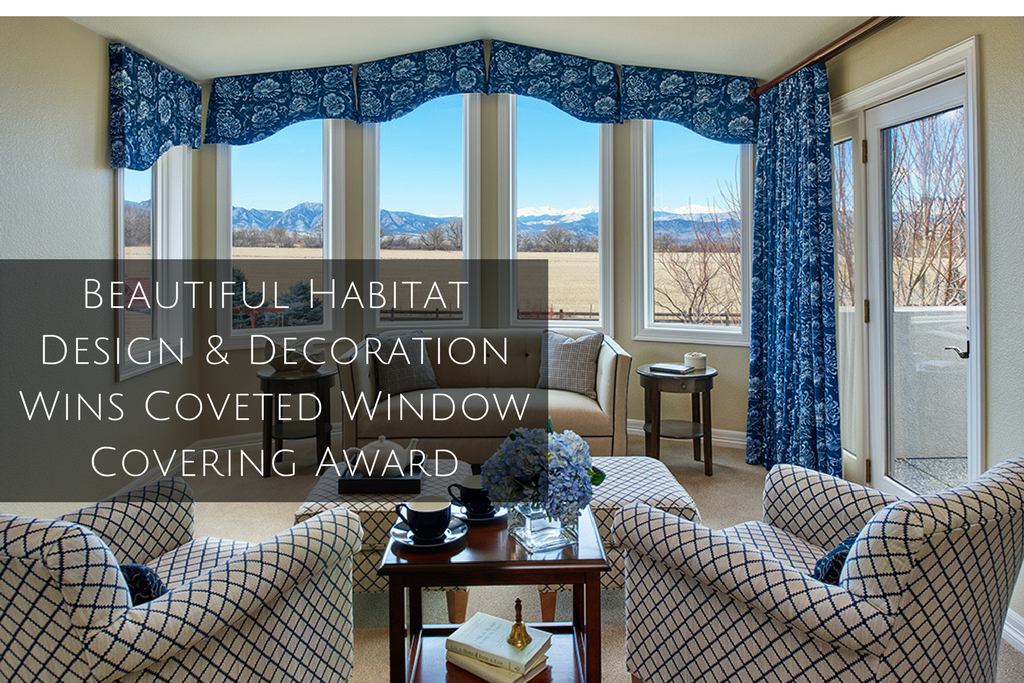 Denver-area, full-service interior design firm, Beautiful Habitat Design & Decoration, was recently awarded first place in the combination treatments category in the VISION Design & Workroom Competition presented by Window Fashion Vision during the International Window Coverings Expo in Tampa, Florida, on March 27, 2018.
There were several challenges for the window treatment design in this Boulder County master bedroom. The master bedroom and sitting area have a total of seven windows and one exterior French door. The clients are very sensitive to light and unable to sleep in rooms without significant light control. However, they bought this home for the amazing views and wanted to keep those intact. The biggest challenge was the master bedroom sitting area, which has a vaulted ceiling and angled windows accentuating the mountain view.
To meet the challenge, Tennille Wood, owner and principal designer, created a custom frame for the stunning mountain views. She designed valances that emphasize the lines of the vaulted ceiling and angled windows, while softening the look with undulating curves along the bottom. They feature motorized shades, bringing in the critical light-control element her clients wanted, while still keeping the views intact. A traversing drapery panel with blackout lining covers the patio door.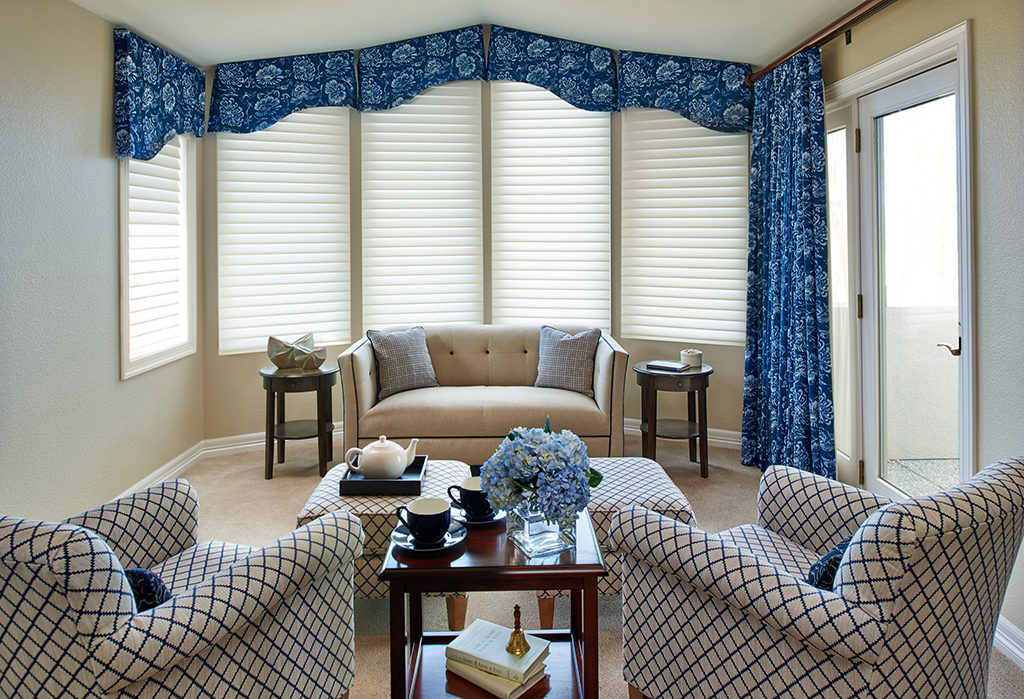 On the two windows near the bed, traversing drapery panels with blackout lining offer maximum light control. Valances coordinate with the sitting area and tie the whole room together.
The result is a functional light-control solution for the clients. In addition, they have a stunning frame for the mountain views. The clients are thrilled with the design and the ease of use with the motorized shades.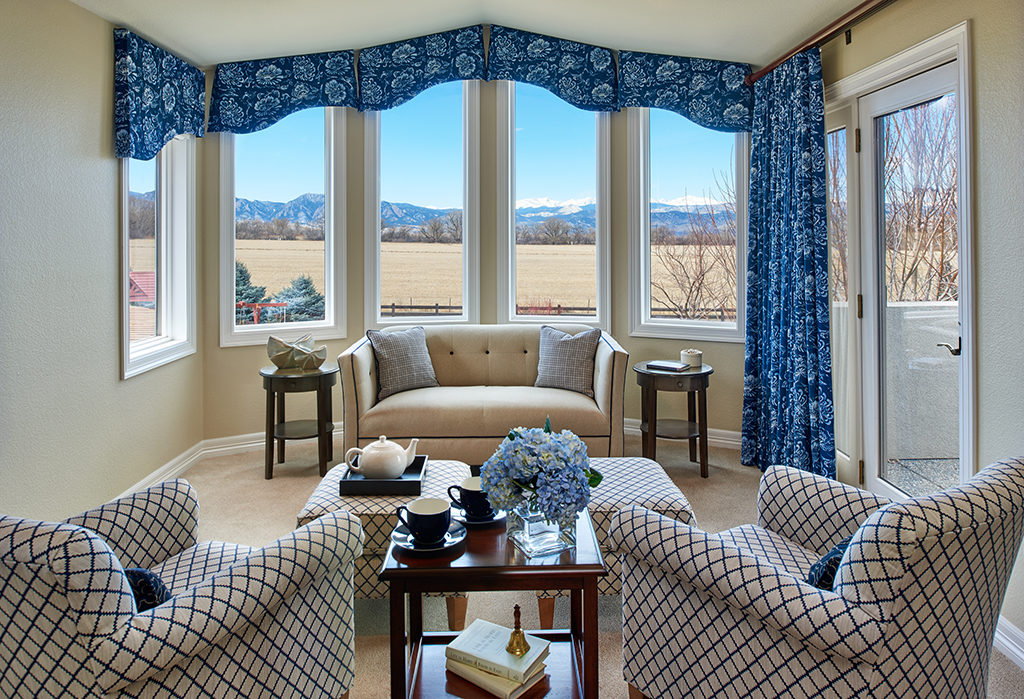 See more beautiful photos from this project.
About Beautiful Habitat Design & Decoration: Beautiful Habitat is a full-service residential interior design company. Owner, Tennille Wood, is Colorado's only internationally trained and award-winning interior designer. She has been creating functional, beautiful and unique residential interior design in the Boulder and Denver areas for ten years.
Read more about remodeling services from Beautiful Habitat or schedule a consultation with us.
Schedule a Consultation Today
About International Window Coverings Expo: The International Window Coverings Expo is the only U. S. trade show dedicated to the success and growth of the window coverings industry. This annual event is designed specifically for the window fashion decorator, designer, retailer, architect, workroom, installer, remodeler and stager. Thousands of U.S. and international visitors and buyers come for the latest products, technology and education in window coverings as well as home decor and accessories. iwce-vision.com