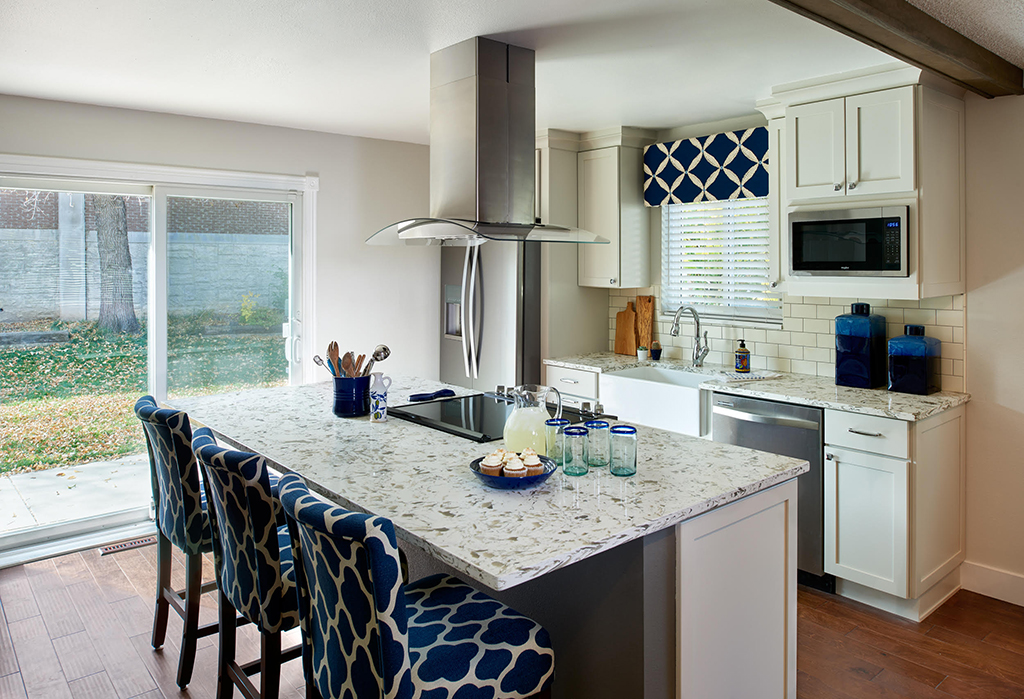 Adding Color to Your Neutral Kitchen Design
Thoughtful addition of color makes a neutral kitchen design special.
By Camille Wilson
HGTV's House Hunters Renovation recently featured Beautiful Habitat Design & Decoration. In the episode, Owner Tennille Wood helps homeowners implement a stunning new kitchen design featuring an open floor plan, mostly neutral color scheme, traditional style with modern touches, and just the right amount of color.
About the Show
In case you're unfamiliar with the television show, House Hunters Renovation features home buyers looking to purchase a house requiring significant updates. They tour three options and then select and purchase one. Cameras roll as the home renovation project is underway, charting progress while the homeowners turn their new property into their dream home, and finally reveal the completed results.
Producers selected Beautiful Habitat Design & Decoration from several Denver-area interior designers who auditioned for the show which aired on March 31, 2018.
"It was such an honor to participate in this project" said Wood. "I learned a lot throughout the filming process and had fun creating a functional and beautiful home for a wonderful local family."
Kitchen Design
Once the couple had possession of their new home, the renovation took about eight weeks from start to finish. This overhaul converted a dated home with three separate spaces — kitchen, dining room and living room — into one large, open room in order to improve the overall flow of the space. And, while keeping the construction of the space fairly neutral, Wood incorporated color in all the right places for a lively design.
Schedule a Consultation Today
The renovation started by removing a wall between the kitchen and living room, rearranging kitchen appliances and adding an island. This design uses shaker cabinets in a beautiful Irish cream color with a touch of grey for a more modern and interesting look.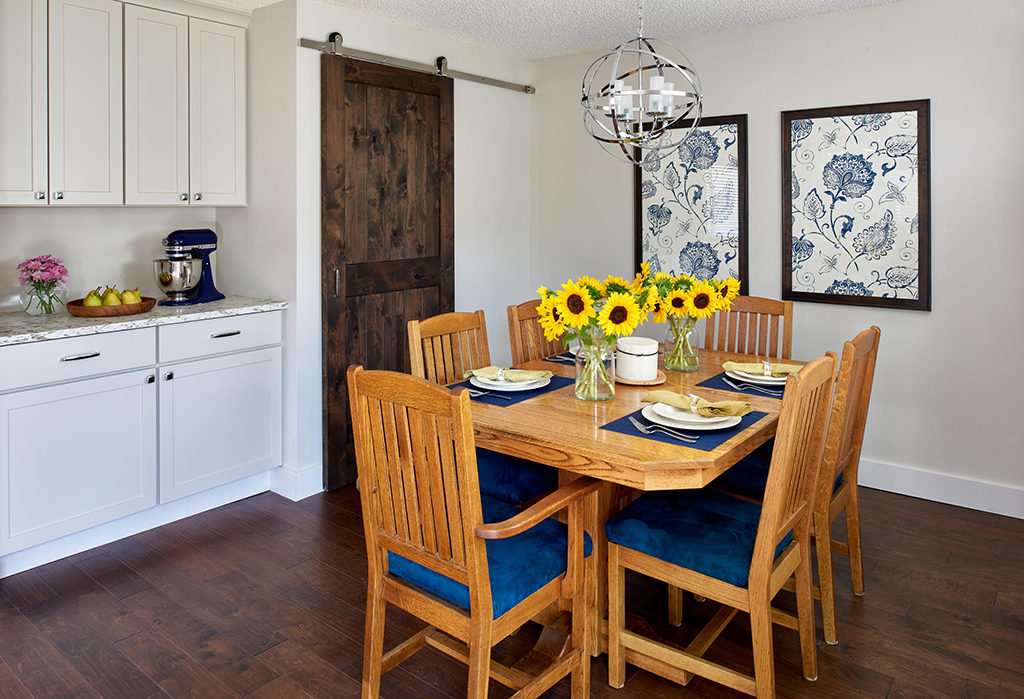 To increase cohesiveness between the three spaces, carpet in the dining room and living rooms and vinyl floors in the kitchen had to go, favoring new hardwood floors throughout. Wood and the homeowners selected a dark stain to complement but not match the stain used in the ceiling beam and barn door to the pantry.
See more Beautiful Habitat design projects.
Thoughtful Addition of Color
By using classic styles associated with traditional design and adding bold colors and unexpected touches to the mix, Wood implemented a design style she affectionately calls "new traditional." Because the homeowners both really like blue — they even have a blue KitchenAid mixer they wanted out on display — the color choice was easy to brighten up this neutral color palette.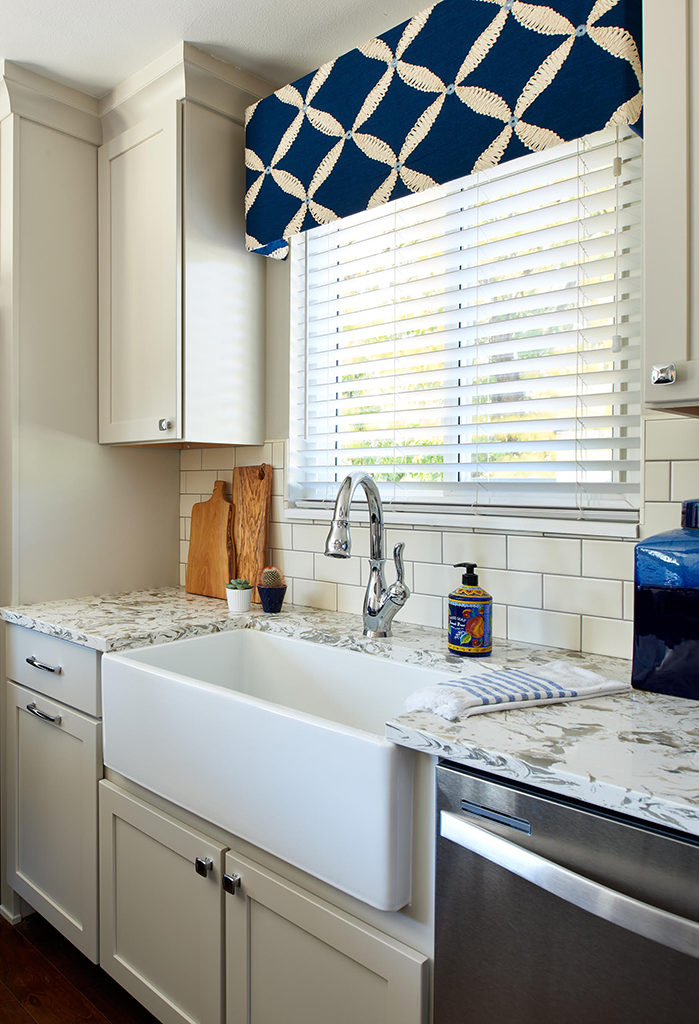 For an accent color to work well, it must be repeated. Color, just used in one place, could appear overlooked or accidental, but three or more repetitions spread across the space will look cohesive and intentional.
"We added the custom valance for texture and color, an important aspect of any good kitchen design," Wood says. The blue fabrics and accessories have the right balance to complement one another. The window valance and barstools have similar scale and colors to avoid the space becoming too busy.
In the living room, poofs add texture and repeat the cream and blue color scheme. Blue accents also show up in the flower pots and throw pillows as well. The homeowners updated the existing dining chairs themselves with new blue upholstery. The large floral artwork gives a modern twist to the traditional space.
Adding color to a neutral kitchen is all about the details including custom window coverings and upholstery. And it's carrying those colors throughout other spaces that creates a true designer, finished look.
See the portfolio of this project. 
Maybe you're ready to take on your own interior design or remodel project? Fill out our pre-consultation form now!
Back to Blog