8 Eye-Popping Kitchen Backsplash Designs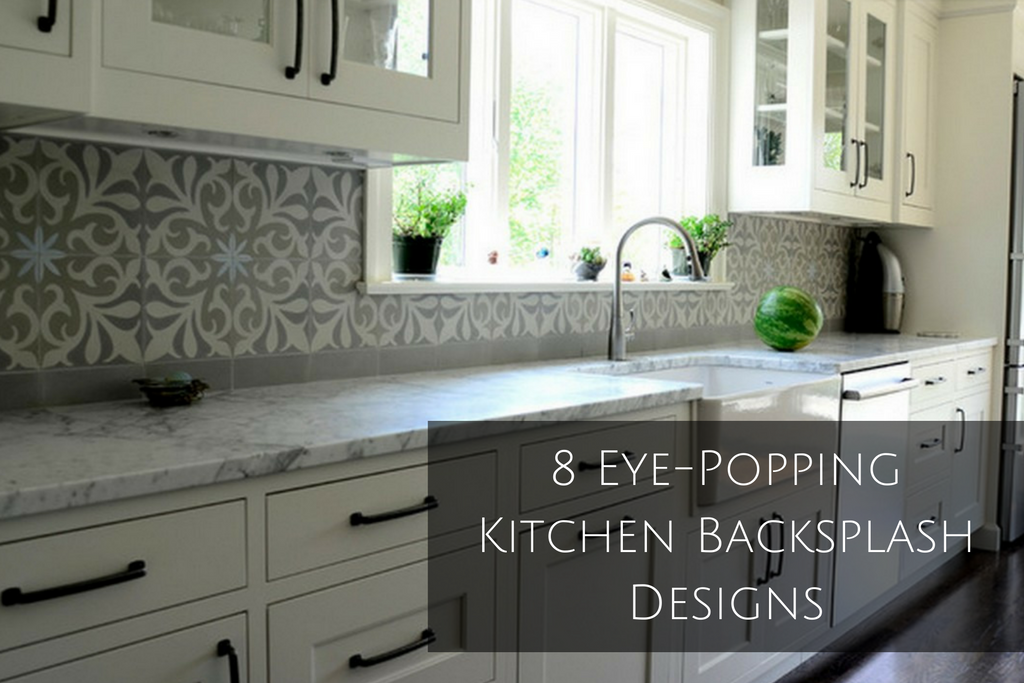 A kitchen backsplash is the perfect place to add some pizazz to your kitchen. Whether you opt for a contrasting pop of style of a softer approach, a variety of styles and materials make it easy to amp up your kitchen design.
Simple Subway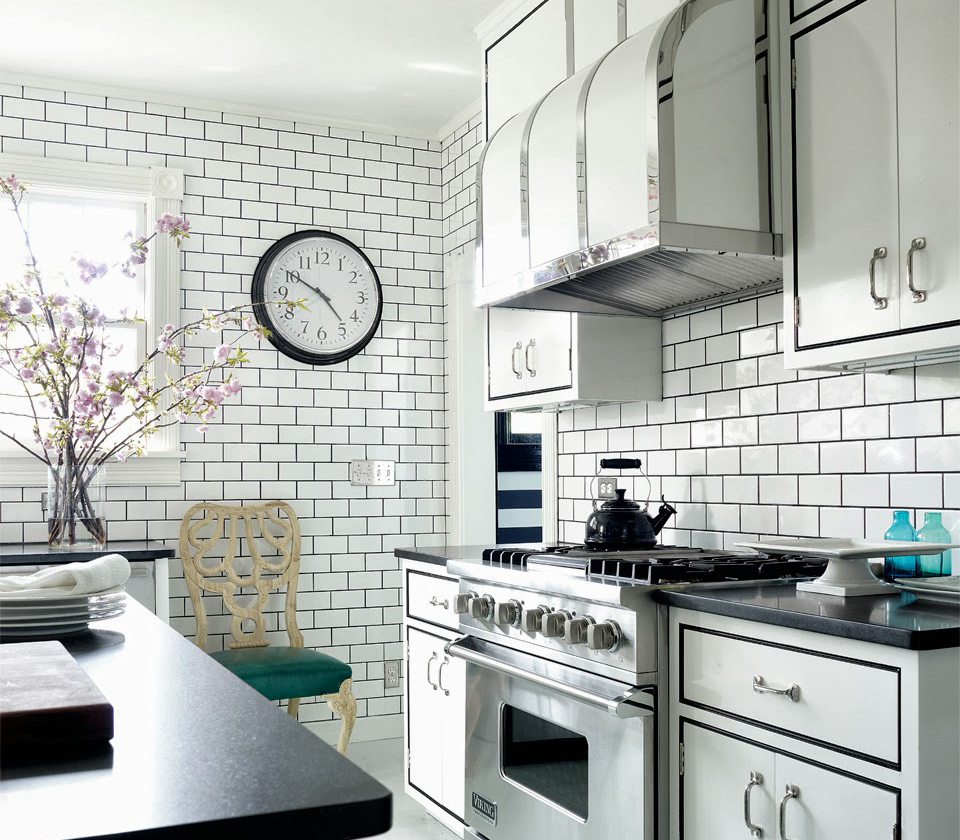 via evafurniture.com
White subway tile with dark grout brings a fresh twist to an otherwise simple kitchen. The use of the tile from floor to ceiling — not just as a backsplash — makes this otherwise conventional feature seem even more modern and cool. The vintage chair, blue bottles and cherry blossoms bring just enough color to keep the almost-all-white kitchen from seeming stark.
Soft Squares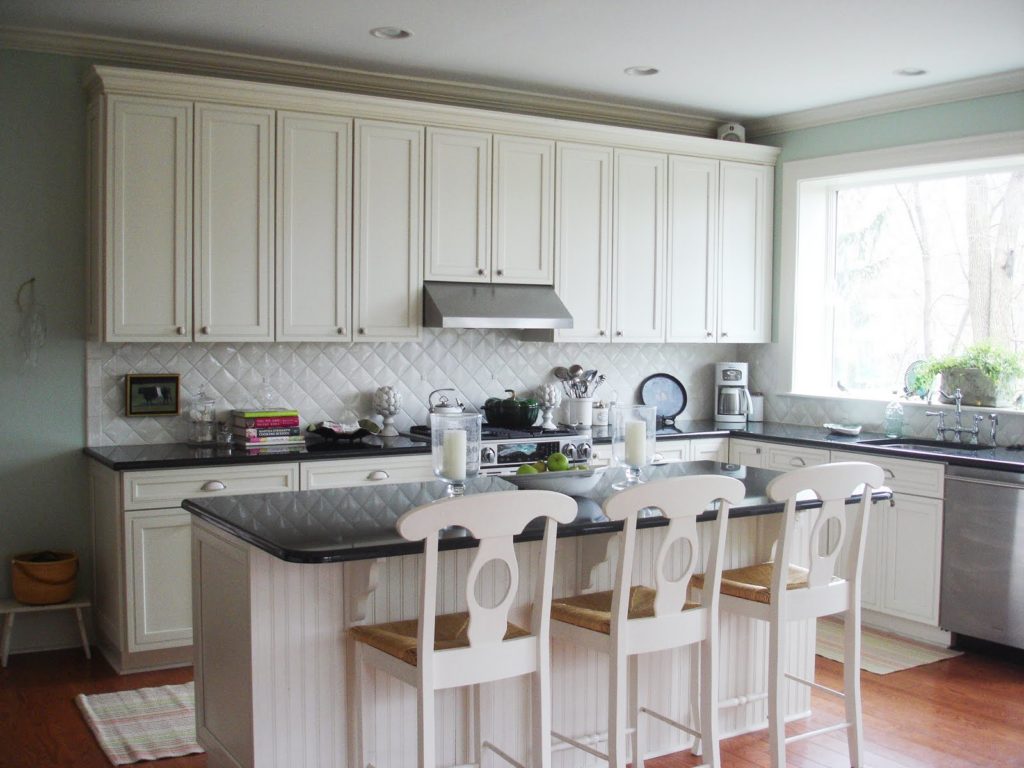 via fashionretailnews.com
Nothing feels more like home than a classic kitchen — the white cabinets, soft hues and subtle décor is warm and beckoning. This 4-inch, pillow-edge tile kitchen backsplash stays with tradition and looks beautiful against the glossy black countertops.
Magical Marble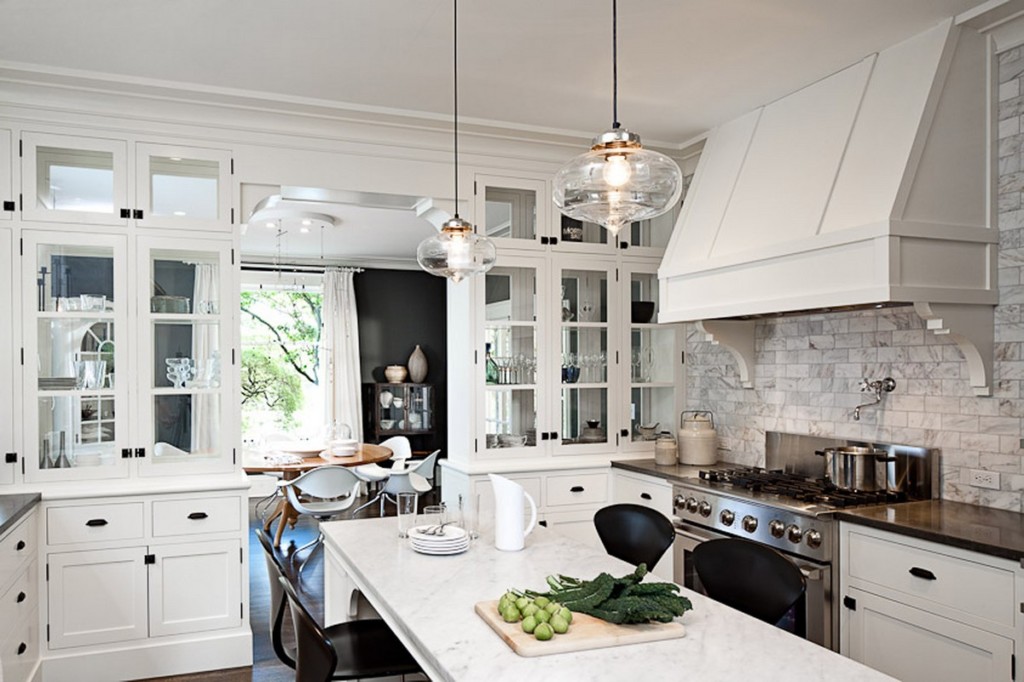 via specihome.com
There is a certain allure to a traditional kitchen — it is as cozy as it is beautiful. This timeless Carrera marble tile backsplash integrates beautifully with intimate, homey features like white cabinetry, black hardware and contrasting countertops.
Slab Appeal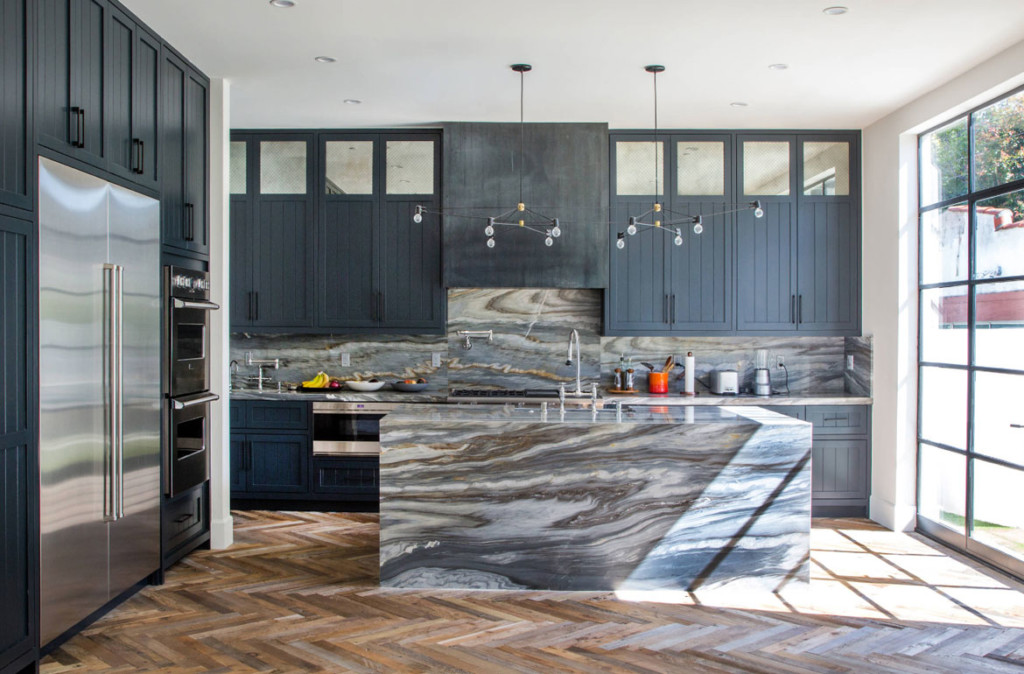 Ultra-modern elements like sleek,stainless steel appliances, minimalistic cabinetry and statement light fixtures are certainly a recipe for a luxurious kitchen. However, no feature feels more lavish than this beautiful stone slab backsplash with matching countertops. The stone drives the palette of the space bringing together the deep blue of the cabinetry and the rustic wood tones of the herrinbone flooring.
Seeing Scales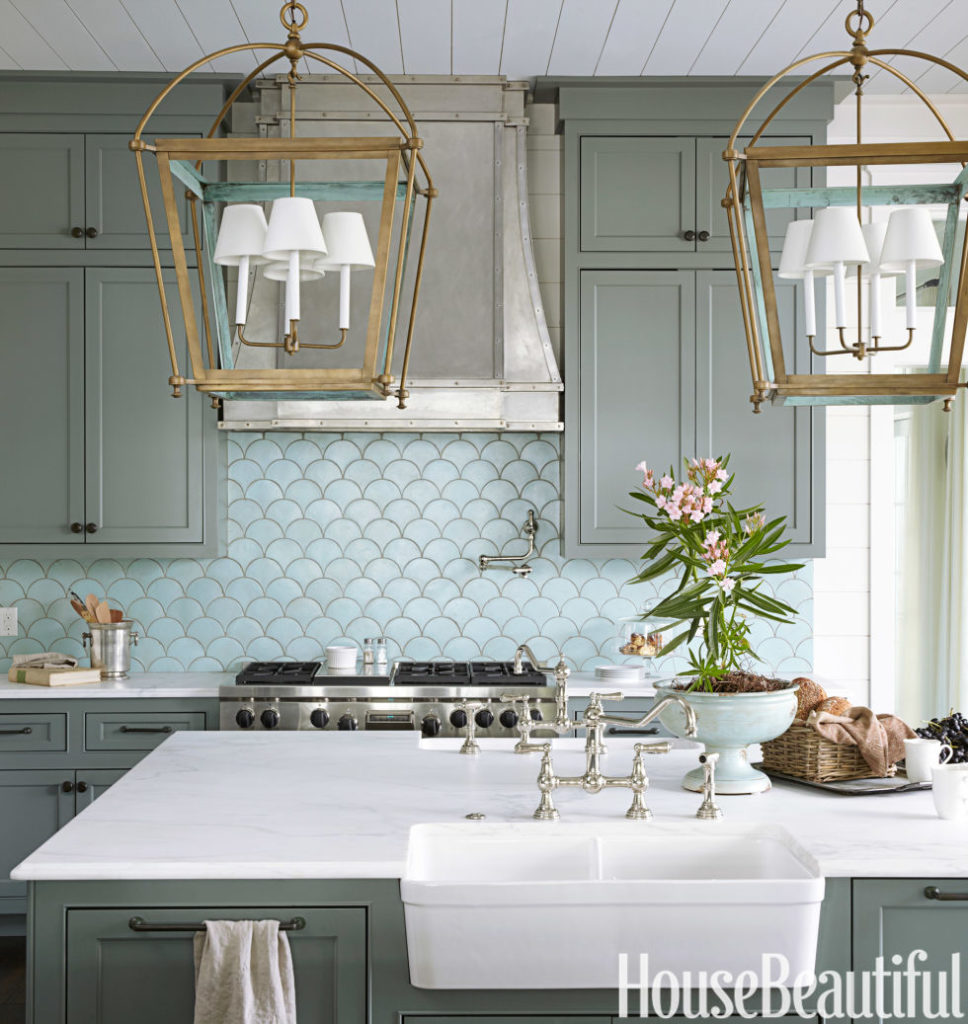 via housebeautiful.com
Glazed ceramic fish-scale tiles are a quirky backdrop in a charming kitchen like this one. This unique backsplash works well with the antique metal range hood, farmhouse sink and birdcage-like chandeliers, and the bright turquoise color looks magnificent against the on-trend gray cabinetry.
Tempting Texture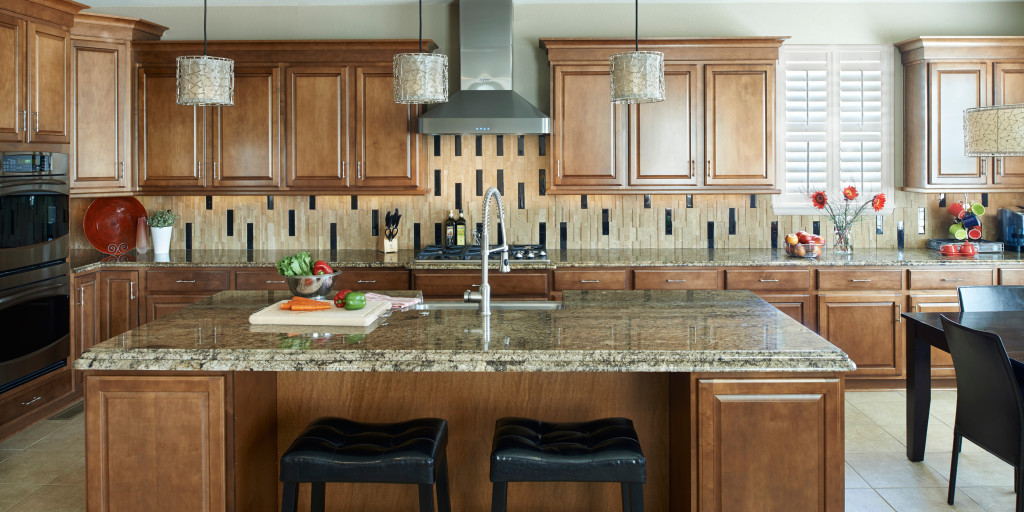 See more projects by Beautiful Habitat.
These rich wood cabinets and dots of stainless steel pop against the coarse texture of this natural stacked stone kitchen backsplash, while the organic colors still allow this kitchen to feel warm and homey. The vertical installation sets this kitchen backsplash apart from the rest.
Striking Balance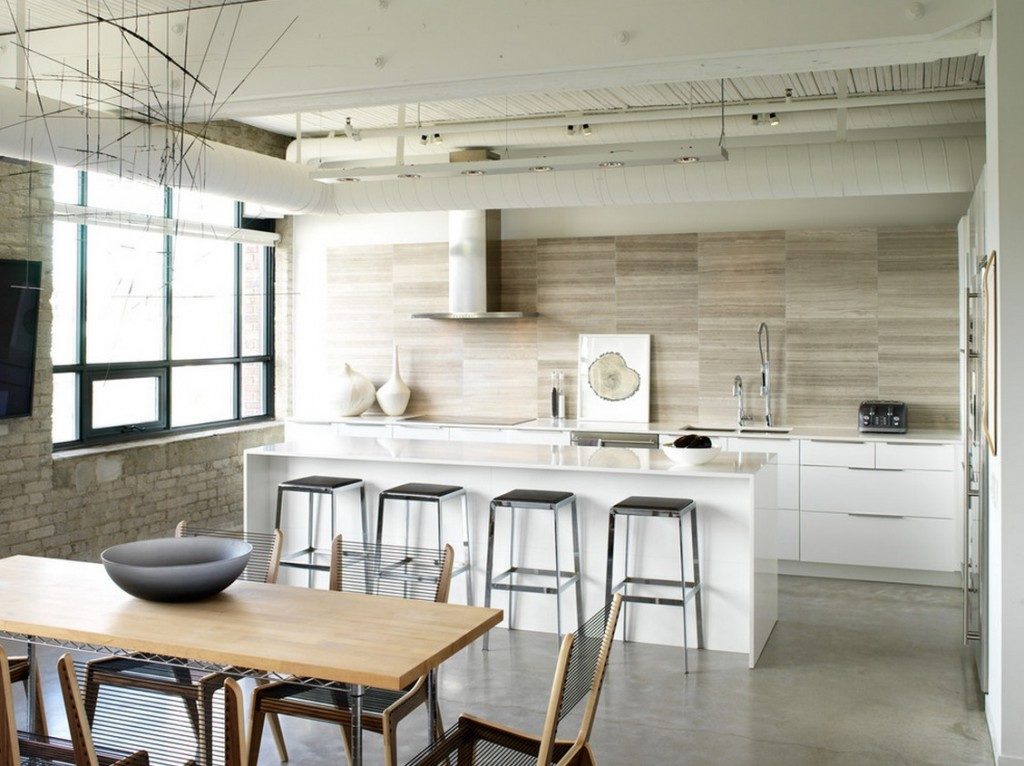 via moveablelove.com
Striated marble tiles create a captivating focal point in this contemporary, industrial kitchen. The sandy color palette and asymmetrical textures create a subtle but eye-catching contrast behind the immaculate white countertops and minimalistic stainless steel appliances. The kitchen as a whole looks striking against the rough, unfinished loft style of the space.
Refined Whimsy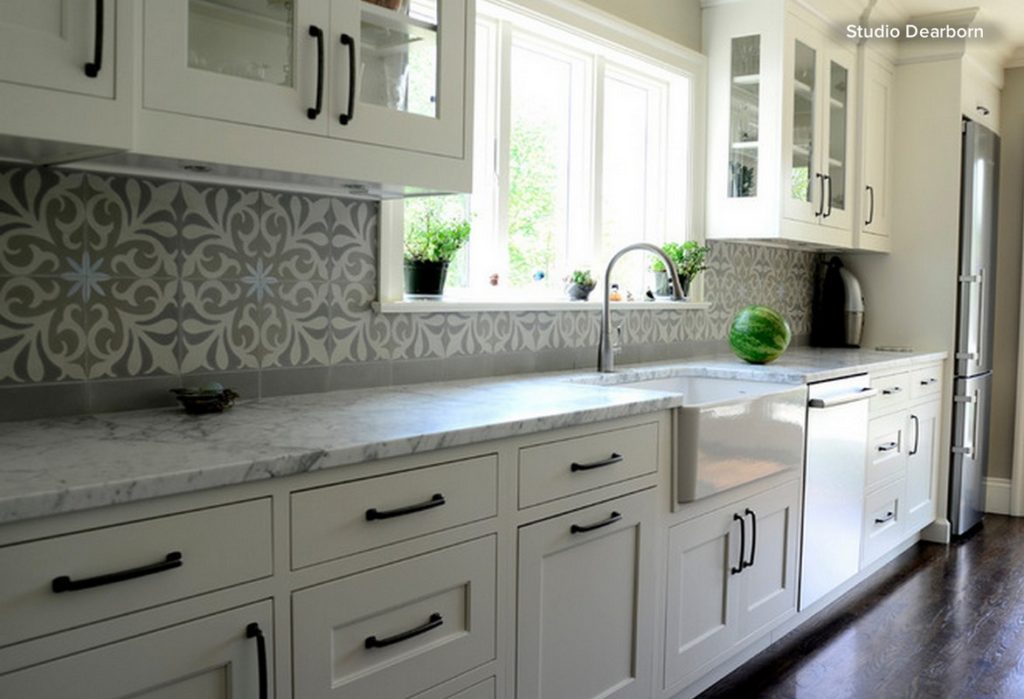 via Studio Dearborn
An interesting pattern creates a lively mood in this otherwise simple, classic kitchen. This printed tile backsplash is fun and exciting, but the muted green colors and the elegant Carrera marble slab countertops keep the pattern from overwhelming the space or looking unsophisticated.