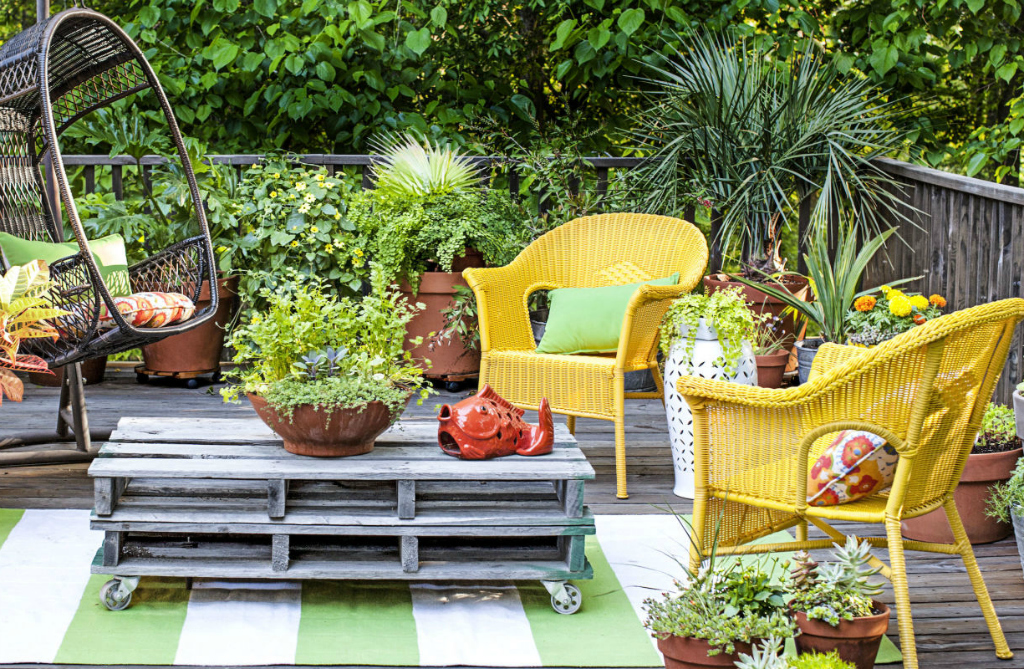 7 Tips for Designing an Outdoor Retreat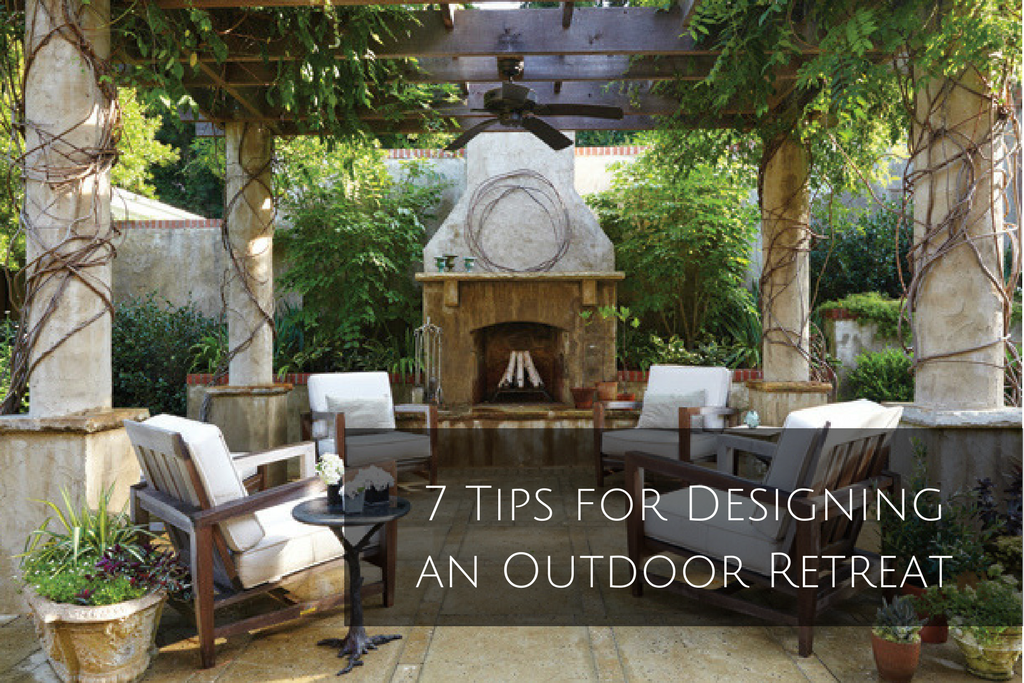 Warmer temperatures and daylight lasting into the evening can only mean one thing: it's patio season! Whether you enjoy sitting by the glow of a fire while dining with friends or sipping white wine in the sun with a cascading water feature in the background, today's home patios are much more than a place to store the grill. They have become an extension of the living space and an prime choice for entertaining.
Homeowners put thought and effort into decorating indoor living and dining rooms, with furniture style and accessories determining the balance of each space. Why not take this same approach to changing your patio into a sophisticated outdoor retreat? Check out Beautiful Habitat's design process to learn how you can begin creating your own outdoor retreat. Patio design should match the overall style and personality of both the landscaping and the home itself. Here are just a few ideas for creating your outdoor living area:
Punch Up Pattern
A geometric-patterned area rug and shingled wall add lots of texture to this private outdoor living room. The pergola delineates the boundary while remaining open, and a neutral color palette lets the plants and flowers provide the pop.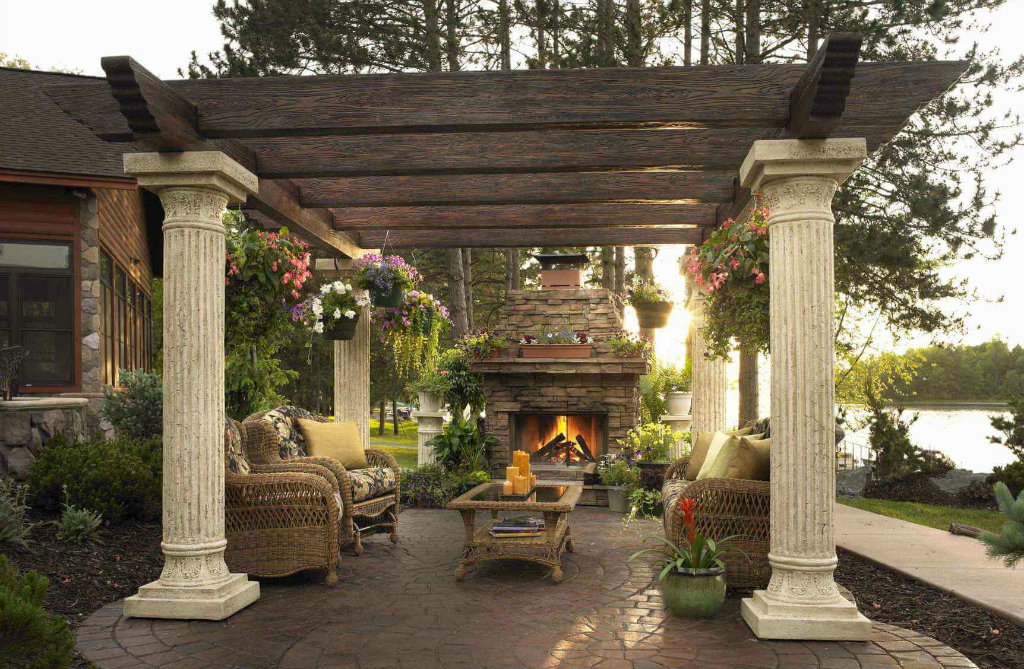 Palatial Retreat
Traditional concrete columns create a magical outdoor sitting area. The rustic pergola provides ample shade and cooling for hot summer afternoons, and the built-in fireplace helps keep the conversation going into the cool evening.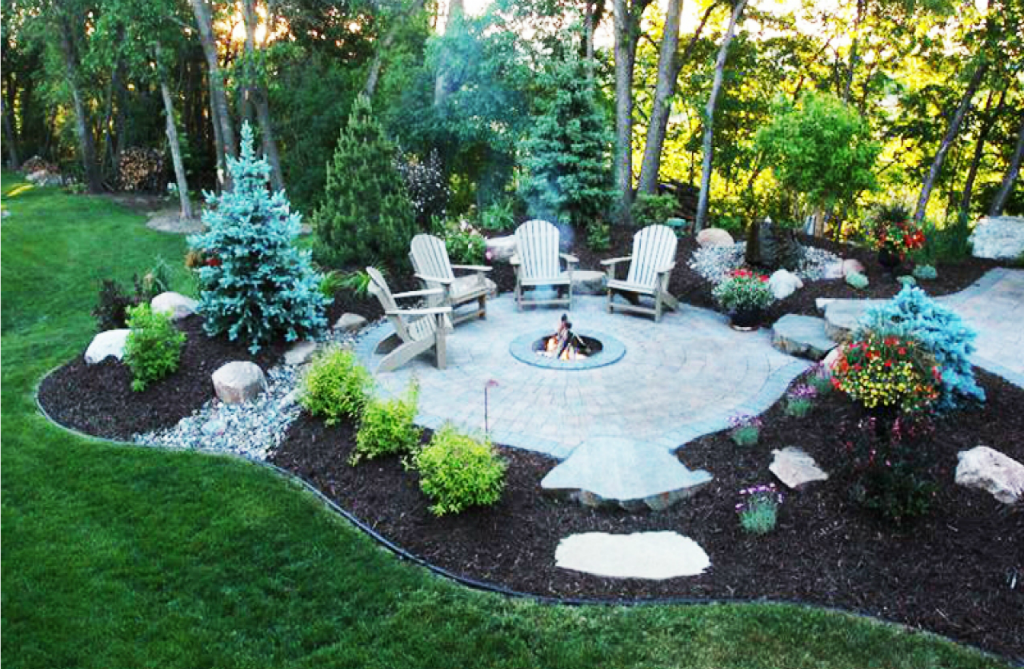 Zen-Scaping
This circular patio design lets family and friends gather around the fire pit for some late-night singing or storytelling in a comfortable Adirondack chair. Well-balanced landscaping includes shades of green and varying textures, while dark mulch dresses up the light concrete with stark contrast.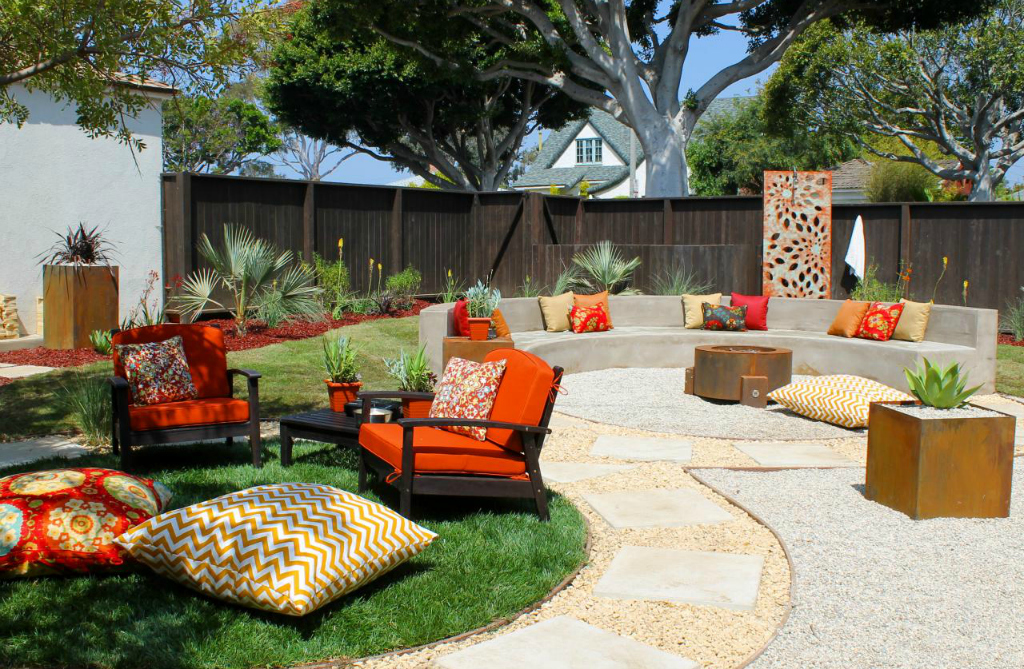 Pops of Color
This versatile design is perfect for entertaining. Built-in semicircle seating around the fire pit includes bright decorative pillows for day or night lounging, while shade lovers can hang out on an oversized pillow or in the cushioned armchairs in the grass. A two-tone stone pathway suits the succulent and palm plantings, and the floral metal sculpture adds visual interest and a focal point.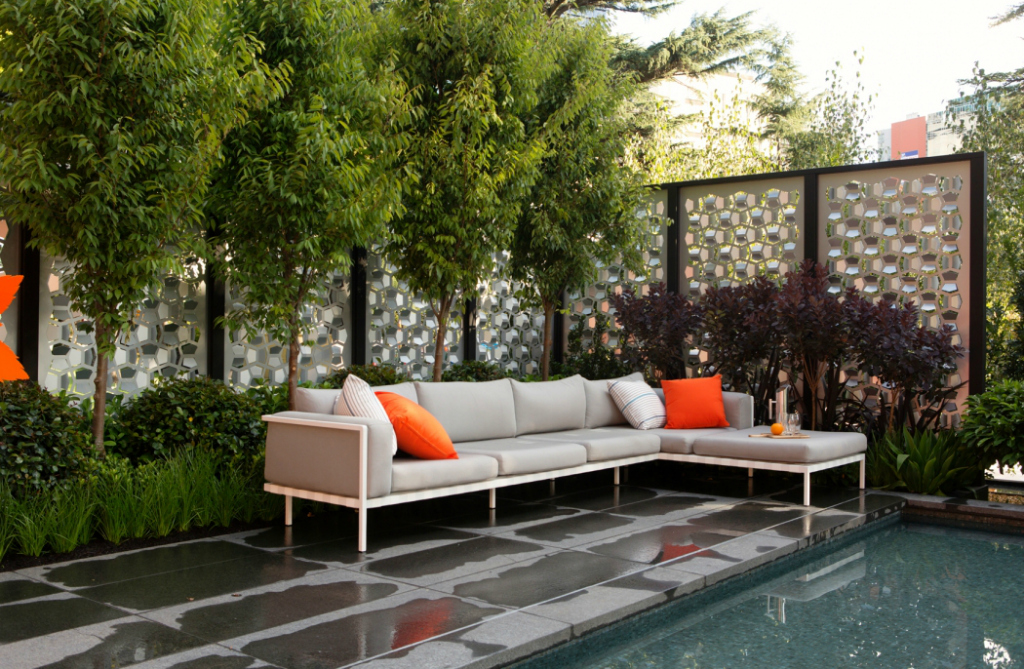 Cozy and Private
If neighbors or a public park or beach are nearby, a privacy wall can block prying eyes without requiring heavy stone or brick. This wall adds privacy for those enjoying the pool, while the modern geometric furniture adds an element of comfort. The lush green trees create additional privacy and much-needed shade for a post-swim snack.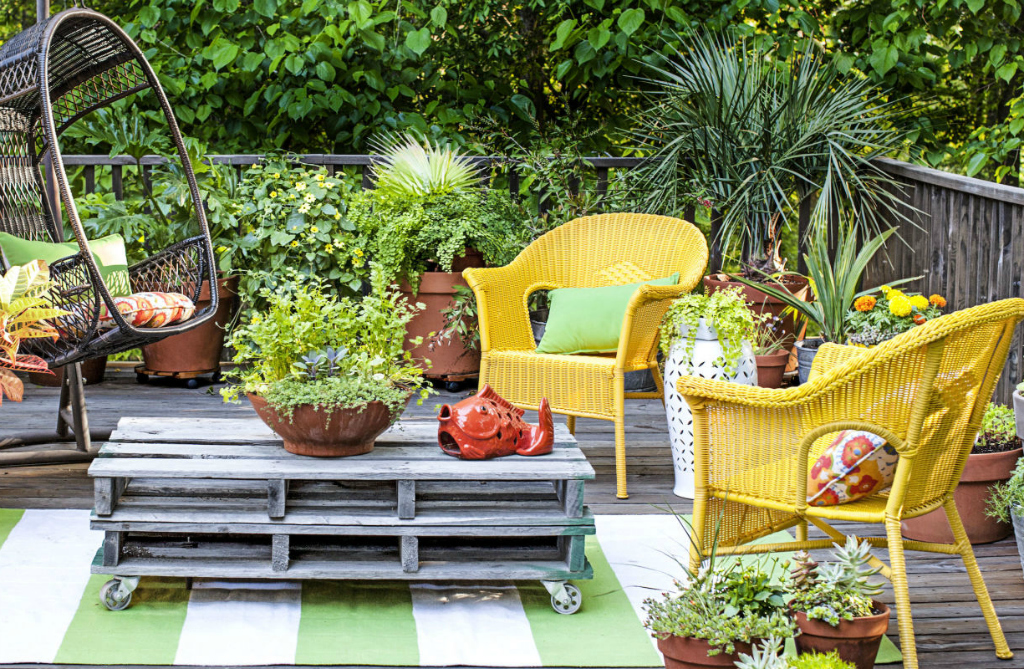 Shabby Chic Garden
Small yards and patios often prevent homeowners from considering the design potential for an outdoor space, let alone its gardening potential. Carefully selected pieces can bring even the smallest space to life, quite literally.
Container gardening has long been popular in urban environments and has moved well beyond that to include homes and patios of all sizes. It offers flexibility in container style to complement any design, and, from a practical standpoint, makes the plants portable in the event of a late spring snow or particularly scorching, prolonged heat.
Here a bright striped rug, yellow wicker chairs and terracotta galore provide fun pops of color amid shades and textures of green plants, succulents, vegetables and herbs.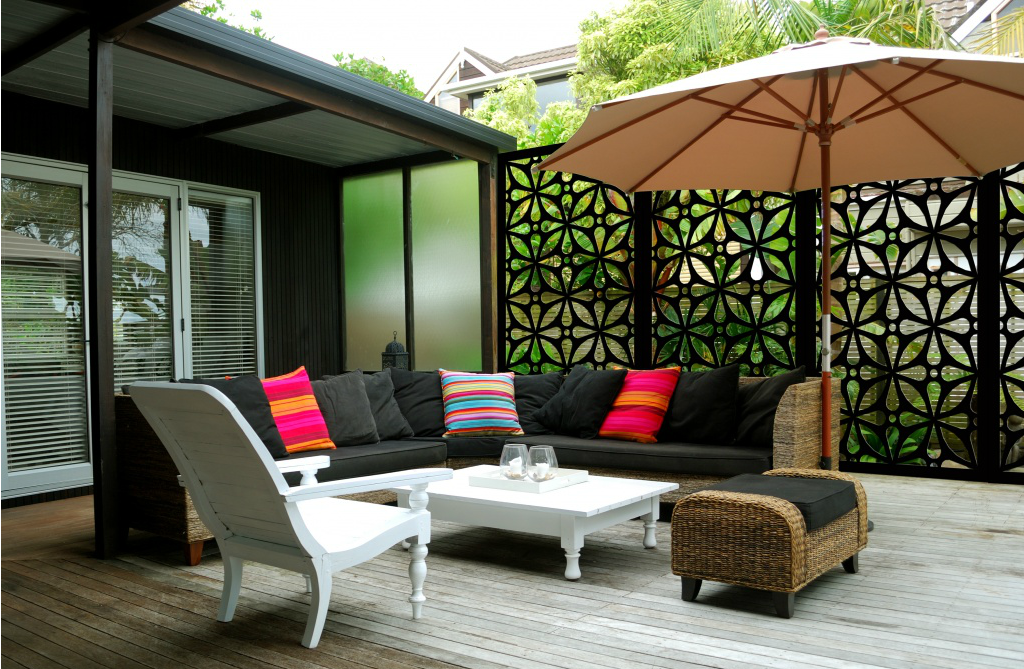 Focal Point Wall
Black, brown and white lay a neutral canvas for this fun outdoor space. The floral patterned lattice wall adds visual interest while throw pillows in vibrant colors add spunk.
There are as many style ideas for outdoor living spaces as there are for indoor rooms—maybe more since there are no fixed walls. Keep in mind that outdoor design should bridge with the overall personality of the yard and the interior of the home. If you are getting ready to host an outdoor party or increasing the wow factor to finally turning your patio into a real outdoor retreat, let Beautiful Habitat help you. Contact us today!