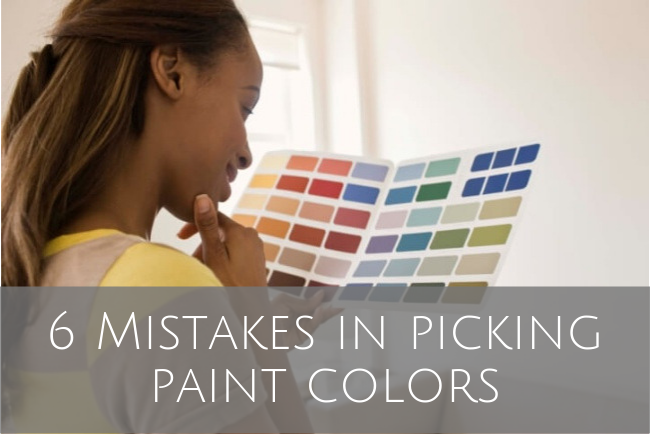 6 Mistakes in Picking Paint Colors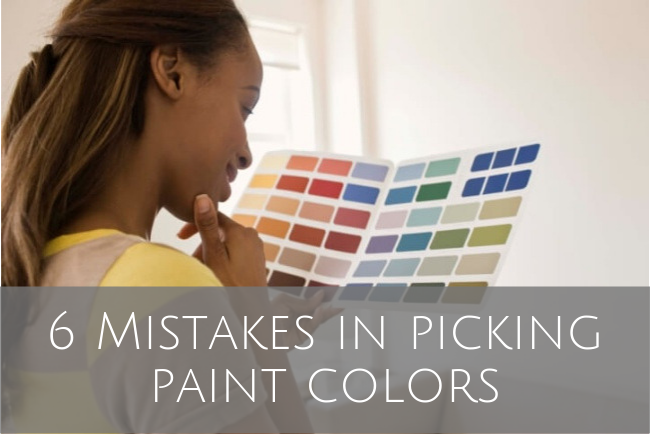 1. Choosing Paint First
I get several calls for paint consultations. Often these clients want to know what color they should paint the walls so then they can go shop for furniture and artwork. Or they bought a new home and want it painted before they move in. I have to tell them what I'm telling you today – this is working in the wrong direction. For the best results, create an interior design plan for the whole room first – select furniture, drapery, area rugs and artwork. Then at the end, select a paint color that best compliments all of these design elements.
Why select paint last?
The first reason is that the options in paint colors are endless. While the options for upholstery or area rugs or drapery fabric will be more limited. When it comes to paint, there are so many brands and colors within each brand. And even if you can't find the exact color you need, you can have a color custom mixed at no additional charge. It's much easier to match the unlimited paint options to the limits of your other décor.
Secondly, paint is relatively the least expensive thing you will select in your design plan. Even if you hire a professional painter, the cost to paint one room will be less expensive than the furniture, window treatments and possibly even the accessories and decoration. If you jump the gun and paint your walls a certain color, you will often pigeon hole yourself into limited selections that coordinate for upholstery. Don't limit yourself in this way.
It makes sense to select paint colors last because paint has the most options and is the least expensive piece of décor for your room.
2. Choosing your paint from the swatches alone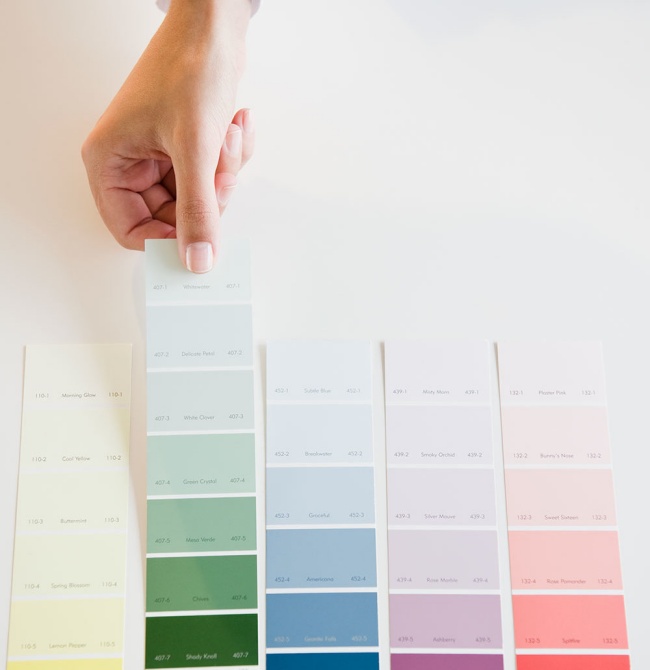 Choosing your paint from looking at paint swatches alone is a perilous way to decorate. Why? Well, it's just really difficult to make a judgement from a sample that is 1 inch x 2 inches. It's always good practice to buy a sample pot of the paint to get a better idea of the color. This is an investment of $5-10 that will enable to you make a better decision.  More on this later…
3. Making your short list at the paint store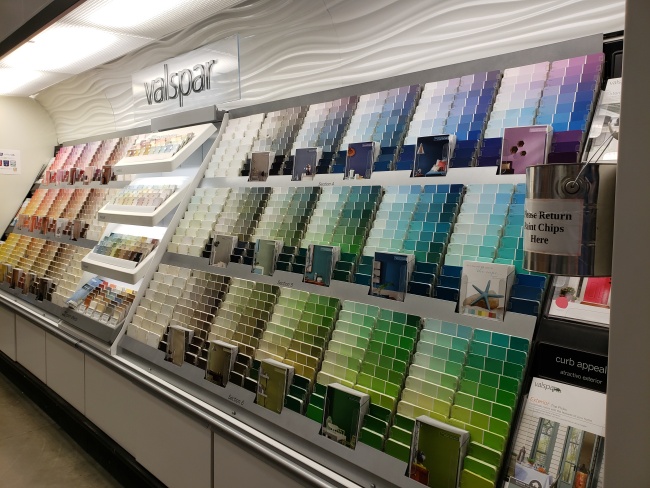 Paint stores are full of commercial lighting, high ceilings and very little natural light. Unless you are living in a warehouse conversion, this lighting is going to be very different from the lighting in your home. It is better to take a larger number of swatches to try in your home. A color that doesn't appeal to you in the store may be perfect in the lighting conditions of your home.  Make a large first cut of swatches, then take the swatches home to refine to a shorter list of your final candidates. Alternatively, you can buy a paint swatch fan deck for about $15 and have all of the paint options to check in your home. Yes, I am advising you to take multiple trips back and forth to the paint store, but in the end this process will save you the headache of a bad choice.
Remember to combine these swatches with the fabrics and finishes you've chosen for the rest of your interior design style.
4. Painting small samples on one wall of the room
I see this scenario often. People will buy several samples then paint 6 inch squares on one wall. This is ineffective for multiple reasons. First, this sample is again too small to make a reasonable determination of how it will look in the whole room. Secondly, painting the swatch on just one wall is inaccurate as to how the paint will look in the whole room. Light, shadows, sunlight, lamp light, south-facing and north-facing – all of these factors can make a paint color look very different on each wall in the same room. By sampling the paint on all walls, you'll know if it takes on a greenish hue in the sunlight, or a purple hue in the corner.
As my friend Nick May, owner of the top Denver painting company, Walls By Design advises, painting swatches on the walls causes problems with the final paint job. "The swatches can telegraph through the final wall color, especially if it is white or a light color". Both the color and the edges of the swatch filter through the new final wall color and texture. After this happened at a Highlands Ranch home, now Walls By Design requires an extra charge to prime any wall on which swatches were painted. Save yourself this hassle and extra expense by following my number one painting tip:
DESIGN TIP: My number one tip for successful paint selection is to paint poster boards with your sample paint. The poster boards can be moved to every wall in the room and can slide behind artwork or drapery for an accurate view.
5. Starting with too many samples to try at home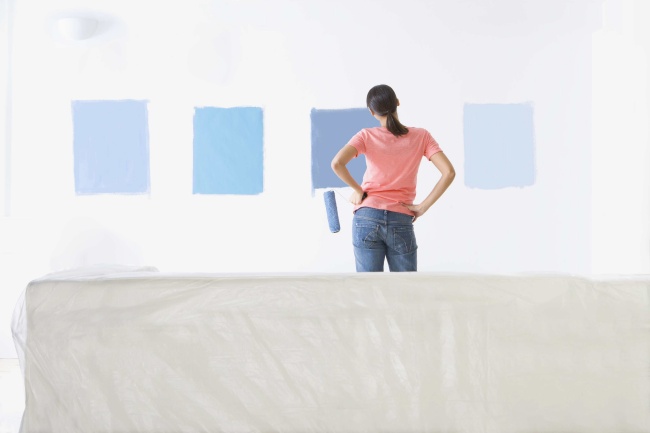 Selecting 6 pots of a slightly different color is a waste of your money and there is a better way. Start with your favorite 1-2 samples, then course correct.
What does it mean to "course correct" and how do you do it? Once you paint your samples and test them in the room, you may notice that a color changes or looks "off". The paint may be too light or too dark, or it may have an undertone that makes it appear a little pink or green, etc.  in the lighting in your home. For example, taupe paint colors are notorious for having either a purple or a green undertone. If you find that your samples have an undesirable undertone, then you "course correct" by selecting another paint with less of that undertone.  If the color comes across too yellow or gray or purple, etc. note that so you can select a color that moves away from that problem. Associates at the paint store can help you.
Still having trouble narrowing down your choices?
DESING TIP: Search the paint color name in Google Images or Pinterest  to see images of the paint in real rooms. You still absolutely must check the color in your lighting in your room, but this will help you to narrow to your first 1-2 choices.
6. Taking Internet recommendations without testing them
There are eight thousand Pinterest posts that will tell you Revere Pewter is the best paint color ever. Yes, Revere Pewter IS a fantastic paint color and we have used it many times. However, it changes from home to home and room to room within the same home. It's always best to test the color in your home to determine if it's the right color for you and your décor. I hope I've made that point today.
So, Tennille, how exactly should I select the right paint?
I'm glad you asked! I've just gone over all of the mistakes that I see people make all of the time with paint, but now I'd like to summarize this into a series of steps that you should follow. You can download this list to walk you through your next color selection project
Wondering how to pick the PERFECT paint color?
I HAVE A PROCESS FOR THAT.
Enter your email below and I'll send you my process for the perfect paint selection.

When in doubt, hire a professional. Beautiful Habitat offers a 90 minute In-home consultation for $475. That 90 minute consultation could be used to select the paint colors for your whole home, while saving you time and money on mistakes.
Book you consultation today
.
Need more design advice? Download my Top 3 Design Tips https://beautifulhabitat.com/interior-design-guides/